Austyn Gillette Interview
7/07/2015


You just got back from Iceland on a solo mission. How was that?
Incredible. It was a selfish decision to spend my birthday alone in a foreign country that I had never been to, but it was necessary. I always wanted to go there, so I kind of just up and bought the ticket a month prior and found myself, man. I really did.

You get some pinnacle views?
I got some pinnacle views plus some waterfalls. I hiked into enchanted geo-thermal hot springs, saw the natives and the food is actually really good, too.




Yeah?
It's incredible.

What's the native Icelandic feed?
Lamb. Definitely a lot of lamb. Mainly just comfort foods like potatoes, roasted vegetables, rhubarb sauce and a lot of beer. I had this idea of drinking by myself on my birthday in a bar. I've always wanted to do that, so I was able to execute it with no one else around knowing. I looked at my phone, it turned 12 and I ordered a drink to myself. It was really quiet, but it was nice, though. I've always wanted to do that.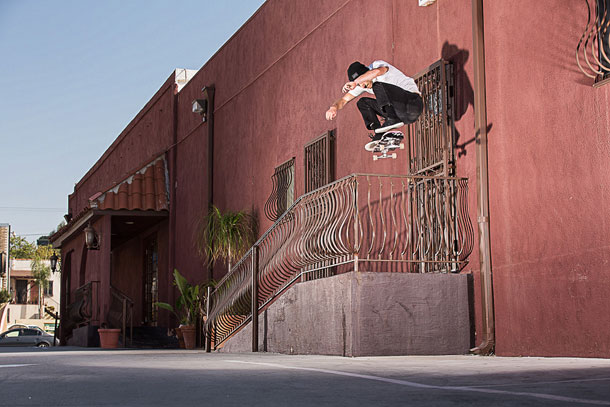 Heelflip. Photo: Coulthard

You bought a Super 8 camera for the trip right?
Yeah, I shot a few rolls of super 8, but I would say that the highlight was a boat ride on a glacier by myself. Somehow there was no one else around and the guy gave me a tour. That was on my birthday and it was like an episode of Planet Earth.

Did you plan ahead or did you buy a packaged trip?
I bought a package through a company called Nordic Visitor. They prepare the package and kind of tailor it to what you want to see and how you want to travel around the country. Pretty much you just pay them a shit load of money and they sort everything out.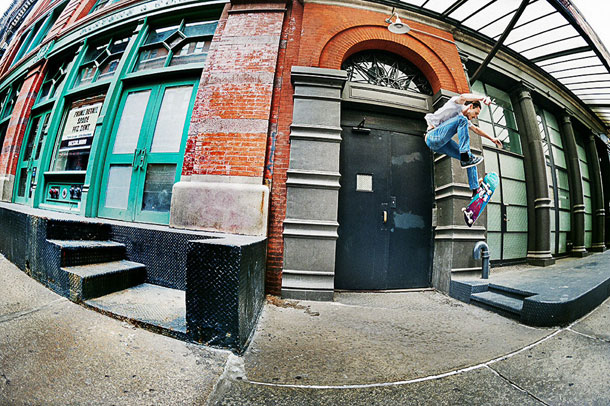 360 flip. Photo: Andrew Peters

Iceland's not that big, right?
No—but shit, I don't know how many exact miles it would be, but I definitely drove over 1,000 miles. The route that I went is called Ring Road. I could have went further but I only did seven days. I could only handle myself for seven days.

Only handle your own brain?
Your own voice for seven days—new music, though. The music that you gave me, it was good.

What did I give you?
You gave me Bright Eyes, Rory Gallagher—that stuff was good. I tapped into that. I think that stuff is healthy.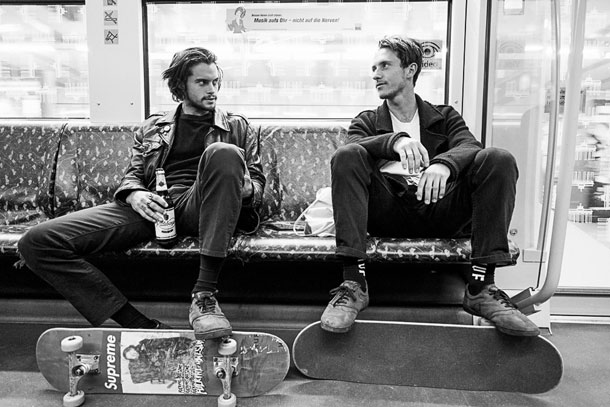 Dylan and Austyn in Berlin.

I'm glad I could be of assistance.
You were there. You were there without being there. I appreciate that.

I was there in musical spirit. You have any other solo trips planned?
Not at the moment, but I think the next one on the list is Greenland at some point. Maybe next year.

I heard something about a Big Time distribution trip to Mt. Rushmore. Are you going on that?
The Mt. Rushmore trip is coming up, which will be the first time both Skate Mental and 3D have teamed up and gone on a trip. There is no confirmation on who's going, but I'm guessing just the boys that want to camp out for a week or so and skate.



Frontside heelflip.

How are things over at 3D?
Everything is going real well at the moment. I think we are an actual board company now. It is Brian's little baby, so whatever he does I'm usually a fan of. It makes things easy when it comes time to deciding what we should do.

Who are you skating with these days?
Mainly just my buddies from back home in Highland Park. Most of them haven't skated in a while, so it's cool to get everybody back on the board.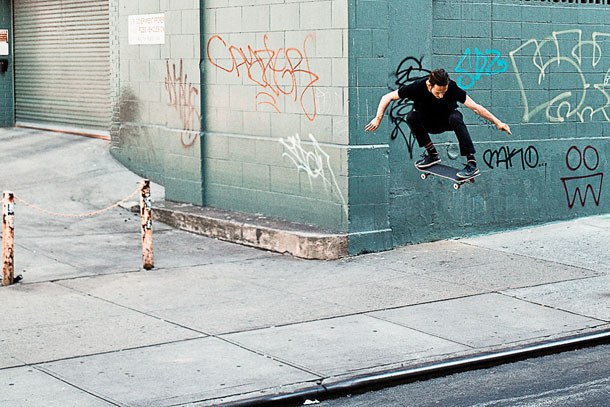 Ollie.

You put out two video parts in 2012 (Cosmic Vomit 2 and Austyn Unlimited). What have you been up to since then?
I've been working on this HUF shoe video part that just came out. That's been a priority for me. Its hard to sum up a year or so as to what I've been doing with my life, but I'll say it's went by fast.

You have a new pro model shoe with HUF. Where did you get the inspiration for the design?
Yeah. I've been wearing the shoe constantly. This time I didn't have to force myself to wear a shoe that I don't want to wear. It's a shoe that I like wearing. I'm wearing it right now. When do you see me wear skate shoes that are comfortable in any situation? That's what this shoe is. There's not too much; it's pretty simple. There's three seams. The inspiration was to not over do it. I guess because it has a heel, that leans more towards a dressy style of shoe. But besides that, to me, its a pretty non-offensive shoe that anybody could wear, from any age kind of. The demographics, I love that word, the demographic is very vast.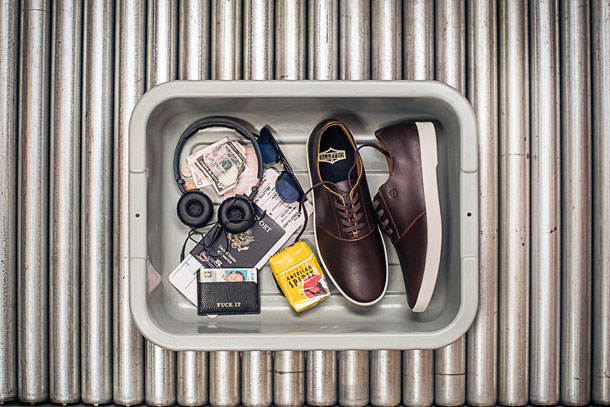 Great for the Holidays.
Great for the Kiddies!

You been playing any music?
Oh yeah, I was recording before I left.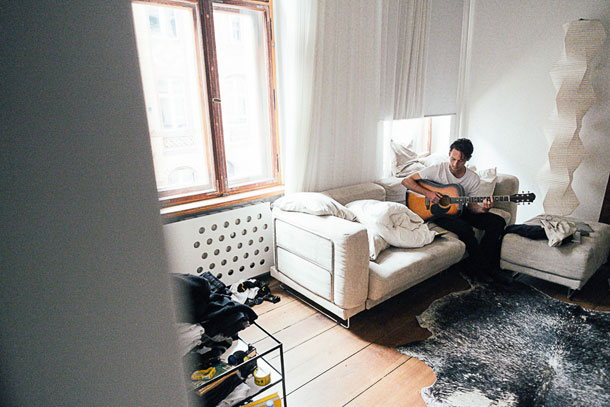 What were you recording? You working on an album?
I've been recording a few songs that I've written over the past six months. It's moving slowly but it's nothing I like to rush. It's just a hobby for me and nothing to be taken serious. If it comes out, I'll keep you informed on where to find it.



Back tail. Photo: Kelley

If there was someone you could send a pair of shoes to—and you don't have their address—who would it be?
Bill Murray. I'd like him wearing them. Hannah Montana and we could probably get Miley wearing these by next week. Taylor Swift should definitely be wearing them.

Where do you feel the skateboard industry is as a whole these days?
It's in a transitional period right now. A lot of people would disagree with me by saying it is necessary, but that's how I feel. Skateboarding moves quickly these days and that's the one thing that I'm not a fan of. Whats the rush?
12/09/2020

It's that time of year again. Here are the contenders for SOTY 2020. Finalists announced and voting begins this Friday!