Chris Russell Interview
2/23/2015


By Joe Hammeke

Hi, Chris. What have you been up to lately?
Traveling, skating with the boys and doing some surfing. Working on this American Psycho video part, trying to keep on the move.

What's this video part all about?
I threw it out to Creature Lee that Peacock and I wanted to do something. We already had 30-40 seconds when we pitched it to him, and now we have maybe another minute and a half with Ewan Bowman. We've been going pretty hard lately trying to finish it.



Hill bomb. Photo: Hammeke

Did you travel for this part or is it mainly local spots?
We went up to Oregon with Peacock and I shot a bunch with him in Fresno. The rest down in San Diego—finished a good portion of it there. There's tons of backyard pools in Fresno and Oregon has the best unique terrain out there. I like mixing it up. Oregon's a little different than what's down here. Oregon's radical.

What's up with that Somethin' Else photo from this month's mag? Looks like you caught Hosoi's board with your teeth!
I didn't have much time to react. It hit me in the noggin. It was pretty light, though. Phelps came up to me at Sessions in the Abyss and said something about that being in the mag. I had no idea what he was talking about. I thought he was just talking shit to me. That's pretty funny.



For Chris Russell, no pads is usually no problem. But on this day he could've used a hockey helmet for his face time with Hosoi's board. What happened to the Golden Rule, Christian? photo: Rhino

How would you describe yourself when you were 12?
Oh, man—a chubby little fat lesbian-looking kid. I was a fat, energized kid with red hair. Hyped to go skate, snaking lots of people and bumming everybody out.

Have you always skated transition or were you ever out in the streets as a kid?
Pretty rarely, dude. I suck at street and have a phobia of nutting on a rail. It's not my realm. I've done some stair sets but nothing like the other guys.



Off the loveseat to nosegrind. Photo: Rhino

How are you scared of nutting a rail but not hanging up on a disaster?
Hitting your head after hanging up, you don't know what happened. But if you nut a rail, you know what happened and you gotta pee in a bag. Getting kicked in the nuts is the worst thing ever. I'd rather hang up.


Lipslide revert. Sequence: Rhino

What's up with skating in surf trunks with no shirt on.
Convenience, for one. It's nice. You can hit the water right away. Kinda feels like you are freeballin'. You got that extra little lift with no underwear.

I saw a video of you skating in sweat pants with no shirt on. You looked like an MMA fighter rolling around the park.
Yeah? Is it pretty bro styled out? Those were Creature sweats. That's just laziness playing into it. Sweatpants are full-retard mode. These things are tight to skate in, man. Roll outta bed, skate all day, then rock 'em through the night. After several weeks of that, they smell really bad.

How did you get on Creature?
Started out getting boards from Chuck, aka Heavy Metal Chuck, their sales rep. I got my first boards when I was probably 13. Then Chuck left and I was riding a Black Label board. Navarette saw me skating the Combi and asked why I wasn't riding a Creature board. He gave me a Stu Graham board and some more gear right there on the spot. The Stu board was nine inches wide and I was 13, so I took it to the shop and traded it for a smaller Creature board. Navs hooked it up and it has been on ever since.



Tailgrab over the channel at Barrio Logan. Photo: Rhino

You recently did a trip to Australia. Is that when you met most of the team?
It was exactly a year ago. I was 17. I already knew most of the guys. I've skated with Al Partanen since I was 15, so that was cool. I've known Borden for years, so I was already friends with all the crew. I met O'Meally, the photographer, on the trip; he's great.

And you just got back from a trip to Brazil. How was that?
It was a little skate trip that Andre Barros put together with the Layback Beer Crew. Week one was sitting back surfing and skating Pedro's park. Then we went to Rio for a contest. Whole different vibe than Florianópolis, but Brazil is one of my favorite places I've ever been to. Florianópolis is chill. You can walk around barefoot, but in Rio you gotta be on your toes. Lot's of broken glass and sketchy people.

Sounds like you've been all over the world and you are barely legal. What's your favorite place you've been to so far?
I'd say Brazil or Spain. Those two places have killed it the most. Raw spots and super-hyped locals that are stoked that anyone is there. We went to a contest in Algorta in the Basque Country of Northern Spain and the locals were stoked. They all ripped, too.



Photo: Hammeke

And you're headed back to Australia soon?
Yeah, I'm about to go in a few days. It's going to be sick. I'm going with Vans. A ten-day trip, but I might stay a little longer. Maybe extend the ticket and have a good time.

Does Grosso still hate you? He used to call you his nemesis because you were always in his way. I heard that led to Navs calling you Nemo.
I didn't know he hated me, but he used to call me his nemesis. I was probably snaking everybody. I was little and didn't know any better. Navs started calling me Nemo and that's been replaced with several other nicknames since then. Right now it's man bear, muscle hamster, Russell the muscle—I'm sure there's more I don't know of yet.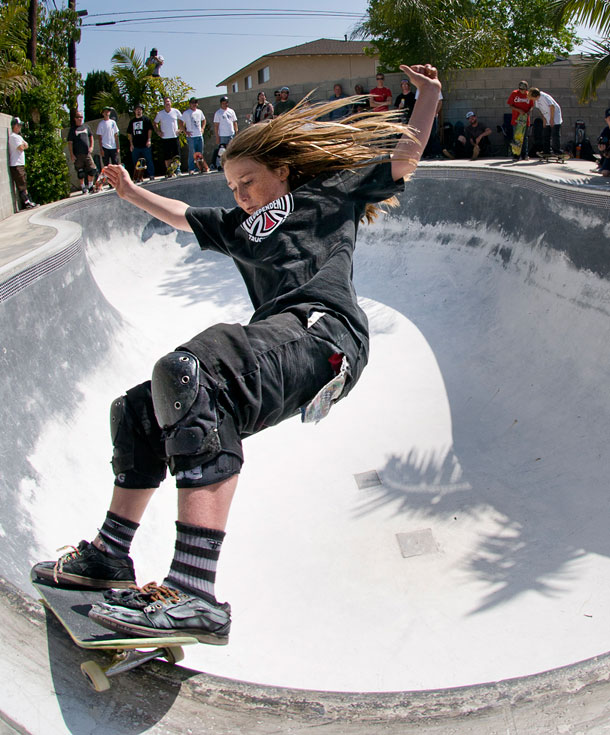 A young Chris gets a Smith grind. Photo: MRZ

Let's talk about the infamous Serna arm check at the Combi pool. What happened? How old were you?
That happened when I was 12 or 13 or something. It was a long time ago. I kept snaking Tom Knox, Bennett Harada and Omar Hassan—along with eveyone else who was there. Mike Serna was over it and we both dropped in at the same time. We circled around he was waiting in the deep end and towered over me and dropped me. I remember my dad stepped in all pissed off. Serna and I are good now. We squashed it.

Living in Hermosa Beach/ South Bay, what's the beach vortex like? How do you avoid it?
It's sick. I love my hometown. The beach is right there. But it's easy to get sucked into it. It's super beautiful. I think it's a good retirement zone. I've seen lots of guys get zorched out. I gotta keep traveling otherwise—it seems like people just stop here. And don't smoke crack, either.



Photo: Hammeke

Who's the gnarliest up-and-coming transition skater?
There's a few of 'em: Ronnie Sandoval, Greyson Fletcher, Ben Raybourn and Grant Taylor. All of them are unique in their own way, their own style, bags of tricks and getting gnarly. Lay it on the table and fuck shit up.

Who's your normal rolling crew?
I'm like a gypsy when it comes to that; it's always different. Channel Street it's Oscar Navarro, Robbie Russo, Ronnie Sandoval and Rick Fabro. San Diego it's Tom Remillard, Willis Kimbel, Chris Gregson and those guys. All good dudes, you know? Keep it diverse.

You think vert's ever gonna die again? Or are there too many good parks for that to happen?
There's a mixture of two things: too many good parks and too much money being thrown at it with the X Games and Dew Tour contests. But it's not those things that keep it alive. It's the people that rip it and love it that keep it alive. I think if the contests and parks die there will still be people trying to bring it back.



Frontside channel plant. Photo: Hammeke

What's next, Chris?
Headed to Sweden in March for Vert Attack. Navarette's claiming the pyramids in South America this summer. Then Europe again on a month-long mission for Copenhagen Pro and all that shit. Traveling and good times, thats about it, man.
6/26/2017

Those two-wheeled machines on display commanded attention, but the heavy action was the four-wheeled assault on the vert ramp. From young bucks like Ronnie to the OGs Cab and Bucky, this session was revved all the way up.