Maloof High Ollie Finals
2/16/2011
Aldrin Garcia took the Maloof High Ollie Challenge, setting a new world record.
The Maloof High ollie challenge finals started with these guys
Everyone got five tries to ollie the bar, starting at 40 inches today. Steve Nesser, Darren Harper, and Mikey Burton all cleared 41 inches as well. But it was only these two—Chris Maalouf and Aldrin Garcia—who could boost over 42 inches
Chris Maalouf, 42
After both Aldrin and Chris cleared the 42-inch mark, a decision was made to raise the bar right up to 45 inches in an attempt to break the previous record of 44.5 set by Danny Wainwright. If neither cleared the 45-inch mark, the bar would be lowered back to 43 inches. Here's Brian Schaeffer measuring it—look how tall it is compared to Paul Rodriguez and Kurtis Colamonico. Joey Brezinski is mighty impressed
Aldrin checks the measurements. Since it was official Guinness business, everything had to be double-checked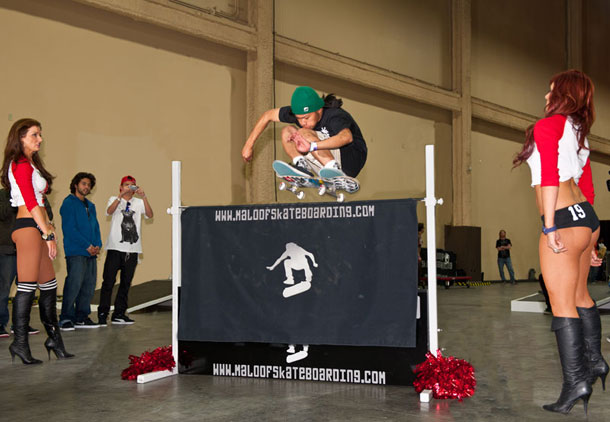 After several tries Aldrin cleared it, setting the new world record!
Payday! The Maloofs present Aldrin with the check for $10,000
12/23/2020

Mixing high-speed hits and dangerous hippie jumps, this endlessly creative crew comes correct from LA to The Bay.