ANS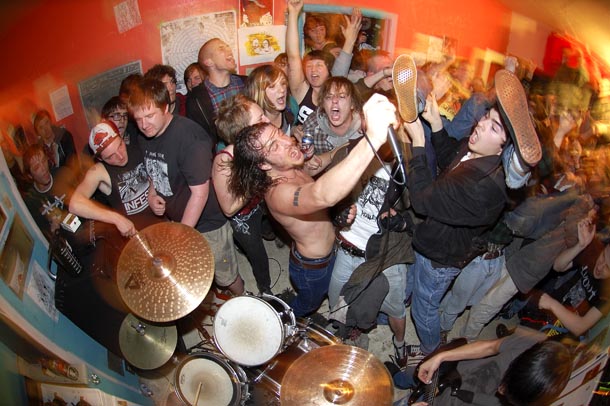 Posted: February 5th, 2009
"We heard gunshots all night and thought cops were going to bust us any second."
Interview & photo by Jordan Joseffer
Everyone was talking
about how this sick skate band was coming to town. I went out and bought the record, and the first song lyric I heard was "Skate the streets, kill the weak." I had to go to the show. They played in some kitchen in Oakland with a hungry crowd watching. The drummer turned on the stove by accident while playing and almost burned down the house. After the show I met the guys: Chris sings, Corey plays guitar, Andrew plays bass, Joe plays drums, and together they are ANS. Here's what they have to say.
Where are you guys from? How'd it start?
Joe: We all grew up in different parts of north Texas. Chris started the band in '99 with some other people, and throughout the years of going to shows and seeing each other around we became friends. When the other guys flaked out of the band, me, Corey, and Andrew joined. We're a bunch of scabs.
Chris: We started with the name Defaced, then we changed it to ANS.
Andrew: There was some metal band called Defaced in Sweden or something.
What's ANS stand for?
Chris: It's kind of dumb. I used to have a bunch of Vans boxes around, and I thought the "ANS" was cool under the V, so we started making up a bunch of acronyms for it like MDC used to. We had Annihilate Nazi Scum, Awesome Naked Squad.
What's up with the Texas Pool Sharks?
Chris: I used to work at like four different skateparks in Texas and all these old dudes would come out and skate. Then I started hanging out with them and draining pools. It's just what I've always enjoyed, you know, surfing concrete.
How's this tour going?
Chris: We just flew up to Portland because Joe lives there and he just finished driving around Municipal Waste, so we're playing shows on our way back to Texas, then the Gulf Coast, and in Florida at the This Is for You Fest.
Corey: The highlight of my tour is always King Burrito in Portland.
Joe: We haven't had a chance to skate yet. We would have liked to skate a bunch of shit, but it was raining so we didn't get a chance.
Joe: Usually when we're on tour people are really awesome about taking us to their spots. We get to hit up a lot of really cool stuff.
I
s your song "Goon Destroyer" about anything specifically?
Chris: More or less. It's about when you go to the skatepark and you look around and there's like 19 little five-year-olds eating their lunch in the deep end of the bowl. It's like soccer practice at the pool, and that irritates the shit out of me. It gets too hot during the day to skate.
Is the song "Skate It Dry," about getting chased out of a pool at 3 am, a true story?
Chris: Yeah. There was a pool in South Irving that we called the Vato Pool. Me and my buddy drained it, but we didn't have a pump so we went with two 10 gallon trash cans and drained for six hours straight, then when we got to the bottom it had a hole like four feet in diameter where the drain used to be that you could just fall in. We heard gunshots all night and thought cops were going to bust us any second. We went back and only got to skate it once. It was great.
You tour a lot. Does your label hook you up?
Chris: What fucking label? TXOS is myself out of my room in my house. That label 16 Oh is a bunch of assholes. They screwed us over on a European tour so bad. We work for a while, save money, and go on tour.
Corey: Kenny from Gnarly Slaughter and Biff from Feral Kid Records help us put records out, but no one's paying for a plane ticket.
Chris: We've done three international tours so far, and that's all us.
Joe: If you're starting a band, you really should not expect a label to do anything. There are labels that do good shit but don't trust people to do anything for you, because if you do you will get fucked! I'd like to think that punk and hardcore is something that could sustain itself, but you definitely have to get ready to bite the bullet and basically do it yourself. We're out here, we're friends, and we're stoked to be doing it.
Check out ANS tour dates and music at their myspace here.
12/03/2022

The music of Beirut has been featured in many skate vids over the years, most notably in Mark Suciu's "Verso" masterpiece. Mark caught up with Zach Condon, the man behind the band, in this exclusive interview.