Band of Horses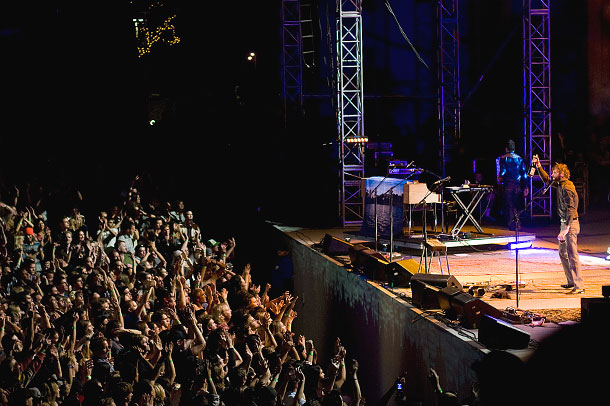 "I had no idea about Fully Flared. I was getting texts and e-mails: 'Good job on that Lakai video"

Interview & photo: Jeremy Conant

I was unsure what to expect with this one. You know how it goes when a band gets big enough to be passé. I met up with drummer Creighton Barrett in Berkeley while Band of Horses were touring for Infinite Arms. Once I learned that Creighton demands to tour with a quarterpipe and could probably recognize more skaters—past and present—than you, I understood why he's sitting pretty. Thanks for the beers, man. We'll see you out there.

How did you end up in Band of Horses?
I failed out of art school and didn't know what to do. I have two sisters. The middle sister was going to school in Charleston, South Carolina, and I was like, "Fuck it. I'll just move down there and find a job." I met Ben Bridwell when we were both 19. We played in punk bands together for a couple years before Ben moved out to the Northwest where some friends of his were making music. I told them, "Once you get settled, bring me out." Two years after that he moved me out to Seattle. When he was making the first Band of Horses record the rhythm section kind of shit the bed. Ben called and asked if I could fill in at the studio, but I couldn't because I was on tour with my band at the time, The New Mexicans. Once the record was done he still wanted me to join,
so I did and we've been playing ever since.

How did you get involved with the folks over at Crailtap?
A lot of it has to do with Ty Evans; he was a fan of the band. We were touring with our friend Travis Graves, who's also a skater. He was opening up for us, and I was playing drums for both bands double-duty style. I'd met Jason Dill in New York; this was right when Ty started Skate Fairy. He did a high-def thing with Daryl Angel to a song off the first record. Sub Pop's always had a relationship with Girl. Girl did a demo tour DVD and they used another song of ours for that. I had no idea about Fully Flared. I was getting texts and e-mails: "Good job on that Lakai video," and I was like, "What the fuck?" I finally got a copy and it was just…obviously, Guy Mariano,
it was mind-blowing to see that. I get to meet all my favorite skaters. I just skated the Girl park the other day with Guy, and Fabian Alomar was there, Rudy Johnson and Rick Howard showed up—it's been really fucking awesome.

And you gotta be stoked on the song in Twilight.
Well, I have always loved vampires and werewolves. Me and the bass player, Bill Reynolds, were drunk as shit at like four in the morning and came up with this song.
We recorded it for the new record, but we knew it wasn't going to make it on there. Twilight wanted an exclusive track so they took it. I guess it kind of applies to vampires, "Life on Earth"—I don't know. But it was cool, took the mom to go see it, made her happy, but…yeah. It's pretty ridiculous.



How was touring with Pearl Jam?
Awesome. I was never a Pearl Jam fan as a kid. That was at the height of my musical snobbery back then and me thinking I was punk. Everyday they'd roll into these arenas, and the crew builds the stage and the PA. An operation on that level is just insane to see. Those guys are so awesome. It kind of makes you re-think what being punk in the music business actually is, 'cause those guys are seriously bad-ass. Nothing gets by them. They have a hand in everything. Seeing that every night was seriously inspirational, you realize that you do know those songs. Eddie came out and sang songs with us. Ben actually ended up singing "Hunger Strike" during our last show at Madison Square Gardens with them. He took the Chris Cornell part. It was a killer time. And Jeff Ament skates. We got to skate the Chelsea Piers park in New York. That park is fucking gnarly; scared the shit out of me.

Tell me about the Gonz drawing.
We were playing in Brooklyn. I hadn't seen Dill in a while, and he called me. He shows up and he's with Anthony Van Engelen, and I'm just like, "Holy fuck, radical!" He hands me this manila folder and says, "Here's a present." I open it up and it's a Gonz drawing, one of his little dough men playing drums, and it just says Band of Horses. I don't know how I ended up with it, but it's my most prized possession.

I haven't even seen the Emerica video yet.
It's in the bus, man. It's pretty fucking mind-blowing.

I've been waiting to pick it up. I don't want to download that shit.
I can't imagine not buying the videos. To have that thing to take home and watch, I really hope that doesn't fucking die out. The whole process: You go to your shop, see your bro, you buy it and then you all watch it and go skate. I really hope that doesn't die out.

It's nice to meet you, man.
Abso-fucking-lutely, this is a dream come true. I've always wanted a Thrasher interview. We were in Athens, Georgia last spring doing a warm-up show for this tour. I look out the window from the backstage and four vans pull up. The first person out was Jake Phelps. It was the Skate Rock tour. That was the very first time I met Ty and I just had to shake his hand because he's a bad-ass, but also, like, "Thank you for putting our band in skate-boarding." Slash came up to me—he just looks at me and goes, "Why are all the girls going to your show?"

You think if one your bandmates was really into yoga, they'd be all over the yoga mags?
Exactly. I'm a skateboard enthusiast. I skate every day. I'm lucky enough to have the dudes know that I like skateboarding so much that they let me do it. I mean, the sound guys and shit like that, as soon as they saw the ramp get put on the truck, they were like, "Uugh, come on dude." All I'm going to do is try to get my back d's down again. Keep it simple. You're still old, but ollie something every day. I have to. Nothing else is going on when I'm skateboarding. It's the best, especially if you didn't grow up liking football and stuff like that. This is what we do. It's not "Let's go toss the old pigskin." It's "Let's go skate!"

Any advice to skaters?
Don't get your parents involved. Remember, it's just skating—you might not make it, it's not that big of a deal, go to college if you can. It's rad to read an interview with a kid who's in school and still shreds. Don't party too much 'cause you'll get fat. When I land something my tits shake. You can put that in there. I'm sick of feeling my tits shake when I ollie.
9/25/2020

After millions of album sales since the mid-90s, Third Eye Blind frontman Stephan Jenkins continues to make music without compromise or concern about radio hits and pop charts. He features Cher Strauberry in his newest video and she sat with him for an interview.