Junior Reid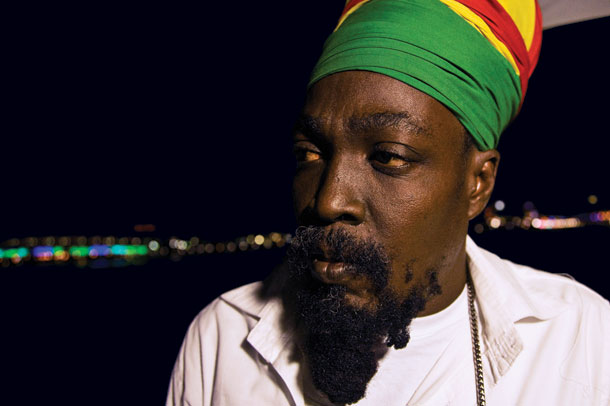 Posted: December 9th, 2009
"The roads are too broken to skateboard 
in Jamaica."

Interview by Aki X | Photo by Woods

We caught up with OG reggae superstar Junior Reid on the video shoot for his new single "I Just Love Chronic." As we arrived, Reid was performing behind the counter of the DMC (Downtown Medical Collective), throwing up huge buds of Obama Kush and Purple Grapez. He's been at the forefront of reggae music for over 30 years, from where he started at King Jammy's to being the frontman for reggae roots super-group Black Uhuru, to his big hit solo anthem "One Blood." Now he resides as reggae ambassador to the hip-hop and R&B industry. It was Los Angeles rapper The Game who shone the red, yellow, and green spotlight back on Junior Reid. The Game used a sample of the original "One Blood" for his single, "It's Okay (One Blood)." Junior Reid featured in the MTV video with The Game—and it was game over. Collaborations followed with Lil Wayne, Fat Joe, MIMS, Alicia Keys, Fabolous, Cool and Dre, and Papoose, to name but a few. Get your red, yellow, green and purple in the air, Junior Reid is back in Calijuana and he is bearing the gift of a new album.

Junior Reid, welcome to Los Angeles, 
the new marijuana capitol of the world. What are you doing here in the 
purple state?
We are here promoting my two new singles from my forthcoming album. One with Lil Wayne called "Ghetto Youth's Rock" 
and the other with Cool and Dre called 
"Don't Play Me Dirty."

What's the new album called?
The album is called Living Legend.

What producers did you work with?
I work with myself and a bunch of different producers. We have Reefa, who produced "One Blood." We have Blackout, who produced "This Is Why I'm Hot." We have a bunch of Jamaican producers, and Cool and Dre—all kind of producers.

Obviously you're a very successful crossover artist. How does the new album Living Legend reflect that in 
the music?
Reggae, hip-hop, R&B, I got roots and culture fans. I got hip-hop fans. I got R&B fans, and I got dancehall fans. I even have lovers fans, so I have a lot of fans.

We heard you had some big special guests on there.
We have Snoop Dogg on the album on "Smoking Weed," Lil Wayne on the album, Cool and Dre, my two sons Andrew Blood 
and Wada Blood, Capleton, and that's about it. I have six features, and the rest of the songs are just me. I have about 15 tracks on the album total. I want to make the album 
look good, because the fans are asking everyday, "When are you going to release 
a new album?"

How are you feeling the vibes in the purple state of Calijuana?
I love California because the weather is like Jamaica. People are real nice—everything is here—real Jamaican food is here. I am feeling Cali always.

We're sitting inside a legal medical marijuana clinic, the DMC. How do you feel about what's happening right now 
in California?
I think it's good, the people need medicine. Babylon doctors give you medicine but it does not heal you. It just keep you coming back 
for more. It keeps one sick so they can 
make money. The natural medicine is from 
the father, the most high. It's the healing of 
the nation.

California is on the verge of marijuana legalization right now. How do you think that will impact America and the world?
It's going to be an example to the world. People will see the crime rate drop; there will be less sick people in California. I see it happening all over the world. It's just a little tree. Whether you smoke or don't smoke, what harm can a little tree do? People use the tree to make clothes, teas, edibles, so it can be used for things like that also.

You're a well-respected and decorated veteran in the reggae music industry. How different is the music and industry of today compared to when you came 
up in the boom time era of the '80s 
and '90s?
The reggae business gets bigger, but the music loses its message. Reggae music is about sending the message through the music, but they stopped sending the message. 
Well, they send the wrong message. 
Reggae music is one of the biggest music genres in the world. You can't go nowhere and not hear reggae music. The roots and culture music is so strong that it's just a matter of time; nothing can stop it.

Definitely—because most dancehall now is way too gangsta, too much badman, too much negativity.
That's what I am saying; yeah, too much killing. Which is why I am still out here representing for the betterment of the people. There's too much badness in the music.
My little contribution is to bring a little love to the people; love save the people.

Hip-hop is definitely playing a major 
part in pushing reggae music to the American people.
Well, it's a family affair. Reggae has done a lot for hip-hop back in the day; what goes around comes around. Ya hear me, that's why I say: one music, one blood, one family, 
one world.

What's up with surfing in Jamaica? 
Rasta has to surf out there in Jamrock?
Jamaicans do everything, we are international. You can't surf Kingston Beach—people just go to the beach in Kingston—but they surf down in St Thomas, Ocho Rios. Jamaica has everything.

There's no skateboarding in Jamaica.
The roads are too broken to skateboard 
in Jamaica.

Are you about to go on tour this summer? Where can the fans catch a Junior Reid show?
Right now we're just taking single show dates, so check the website, Myspace.com/Juniorreid. The album drops in September 
so everything is focused on that right now. 
As soon as the album drops we will go on 
a two-month tour around the world—
United States, Europe, Japan, and the Caribbean. I would like to take a hip-hop or an R&B artist with me. We'll see, anything 
can happen.

Let's give a huge RIP to Michael Jackson. How much of an influence was MJ on your career?
Michael is and was one of my main inspirations. I look to Michael the way he dress, the way he sing. I started out as a little youth in the business at 14, Michael started out in the business as a youth of 12. So Michael always inspires me, he is big 
in Jamaica. Reggae music always cover Michael Jackson, has done since day one.

RIP, MJ. Shout outs to all the people?
Shout outs to all my one blood fans, 
to the highest of the high, King Selassie I. 
Come check me out at my new nightclub in Kingston called the View on the Spot for the best in reggae music. Big up the DMC and FILTHEE. Big up, Thrasher magazine, Ontario Seedbank, Smokeathon.com, 
Jordan Tower—everyone—all the people around the world, one blood.

Download Junior Reid albums or songs from the iTunes store here.
6/06/2020

Hacksaw's music is not here for your enjoyment. It exists to pummel you into submission. We caught up with these heavy noise makers, but we were particularly curious about guitarist/skater Mike Hell's perspective and ethics of eating garbage straight from the can.