OFF!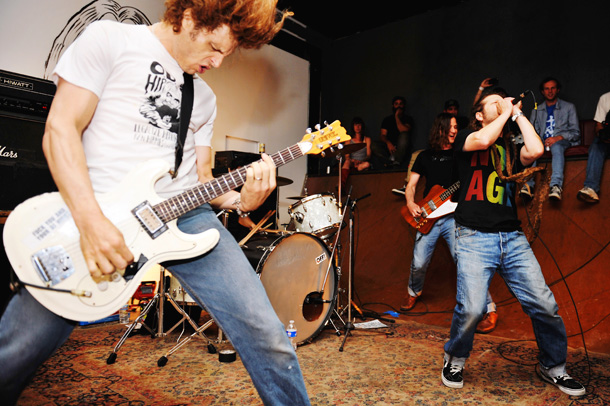 OFF!

"An AK-47 would probably work well, or a couple of those light-weight Russian-made bazookas"
Interview: Erin Dyer | Photo: Lindsey Byrnes
The collective history of this band
equals the power packed in Einstein's E=mc theory. A force of mass energy OFF! most definitely is, largely because it's the talented output of Dimitri Coats, Keith Morris, Steven McDonald, and Mario Rubalcaba, which means Black Flag, Circle Jerks, Rocket from the Crypt, Redd Kross, Beck, Earthless…I could go on all day. OFF! may be a new side project, but its staying power is much more than left of center.
Name:
Mario Rubalcaba
Years drumming:
From the womb to the tomb. Seriously, my whole damn life
Years skating:
Twenty-five! 
Geezer status
Most time spent not skating/drumming:
No skating when on tour. No drums? When I was a BMXer
Best dreads:
Fred Smith, the loud one, or Craig Johnson
Rad:
Spider Fever, OFF!, 
and Earthless
Sad:
Spider Fever, OFF!, 
and Earthless
Bad Shit:
Records
Dream spot:
Hawaii or Church's chicken. You pick
Name:
Dimitri Coats
Nickname:
Daddy
Years playing:
Eighteen
Best days:
To be continued
How to handle rock stars:
Cradle the balls
If I weren't a musician, I'd:
Have a plan
What's hot:
Hell
Dream group:
OFF!
Genie, grant me:
Invisibility at will
Words of wisdom:
You ordered it
Name:
Keith Brian Morris
Nickname:
Morty, Johnny, Johnny Bob Goldstein, Fuckface, Asshole
Years playing:
Thirty-three years. Some guy said I sounded like I was 20 years old with OFF!
Last haircut:
Every 10 or 11 years
Inspiration:
Ray Davies (Kinks); James Osterberg aka Iggy Pop (Stooges); Jan Paul Beahm, 
aka Darby Crash (GERMS); Chuck Berry; John Jancar (art department 
at Mira Costa High School); 
Michael Piper (the Record Hole record store); Jerry Morris
Favorite artist:
Raymond Pettibon, 'cause his stuff cracks me up! Isn't that what art's supposed to do, get a reaction outta you?
Best venue:
The Masque in Hollywood, under the Pussycat Theatre on Hollywood Boulevard
Worst performance:
I've walked out on several. The worst probably being either the New York Dolls at the Santa Monica Civic in 1974 or Vampire Weekend at the Fold in Silverlake in 2006. Or was it '07? I was working for a record company and one of the guys on the East Coast wanted me to see them. It was like a bad imitation of a really bad Paul Simon record that my mom wouldn't even listen to
How to handle fans:
An AK-47 would probably work well, or a couple of those light-weight Russian-made bazookas that are blowing stuff up all over the place in action flicks
Unusual personal fact:
I wanted to teach art but had my scholarship taken away. When I graduated high school I weighed 76 pounds. 
My dad's bookie friend wanted me 
to be a jockey
Name:
Steven McDonald
Years playing: From 1977 to current
Who rips:
Dennis Dunaway
Plane or tour bus:
Station wagon
Vice:
The Patch
Perks:
Irregular hours
Downtime:
Alfie, my one-year-old
iTunes:
Right now, Beach Boys' Sunflower/Surf's Up collection
Genie, grant me:
More of the same
Words of wisdom:
Breathe. (Actually, a word of wisdom)
For your chance to win a prize package featuring Raymond Pettibon art go
here.
7/13/2020

The Shrine's raw new music vid pushes back on the American Dream in LA and helps give funds to protestors for legal aid. Bump this on your next bowl session.