Sizzla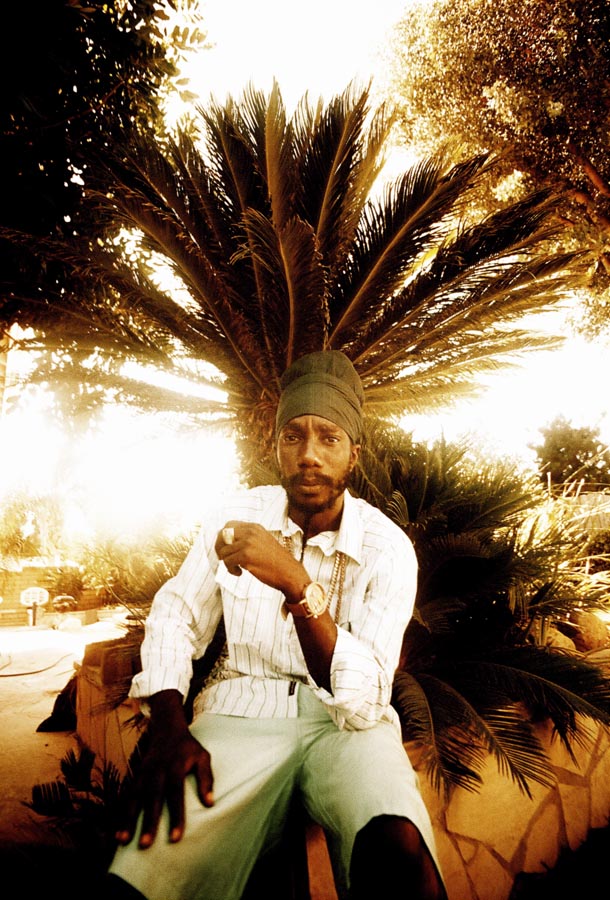 Posted: February 17th, 2009
"A lot of people suffer in the ghetto"
Interview by Trasha | Photos by Skelton
Wilding out at Jamaica Gold
inside the Forbidden City in Hollywood, CA, or Calijuana as we call it. Tonight's a big night in LA as Sizzla Kalonji will be shooting the video for his new single "Addicted." 
The place is packed with bootyful black ladies, and the vibe is hot. Sizzla has a large fanbase in Calijuana, and people are eager to check what he's been up to since he last played here over two years ago. In that time, Sizzla's been busy working on lots of new material, including his new album, Addicted, on Drop Di Bass Records. Things got too crazy in the club for us to make anything happen, so we were requested to spend the next afternoon with Sizzla instead. We linked up in an OC studio where he was staying and recording for an exclusive interview, mixtape session, and a spot of Ital food, cooked by the man himself no less. Jah Rastafari, Sizzla Kalonji in the kitchen cooking up the fire, more fire. Bless.
Welcome to Calijuana. What are you doing out here?
Well, I'm out here doing beautiful shows. One was up in Humbolt County and one is here in LA at Jamaica Gold, and I'm promoting the new album Addicted, which is released on Drop Di Bass Records and will be in stores late summer '08. I'm a superstar, yes. Big up California.
From what you just played me, you're definitely going for the ladies with this album.
Yes, definitely for the ladies. Seventy-five-percent of my fanbase are ladies, and you have to cater for the people, be courteous.
You have any guests on there?
I have a famous artist called Spragga Benz, and a new artist called Calibe rapping on there.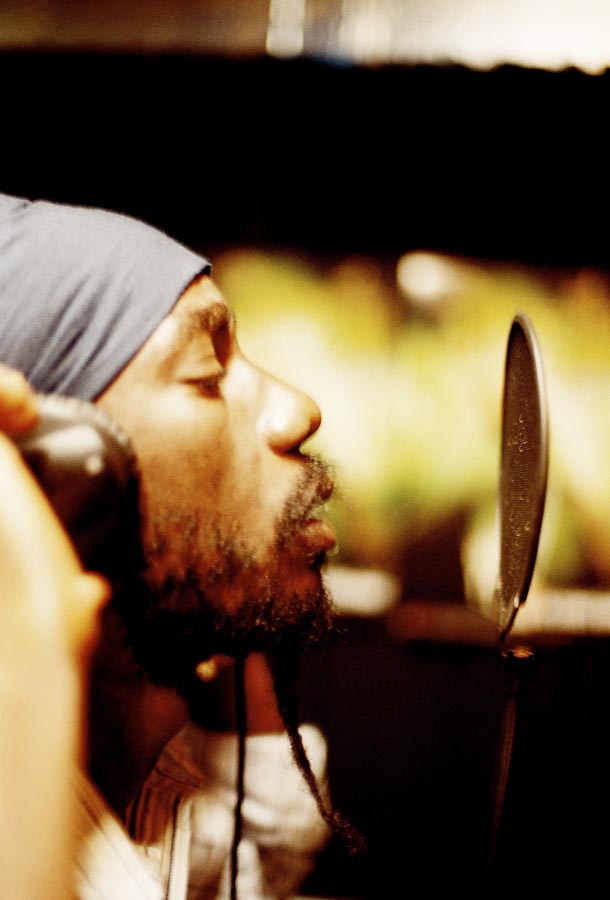 Who produced the album?
It was produced by Aggy Lee for Drop Di Bass Records—we worked together to make the album. It's a beautiful album. All you dudes go pick up that album for your lady. I assure the panties will be coming off when you give your lady this joint.
Talking of sexy tunes, you got a hot remix out now with 
Mariah Carey. How did that come around?
I have a lot of work going on back at my studio in Jamaica, and I wrote a beautiful song called "Feeling Horny." I give it to some youths to promote it, and they give it to some selectas and they remix it. 
I never actually worked with Mariah Carey.
Any plans to work with Mariah?
Yes, of course. If we can get together we will make beautiful music. She is a very talented woman.
Alicia Keys is big upping reggae music and pushing it hard right now. Any plans for a Sizzla-Alicia Keys tune?
Oh yes, the great minds think alike. We need to get music out to the people. I am an artist and I would love to work with Alicia.
You've worked with a lot of rappers, Dipset and Lil' Wayne to name but a few. You have any plans to work with any West Coast rappers?
In Jamaica, we like getting together and checking each other's lyrics, seeing who is catching up. Being out here, seeing all these great rappers and singers really amazes Sizzla. If we can get together and work, then yes, we just make music. Make music brethren.
On the subject of making music, you just dropped a track with Paul McCartney of the Beatles and Lady Saw.
Oh yes, they send that track to Jamaica and I get my 
part done on it. I never actually go in the studio with 
Paul McCartney. I have heard my version with me 
and Paul McCartney on it, but I haven't heard the Lady Saw part yet.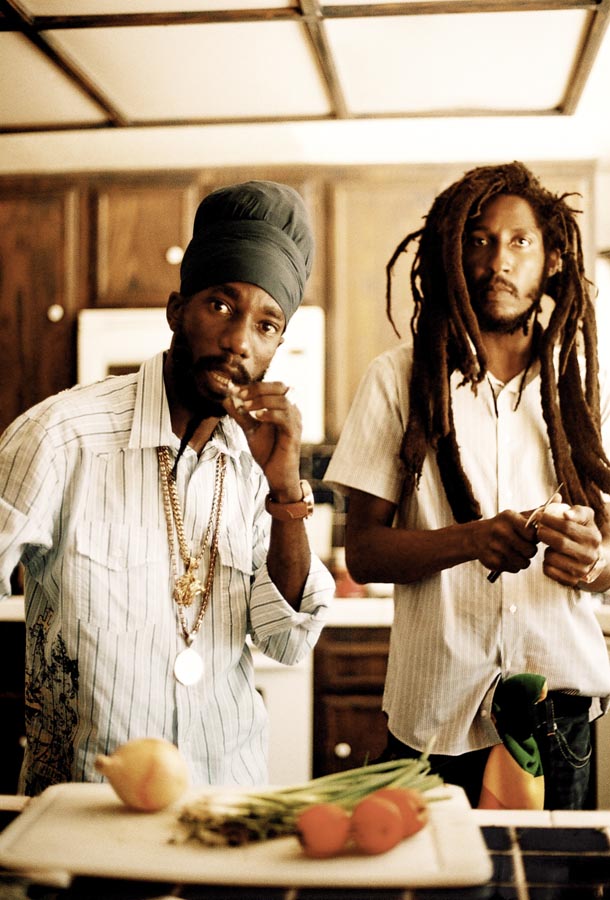 Talk a bit about Judgement Yard, how it came around, what it is, and where you're going with it.
Judgement Yard is really my father's garage, where I grew and learn. As I become more experienced and mature I turn it into my office, 
right there in the ghetto where I grew up, right there with all the people. People can relate to me, be on the same page. I can be there right 
with the people and be there for the people. I can't become famous 
and leave the ghetto, because people are really tedious about stars 
who become famous and leave the ghetto. It's really difficult when 
you got no one to vouch for you and no one to reach out for you. A lot of people suffer in the ghetto, and we throw dances and shows—
really let people know that we are there for them. It's very good for someone who is out in the world and popular and known to be 
there for the people in the ghetto. We wanna get people's spirits up, 
and not down.
Shout-outs?
Yes. Big up all my Internet fans, big up yourself—stay connected in a positive way. Remember His Imperial Majesty pass a lot of judgement on Babylon, so don't get it twisted. Use the technology, apparatus, devices to unite yourself, find yourself and one another in the world, and don't go astray. Greetings in the name of the most high Jah Rastafari. Pick up the new album Addicted on Drop Di Bass Records, available in stores by the time this interview is published. Big up everyone in Jamaica, all the beautiful Caribbean ladies, big up all the Reggae fans in Japan, in America, in California, England, Europe, 
they all loving the reggae music. Jah Rastafari, One Love. More fire, make it burn, get rid of corruption, Big up Africa, Mama Africa, 
I love you. Selassie I.

Listen to Sizzla here or check his myspace.

9/25/2020

After millions of album sales since the mid-90s, Third Eye Blind frontman Stephan Jenkins continues to make music without compromise or concern about radio hits and pop charts. He features Cher Strauberry in his newest video and she sat with him for an interview.