The Mumlers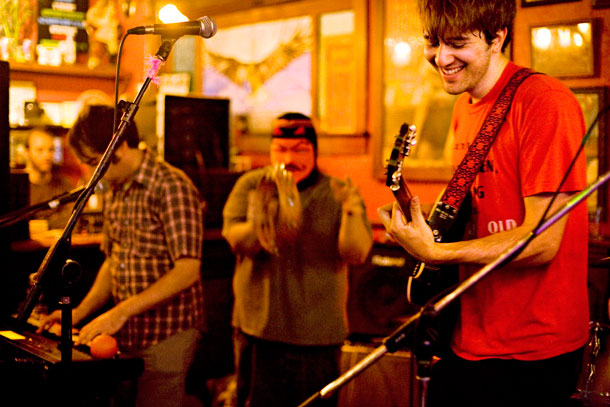 Posted: January 6th, 2010
"...this is the first time in my life that they aren't transvestite hookers."
Words & Photo by Scotty McDonald
A six-man menagerie of organs
, horns, and 
"whatever else is fun," the Mumlers would be the soundtrack to driving a '63 Dodge Dart around in the rain. The Mumlers are Andy Paul, Felix Archuleta III, 
James Fenwicke Holmes, Muller, Paolo Gomez, and 
Will Sprott. Look for their latest album, Don't Throw Me Away, on Galaxia Records.
How did we get to this entourage of horn players and auto harps and wacky business like this?
Will Sprott: I met most of these guys not through music but through skating, actually. Almost all of us grew up skating in San Jose and I've known four of the guys since middle school. And the other two guys we met through playing music around San Jose. When I began recording, they were the guys I knew, and they just happened to play a lot of stuff.
There is a lot of stuff, so rattle it off.
There's baritone…
French horn, trombone, trumpet, saxophone, clarinet, auto harps, organs, a bunch of different keyboards, drums, guitars, bass, and whatever else is fun at the time. In the current incarnation, there are six of you. Our friend Mercedes used to play tambourine, but she's waxing women's vaginas now.
Wax jobs? That's fun, I'd rather do that than play tambourine. So you guys still skate?
I'm still recovering from a broken foot. I'm still limping. I just moved out of San Jose to Oakland. Up until about a month ago I was living in 
a house with a bunch of skaters. I lived with Louie Barletta.
What do you think of that Lake Cunningham park?
I've actually never gone; you have to pay.
It's this wacky la la land of mile-long fullpipes.

And like a 40-foot vert wall.Yeah, I've seen the photos and decided that it's not for me. I don't like that skateboarding has become all skateparks. All my friends just skate skateparks everyday and I miss running around the streets. That was what I was always into.
Where in Oakland are you living?
I live in North Oakland, right on the Oakland/Berkeley border.
Berkeley and Oakland are strange; you've probably noticed that it's a block-by-block situation. One block is very nice and the next is super rugged, like, hello transvestite hookers.
There's a lot of hooker trade right were I am. There's an alleyway that's very full of business.
There's talk of hookers in the song "St James Street."
Transvestite hookers, as a matter of fact. They make several appearances in the songs. It's definitely a theme in my life. There are always hookers traipsing about in front of wherever I live.
And this is still the case in Oakland it sounds like.
But this is the first time in my life that they aren't transvestite hookers. You know what I've been impressed by is how early they finish. 
They're out there at 9, 10:00 pm, but come 2:00 am they're all gone. You would think that there would still be some stragglers.
How did you become involved with Galaxia records?
Basically through skateboarding. We had recorded a little five-song demo. We weren't really intending to do much with it, but we gave it to our friend and our friend ended up giving it to Mark Whiteley at SLAP. Mark ended up giving it to Thomas Campbell and Greg Lamson who run Galaxia. Those guys liked it and started showing up to our shows. It is kind of strange to be on the same label as Ray Barbee, because 
I had met Ray when I was 14. He was my camp counselor at Visalia. 
And amazingly, he actually remembered me. It's been cool to be friends with him later in life; it's a strange turn of events.
It sounds like with the first album you guys had this idea 
of what you wanted to do, but you weren't really sure. 
The new album is tight, like you guys have figured out the direction you want to go, even to the beat that carries through the album. Talk about the transition from that sound to what seems like this much-more-togetherness sound you have now.
I think that's totally right. The two records were recorded under totally different circumstances. The first record, basically we got free recording time in Whitefish, Montana.
There's a skatepark there.
There is, but we were there in November so we didn't get to partake in that. But it's a neat place. We recorded that first record in four days; 16 songs in marathon 14-hour, 16-hour sessions. And we hadn't really been a band that long. But this new record, we had played all these songs for a full year. We were pretty sure how it should fit together, unlike the first one where we just tried getting it all done as fast as we could. This one we did in San Francisco with a friend over time, so we knew that if we needed to go back and redo something we could. 
It was more relaxed and it gave us the time to get what we wanted.
Are there any lesser-known soul acts that the average 
Thrasher reader might not know about but should?

There are so many, where do you start? I tell people to go get the Stax singles box set and it will enrich your life. It was a record label from Memphis, that Otis Redding was on.
Who else is on that besides Otis Redding?
Wendy Rene, who is one of my favorite singers ever. She's the girl who sings the song "After Laughter Comes Tears" that was sampled by Wu-Tang. She has great songs—she's got one called "Barbeque," and you can't beat that song. She only recorded a few songs, and she recorded them when she was like 16 years old but they're so good.
Download Mumlers albums or songs from the iTunes store
here
or check out their
myspace
page for upcoming shows.
9/28/2020

After millions of album sales since the mid-90s, Third Eye Blind frontman Stephan Jenkins continues to make music without compromise or concern about radio hits and pop charts. He features Cher Strauberry in his newest video and she sat with him for an interview.