Thrasher Radio: Ep. 10 Arto Saari
2/12/2014
Originally Recorded: February 5h, 2014
Jake sits down with the 2001 SOTY, Arto Saari, to talk about Flip, injuries, and music.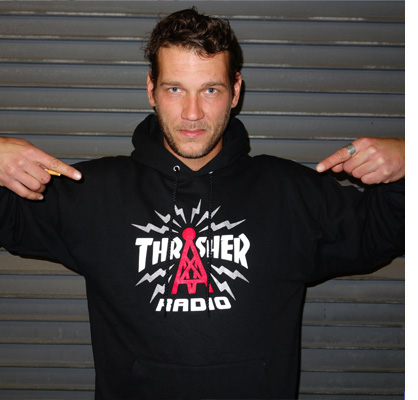 Thrasher Radio Ep.10 Track List:
Joy Division - "Transmission"
AC/DC - "Go Down"
Bad Religion - "Generator"
Motorhead - "Whorehouse Blues"
Bad Shit - "Your Feelings, I Care"



Subscribe to the Thrasher Radio Podcast by copying this link into your favorite podcasting app, or click here for more options!


Have a question or comment for Jake? Who do you want to see on the show? Let us know by leaving a comment below.
9/28/2020

Appleyard talks about his killer new part, Phelps grabbing the mic at his SOTY party, eating cigarettes and the nostalgic scent of piss at Hubba. Up your playlist game with one of the best to ever do it.