Cole Wins Maloof
6/06/2010
Chris Cole walked away with first place and $100,000 today after an amazing battle at the 2010 Maloof Money Cup.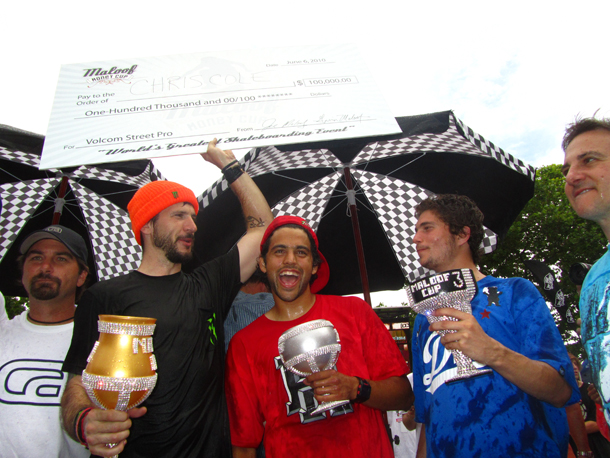 Final Results
1. Chris Cole
2. Paul Rodriguez
3. Torey Pudwill
4. Bastien Salabanzi
5. Sean Malto
6. Sierra Fellers
7. Ryan Decenzo
8. Peter Ramondetta
9. Greg Lutzka
10. David Gonzalez

AM Finals:

1. Felipe Gustavo
2. Tom Asta
3. Gilbert Crockett
4. Jeffrey Marshall
5. Ishod Wair
6. Cody Davis
7. Timmy Knuth
8. Manny Santiago
9. Filipe Ortiz
10. James Hardy
7/27/2012

The Spitfire ring of fire went up, came down, and back up. Ishod Wair, Chris Cole, Tony Trujillo, Tim Zom, Curren Caples, Wes Kremer and Robbie Russo all jumped the flames.