Danny Way vs The Great Wall 10 Years Later
7/09/2015


Ten years ago today, July 9th, 2005, Danny Way jumped the Great Wall of China. I got invited and needless to say I went. The thing was massive. Most of the DC heads were there: Colin, Dyrdek, Ellis (beat me for 100 bones on a pivot fakie). Friday night Danny told me he just wanted to get it over with. He climbed 57 stairs and just went for it. He got the wobbs and got rinsed. I thought it was over. They took him away in an ambulance and I thought he was going home. Seeing as how the ramp cost 5-million dollars, Saturday dawned and he was there. I couldn't believe it. After a quick wheel change and some Cortisone, he stood on the brink of eternity. He jumped the wall but couldn't make the 38-foot quarterpipe. It was one of the gnarliest things I've ever seen. Danny is a terminator. The whole country had a mandatory work stoppage so everyone could see it. He invented it and he did it. If you ever see him, look into his eyes. He doesn't play. Wow, ten years, real shit. –Jake Phelps



Click images to enlarge.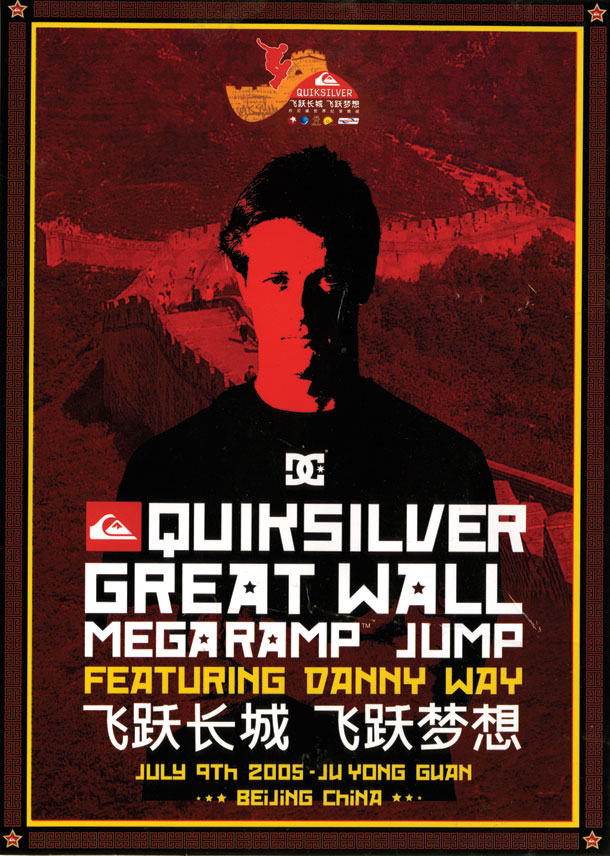 Plenty to think about. Photo: Blabac



They built it to keep out the Mongols. Photo: Blabac



Photo: Blabac



Insane logistics with the ramp crew. Photo: Blabac



Photo: Blabac



Sentry view. Photo: Blabac



Local roughnecks. Photo: Blabac



Two hours early?!

Backstage... Photo: Blabac



Tools of the trade Photo: Blabac



And she's buying a stairway to Heaven... Photo: Phelps



Photo: Blabac



Phelper and Big Rob Photo: Blabac



Phelps flatbottom cam Photo: Phelps



They engraved his name on the wall for all eternity Photo: Ogden



Only birds were born to fly, but that'd never stop Danny Way from trying. Backside flip at 30mph from 55-feet to flat. Pull the rip cord… Photo: Ogden



Photo: Ogden



Photo: Ogden



Photo: Ogden


8/13/2020

The Brooklyn Banks is one of the most iconic skate spots ever. Take a roll down memory lane with the locals and legends who have contributed to its legacy, then sign the petition to save The Banks. From the August '20 issue of the mag.