Junk Drawer
9/17/2018

The whole WKND crew snags some airtime, but this vid is Alex Schmidt and Trevor Thompson's time to shine. Let the residents of Sir Palmer take you on a trip down every alleyway and side street of Los Angeles with Leonard Cohen supplying the soundtrack.
9/18/2018

Phil brought his blitzing approach to skateboarding Stateside, exploring some of the lesser known patches of concrete in the middle of the American expanse. This is a fantastic edit.
In The Mag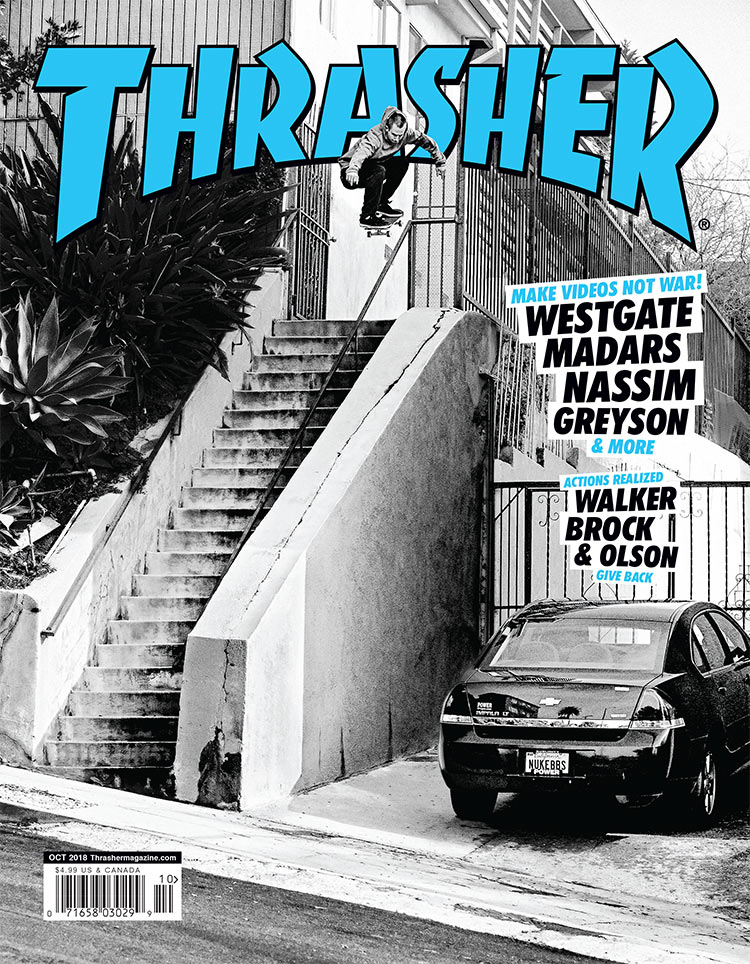 Outta the bog and straight into the fire, Brandon Westgate scorches onto the October 2018 cover with an ollie to perilous plank ride. More W-Gate inside by way of a feature interview—all handsomely shot by masterlensman Brian Gaberman—as part of a behind-the-scenes look at Element's newest video offering, Peace. Nassim, Jaako, Madars and Julian Davidson all get grilled, too. This vid is gonna be HEAVY! In tales of travel, REAL took their Actions Realized efforts to Chicago, Detroit, Providence and Taunton, MA, spreading the stoke and doing good deeds along the way. Circle-F-wise, Corey Glick and Dakota Servold both have interviews, letting you know that the new Foundation vid will be absolutely bonkers (as they always are). And if you're sick of low-impact curb dancing, have no fears—Nuke Baby is here to make sure those drops stay high and the rails stay kinked! Hope you're done with your homework because this one's gonna take over your life. Add this one to your collection.