DC Shoes' "Street Sweeper" Premiere Photos
7/23/2018
On Friday, attendees pulled up to the historic Max Fish bar in the Lower East Side of Manhattan from all over the East Coast to get their first look at the new DC video
Street Sweeper
and to check out John Shanahan's new colorway. Things were rolling along nicely, the place filled all the way up to capacity when the video started and by the end it had everyone's mind blown. —
Mike Heikkila
John Shanahan and Vintage Sponsor teamed up to do a pop-up at Labor skateshop featuring a handful of their custom and throwback apparel.
John Gardner snooping around for something his size
James from Labor had everything looking good. Good enough to buy a bright orange Aesthetic shirt
Shanahan showing off his new colorway of the E. Tribeka shoe
Gotta get some flatground in outside the skateshop. Gardner, full-speed powerslide into traffic
There were tickets to get yourself a free slice and a beer from Scarr's Pizza across the street during the pop-up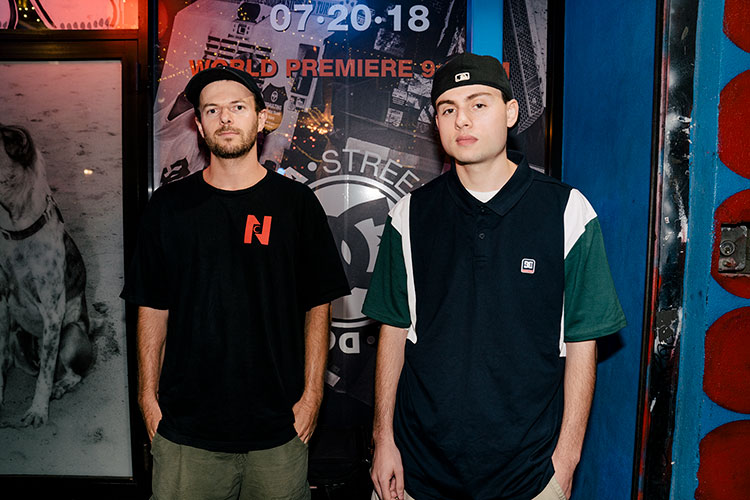 Love Park's finest Brian Panebianco and Kevin Bilyeu arrive at the bar
New York, Philly and Montreal collide!
New Jersey heads in the house—Ron Deily, Steve Mastorelli and Doogie
The new Shanahan collection on display atop the sweeping woman statue
Josh Wilson taking advantage of the open bar
Edward Brackmin and Alex Papke here to take embarrassing photos of you
The Supreme pinball machine was constantly entertaining somebody
Alex Raspa with Jenkem founder, Ian Michna
Bill Mcfeely and Nick Ferro ready to see this Shanahan footage
More NY pizza of course. James Juckett serves 'em up
Everyone piled in real quick to get this thing going
At capacity!
Legends: Ron Deily, Spencer Fujimoto and Jaime Reyes
Vladdy, elusive leader of the Public Housing Skate Team
Jerry Mraz posted up with Skate Jawn's Marcus and Noah
Shoutout Eric Fischer and Jeff Brown for making the premiere run smoothly
Papke, Corey Glick, Brett Weinstein and Matt Schleyer roasted each other all night
OG God RB Umali and Bogdan been holding Max Fish down for years
Marc Razo poured 'em up with style all night
Stars of the flick, the Johns: Gardner and Shanahan
Jake Baldini, Lil Nice Girl and Josh Wilson keep the party goin' in the downstairs
Dick Rizzo and Paulgarr out here supporting the homies.
Quasi filmer Paul Young always doubles down
Shanahan and his girl Kayla
Jahmir Brown and Quel Haddox cruised up from Philly
Good ratio
Popping off outside just as much as inside. Such was a great night. Thanks to DC and Max Fish for making it happen
10/20/2022

Wheels of Fortune brings together people from all over the world, not just to skate, but to party and connect. Check in with a select few stars of the weekend to get their sense of the event.