Double Rock Lockdown: Vote Now
4/18/2011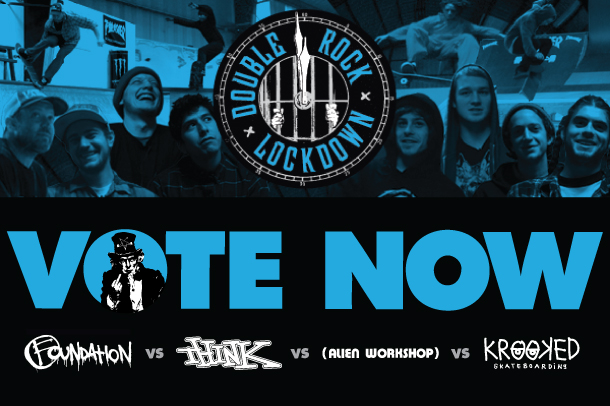 All the episodes have aired.
Now YOU gotta decide which team won. Check all four videos one last time and then cast your vote for the best. The winning team takes home $7,500! Voting ends Friday. The winner will be announced next week.
Foundation
Loading the player ...
Lockdown kicks off with the first of four episodes: It's the Foundation squad of black jack Nick Merlino and mountain man Sierra Fellers, suffering 24 hours of HP madness. –
Phelps

Think
Loading the player ...
Orange jumpsuits, porno mags, a prison guard, and a nod to
Half Baked
? Think took the Lockdown concept seriously.
Alien Workshop
Loading the player ...
Double Rock has seen a lot of action in the last couple years, but leave it up to Ozar to go where no man has gone before.
Krooked
Loading the player ...
Manderson, Drehobl, Cee Lo Green, flying birds, and 24 hours locked inside the 'Rock. Krooked is in the building folks... FUCK YOU!
11/04/2021

We go back into the Sect's records and find more raw material with Danny Renaud, Ed Selego and Fred Gall from the early days of Habitat. This is pure gold.