Emmet Duffy Interview
6/05/2013


Catch up with Ice Cream's Emmet Duffy in this Q & A then watch him shred the Uprise warehouse.




Name:
Emmet Duffy
Age: 23
Hometown: Chicago, IL
Sponsors: Gold wheels, Zoo York, Nike SB, ICECREAM, Melin Headwear, Krush, Uprise skateshop

360 flip Photo: Cronan
First Board: Man, I had some piece of shit non-skate shop board to start. I think my brother gave me a Mariano or Koston board and some Orion trucks after that.
Getting On: The Uprise skateshop crew is all my close homies. That's who I'm always with and where I'm always at. Getting on just kinda happened naturally. Uprise is Chicago. You gotta rep your people and where you're from. Getting on ICECREAM was a little more unexpected. I didn't know the TM Ben (Oleynik), but our mutual friend Chaz (Ortiz) had been showing him some footage of me and I guess he was hyped on it. He got in touch with me and talked a bunch about ICECREAM coming back as apparel, and how he wanted me on the team. It sounded mad dope so I was super hyped to get down. Traveling with the homies skating is a dream come true. So I'm mad thankful for that.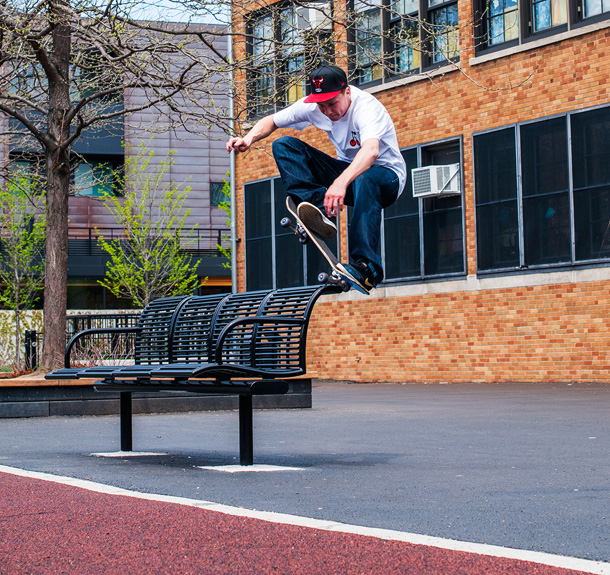 Front nose grind Photo: Frank Verges

Go To Trick: Switch tailslide variations or switch back heels.
Go To Spot: Anywhere on the lake in Chicago. Mad new shit popin up there.
Video Part on repeat: Lucas Puig , Chaz Ortiz, Furby.

Contests: Contests are dope. I like the hype sometimes. I grew up skating the streets though. So I'm definitely more into skating spots and shit.
Trees: Everyday.
Music: Random rap shit.
Food: Pizza , Burgers. I need to start eating healthy though.



Kickflip Photo: Cronan
Best trip: Japan a few months ago with ICECREAM or Puerto Rico in 2011 with Affiliate.
Next Trip: Denver—that'll be chill.
Teammates: Jamel (Marshall) and Andre (Beverley) and are my bros. These fools are mad funny. They're dope. I'm super hyped to be able to travel with them and just talk shit and skate. They hold it down!
Thank you's: Big thanks to Ben Oleynik and Pharrell! Jake Mednik, Eli Soto and everyone at Gold wheels! Thank you to all my homies in Chicago, my family, Bob Fairbaine and Krush. Uriah and everyone at Uprise, Thrasher, Mark Mastrandrea and everyone at Melin luxury headwear. David Fink and Rob Sissi at Nike! Cronan and RB. Thank you Reggie Destin (rest in peace g).
12/28/2021

Kevin put life and limb on the line for Creature's newest video. Catch up with Norway's gnarliest viking as he talks thwarted kidnappings, first impressions of the States and nonverbal communication mishaps. From our February 2022 mag.