Vert Crust
11/04/2009
We keep on diggin' up cool stuff. Hey, these boards are hot on eBay. —
Phelps

Ray Underhill hoists a Madonna in Houston on a Powell Experimental. Photo: Ogden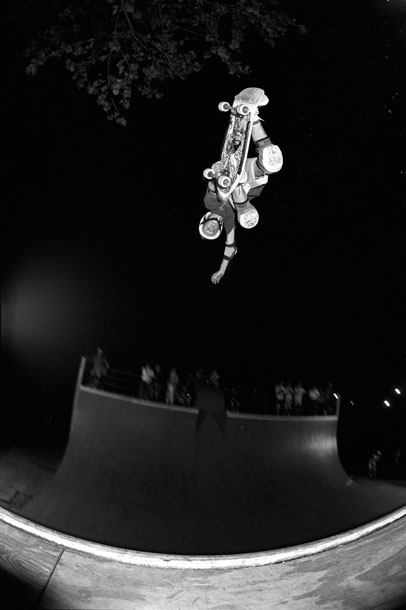 Twenty years of burlitude—Danny Way's H-Street board, cruising with a retainer. Photo: Ogden
Lester Kasai, Andrecht on a Sims Kamikaze
.
Photo: Mofo

Mark Rogowski on a very rare G&S Gator; he was soon to be on Vision. Photo: Mofo

Mike Smith styles a Del Mar backside on a Madrid signature ply. Photo: Mofo

Eric Grisham gettin' bio on his Variflex load. Photo: Mofo
6/21/2019

Jake led one of the most extraordinary lives of all time. There's no way to fully document his legend but we did our best. Based on the June 2019 memorial mag (and expanded here), this massive feature has 50 years' worth of Jake photos as well as testimonials from his closest friends. It's almost impossible to absorb all of this content in one sitting and it's meant to be sampled in various stages. His story will live forever and his spirit continues in everyone who loves to roll. We love you, Jake!