Half a Century of Hosoi
11/06/2017
Christian Hosoi is a cornerstone of skateboarding. His career spans almost 40 years and he's showing no signs of slowing down. He's been on the cover of the mag a half-dozen times. His first front was in Aug of '84 and his most recent was the Independent trucks 30th anniversary issue in October of '08. In the '80s, when contests mattered the most, Christian and Tony Hawk would battle it out for first place while everybody else was gunning for third or beyond. Tony had the technical wizardry and Christian had the high airs and the effortless style—and that style carried through to every aspect of his life. In his youth he was no stranger to the party lifestyle, and when he was around, people were most definitely having fun. When the invite came through for Christian's 50th birthday party at the Combi Bowl, you know we were damn sure going. And not surprisingly, everybody still has fun when Hosoi's around. —Joe Hammeke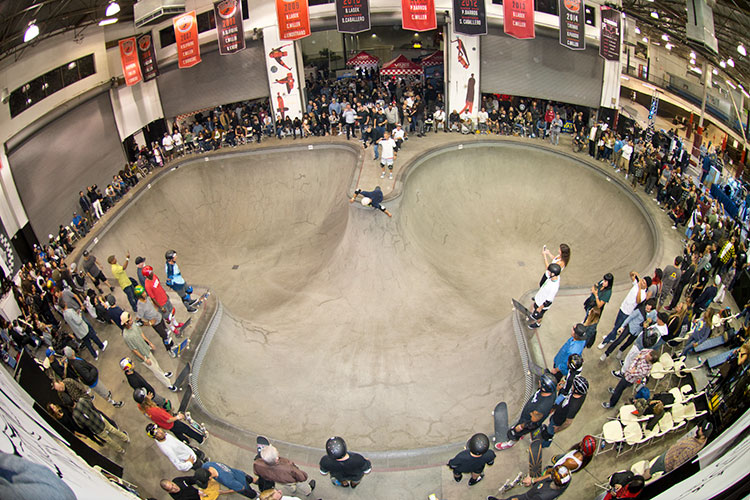 Vans Combi Bowl, filled to capacity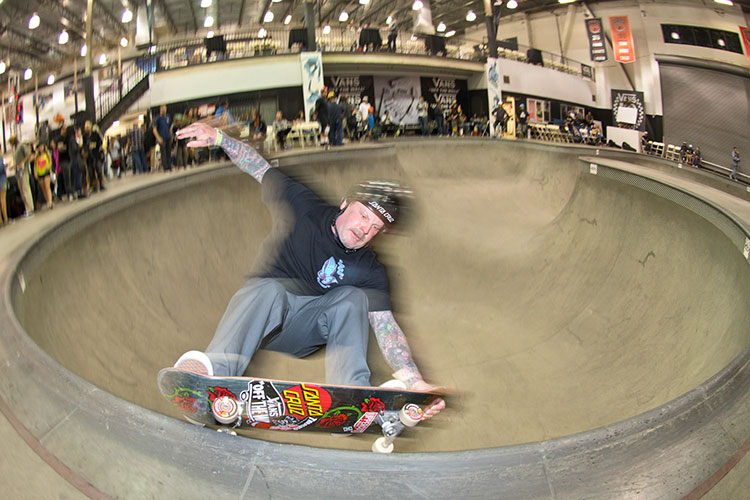 Eric Dressen was there early and slashing through nose-grab grinds in the round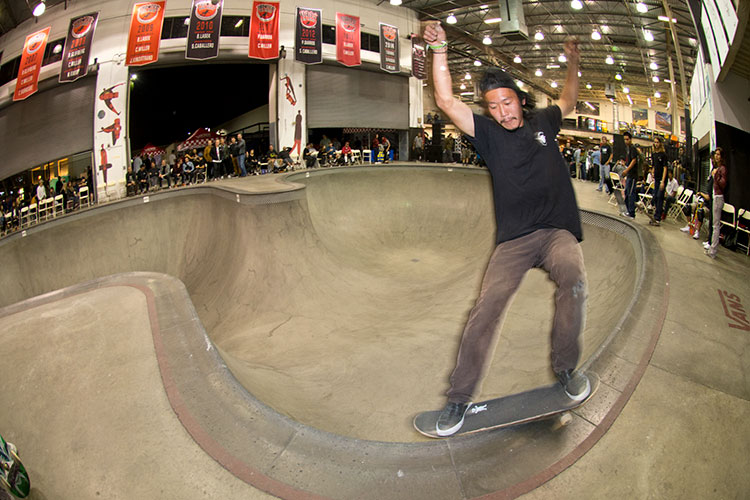 Recent Hawaiian transplant Shota Kubo was testing the waters with a shallow-end Smith through the corner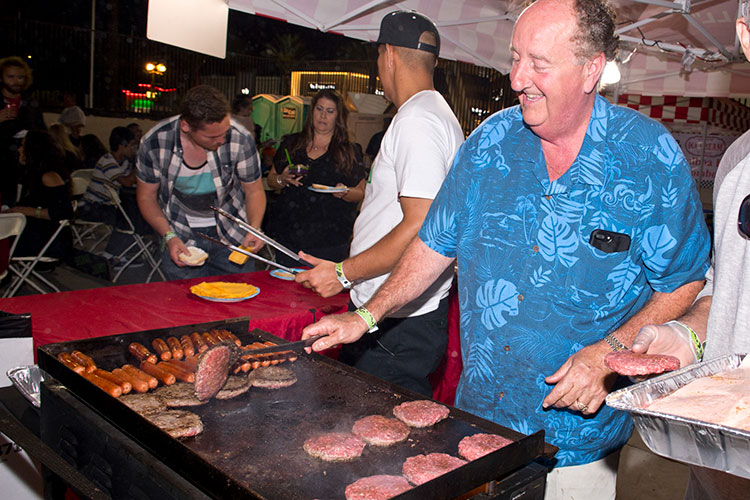 Outside, Steve Van Doren was approaching his 35,000th burger grilled this year. That's a lot of beef!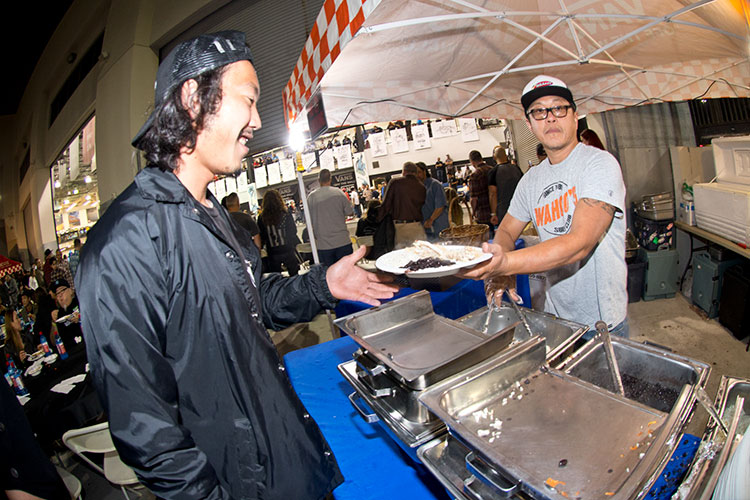 Not in the mood for a burg? No worries. Wahoo's was serving up tacos. Shota takes advantage of some free fish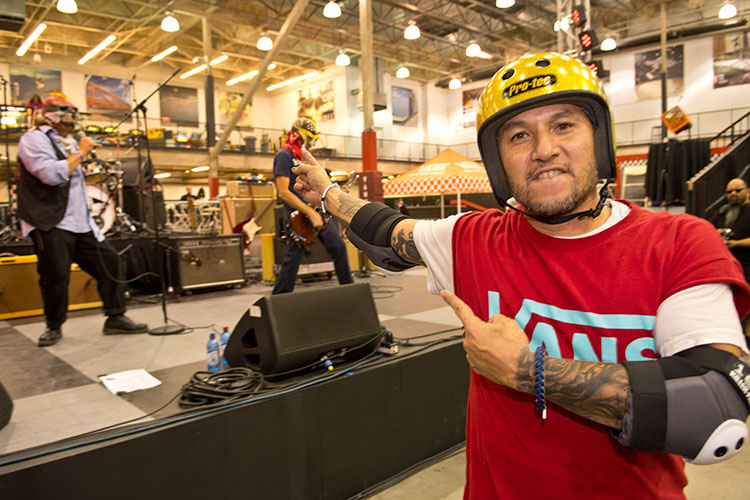 Back inside, Christain points to the stage where The Drunk Injuns are about to play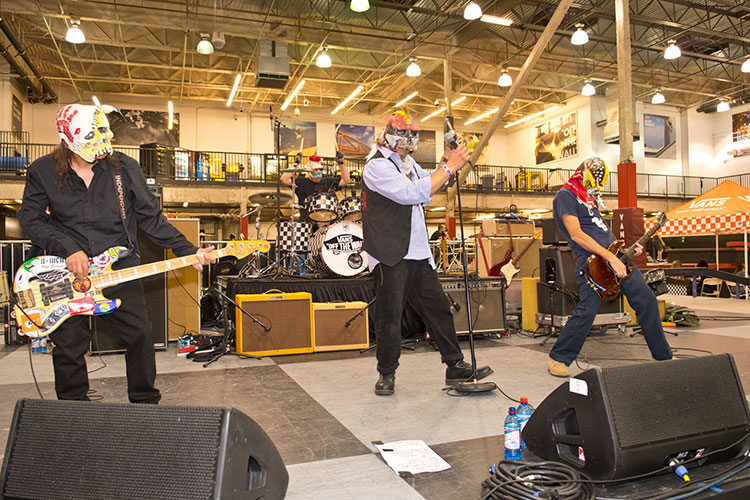 The Drunk Injuns were on the very first Thrasher Skate Rock tape released in '83. Know your history, kids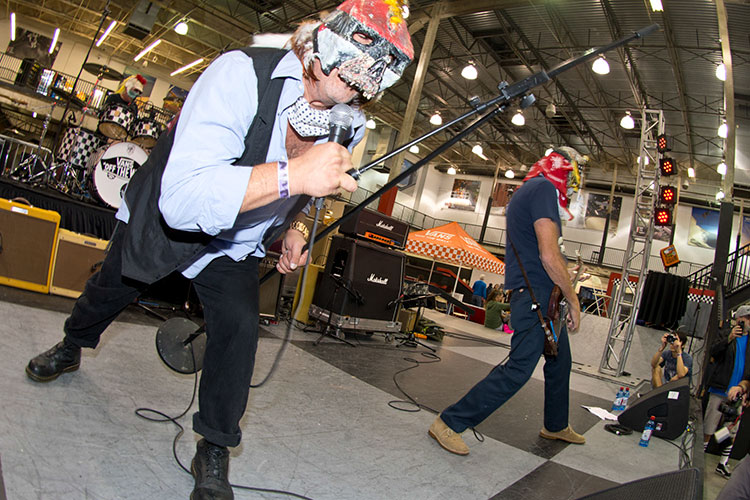 Restless Spirit on vocals and Whölley Smökkes on guitar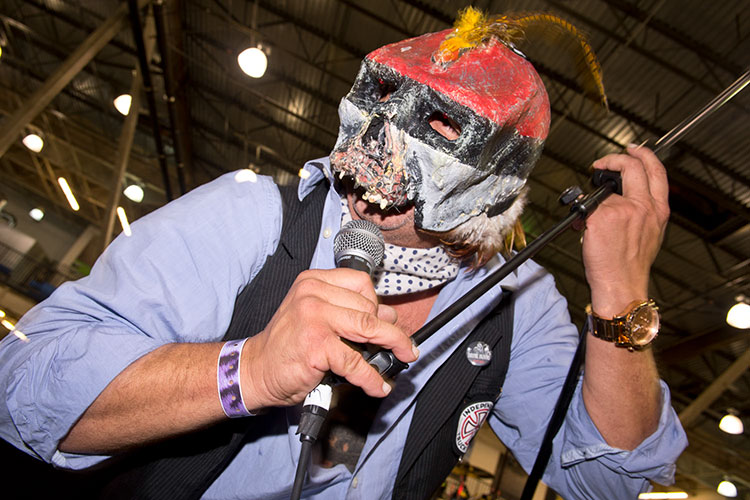 Restless Spirit spewing lyrics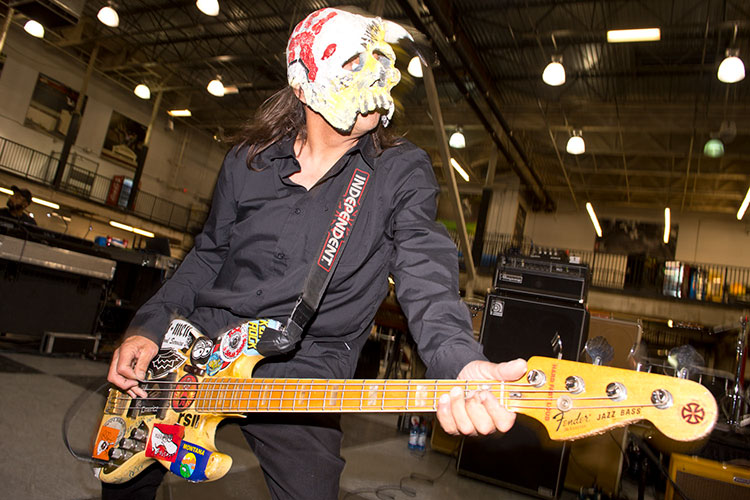 Johnny Yuma thumps the bass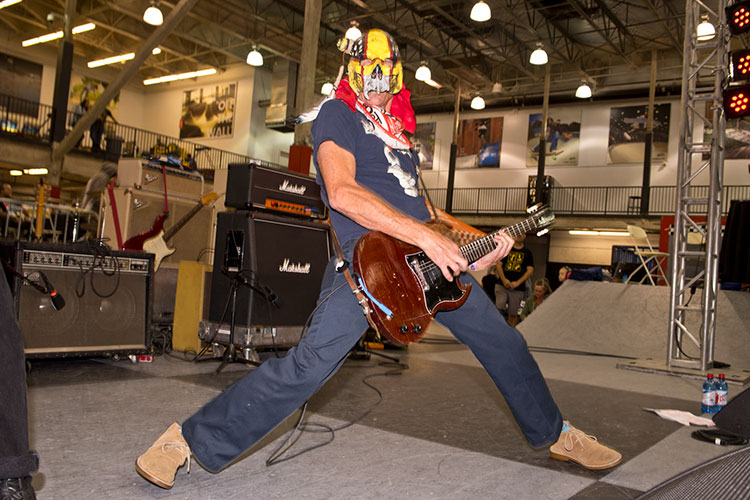 Whölley Smökkes blazing guitar riffs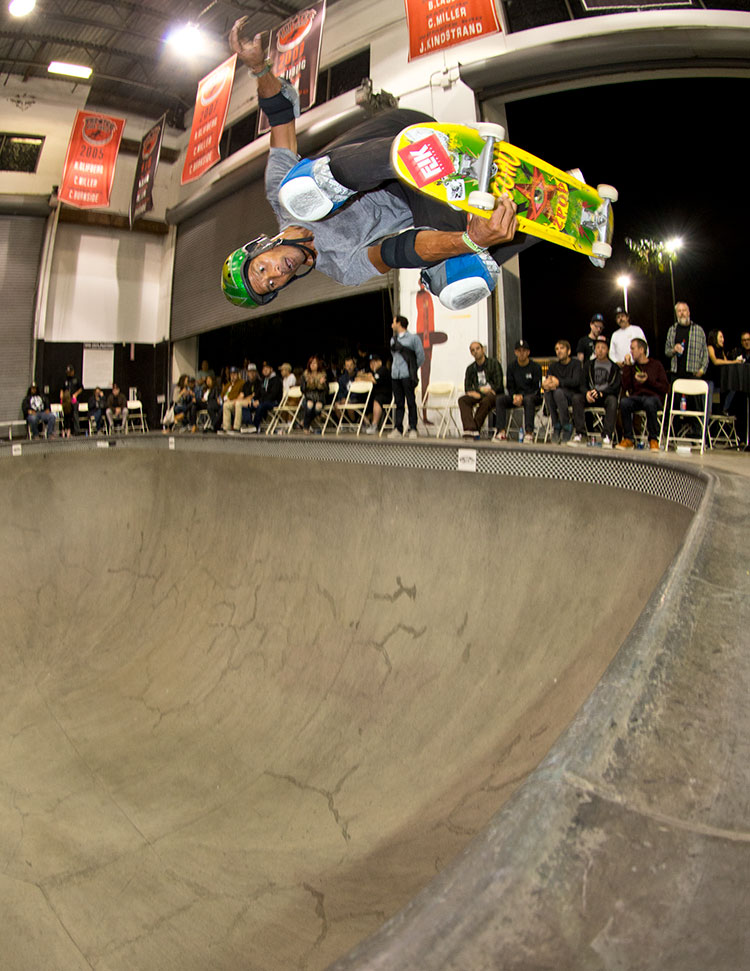 Back in the bowl, Pat Ngoho floats an Indy air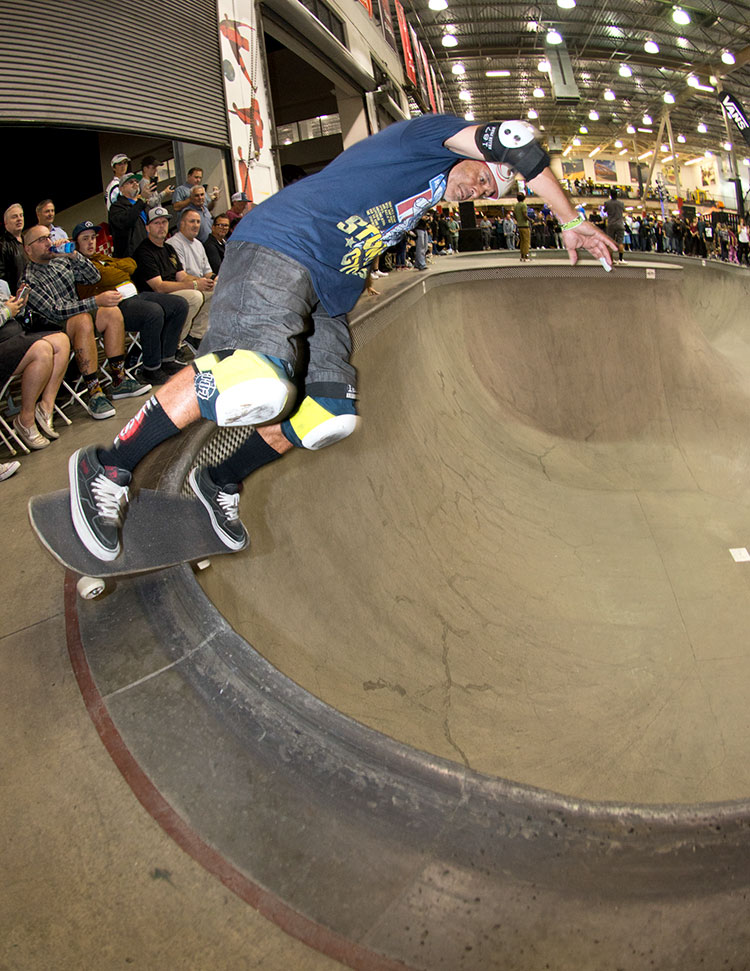 Steve Caballero feebles through the corner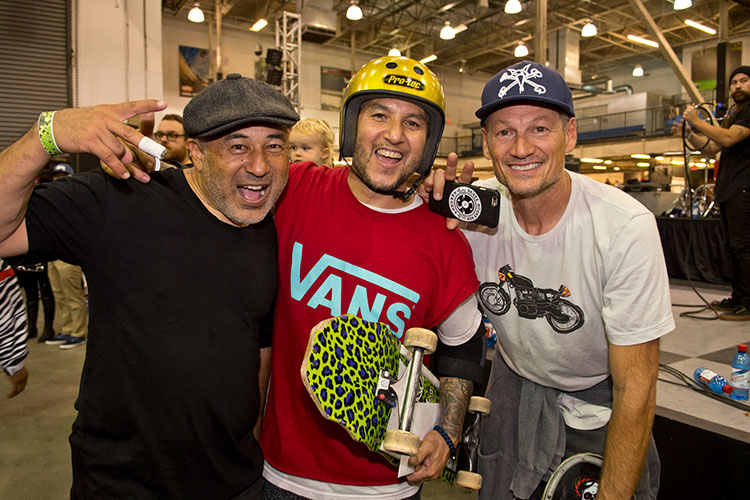 Cab, Hosoi and McGill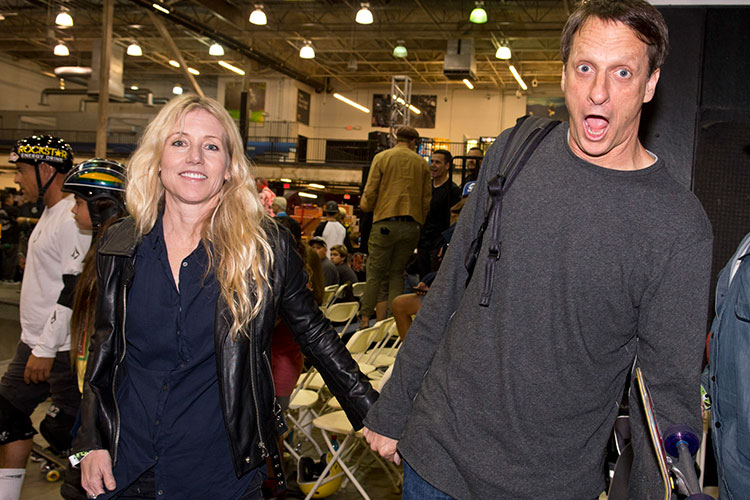 Look who just arrived: Tony Hawk and Cathy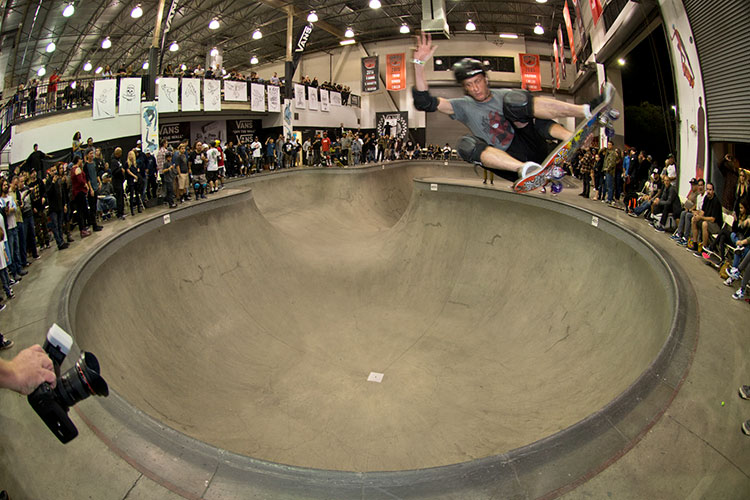 Tony is no stranger to the Combi, huge stalefish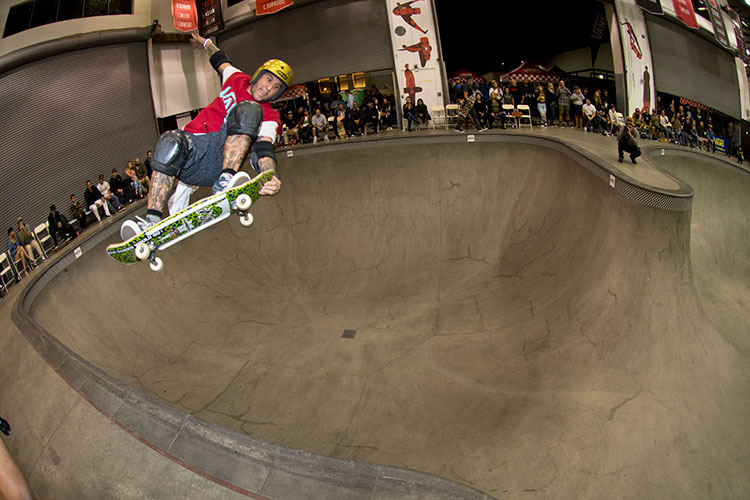 Christian was all over the place: introducing the bands, socializing and occasionally having to vouch for people who forgot to RSVP but still showed up to party, but all of that didn't stop him from skating throughout the night as well. Lien air in the square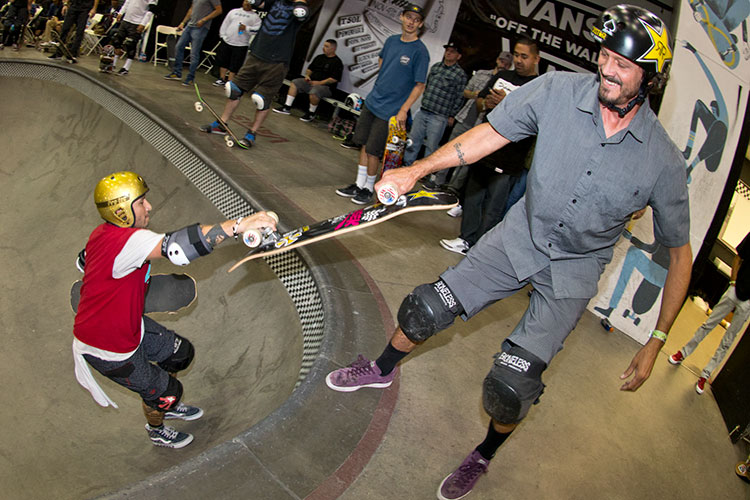 A helping hand from Bucky Lasek to get out of the bowl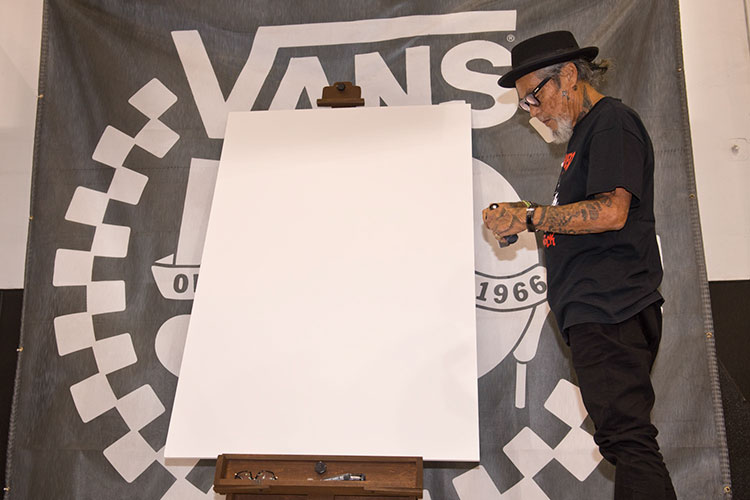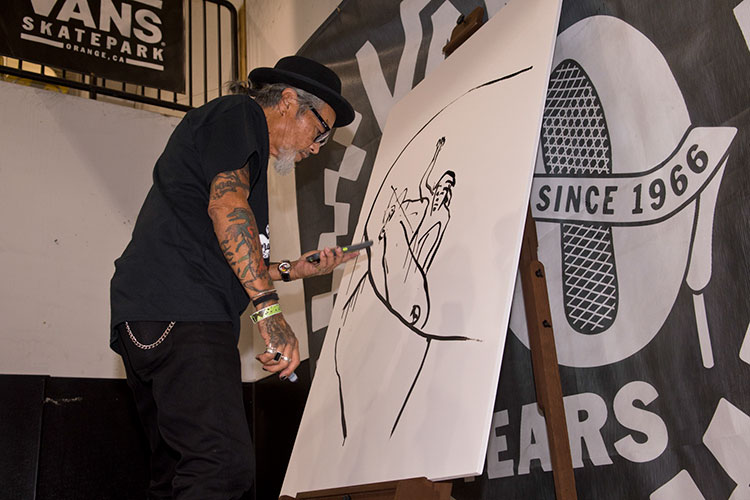 Ivan "Pops" Hosoi was drawing large pieces of skate art throughout the night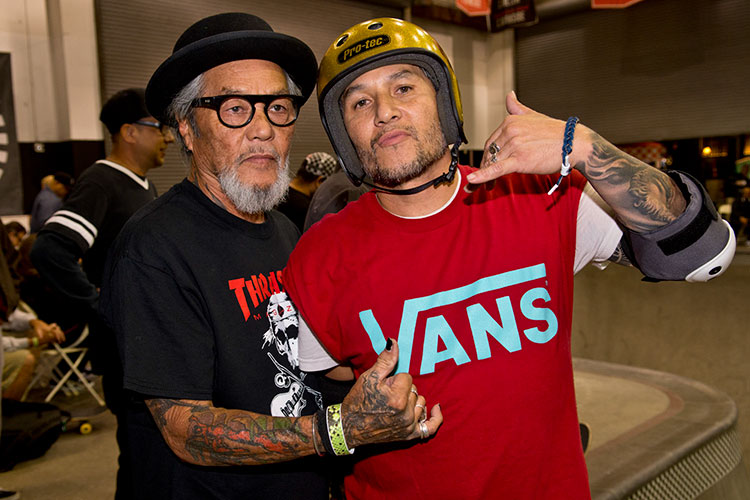 Christian and Pops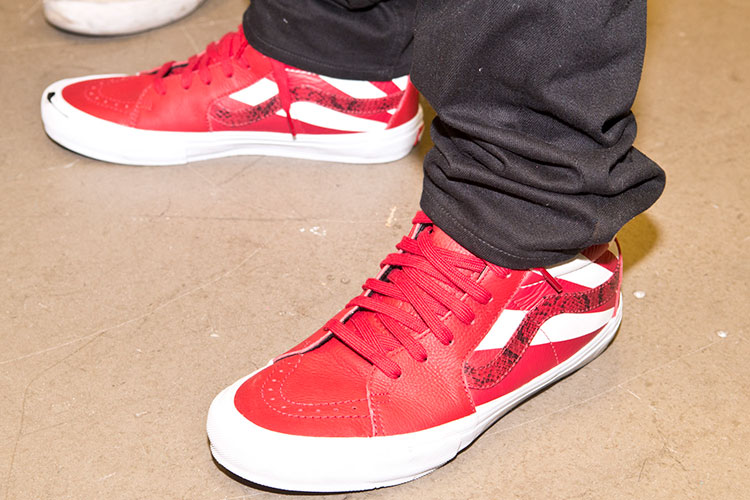 Check out the shoes Pops is rockin'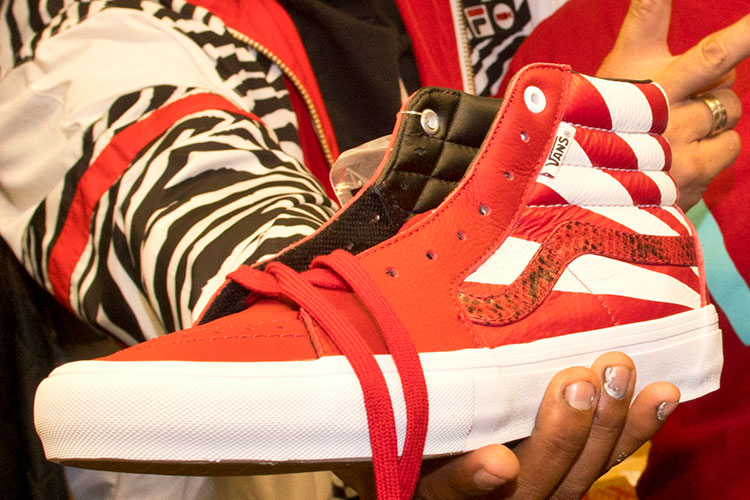 Vans made a special run of leather Rising Sun shoes for Christian's 50th birthday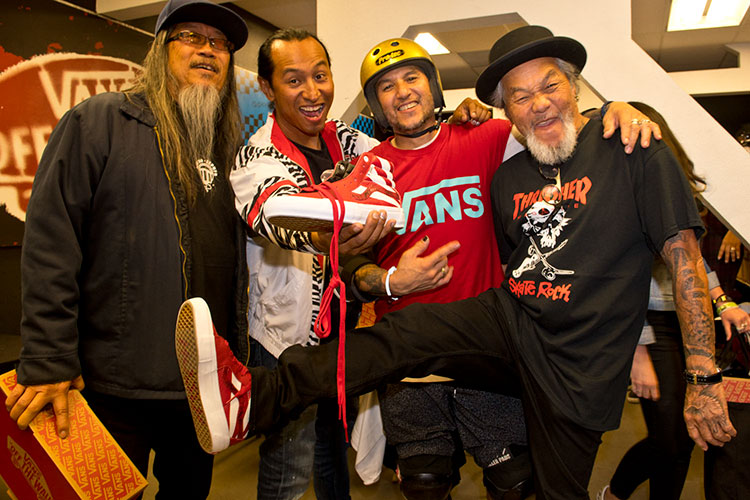 Jeff Ho, Robert Vargas, Christian and his dad show off those custom kicks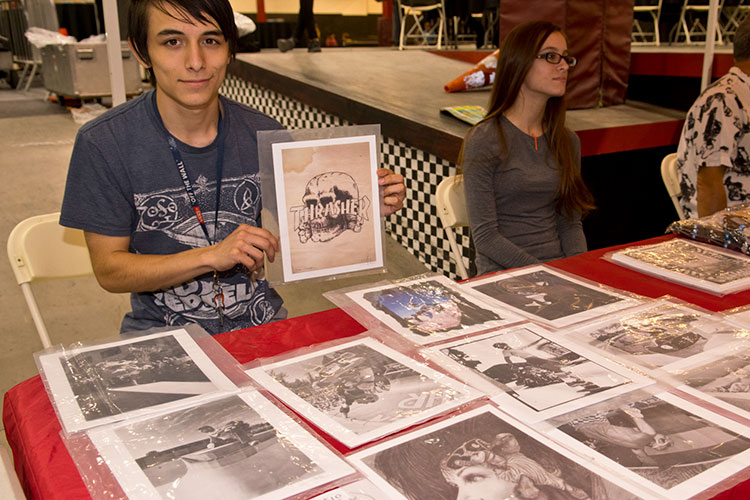 Side stage there were a couple merch tables. The first one had a teenager named Diego selling some artwork.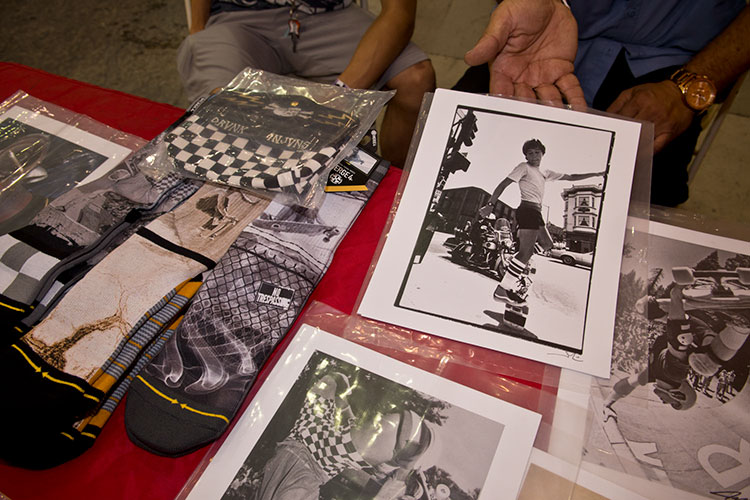 I asked him if the art was his and he said, "No, it's my dad's." Upon closer inspection some of the photos looked familiar…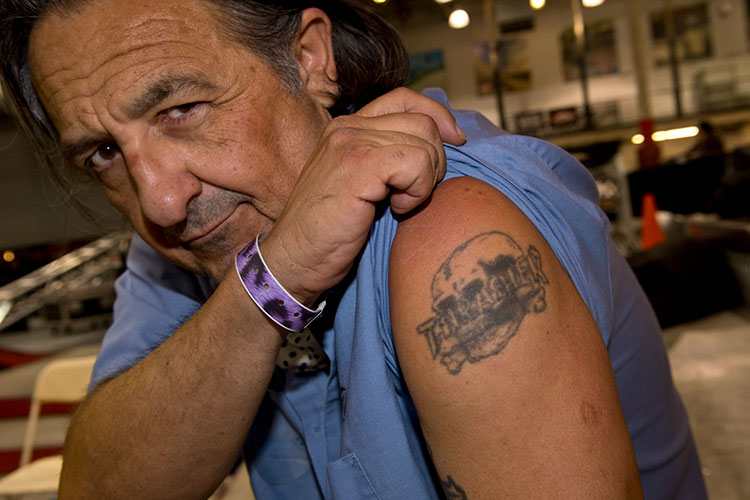 It's Mofo! Thrasher's first photo editor. Here he's showing off the first Thrasher tattoo that he got at Ed Hardy's tattoo parlor back in '81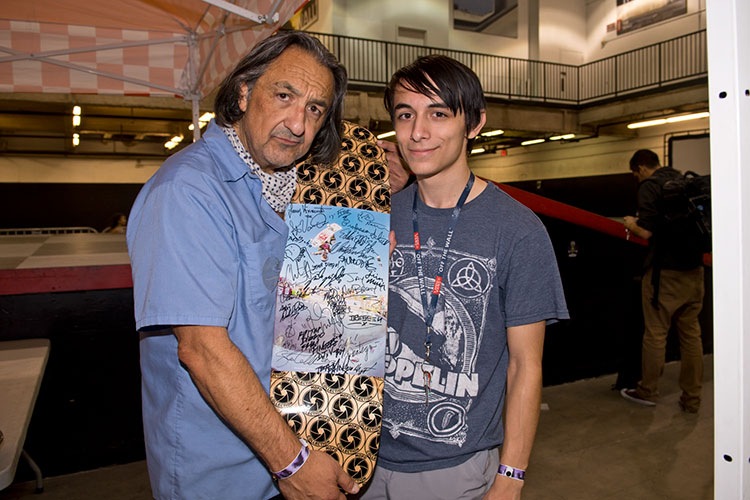 Mofo and Diego with the Hosoi board they got signed by everyone that was at the party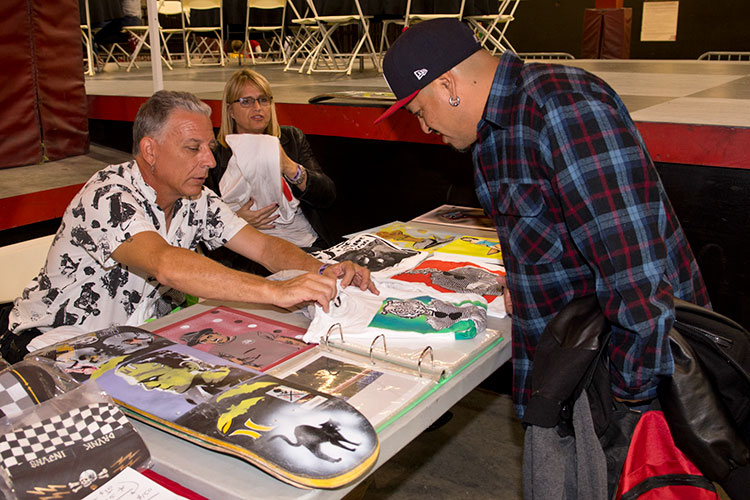 Next table was Salba and Jules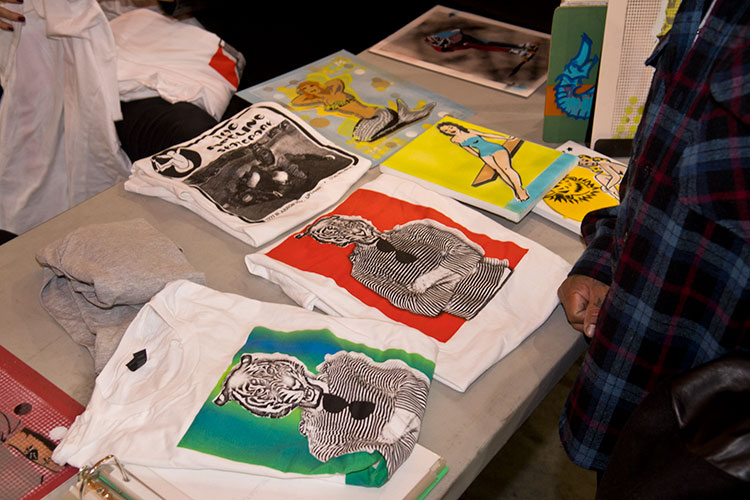 Tiger Ts, paintings and Pipeline memorabilia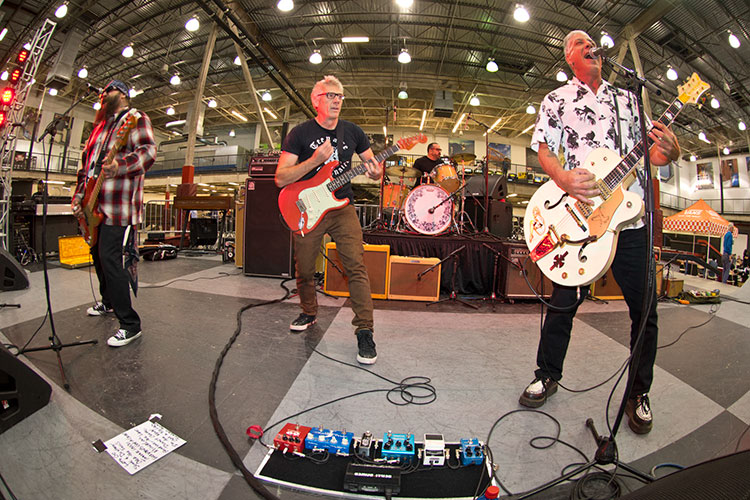 Then it was time for Salba's band Powerflex 5 to take the stage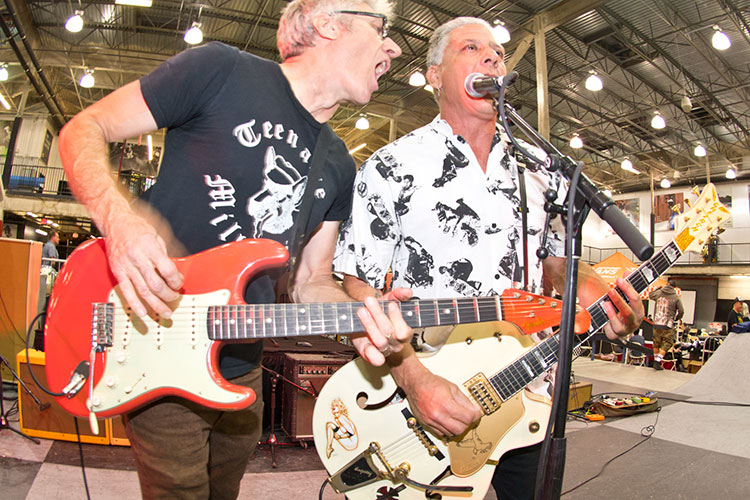 Tracy Robar and Salba of Powerflex 5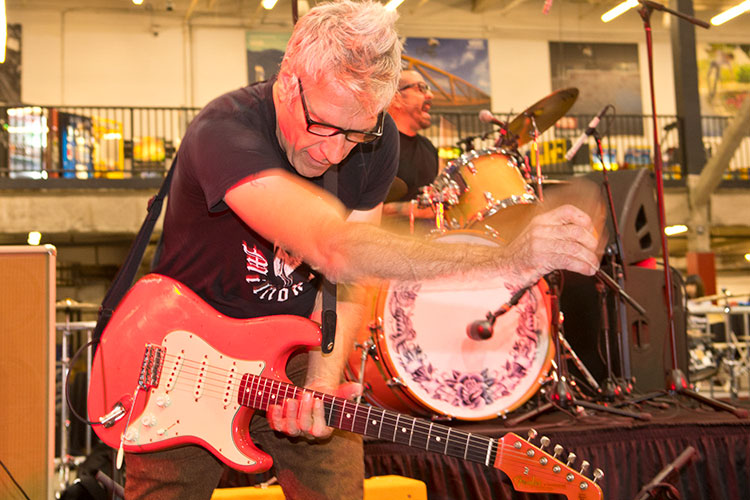 Tracy Robar doing his best Pete Townsend impression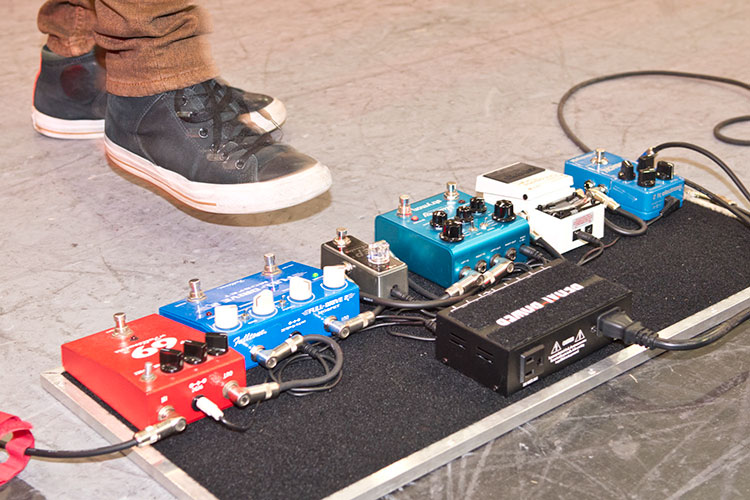 Pedal jammin'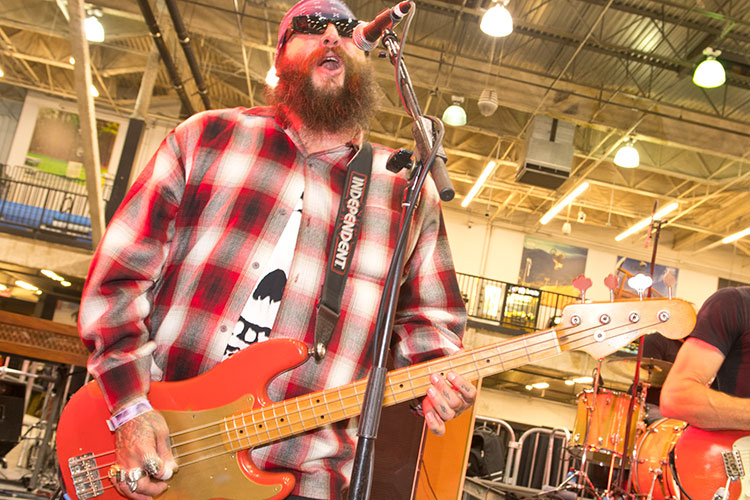 Bobby Abarca of Powerflex 5 belts out some lyrics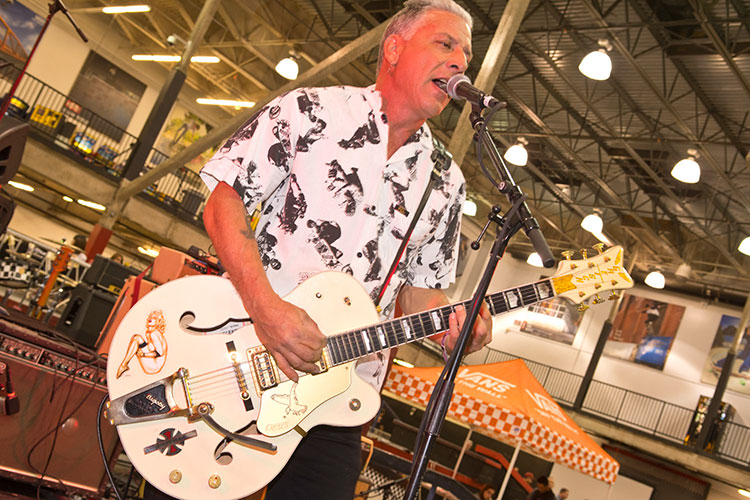 Salba singing and shredding the guitar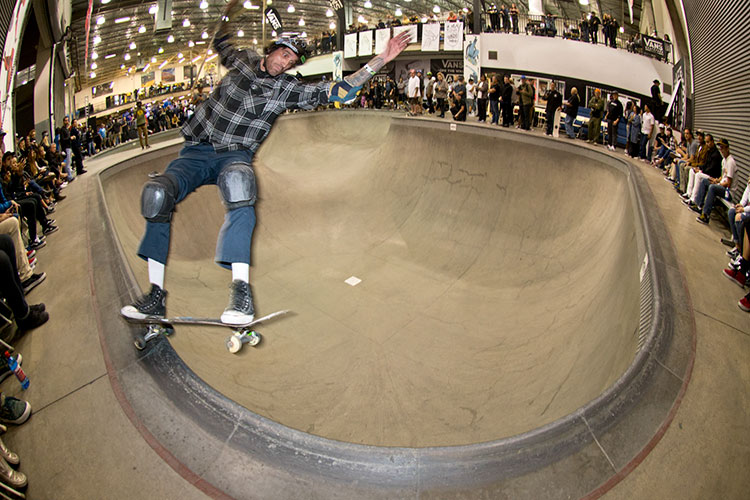 Of course the Vertical Vampire wasn't going to miss a Hosoi party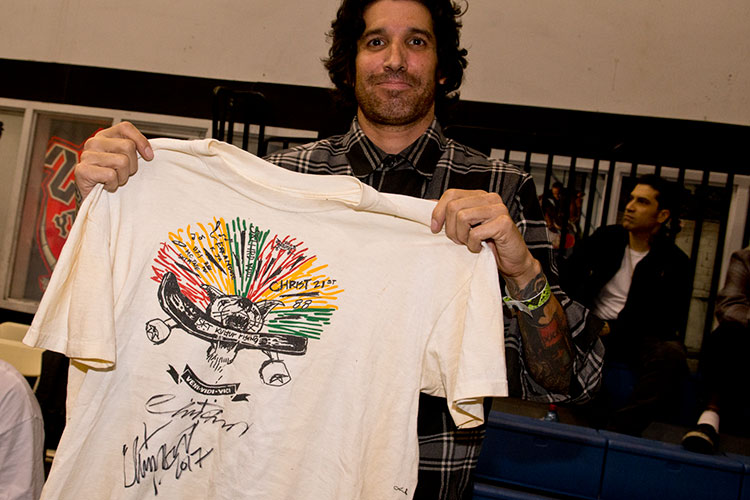 Navarrette even found a t-shirt from Hosoi's 21st birthday party back in '88 and got it signed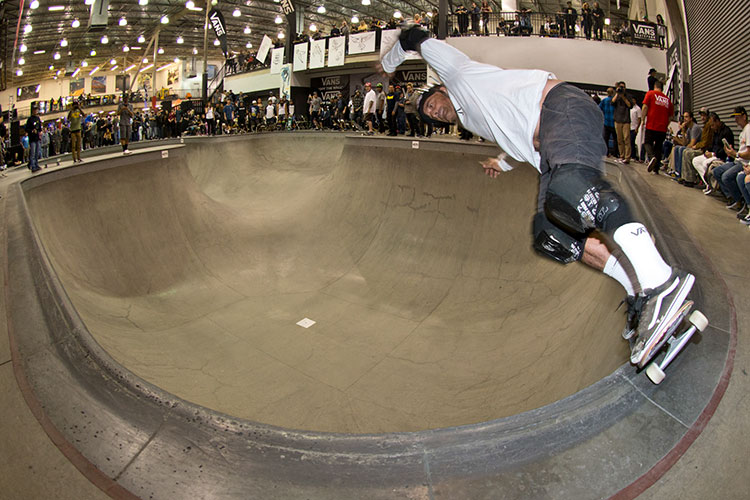 Omar Hassan, high speed feeble through the corner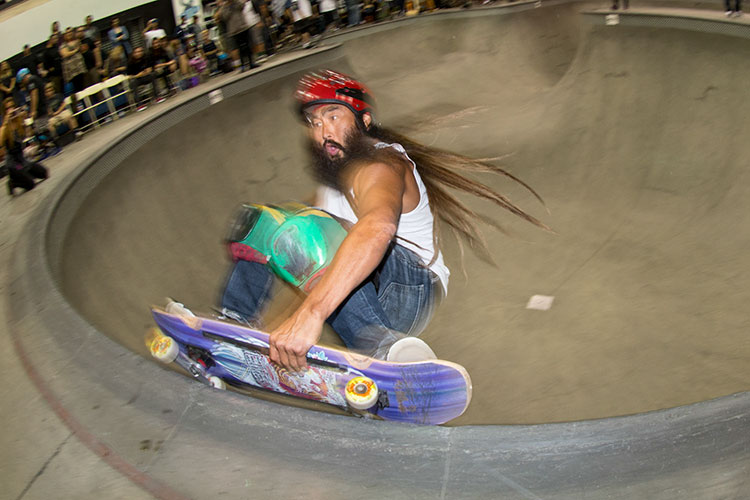 Bennett Harada always charges with style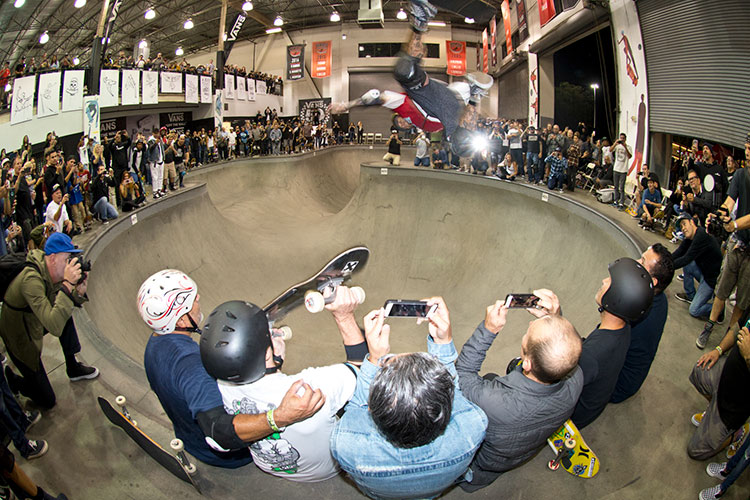 Then it started to get crazy. Christian loves to get the guys sitting on the coping for him to air over but this was one of the bigger groups of guys to clear and the first attempt didn't quite go as planned. Check out T-Mag using his board as a shield



But after a few tries it was a go! Malba and Caballero get the award for most-trustworthy, seeing as they were on the far end of it all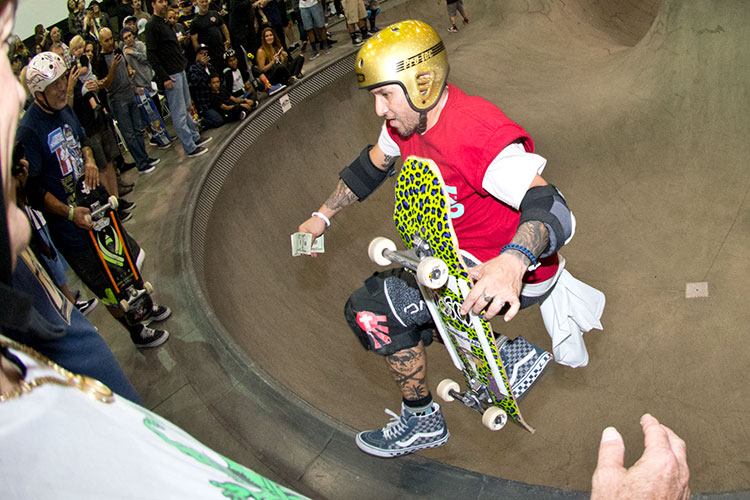 Van Doren had a fat wad of cash for Christian if he made it and sure enough they both delivered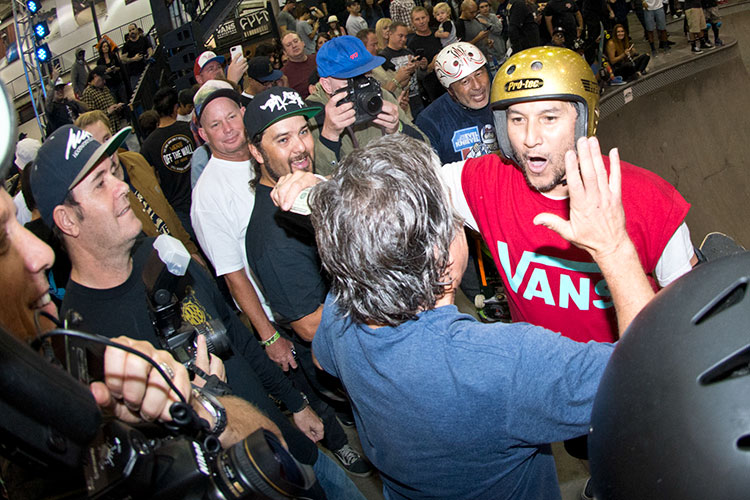 Back out of the bowl to a stoked Malba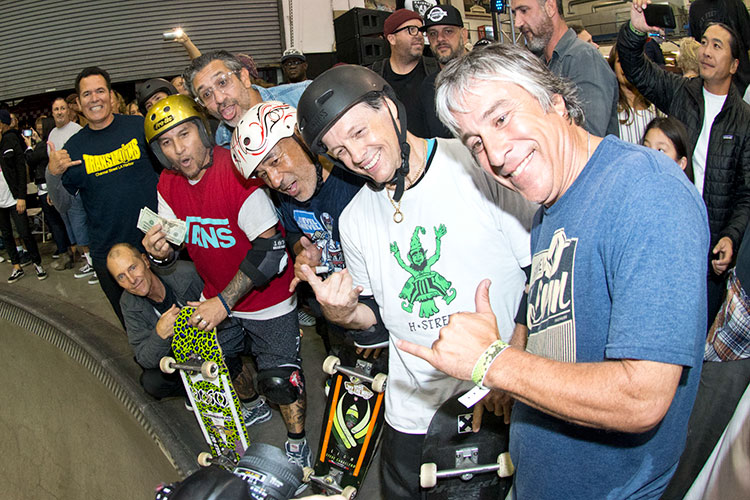 Howard Hood, Brad Bowman, Lester Kasai (behind Christian), Hosoi, Eddie Elguera, Cab, T-Mag and Malba, stoked they didn't get landed on!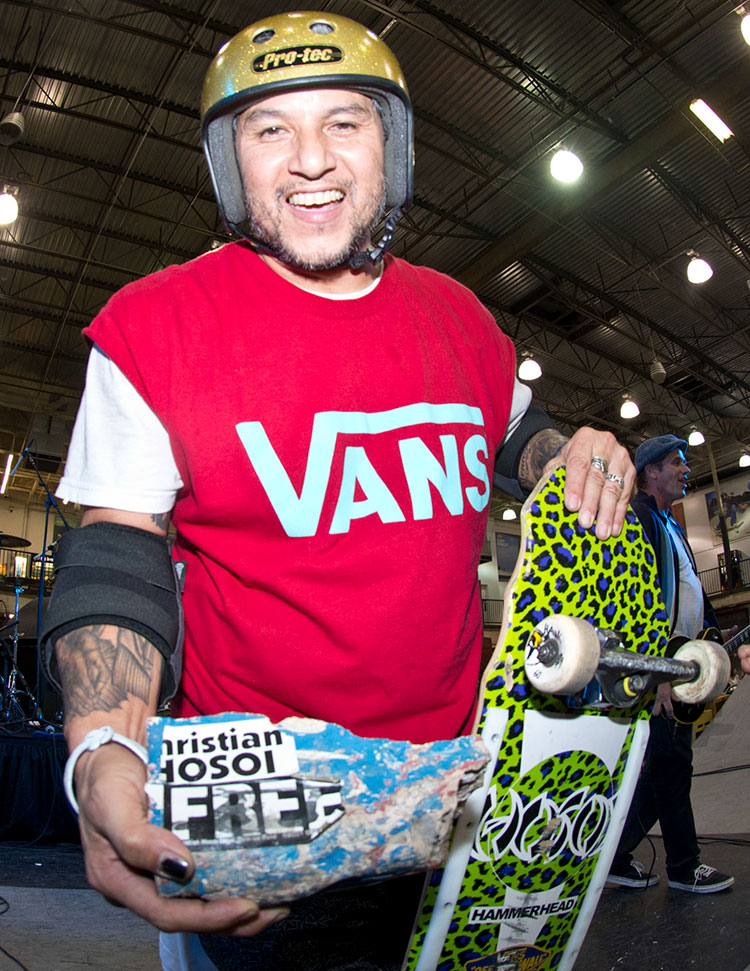 Eighteen years ago, 10,000 of these stickers were made to raise awareness of Christian's incarceration. Here's Christian today with a piece of coping to remind him of how far he's come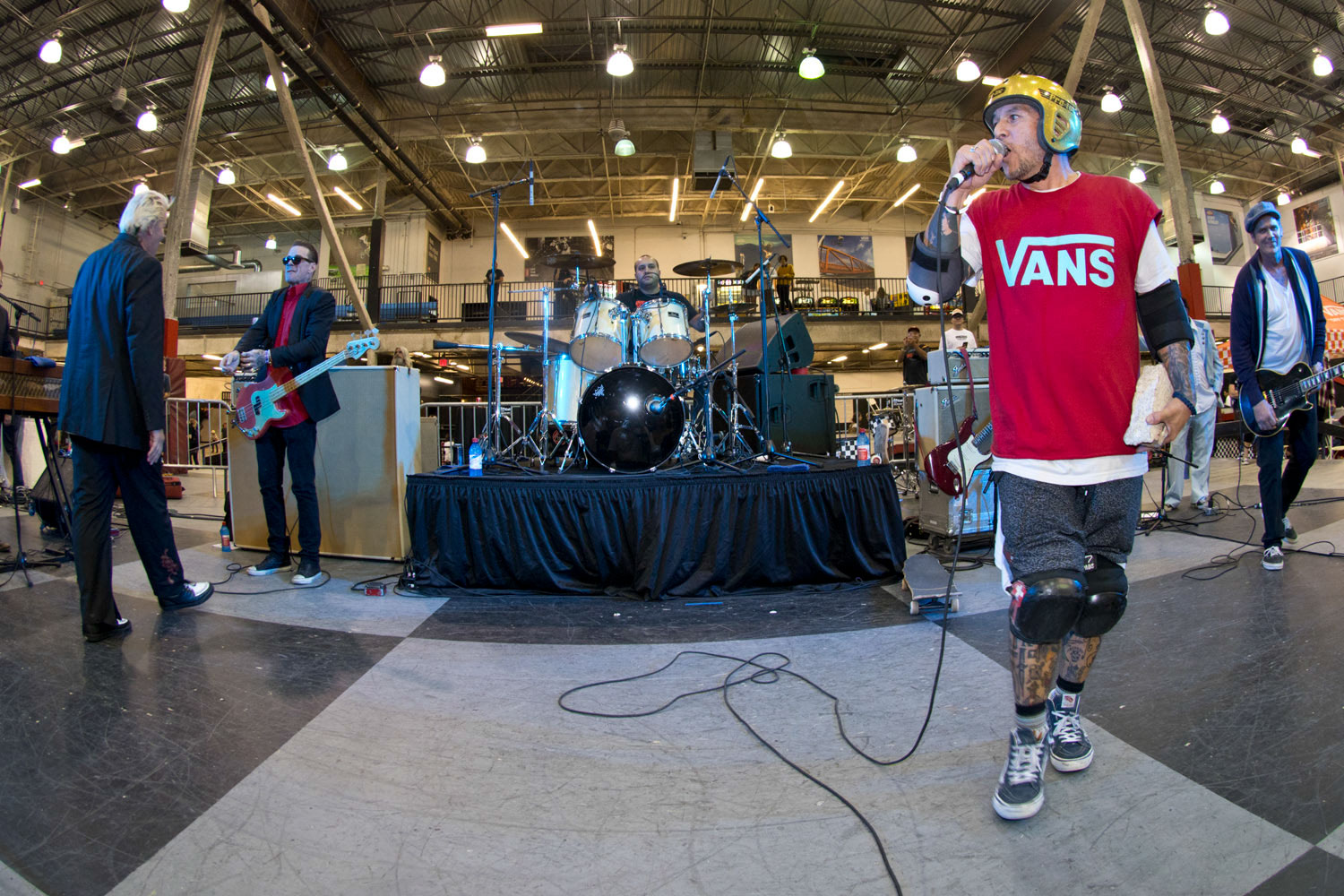 Thank you all for coming to my birthday party. Now I present to you, T.S.O.L!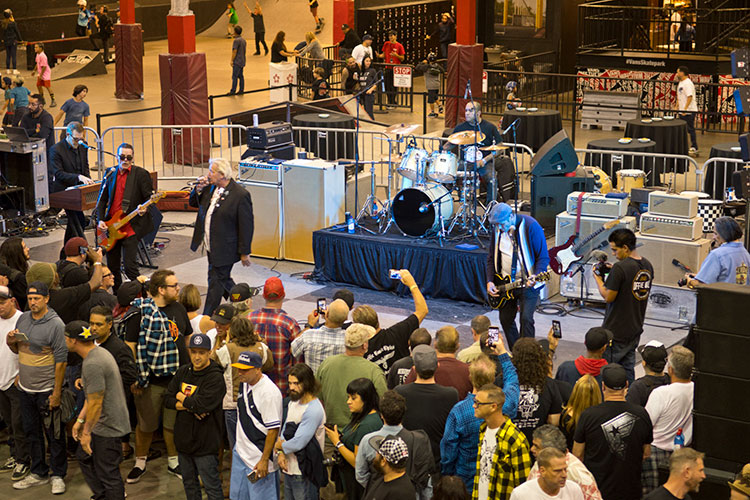 True Sounds of Liberty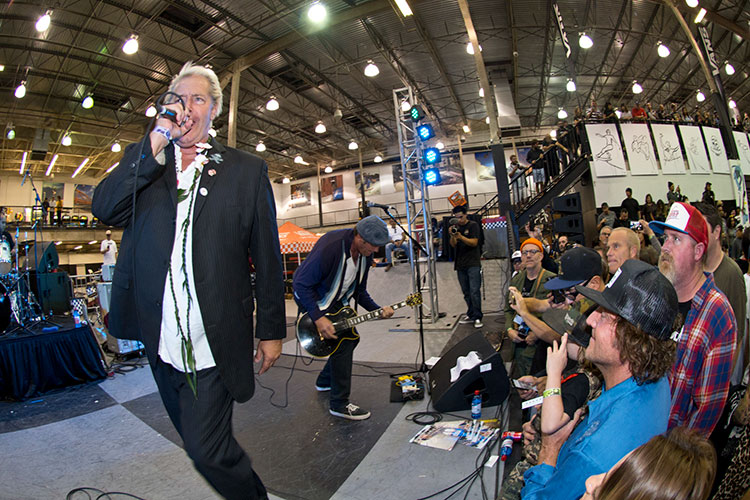 "Superficial Love"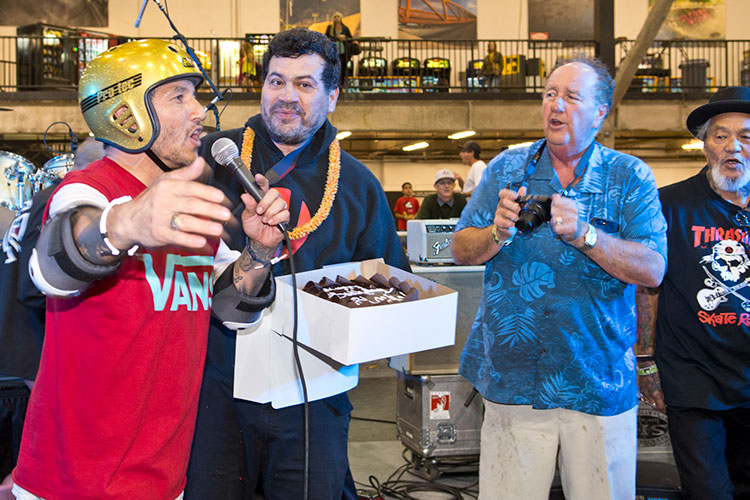 As the night was coming to a close, Christian called his friend Block up on stage—it was also his birthday. Block is a Venice OG, he shot lots of skate photos of Christian over the years and directed the movie Rising Son about Christian's life. He also own's Venice Originals skate shop with Jesse Martinez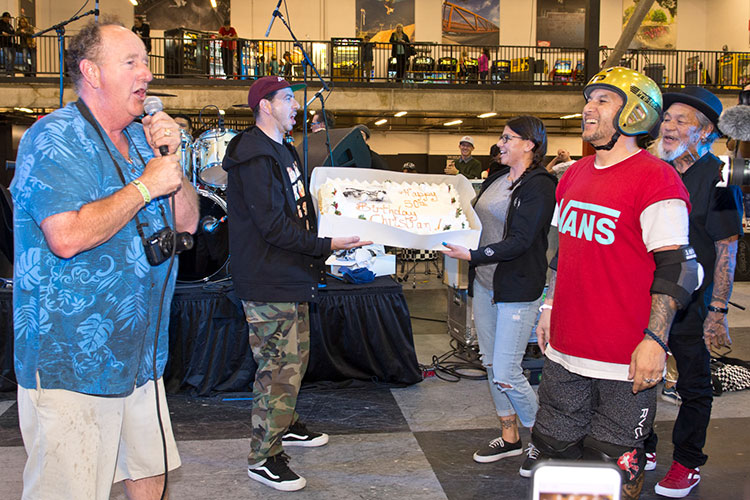 But then a bigger cake appeared on stage courtesy of Van Doren.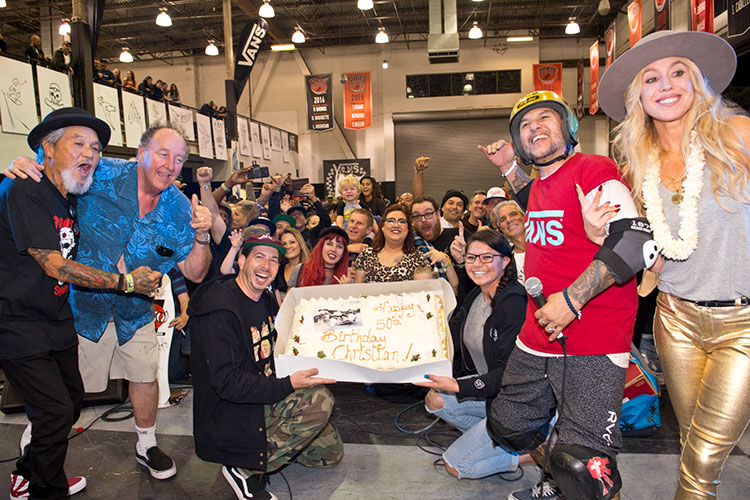 Pops, Steve Van Doren (everyone who was there) Christian and Jennifer Hosoi. Happy 50th birthday, Christian. Here's to 50 more!
7/15/2022

In a city full of iconic terrain, the bricks of China Banks represent hallowed ground. From Julien to Duffy to Shao and T-Funk, this is our humble homage to a legendary spot.