Ramp Plans book
3/04/2009
How To Build Skateboard Ramps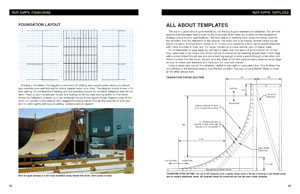 For over 15 years,
Thrasher has been publishing and updating crucial ramp-building manuals used the world over by skaters who have taken the terrain into their own hands and their own backyards. This year's edition has proved to be the most ambitious and successful endeavor to date, transforming the project from a stapled-together, 32-page manual to a perfect-bound, full-color book. Thrasher's How To Build Skateboard Ramps is the only book on skateboard ramp plans you will ever need. Whether you're building a new ramp, adding on to an existing ramp, or replacing an old ramp, all the info is in here. Packed with 76 pages of color photographs and detailed illustrations that make ramp construction safe and easy, the ramp builder will find:
• Expert advice for choosing the correct tools and materials
• Tips for avoiding the most common problems in ramp building
• Clear, detailed illustrations to help plan and build the perfect ramp for your budget
• Easy to follow instructions, helping you through the entire building process
• Ideas for ramps that make the most of limited budgets and space
PURCHASE THIS BOOK HERE

9/28/2023

Despite being a stand-up adult with staggering on-board talent, Adam Davies still has a healthy appetite for mischief. From staging a fake wedding, to sneaking onto forbidden roofs in China, Melbourne's emerging tech god opens up to Dave Chami about all the hijinx while filming his shocking new part.