Spring Is In The Air...
3/09/2010
Spring Is In The Air...
...and our new Spring 2010 products are in the store. Tragedy meshcaps and Unicorn Chaser t-shirts seem to be the hot items so far, but don't miss all the new girls stuff too.
Updated: March 26th, 2010


Retro logo stickers/Big sk8goat stickers
New
sk8goat board sticker
– 9"x 9" and
retro logo stickers
that come in bright-ass color combinations of blue, pink, yellow and fluorescent green.
Sticker Grip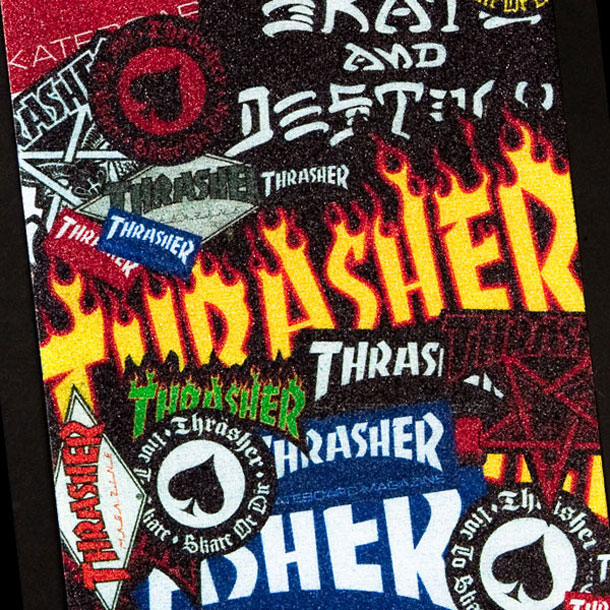 Mob
grip tape
featuring a collage of Thrasher stickers.
Big Black Cap
Snap back adjustable cap, black with large raised black embroidered Thrasher logo, made by Flat Fitty, 100% acrylic.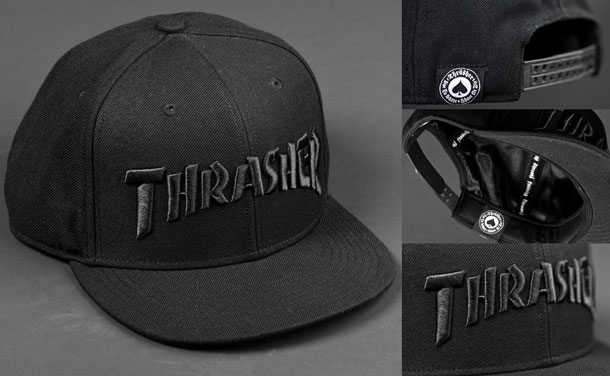 One size fits most!


Sk8goat Coin Pouch
2 1/2 inch round red rubber coin pouch with skate goat logo printed black.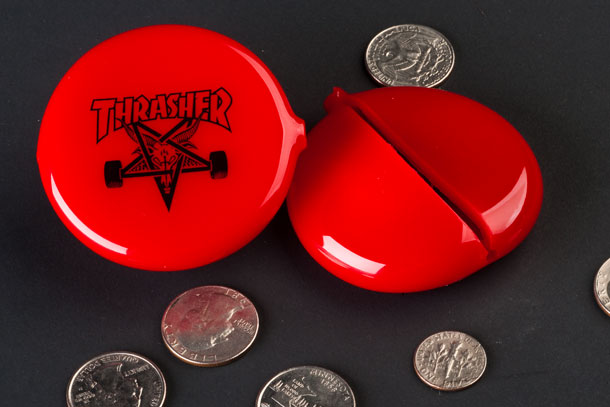 Store your crap in there. Pefect for overseas skate trips.



Unicorn Chaser Lives!!!
Rarely does a t-shirt design inspire so much hostility and mystical, magical bliss at the same time. (Apparently there is not much middle ground when it comes to unicorns...) Cut the sleeves off and you got yourself one helluva tuff t-shirt. Exactly what is a 'unicorn chaser' you ask? Just fucking google it...



Available in fitted girls t-shirts as well as our usual mens sizes S-XL. Get some!

McNett Goat



Heavyweight, 100% pre-shrunk cotton t-shirt featuring a custom Skategoat logo by Dennis McNett.

Prevent This Tragedy Mesh Caps



Originally just a limited-edition promo item for our video, these high-quality mesh caps were in such high demand that we had to make a full run of 'em. Available in purple or green, these are exclusive colorways you can only get from Thrasher. Hats are adjustable and feature an under-the-bill screenprint of the Thrasher logo for only $23.95, until this batch is gone forever.

Guerrero Saves



Tommy G knows what's up. His "Thrasher Saves" sketch was an instant hit here at the plant so we just knew we had to throw it on a t-shirt for you. Available on white or baby blue shirts in mens' sizes S-XL, "Guerrero Saves" is available now for only $16.95.

Retro Logo Colorways



Bright-ass colored t-shirts inspired by some of our craziest 1980s cover colors. Choose lime-green-on-hot-pink or yellow-on-teal-blue in mens' sizes S-XL.

Basic Thrasher T-Shirt 3-Pack



The exact opposite of big-ass logos on bright-ass shirts, this 3-pack of basic mens' t-shirts is for those of you who need quality threads but not giant logos. Each 3-pack comes with one basic white, black, and gray t-shirt. Each shirt has a small, embroidered Thrasher logo loop tag on the left sleeve that you could even cut off if you really, REALLY don't like logos. Each pack of three shirts is only $29.95

Girls' Thrasher Zipped Hoodie and New Logo Patch Colors



The ladies finally get the classic Skate Mag logo on a soft, form-fitting cotton zippered hoodie, and our embroidered logo patches now come in red-on-black and silver-on-black in addition to the classic black-on-white. Patches are still only $2.00 each!

New Girls' Skatemag Colors



100% pre-shrunk cotton girls form-fitting t-shirt that features the classic Thrasher skateboard magazine logo. Now available in Black, Olive and Teal. Get one for your favorite girl today.

iPhone 3G/3Gs Skins Are Here
Not available in shops, only in the web store.



Obsessively designed and engineered to take a beating, our iPhone 3G/3Gs Capsule Case is the sleekest, most durable twin-shot iPhone case you can buy. Choose from a variety of Thrasher designs including Stickers, Skate And Destroy, Skate Rock, Oath, or Splattergoat in 4 different colorways. Or upload your own photo or artwork to create your own custom iPhone case over at www.getuncommon.com.

• Convenient capsule design for easy insertion.
• Removable bottom for placing in dock.
• Easy-access button covers for those important moments.
• Twin-shot dark matter bezel to keep screen safe & looking large.
• Shatterproof polycarbonate to take any beating.
3/19/2013

March is almost over, time to get your shit together. To that end, Thrasher wall calendars are now only $6.66 until this last box is empty—order yours today.