Jeff Grosso Anti-Hero Weekend
1/27/2011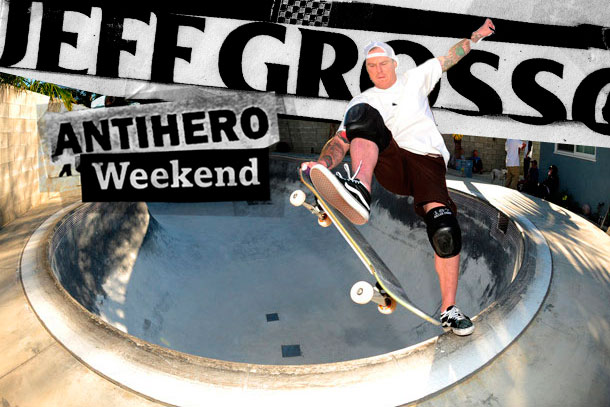 Rhino jumped in the van with pretty much the whole Anti-Hero team for the weekend. Jeff Grosso was given a warm welcome, and shredding went down as well.
The Anti-Hero team loaded up the van and headed down South to Jokers Skate Shop for some official Jeff Grosso business.

This graphic means Jeff gets paid.



P-Stone's not afraid to get an autograph from Lance Mountain.

Anti-Hero shirts, CHECK!



Duane Peters stopped by for a congratulatory hug.



Andy Roy and Christian Hosoi, CHECK-CHECK!!



Julien does the honors.

Pool number one.

Patented Grosso.
Pete and Frank grab some shade.
Young Tom Remillard went to work.
Robbie Russo seems to have the ol' tail grab smith grind on lock.
Almost guaranteed this makes the Big Dog's clip.
Tom Remillard, alley-oop 5-0
Pool number two
Cardiel, Roy, and Allen
T-Mo is no longer Anti-Hero's newest pro
Andy Roy
The Bod with a backside Smith
T-Mo, frontside disaster
Tom Remillard, frontside grind
9/18/2020

Julien Stranger catches up with the Pfann Man to talk close calls in Nigeria, working for Vans Europe, his new Quantinium video part and the joys of being a rad dad. Chris handles it all with class in this one from our October '20 mag.