Jugo De Carne
9/11/2010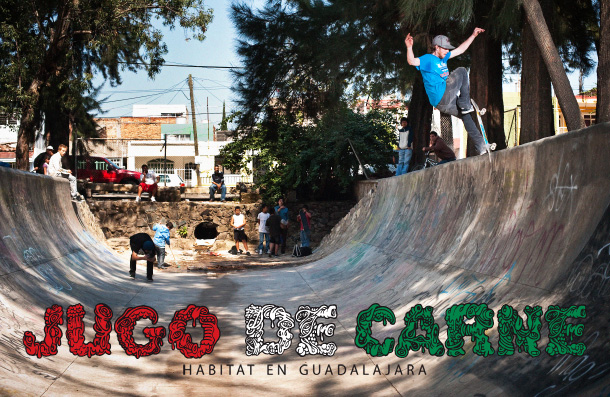 Silas, frontside blunt. This isn't a skatepark, but rather a perfect drainage ditch in Guadalajara. We found a diamond in the rough!
Click image to enlarge.


By Joe Brook
I've been to Guadalajara, Mexico before
—they have really good skatespots and excellent street food. So when the Habitat team invited me to join them, it was a no-brainer.
We were only in Guadalajara for four days, but we had a solid crew including Silas, Marius, and Habitat's newest pro, Daryl Angel, in tow. They made a major purchase upon their arrival: A big bag of dirt weed. I'm sure it'd be impossible for most to smoke that much in such a short stay, but these guys were up for the challenge. Rolling papers were hard to acquire but Marius could still find them in the most random places. Like hidden in the back of his cell phone, next to the battery, for instance. He's a true smoker. What can I say.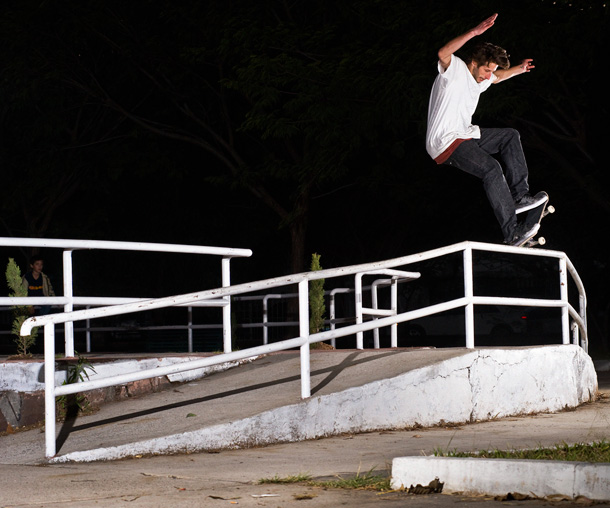 Stefan loves skating, but he likes food even more. I'm convinced he secretly wants to be a international food critic! He's not afraid to indulge in some street cuisine, and suggested it after every skatespot. Here's Polish America with a switch nosegrind pop-out while thinking, "The sooner I land this, the faster we can get to the
Meat Juice place."
Click image to enlarge.
"He's not afraid to indulge in some street cuisine"
We'd hit the streets early and skate 'til dark—no generator sessions in Mexico for us. With an ample supply of adult beverages and street tacos we were fueled up for the days' activities. Our friend and guide, Miguel, knew all the street vagrants at the skatespots he was taking us to. One of the guys loved to dance like Michael Jackson. He was really drunk and excited about the guys skating, and in turn got super hyped to do flips. At one point his friend walked up. The drunkard met him half-way, and they had a dance-off… It was really amusing to say the least.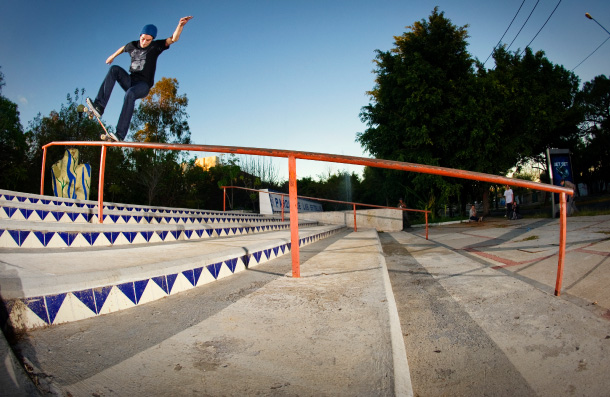 Daryl Angel earns that new pro paycheck by pushing a long-ass frontside nosegrind. Congrats!
Click image to enlarge.
Miguel took us to a ditch that no gringo had set eyes on before. I was surprised by how amazing it was. For a drainage ditch, it was really smooth. It had a trail of water flowing through it, so we borrowed some brooms from the neighbors near by. Silas was fired up to skate it. He took command and got the local kids to build dams out of dirt and rocks, so they kept the water at bay while the guys sessioned. When it dried, the locals came in droves to cheer us on. They brought their hot girlfriends and joints to boot! The ditch was starting to look more and more like a skatepark. It'll be cool to go back in a few years and see the local kids killin' it. Speaking of which, Marius—the young viking—slaughtered it with powerful lines.
Marius alley-oop grinds an epic spot right down the street from a Mexican police station. Donut munchers or Churro munchers? You decide…
"The ditch was starting to look more and more like a skatepark"
Miguel also took us to a really dope Mexican restaurant. We 
could never remember the name of it, so we referred to the place as "Meat Juice!" They had the best guacamole and carne asada—it was our favorite place to eat by far. The trip and the dirt weed came to an end at about the same time. The guys woke me up at 2am with an empty ziplock bag and a table full of Mexican food they'd order from room service. Not a bad way to end of a fun trip south of the border!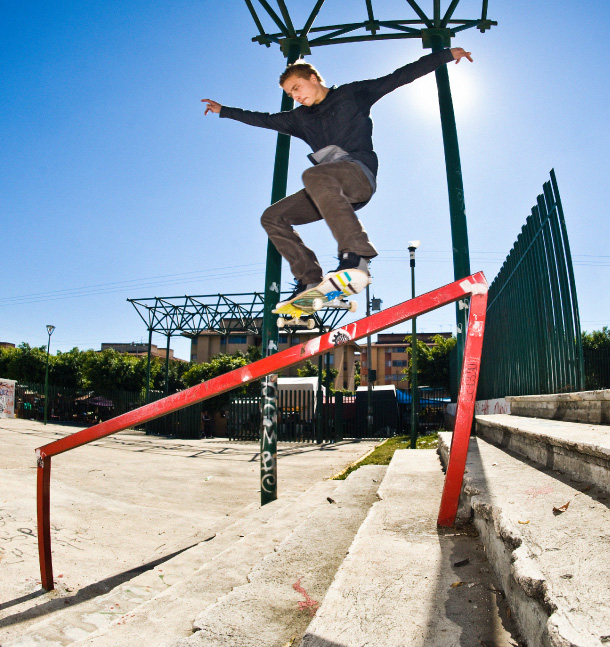 Marius, Viking-style switch lip in the barrio, Holmes
Fatback: Guadalajara
4/15/2010

"Viral" means good, right? Well, the Birdhouse Round-Up got linked, posted, and embedded all over the damn place. Hawk, Jaws and the team are rippers and had enough for another full part.