Little Car Big Vacation
3/18/2010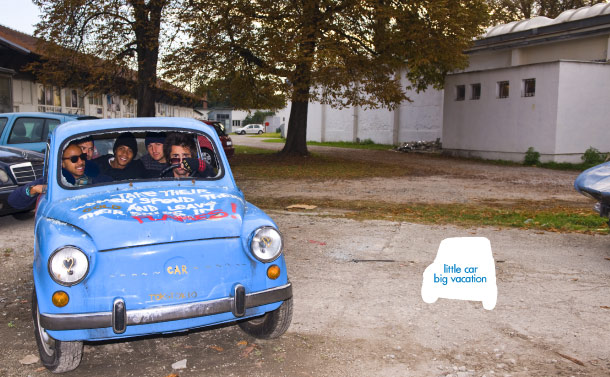 How VANS Travels Through Eastern Europe
Words & photos by Joe Hammeke
For the past few years
, my friend Gernot has been claiming that Split, Croatia, is the new Barcelona. That's a tall claim to say the least for anyone who knows the lure of Barcelona—especially from the early 2000s, when all you had to do was walk out of your downtown apartment and skate throughout the city, hitting dozens of top-notch spots easily in an afternoon. The city was a fucking skatepark without fences, YMCA monitors, or pad nannies. But as the years passed and German distributors booked bus tours for dozens of kids to snap their boards at the base of MACBA, the residents and law enforcement of Barcelona reached their wit's end. The city passed ordinances and handed out fines in excess of $1,500 per ticket for getting caught skating in the wrong place at the wrong time. Split is pretty much all that, but they haven't gotten as frustrated as the Barcelonans with skateboarders, hoots, hollers, and bricks of wax. So I say, get there while you can. It's only going to last 
a few more years.
To quote Spicoli, "Danger is my business!" TNT had to surf out the roll-away on this rooftop wallride to keep from falling to the parking lot below
The original plan was to do a complete tour of Eastern Europe. Sort of a Pfanner-comes-home tour with the Vans crew that was shaping up nicely until a massive cold front dipped into Austria. The Austrians went from swimming in Speedos to wearing fur hats over the course of a week, so we pointed the cars south on the autobahn towards Slovenia.
"Do you think it's even possible to roll on that cobblestone street?" Goeman asked. "Just go for it and you'll find out," I replied. Tailslide from Zagreb to Split
The face of Eastern Europe began to change when the Berlin Wall figuratively fell over on November 9, 1989, and as the communist governments were taken over, new countries were formed. If you were taking high school geography tests on Eastern Europe in 1988, you would've had to know a total of 10 countries to ace the test. By 1991 you'd have to know a total of 20. Now, who says school isn't getting tougher!
The approach was marble, the bank was chalky, and the roll-away was cobblestone. Chima's life just keeps getting rougher
These new countries quickly embraced capitalism, and shopping malls were built everywhere. Combined with the communist-era apartment complexes, we were looking at plenty of cold, hard, concrete terrain to keep us occupied during our visit. The shopping malls, much like here, were slightly more difficult to skate—people didn't want us posting up in front of their place of business. And we were obviously unwelcome at the apartment complexes, on occasion. This was typically made evident by an older person screaming and yelling at us. We had no idea of their exact words, but the tone of voice made their intent pretty clear. One apartment dweller had a solid tactic that worked: toss your beer bottles out the 11th floor window at us. I presume this approach is also effective on soccer players or any other ruckus-makers, because at the base of that apartment there was no one else to be found. In general most people could care less about the benches and stair sets, and would often enjoy the entertainment we provided. In one instance, we became the entertainment. Kids from the apartments would stop and watch while Pfanner was trying that ollie over the ledge in the dark. We did our best to keep them out of the way, but the language barrier was a tough one. Soon, a rather portly, drunk Croatian man showed up, much more excited than all the kids combined. He was babbling something with a mouth full of sandwich. Once he figured out we needed help with crowd control, he took over, rounding up the kids in their native tongue and telling them to keep quiet while Chris concentrated. When the kids got to be too much he called another buddy of his who also showed up with a mouth full of sandwich, chewing and talking at the same time, spraying bread and beer back and forth between each other and keeping the kids out of harm's way.

Yugo
"there's no need for an autobahn speed limit when your nation's car can only reach 55 miles per hour"
Slovenia and Croatia were formed from parts of a once larger Yugoslavia. Yugoslavia still exists as a smaller region, and pre-breakup it was most famous for exporting the Yugo! The "Yugo" (short for Yugoslavia, duh), was a tiny car manufactured there and exported to the United States. It was a big hit in the mid-'80s because you could buy one brand new for under $4,000 dollars. That's right, a new car for four grand. To put it in perspective, a Honda Civic at that time would have cost you about $9,000. It's also safe to say that the Civic was at least four times as good as the Yugo. There were countless jokes about the Yugo and its numerous flaws. Its size was especially small, but that made it all the easier to push when it broke down. With that in mind, you would want to order it with a rear defroster, to keep your hands warm while pushing it off the road. I guess there's no need for an autobahn speed limit when your nation's car can only reach 55 miles per hour.
When you're hitting the ceiling, even Tony Montana can't get you any higher. TNT, "Push It to the Limit"


Burnside Of The Balkans
When we got to Zagreb, the capital of Croatia, the only instructions we had were to go to the university and find the pool. This had us a bit concerned at first. Steve Van Doren could have bought a BMW for the amount of money they spent on sending us over there, and these instructions weren't as solid as, say, "Dux will meet you at the Palace Hotel at 6 and take you around." But Gernot had been there before, and we had no problem finding the place or finding Dux to show us around. With the comfort of the following day secured, we sessioned the pool until it got cold. The locals informed us that the building we were leaning on while skating the pool also housed a mini-ramp, and was much warmer. So we grabbed some beer from the local store and skated that for the next few hours. The locals were some of the best; they even filmed and edited a video of the session (complete with a Black Flag soundtrack) and posted it the next day. Which is good, because the filmer Cody who we brought was celebrating his birthday that night and didn't pull out his camera once. If you want to check the session, go on YouTube and search Anti-Hero Zagreb. Much to Tony's delight, it's the first thing that comes up.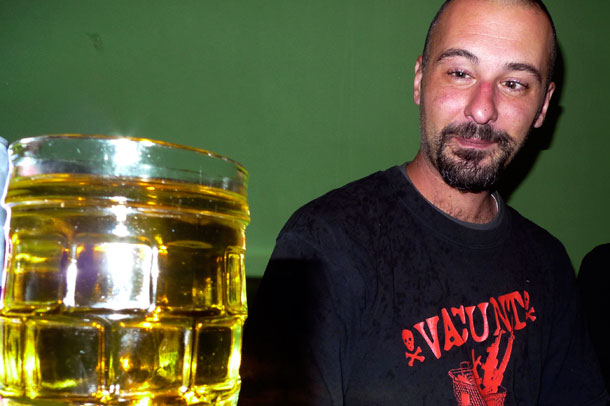 Gernot
I've known Gernot for about nine years now. I met him through Hewitt on my first trip to California. He publishes a skate magazine in Austria called Last Try. It covers the Austrian skate scene and is written in a mixture of German and English. Hence why it's called Last Try and not Letzter Versuch. When I asked Gernot how he chooses which language to use, he simply replied, "We do what we want." The Austrian skate scene is pretty strong. Chris Pfanner and Steve Forstner are both from the city of Linz, which is also Gernot's hometown, and the city from which Last Try is published.



Pfanner ollied this double set on our first day in town. Three days later, he went back. Backside 180

It's always a fear that your guides will turn out to be less than desirable. This is even more of a concern when overseas. Sometimes the locals' customs and expectations can be a bit off from ours, and a native guide can really make or break a tour. Getting to the spots and translating the language is only the tip of the iceberg—an off-the-wall comment or overzealous photographer from a foreign magazine can turn the mood from awesome to awful faster than Rune Glifberg drives on the autobahn. But Gernot's well-versed in all this, and being a good friend of Hewitt and Hitz helped the rest of the guys warm up to him quickly. He's also very thick-skinned, which is pretty much a necessity when dealing with our crew. Insults were traded at leisure and all in good fun. At one point Jamie mentioned that we'd have to come back to the area on a future trip, to which Gernot quickly responded, "Don't call me!"



Andrew puts down a switch back 180 nosegrind while the apartment dwellers wait to dump their trash




Torcida 1950
"Fires in the stands, riots, full on wars with the other team's fans"

There was graffiti everywhere, but prominent tags in the city of Split were "Hajduk 1950" and "Torcida 1950." With no grasp of the Croatian language whatsoever, my first thought was that the tags corresponded to their year of independence. But that made no sense, with the area being liberated from Communism in the early 1990s. What could have happened 60 years prior that was more important than that? Turns out it's the same cause for national pride as in most every other country besides the United States. Soccer! Or as the rest of the world calls it, "football."



Chima nollie backside flips into the Steyr pool just before we made the drive to the airport to fly home

Hrvatski ngometni klub Hadjuk Split was founded in 1911. But the Torcida, who borrows its name from the Brazilian soccer fans with the same "fight 'til the death" spirit, is the soccer fan club formed in 1950. It's the strongest soccer fan club in all of Europe, and unlike a cheering section, they take a more aggressive approach. If the team is trying but failing, then they're there to fight for them. But when their own team starts to get lazy, they have no reservations about letting them know how they feel about it. Not afraid to fight and without the security measures of the English soccer league, these hooligans are often more intense than the games. Fires in the stands, riots, full on wars with the other team's fans. Molotov cocktails thrown to the field are all commonplace, and sometimes games are called off due to the crowd activity. This often results in rioting in the street. The Torcida have no fear of the police and quickly outnumber them. There was a game one night when we were in town and Gernot wanted badly to go. He'd heard the stories. But when a reliable local broke the scenarios down, we decided that we might not make it out alive. I once again refer you to YouTube and suggest searching for hajduk torcida Split.





While Goeman was rotating this blunt in backside, a toothless Slovenian grandma was yelling at the rest of us





ABDs Are So Cliché
The Cliché team are some of the world's finest skaters, and their French home base puts them directly in the mix when touring the Mediterranean; although, it was shocking to hear that the 12-stair hubba we were en route to had already been back tailed. It wasn't so shocking to hear it was Cale Nuske who did the deed. That was pretty much the only ABD interruption we encountered while in the region. From there on out we thought it was smooth sailing, 'til we were flipping through another mag at the airport and found yet another Cliché rider, Andrew Brophy, canceling out one of Chima's moves in Split.



Pfanner takes it over the ledge and into the handicap ramp while a drunk Croatian apartment dweller takes bites of his sandwich and controls the crowd

I try to avoid saying things like, "This was the best trip ever." It tends to offend people who were on previous trips. But even with that in mind I can confidently say, "This was one of the best trips I've been on." Gernot, you better answer our calls when we come back!
1/21/2010

Cover: Jay Adams – Grind Photo: Hudson Inside This Mag: Thrash-A-Thon in San Luis Obispo and what skateboarding is all about in 1989Also In This Issue: An overview of contests, demos and other skate-intrusions in '88, pool skating in Cambridge and some snowboarding actionMusic Articles: The Sugar Cubes, Igor's record collection, Suicidal Tendencies and Eek-A-Mouse