Neffarious in the Northwest
2/18/2014

Words & photos: Joe Hammeke

The Neff team loaded up the van and headed out for their first adventure in the great Northwest. With Hambone navigating us from the shotgun position we drove up the coast and didn't stop until we arrived at Silas' house. Since Hambone had lost his spot book of the city we linked up with local legends Mike Davis and Willis Kimbel and it was nothing but good vibes, great spots, and surprisingly amazing weather in Portland. The Neff team also hit up Windell's to see if it really was the funnest place on Earth, turns out all rumors are true! Epic times up in the Northwest with the Neff team.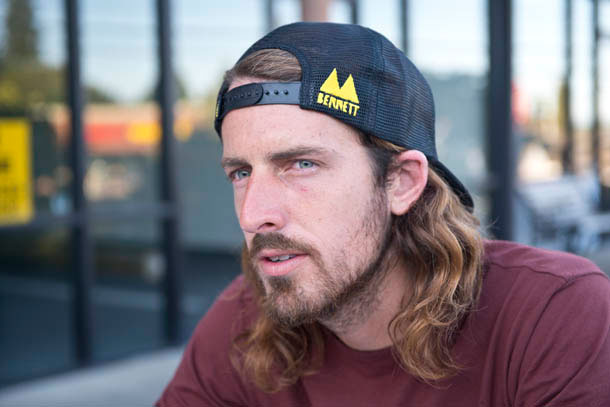 Matt B handsome as always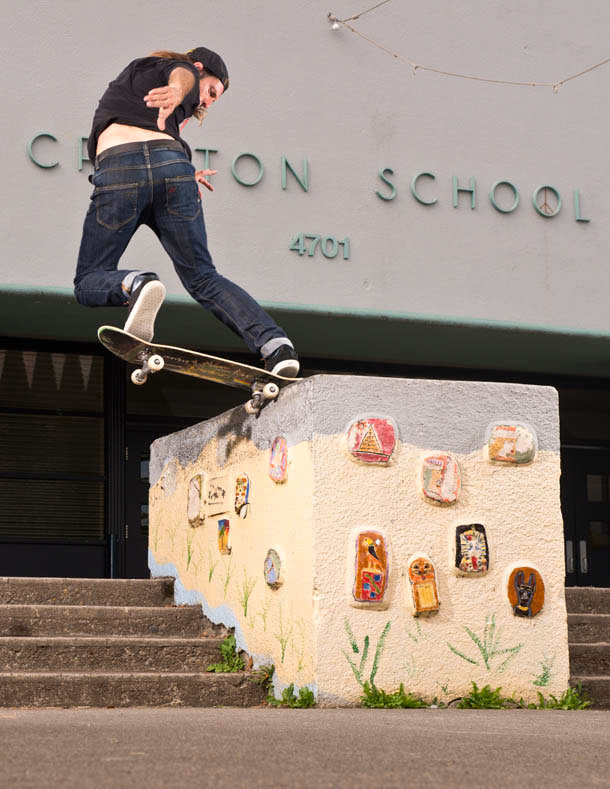 Lots of front nose slides have happend at Creston School but Matt B comes correct with a switch one.



Long lens angle of the slappy 50-50 as seen in the print article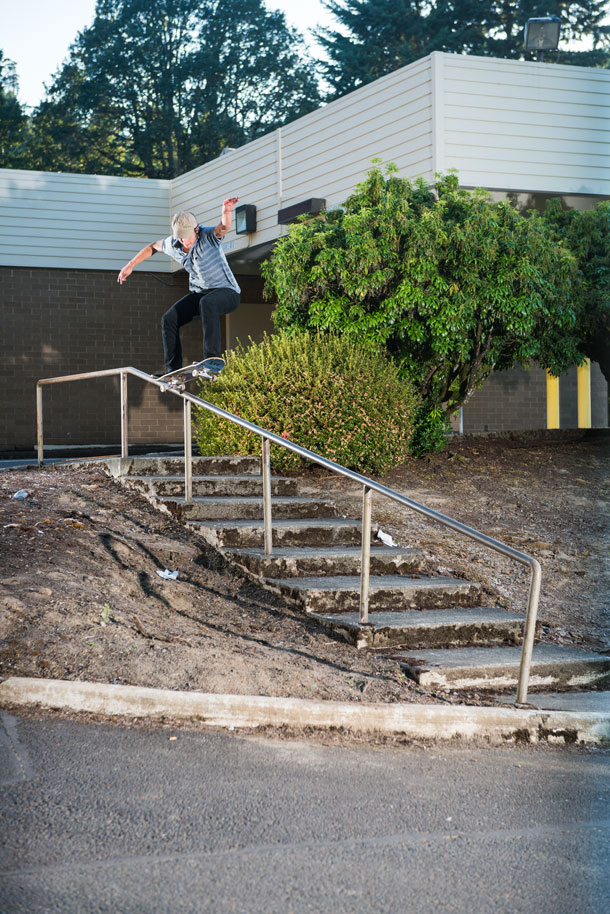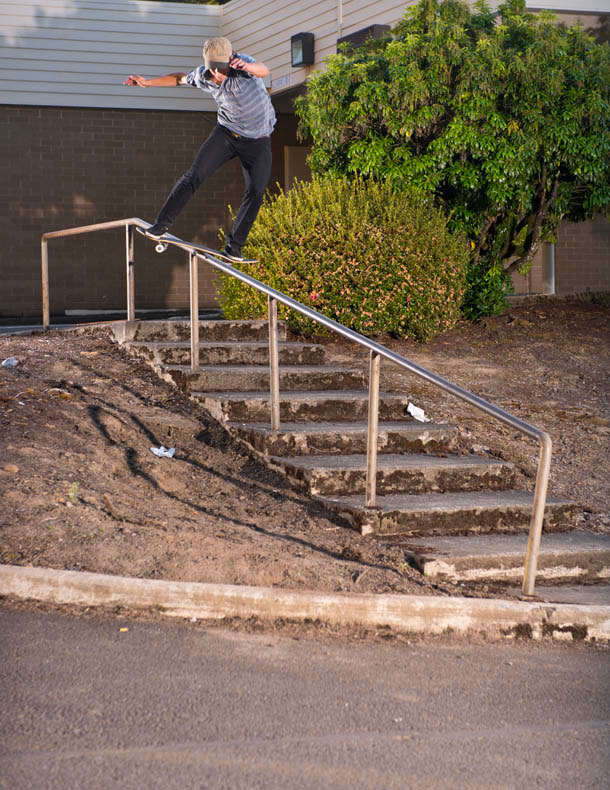 There was a heavy session on this rail Willis brought us to. Leo went through the usual list of frontside moves, 50-50, 5-0, lipslide and eventually eating shit on a nosegrind attempt.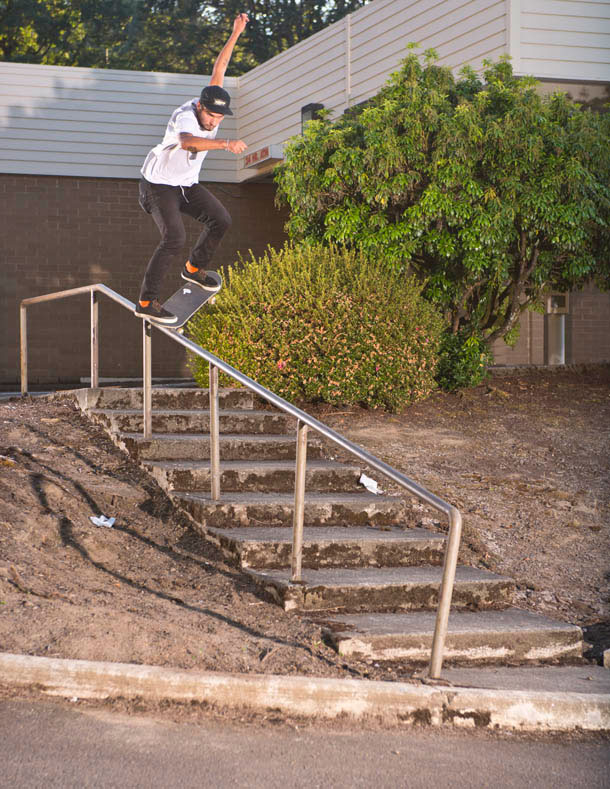 Dakota handled a few backside moves ending with a 50-50 to front 180 out.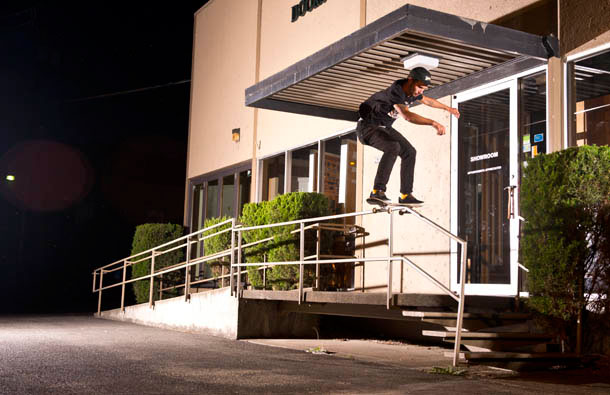 It's a long way across and short way down but Dakota is more than adept at going the distance on a boardslide.



Monks are known for being very passive so it took more than a few of them to get their point across that we were not allowed to skate in front of their monastary. The silence was golden long enough for Derrick Wilson to hop this guardrail and drop into the next parking lot.



Derrick Wilson contemplating his next move.



Don Luong will go to great lengths to motivate the guys. Including guitar serenades. Looks like it's going to work on Merlino.


From the top lot, over the concrete barrier and to the narrow sidewalk below is Jaws' latest knockout.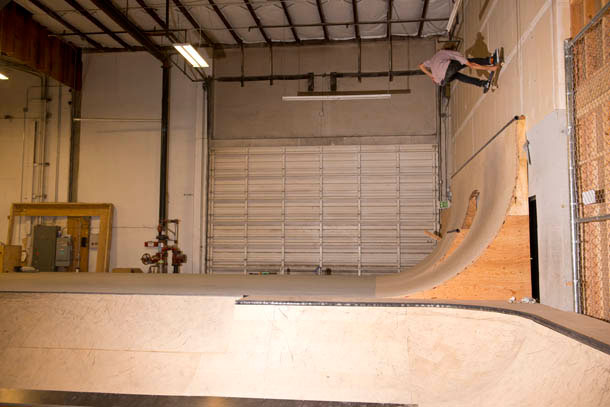 Silas brought us to his park for a late night session and Jaws got freaky with a stale wallride.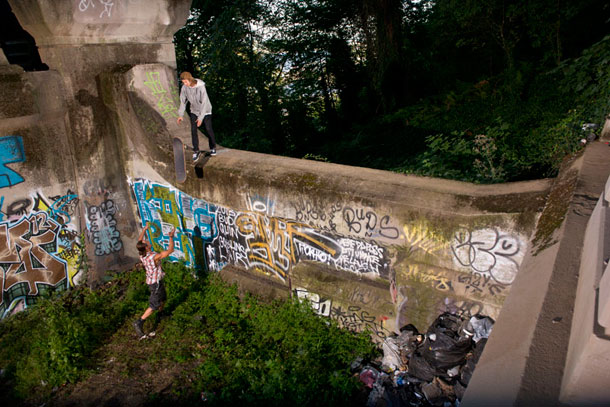 The guy tossing Jaws' his board was living beneath this bridge. He had a little camp site set up with a loaded Colt 45 sitting near the entrance. There was also a five foot high pile of discarded plastic Cheerios bowls.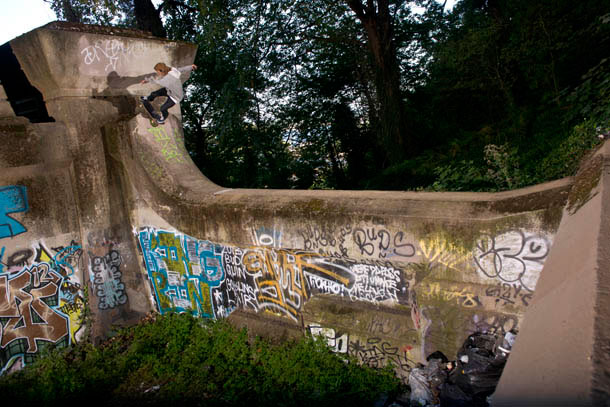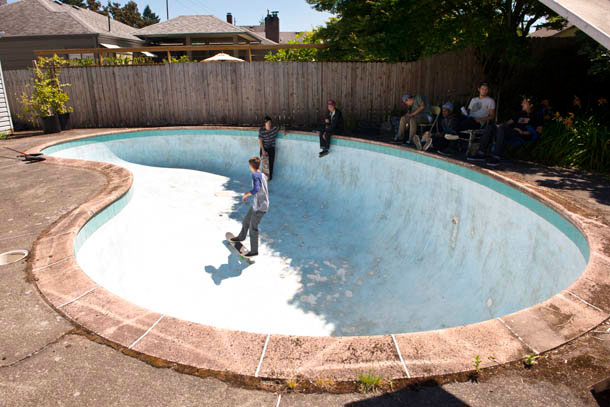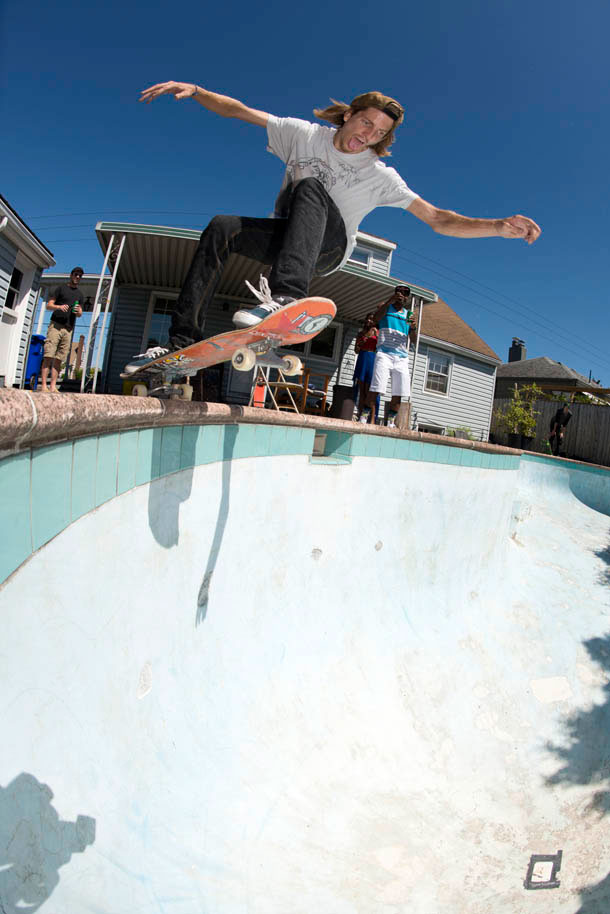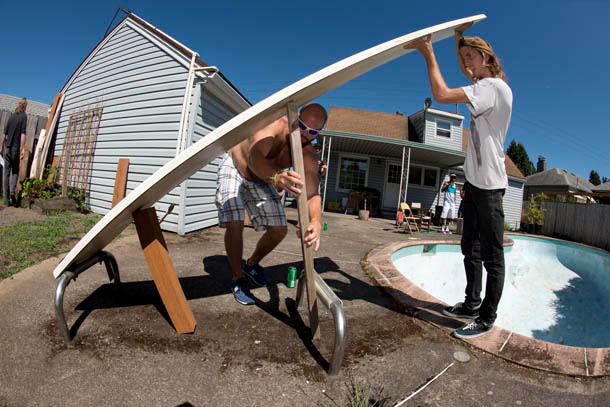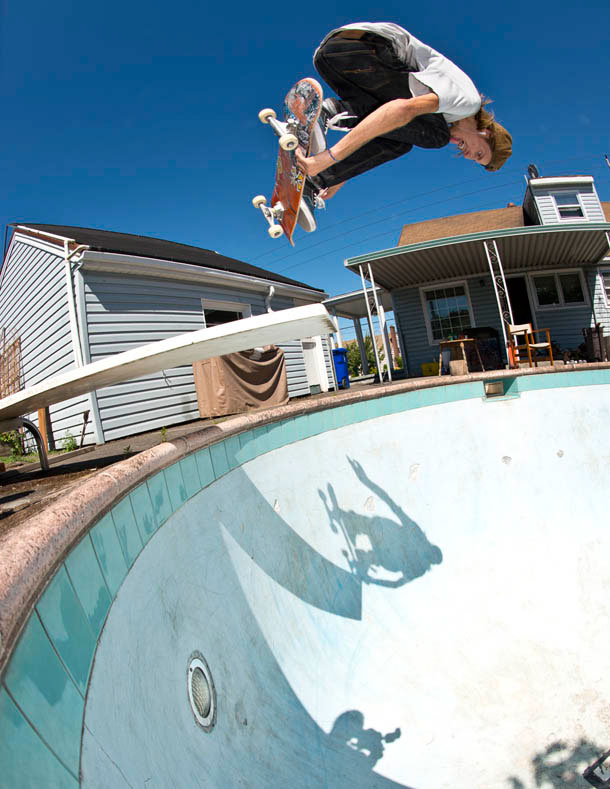 We got the line on this permission pool and it was a real gem. Jaws rolled in, took a few runs and asked the homeowner if he would help him put the diving board back down. Then it was go time and Jaws blasted an indy air over the board. One particularly notable attempt, Jaws bailed, landed both feet on the end of the board and bounced off the end of the board into the empty pool. Fortunately Jaw's feet are well accustomed to handling that kind of impact.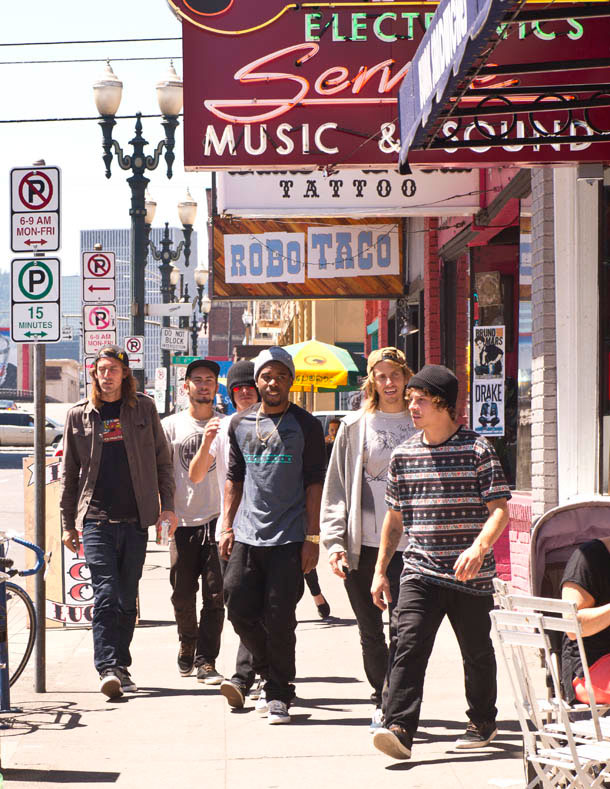 After a couple former eating establishements turned out to be not what they used to be we were informed of the new "go to" spots so each day would start at Robo Taco or Bunk Sandwiches on Morrison Street. Don't let the "Bunk" name fool you. Those sandwiches were top notch.


Shrunken Head skateshop was a couple doors down from Robo Taco and Bunk Sandwiches so we would often drop by there for some daily inspiration.


Capital Hill school is best known for the rail in the foreground but when Merlino wants to jump he's gonna find something to jump.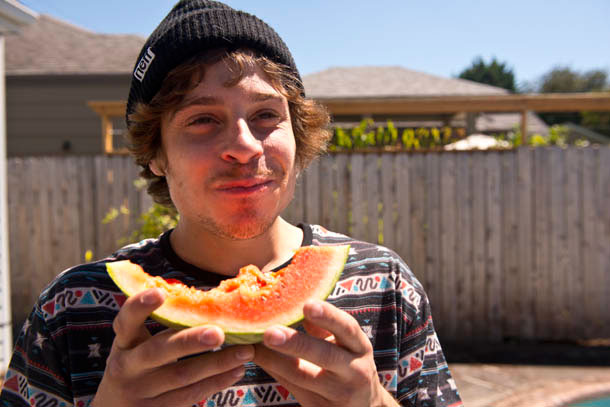 Merlino wasn't sure why we were going to skate in someone's backyard but after a few bites of watermelon I think he forgot why we even went there to begin with.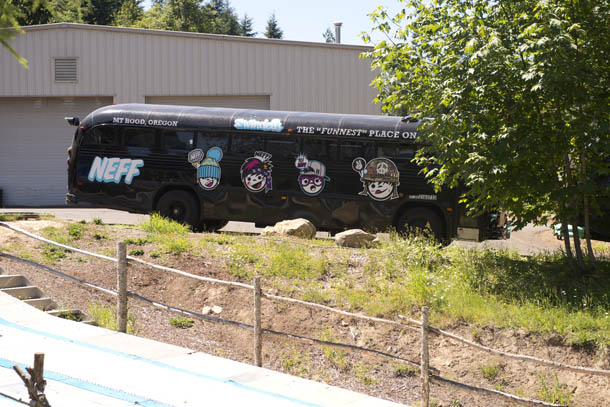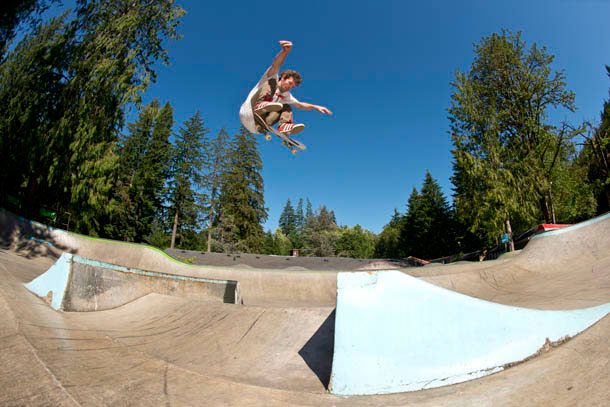 Windell's Camp is a nice drive up into the mountains so it was an easy choice for a day in the park. Silas skated it like the local that he is and showed us the lines including this bump to bump frontside flip.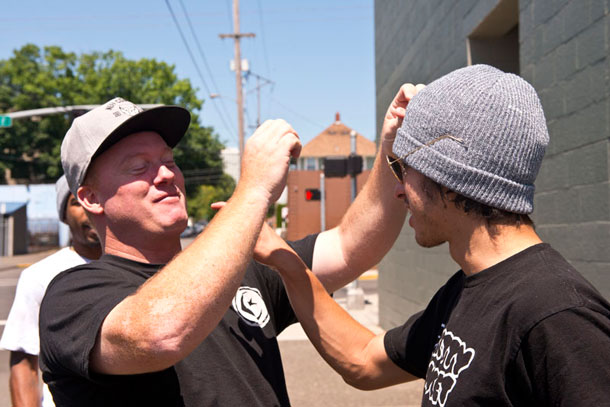 In addition to team manager, writer, contest judge and prank caller, you can now add MUA and Stylist to Mike Sinclair's resume.


11/06/2019

Famous for Arto's back lip over a decade ago, the spot has seen only over-the-rail action in recent years after the kinker was knobbed. The school granted us permission to hack off the skate-stoppers for just one day, and the rest is history. Big ups to everyone who BUSTED, especially Alex Midler and his game-changing kicky back lip. Boom!