Octopus Eyeballs and Stinky Tofu: Yardsale Tastes Taiwan
7/18/2019
I received an email half a year ago from our Taiwanese distributors saying they wanted to do a Yardsale tour/demo/shop/mash up. We were obviously down for it, though none of us had been to Taiwan so we had no idea what to expect. After a 15-hour flight from London we arrived in Taipei to a gang of super excited locals who had been sent to guide us through the next ten days. Before we even got a moment to look around we were handed beers and cigarettes and led outside the airport into a minivan covered in a massive YS transfer. They drove us straight to a night market and bought us a bunch of weird shit to try—there were these beans you chew that come in a box with a naked girl on the front. We were told they are super bad for your mouth but it gives you loads of energy. Julian was instantly addicted. We also tried stinky tofu which is a local delicacy. They told us it tastes better than it smells, but it tasted like sweaty arse. We knew from this point things were gonna get weird. The next ten days were kind of a blur—octopus eyeballs, insane skate spots, lots of partying and an attempt to try to shoot photos and film a video.
By Dan Kreitem,
Photos by Alex Pires


Curtis Pearl came back drunk one night and pulled some Dave England shit in my hotel room as a prank. I was bummed at the time, but in hindsight I'm very glad it happened because he made it up to me by doing this rollercoaster feeble


Who wore it best?


Sam Sitayeb, fakie 5-0 into pigeon shit banks. Just out of shot is a half-dead bird hopping around with a spider nesting in it's feathers


I-C-U-P


Tightey whitey
Kyle Ke found this insane spot on the outskirts of Taipei—natural rock tranny leading to a downhill bomb. Kyle is really good at frontside airs. He's also really good at getting into the VIP section of skyscraper night clubs


There is such a thing as too much of a good thing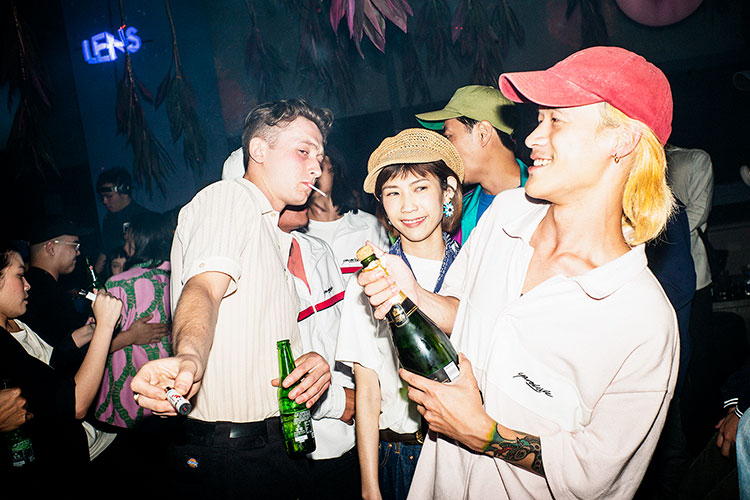 Pop 'em if you got 'em


It took Cooper Latimer ten minutes to do this switch wallride. It took him two hours to find vegan food after
Yardsale body shelves available soon
Bean gang
This spot is directly opposite a McDonald's and I think that helped things. It's like Charlie Birch sees the Golden Arches and just commits—even in the rain


Smokes with ancient blokes
Towards the end of the trip, they had this Yardsale demo set up for us. We thought it would be at a park or a spot but instead we pulled up to a blocked-off underpass in the middle of Taipei lined with desk fans cable tied to the roof using half of the city's energy. Walking down the steps through a wall of smoke and screaming kids, we see a few slippery blocks set up in a seven-foot-wide alleyway. First thing Sam does is air out of a ramp and smashes his skull on one of the generators hanging from the ceiling. Things got good from there on. Backside noseblunt, post-generator smash
Demo daze
Charlie Birch closes out the trip by threading the needle down 46 stairs. Special thanks to Sky and everyone at 9ce skateshop for making this trip possible
5/01/2023

Last week in Long Beach, New Balance threw a bash to kick off the new collab with Tiago's 1010 and Tony Ferguson's Rone. Icons of the OG Girl crew, heavy hitters from the Numeric squad and more stars pulled up for the occasion. Scroll through.