Phoenix AM leftovers
6/09/2009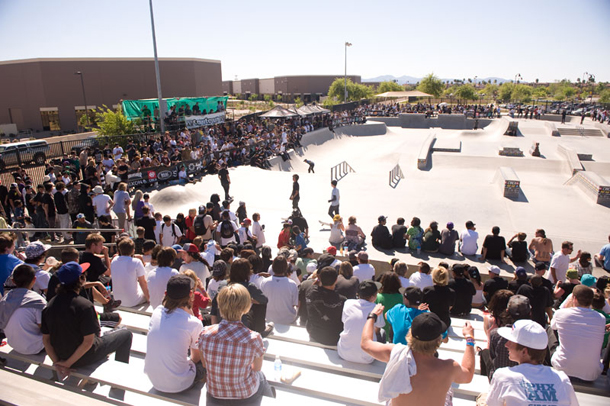 by Joe Hammeke

The PHX am article is in the new mag, and it's more than just contest coverage. It features the amateur skaters who are on the come-up out in Arizona. Here are some sequences that didn't make the mag. Some are sketchy landings, some are "Who the fuck is this guy?", and others there just wasn't room for. Either way, enjoy what you see.


John Rob Moore is always good for a new twist on the tech moves. Crooked grind to nollie 180 flip out; keep spinning.

John Motta carves a corner before the vigilante tranny crew has a chance to turn this into a quarterpipe.

In the last seconds of a best trick contest, you take whatever you can get. Evan Smith knows what time it is.

Josh Anderson bigflips Arizona's newest natural skatepark.
Ben Raemers came all the way from jolly England to do this back Smith to fakie.

Robbie Brockel placed in the top 10 of the contest and still had time to hit the streets for a 5-0 switch crooks behind a dumpster.

Mikey Chin escapes the Oregon rain for a week and puts down this switch flip back tail.

This probably would have been in the printed article, except David Reyes had a sequence of the same move down a real rail in the mag just a few months earlier.

When you're with a crew of 20 and you're the only one skating, you gotta do something good. Ted Schmitz ollie to wallride at the Baby Skull ditch.

Tom Remmilard, casual ollie up to back Smith.
1/18/2023

Pros, local legends and iconic videos sprouted out of Denver for decades, thanks in large part to 303 Boards. Read up as David Reyes talks shop with owner Sam Schuman about their steady drop of new vids and what he's learned after 25 years of biz.