PHXAM 2019 Photos
3/27/2019
The 18th annual Phoenix Am sponsored by Cowtown and Vans brought the top ams from all over the world into the frying pan of Central Arizona. With over 200 competitors, a Ben Horton art show and live music featuring Redman and Method Man of the Wu-Tang Clan, all in attendance were guaranteed a fired-up good time and an equally heated sunburn. —
Joe Hammeke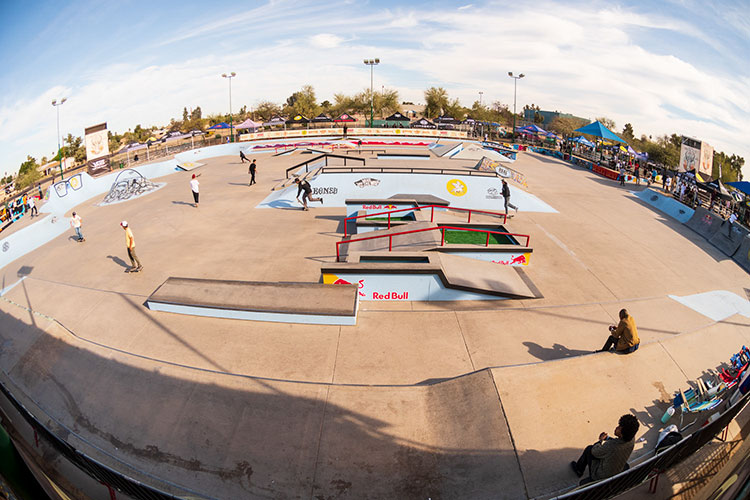 The 18th annual Phx Am course, redesigned for 2019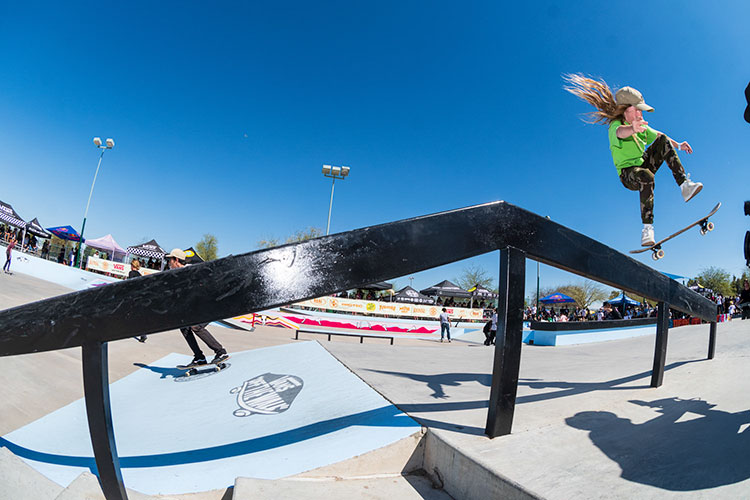 The young ones are up early—and ripping! Twelve-year-old Malachi Gray with a kickflip front blunt to fakie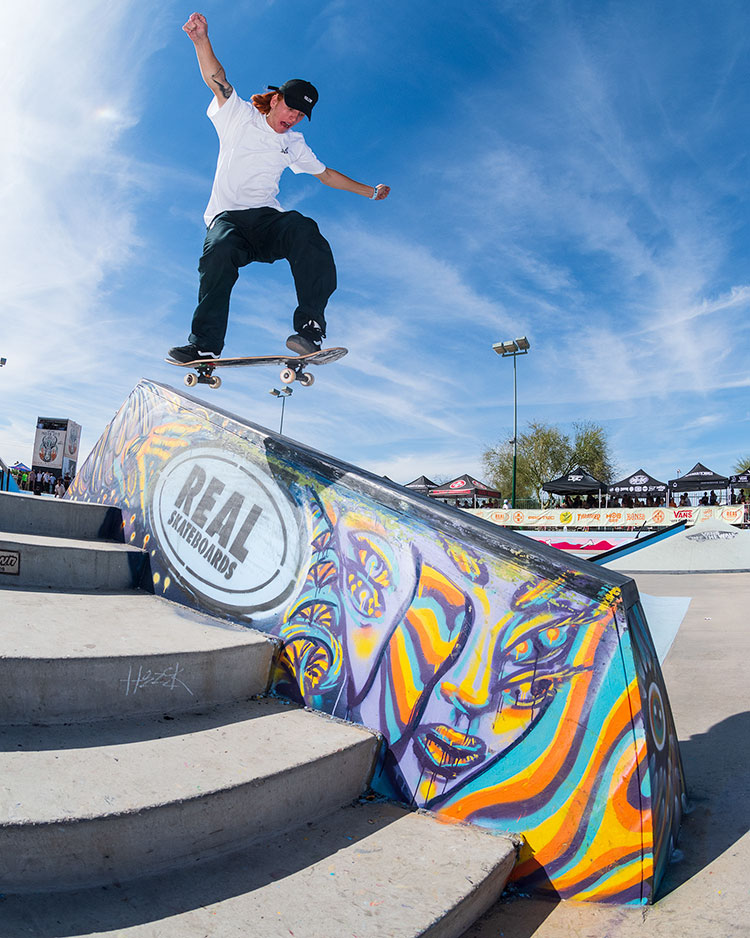 Giovanni Vianna is always a top contender, and with moves like this half Cab to backside 5-0 it's no surprise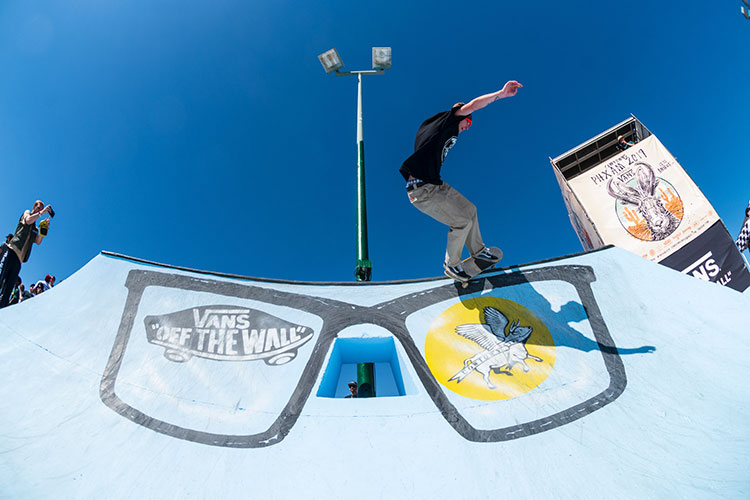 Cedric Pabich with a feeble to fakie to start the day off. Always watchin'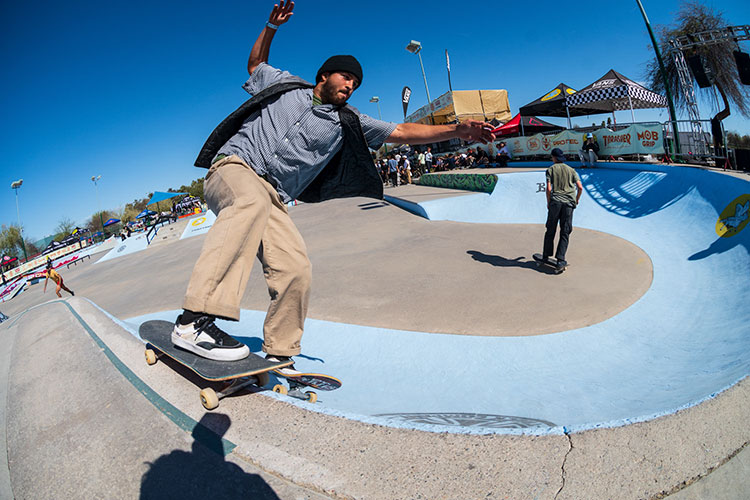 Pedro Delfino knows how to have a good time, double-board grinder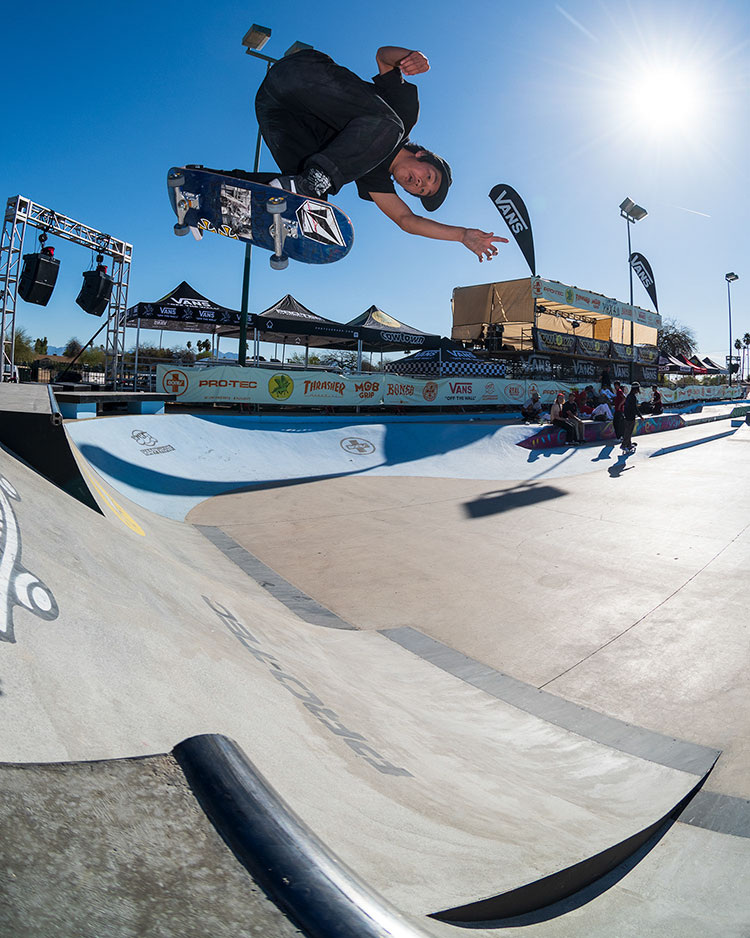 Taihou Tokura was barging all over the course, high-speed backside ollie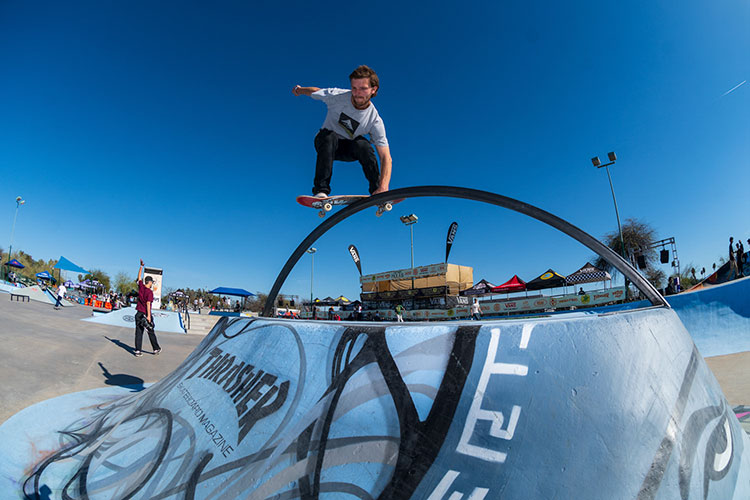 The rainbow rail was new this year and quite a few skaters 50-50d the span but Miles Canevello takes a unique route with a board stall yank over. You may remember Miles from our Jan 2019 Subscribe ad in the mag where he's boardsliding a 40-stair hubba!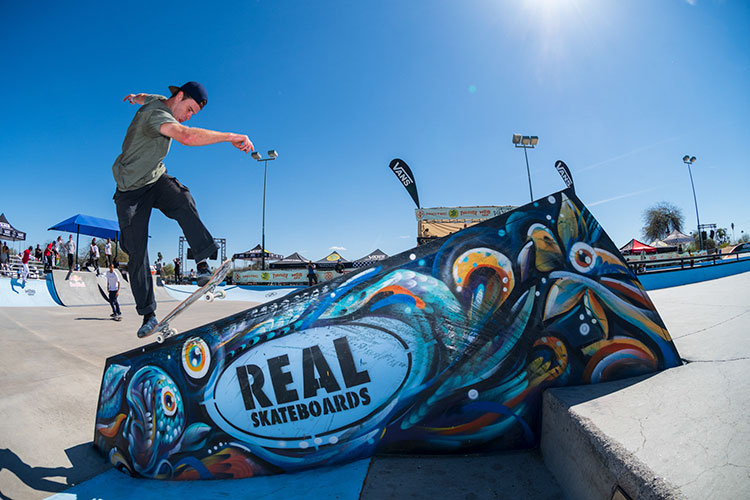 Closing out the first day of practice is Nate Greenwood with a clean backside 180 to fakie 5-0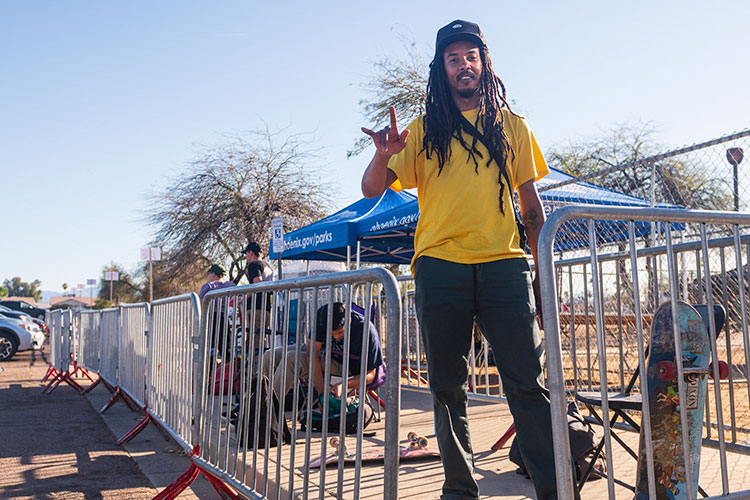 On the way out, Jerome Wong was already lined up, ready for the 17-hour wait 'til the park re-opened so he could collect the "first in line" prize. That's dedication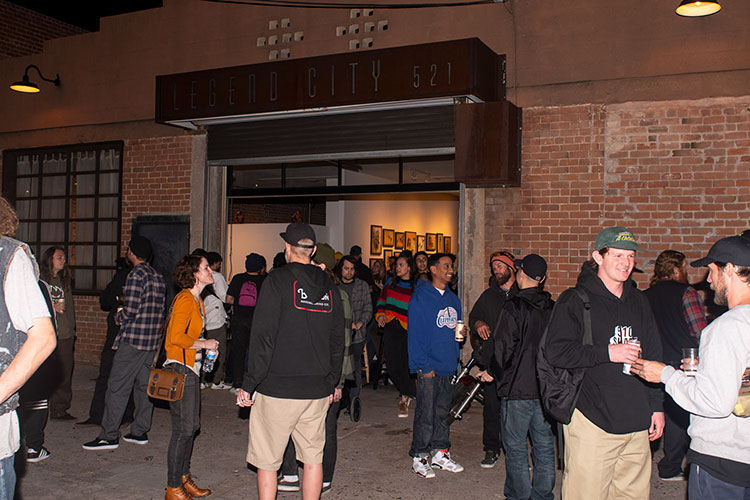 Then it was off to Legend City Studios for the Ben Horton art show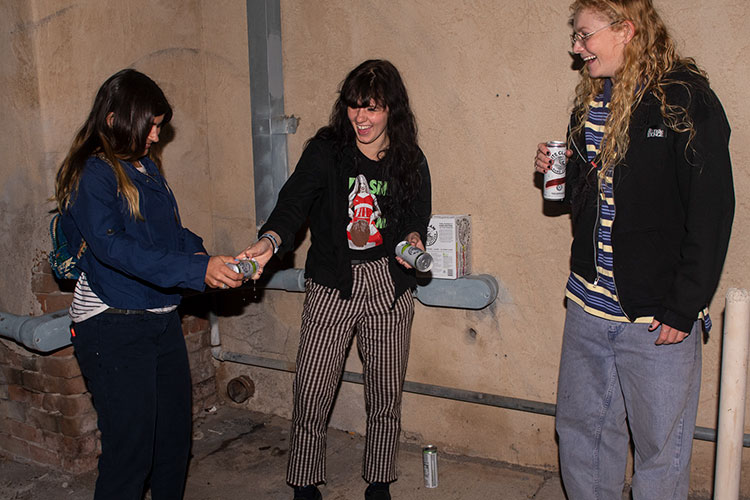 Am Scrambler Fabiana Delfino, Breana Geering, and Una Farrar shotgun some cold ones before entering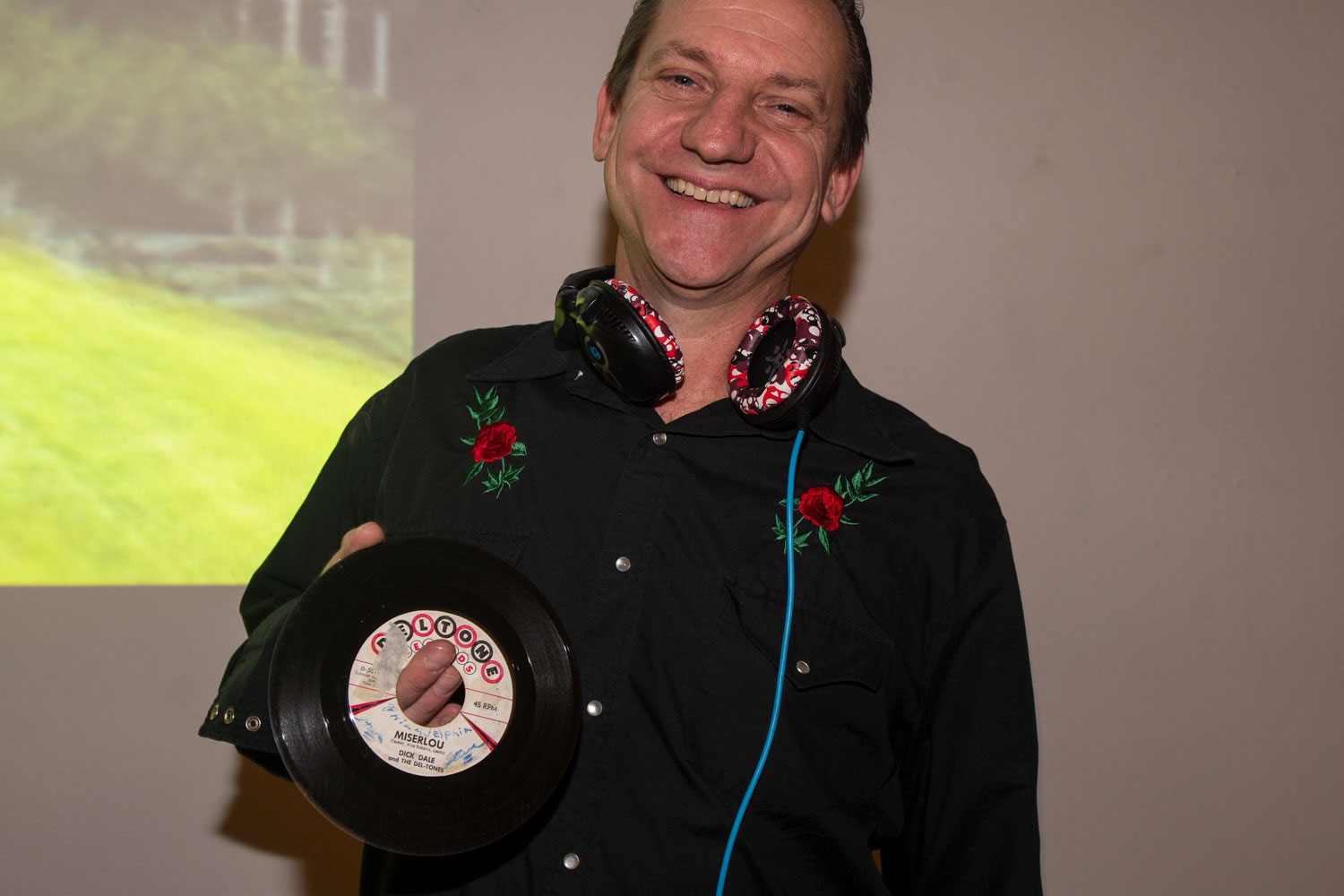 Thrasher
's Zounds columnist Wez Lundry spinning the tunes. Check out the original pressing of Dick Dale's "Misirlou"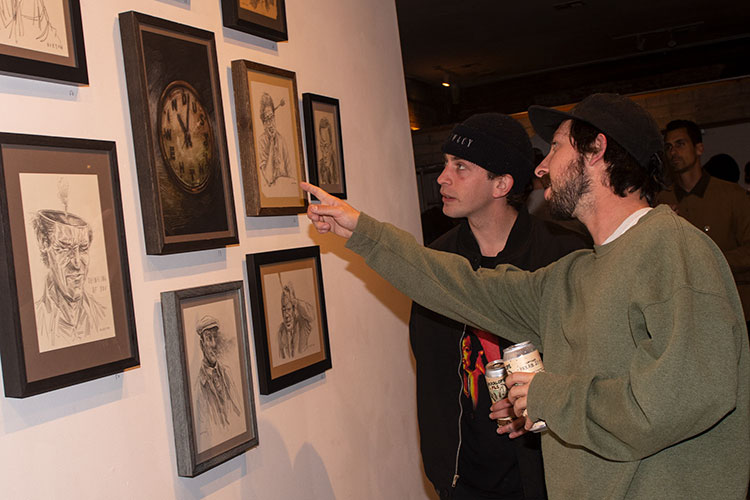 Nick Zizzo and lensman Jon Spitzer check out some of Ben Horton's drawings. Jon shot Pedro Delfino's Feb 2018 boardslide cover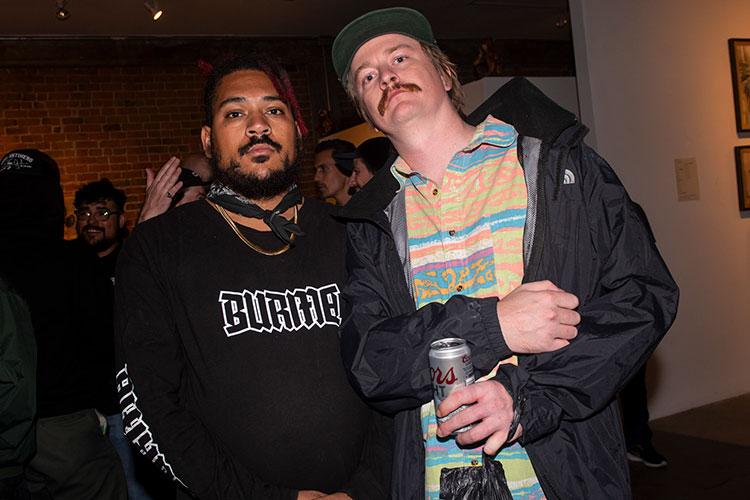 Antonio Millan and Pyramid Country's Jackson Casey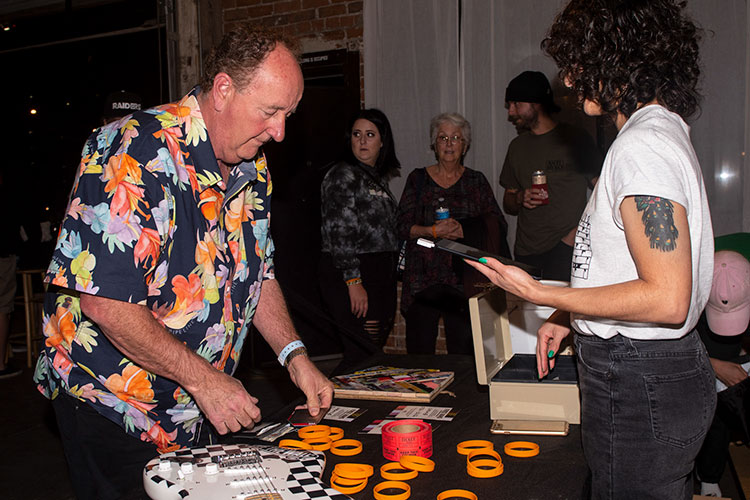 There was a raffle for a Vans Fender Guitar, some Ben Horton artwork and lots of Vans product with all proceeds going to the family of longtime Cowtown employee Alex Pugh to help his father battle cancer. Steve Van Doren stocks up on some tickets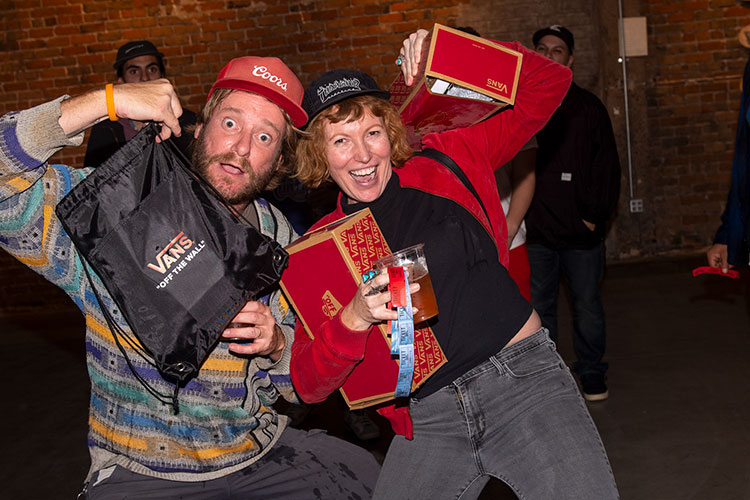 Look who came up in the raffle game—Don Naughty and Maaike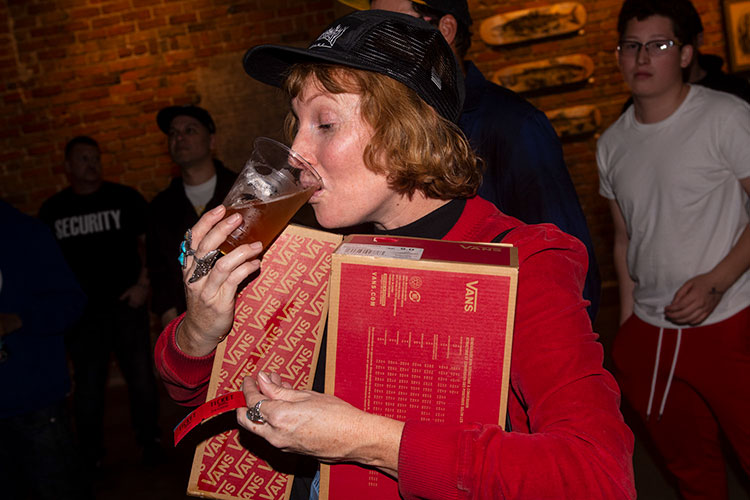 Maaike proves your hands are never too full to take another sip of beer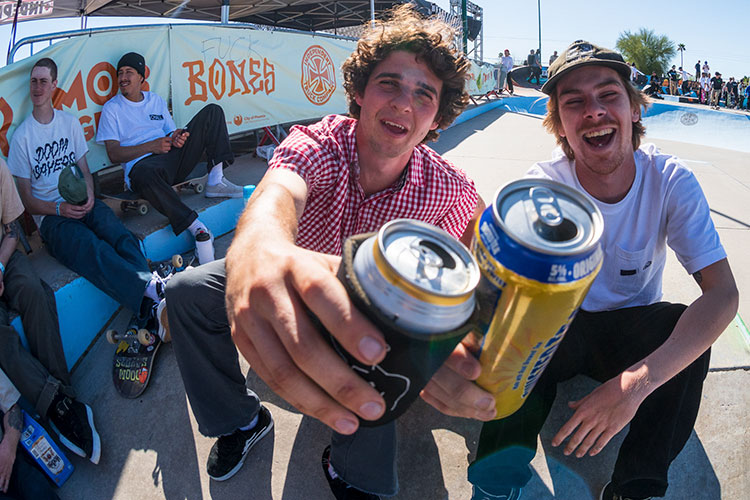 Saturday morning, bright and early breakfast brews with Manchild and Cody Chapman. Pace yourselves, boys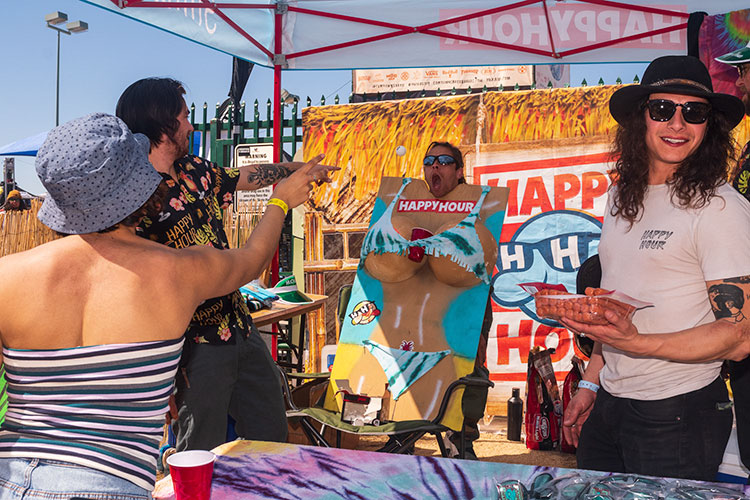 Happy Hour was giving out free shades if you could get the ping-pong ball in the Solo cup or in Lefty's mouth. Cole Wilson was on dog duty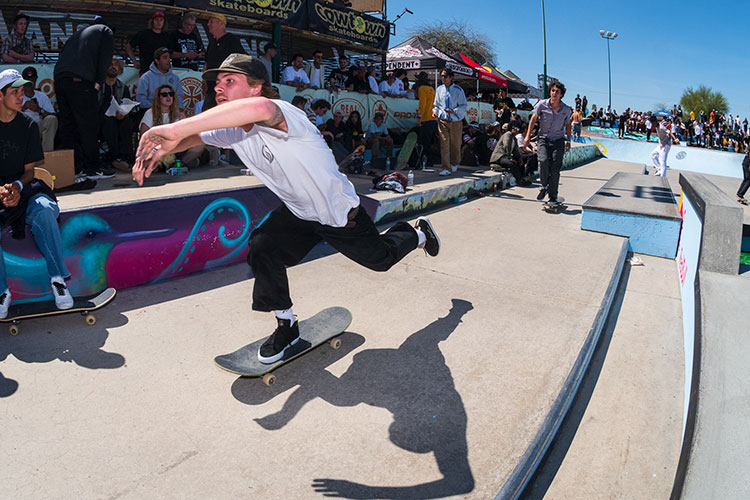 Even without speed shades, Cody Chapman hauls ass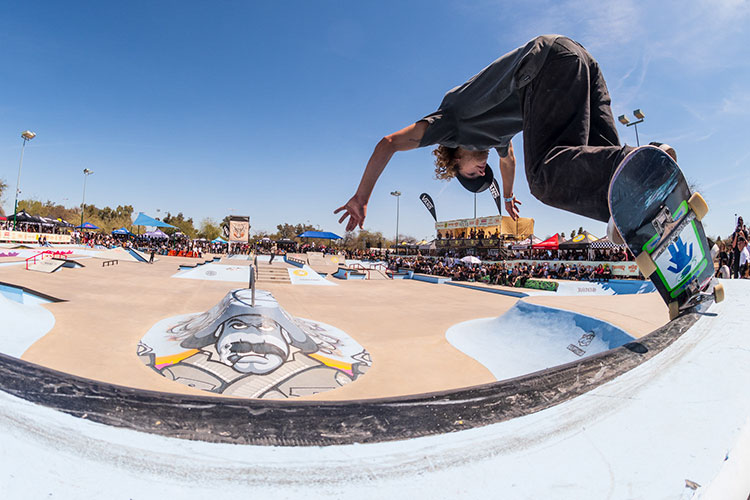 Another Scrambler, Simon Bannerot had one of the more spontaneous runs of the qualifiers, backside nosegrind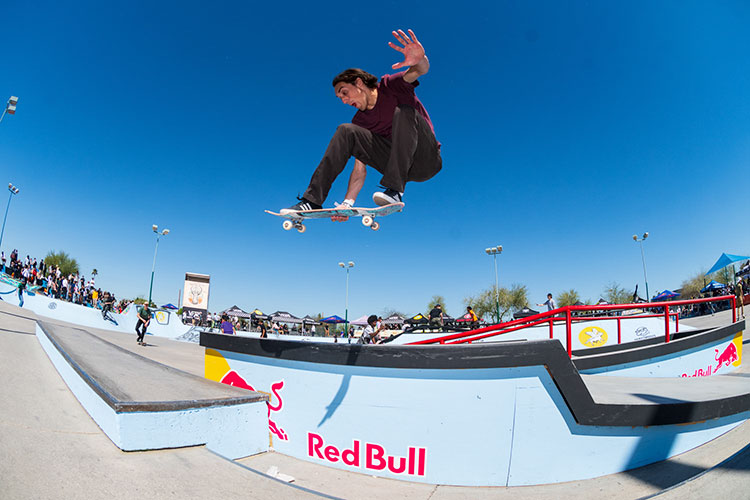 Everything may be bigger in TX but Ryan Thompson wallie melon was still pretty massive in AZ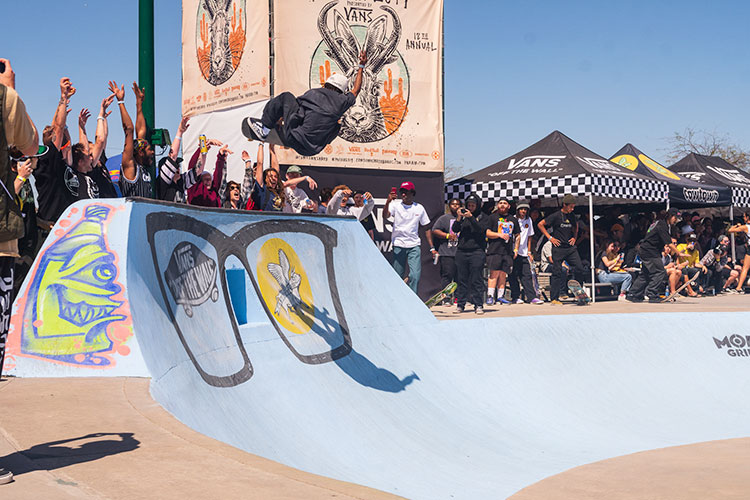 Chucky charging hard and getting everybody fired up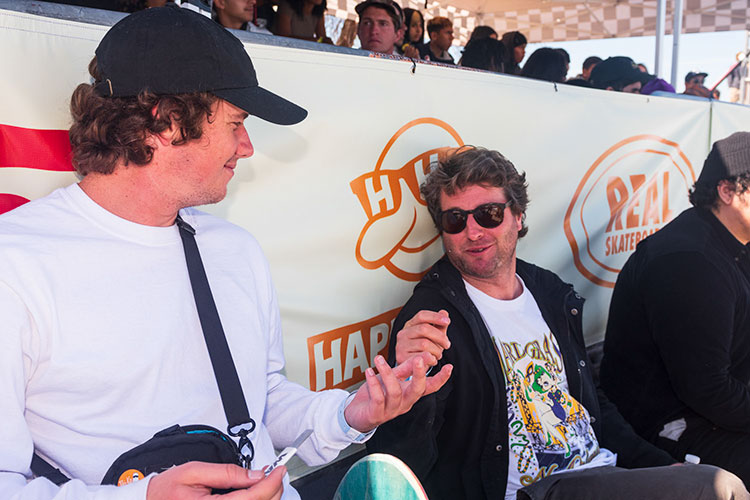 Steve Forstner ollied The Wedge back in 2007. Now he's managing the Santa Cruz boys and giving Dylan Williams good advice, like, "Just skate faster. Always skate faster!"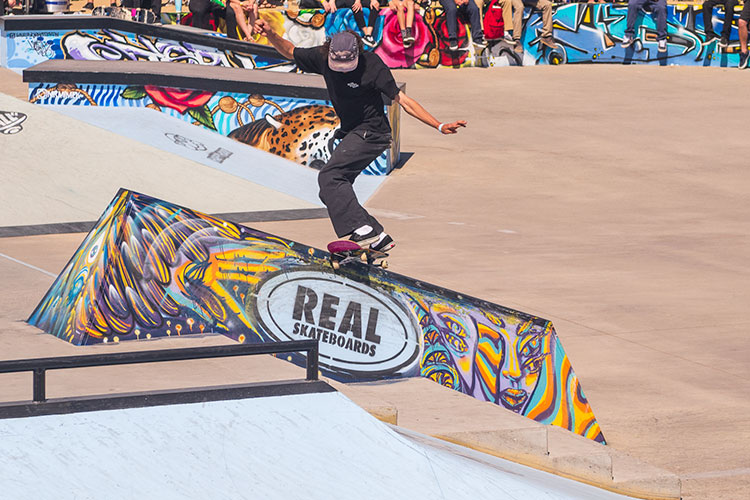 Tanner VanVark (Scrambler, too) casually killed the qualifiers. Moves like this slappy to frontside hurricane earned him the Golden Ticket which moved him straight to the finals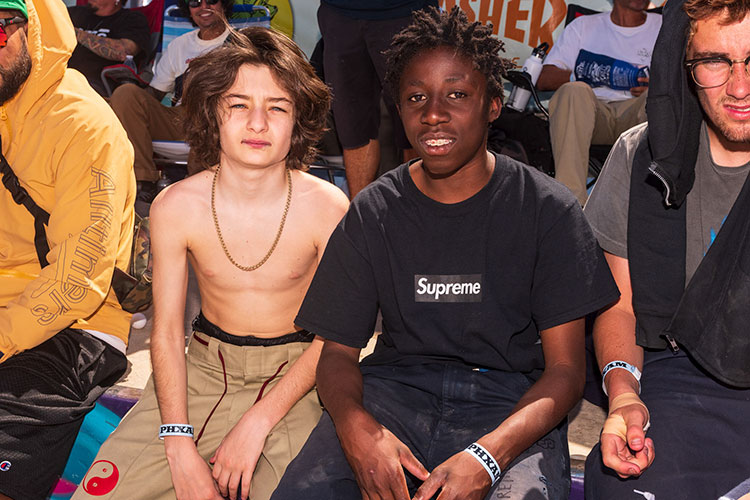 Sunny Suljic and Kader Sylla—the kids are alright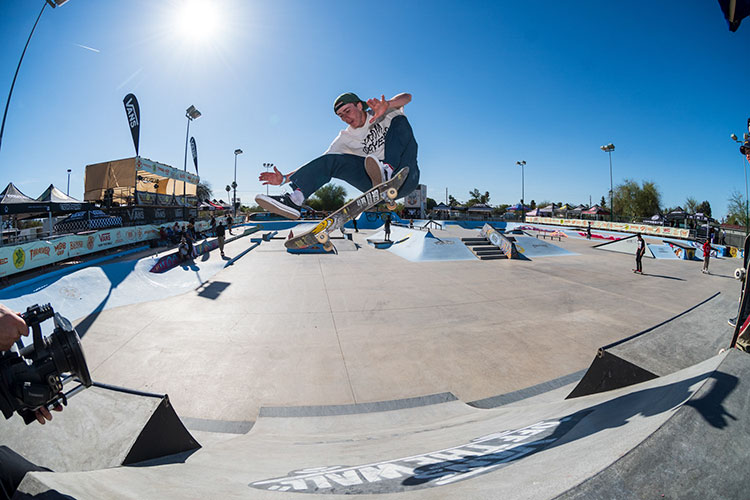 Eli Williams skated faster than most. This massive frontside flip is proof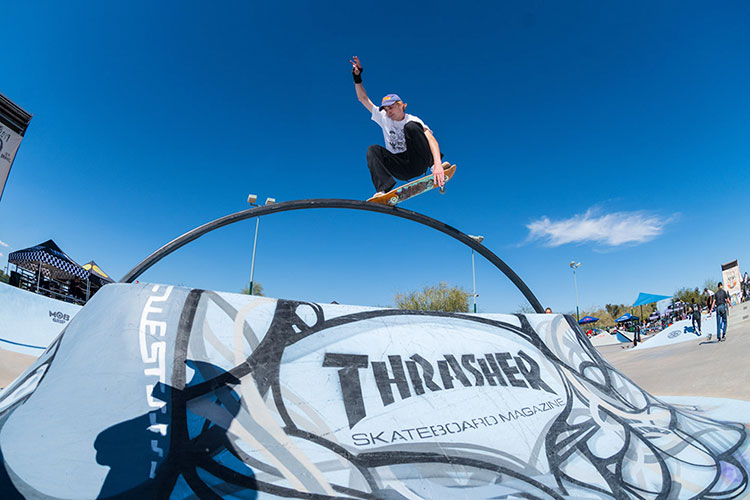 Aaron Goure is always good for something unique like this nosegrind grab over the rainbow rail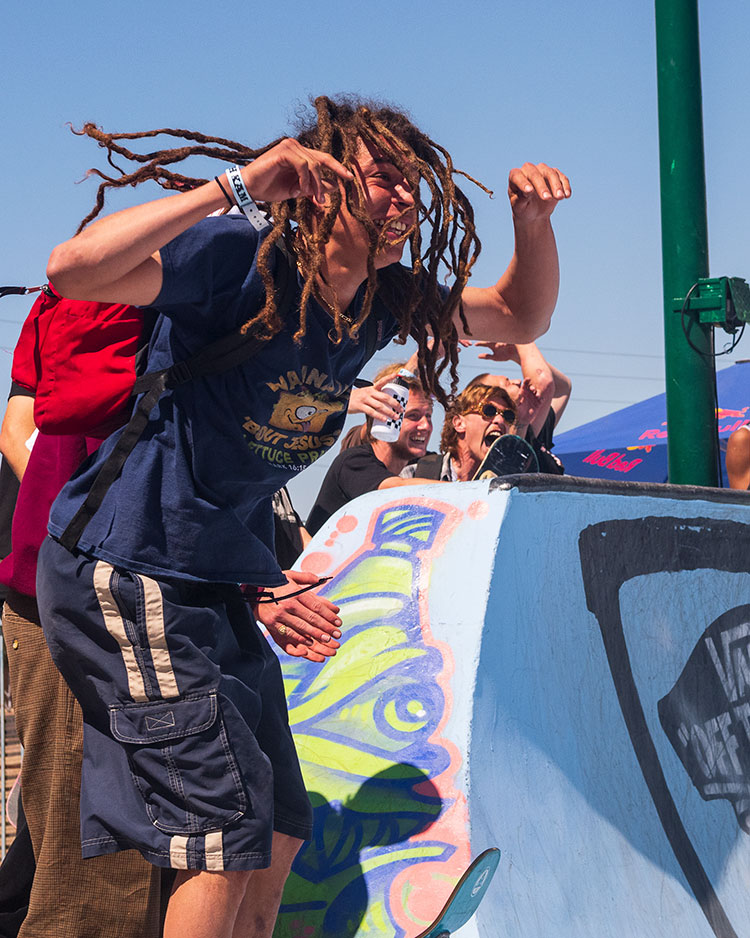 Tyson Peterson, hyped!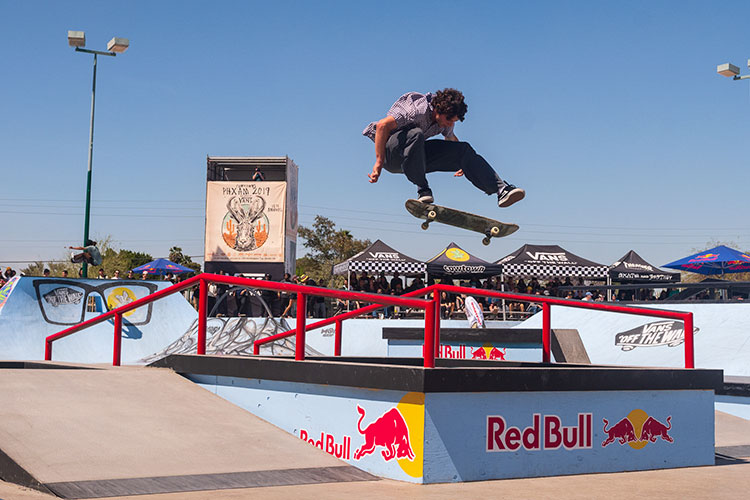 Sometimes you only gotta land one or two tricks in your run and everyone gets fired up. This frontside flip by Manchild did just that. Unfortunately, only landing one trick does't get you to the semifinals. Good thing there's plenty of empty pools in the neighborhood!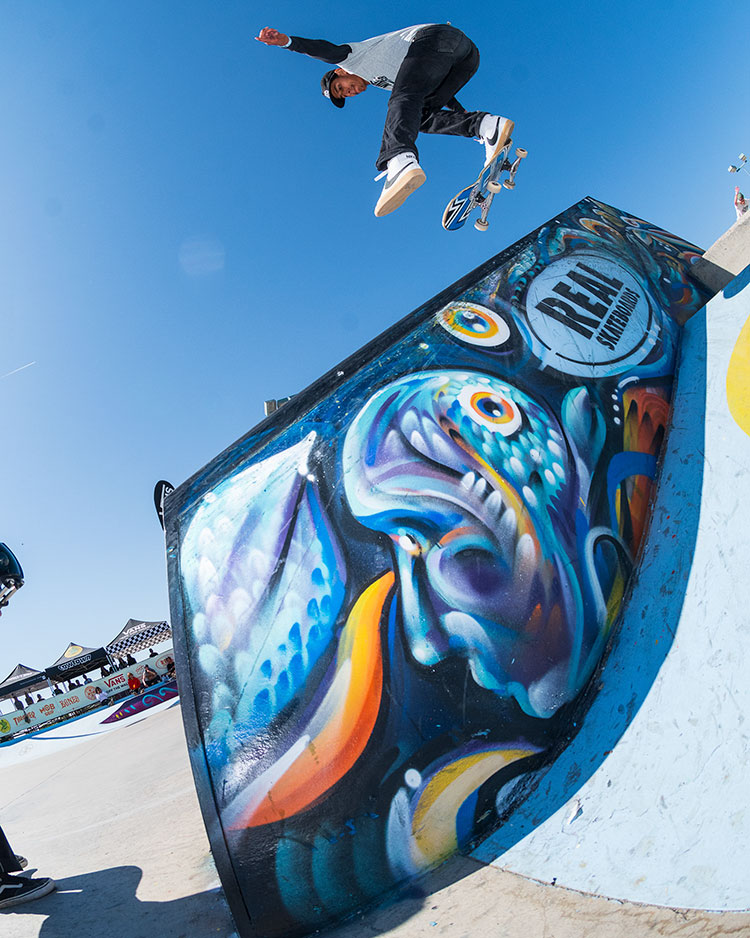 Gustavo Servin is always a top dog. He made the top 40 but not the top 12. Look for a Hall of Meat on the website soon with Gustavo. Ouch!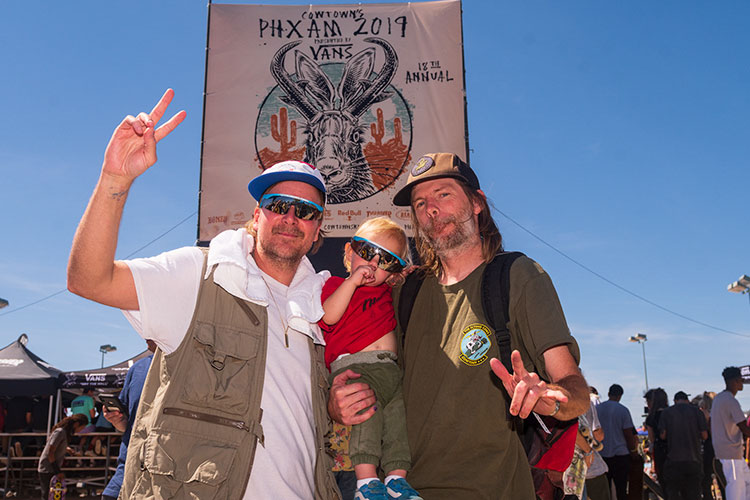 If you asked two-year-old Zander Brand to pick his favorite skater he's gonna say the Muska! Nice work, poppa Alex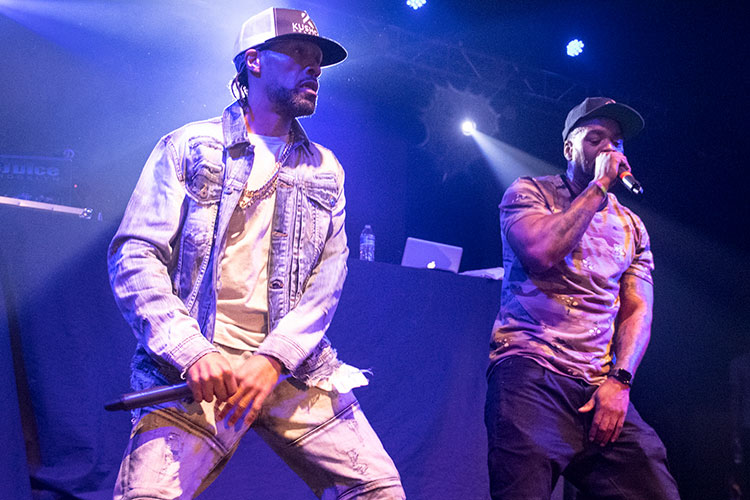 Saturday night was the Phx Am afterparty where the 160 skaters who didn't make the cut got to party their faces off at a live performance by Redman and Method Man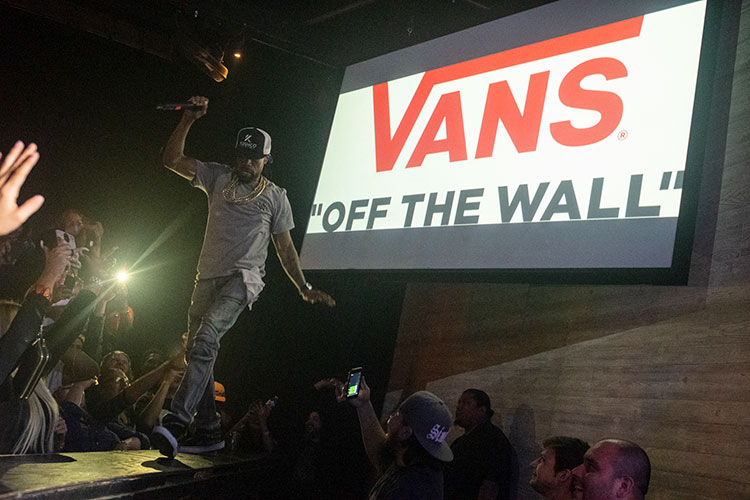 Redman, off the wall, off the stage and onto the barricade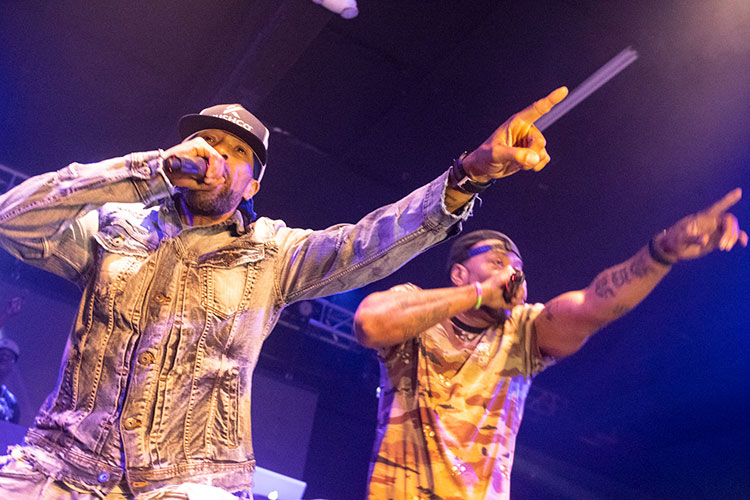 Thank you, good night and get some rest! Semifinals start at 11am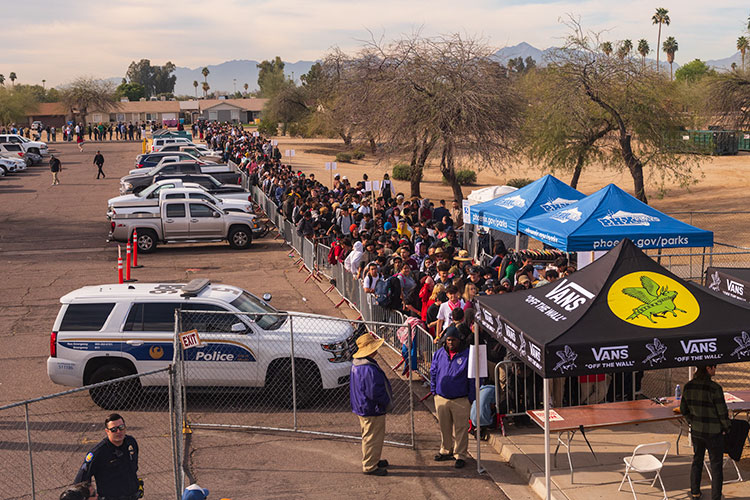 Sunday morning's line of fans waiting to get in—and it wasn't even 10 yet!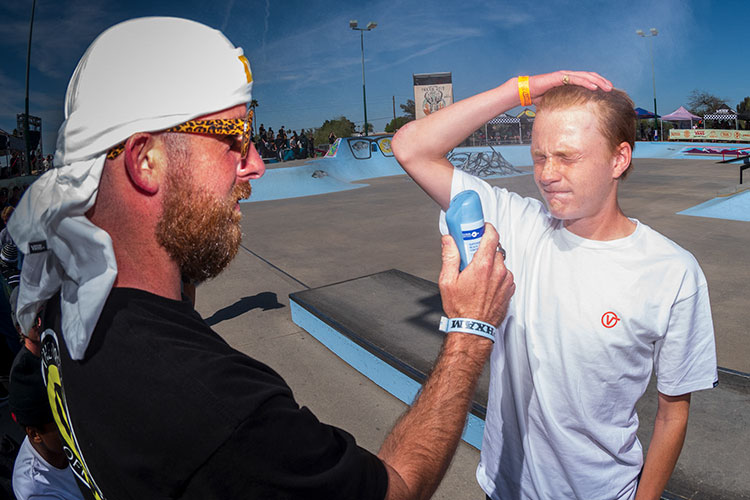 Vans team manager Johnny Layton helping Roman Pabich out with some sunscreen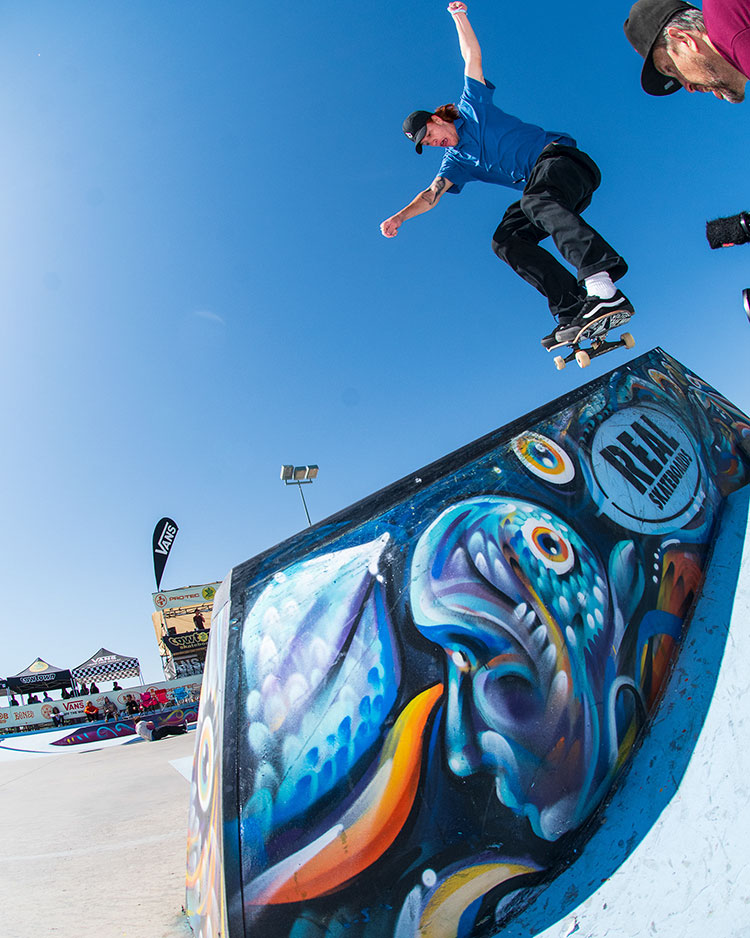 Giovanni Vianna was already on the course warming it up with moves like this half Cab to frontside nosegrind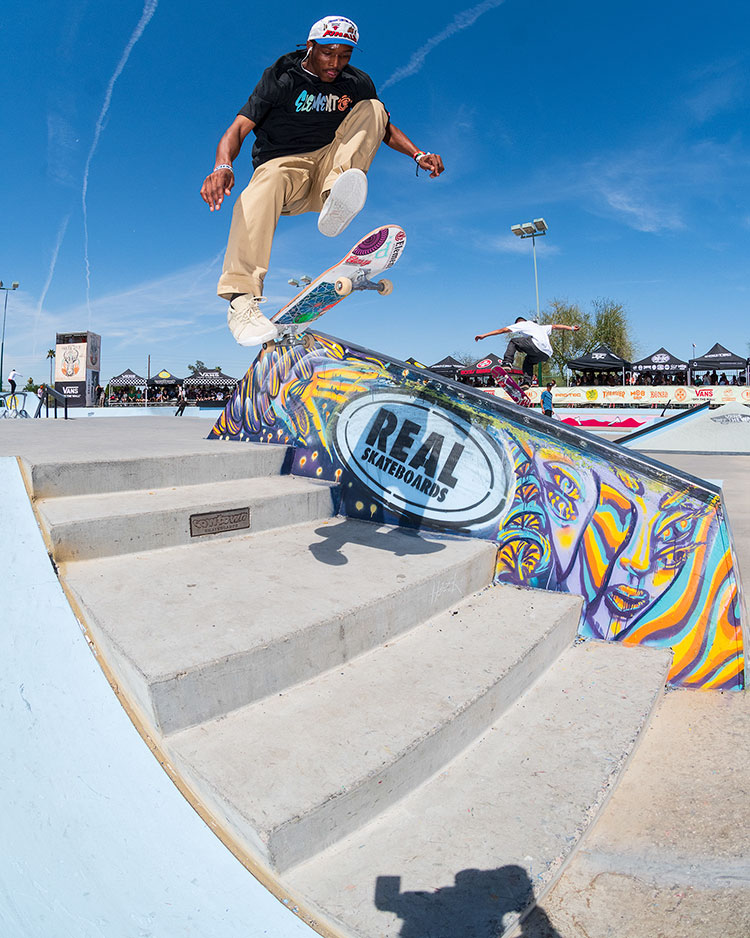 Dominick Walker was getting his lines dialed, front biggie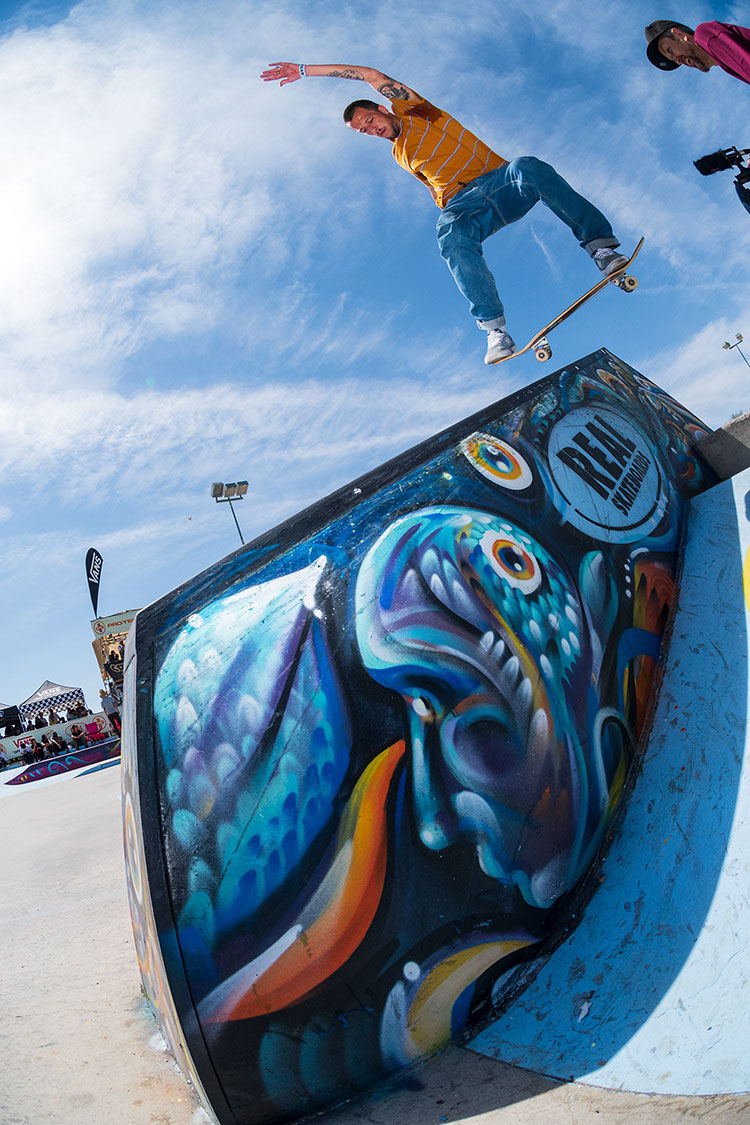 Jorge Simoes from Porto, Portugal finished 6th with moves like this 180 to switch crooks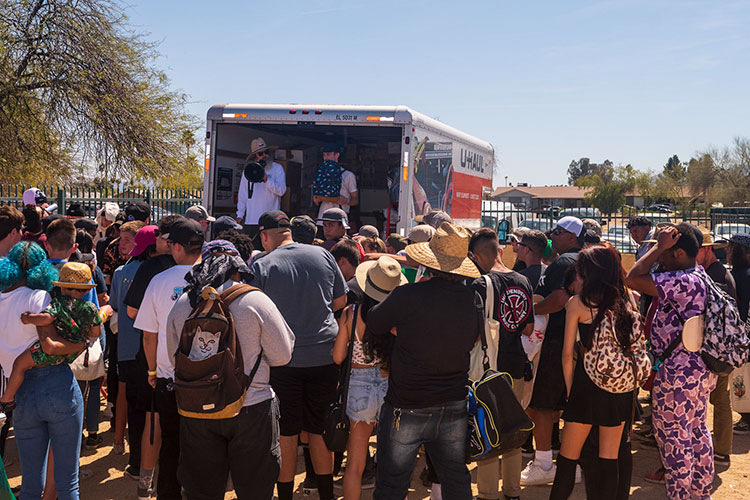 The Phx Am raffle hosted by Cowtown is always a big hit. The U-Haul is filled with stuff from all of your favorite skate companies and product is raffled off throughout the weekend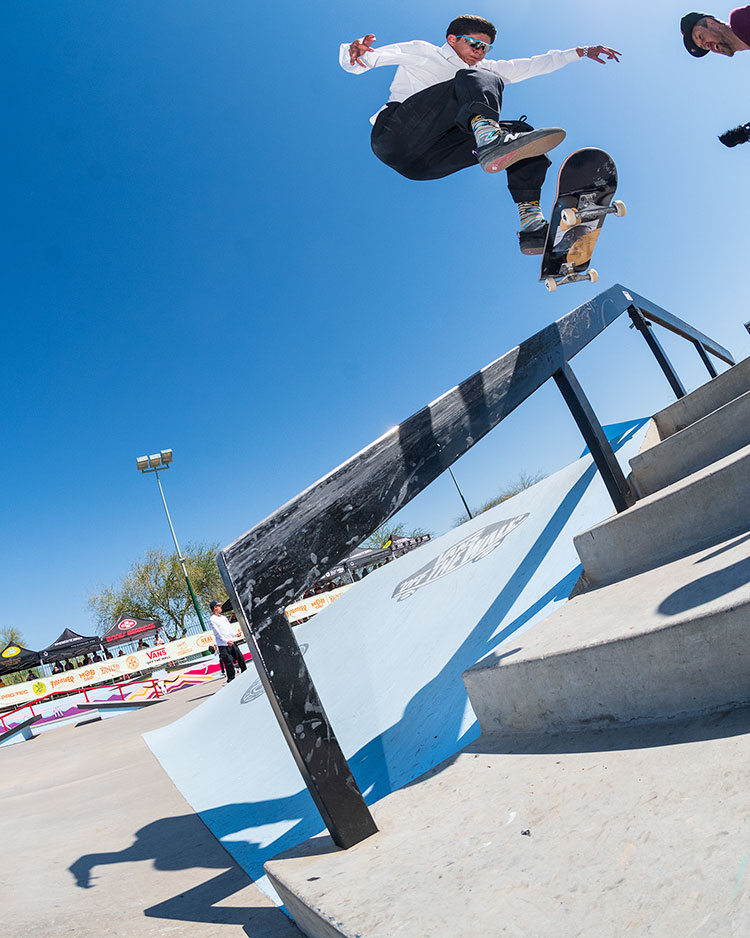 Arthur Cordova's speed shades, dress shirt and kickflip back tails helped him finish in 11th place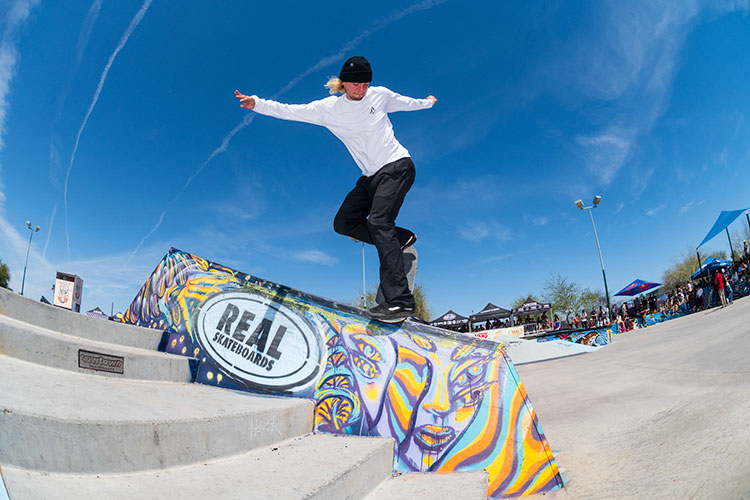 Henry Gartland always goes big—back noseblunt finishing in 9th place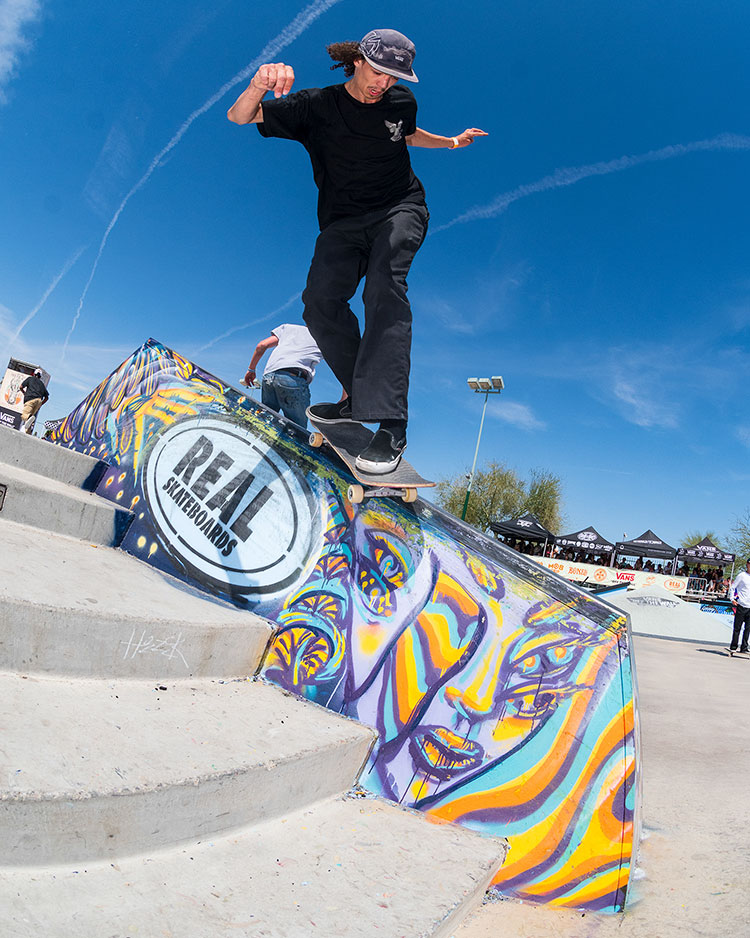 Tanner VanVark warming up for finals with a slappy back Smith and finishing in 8th place. To steal Burnett's joke: Ollies Never!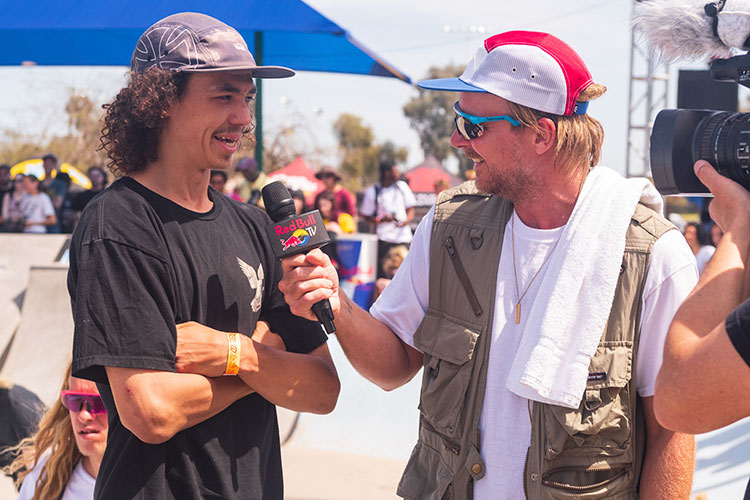 When you get the Golden Ticket you also get a Q and A with The Muska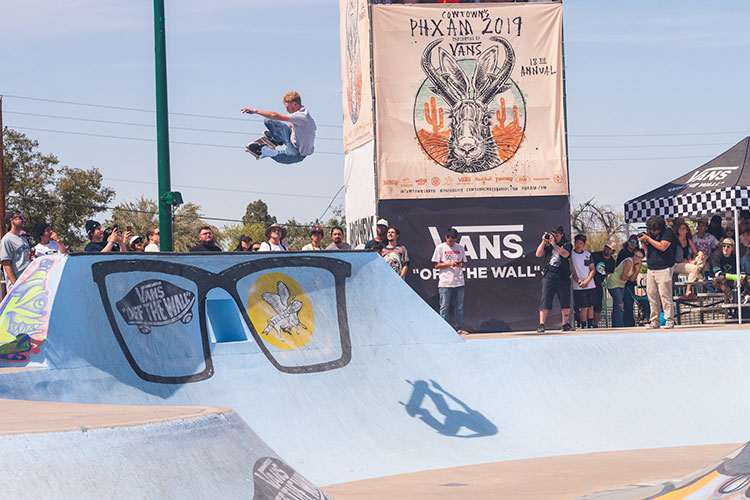 Jake Wooten, massive ollie and a 7th place finish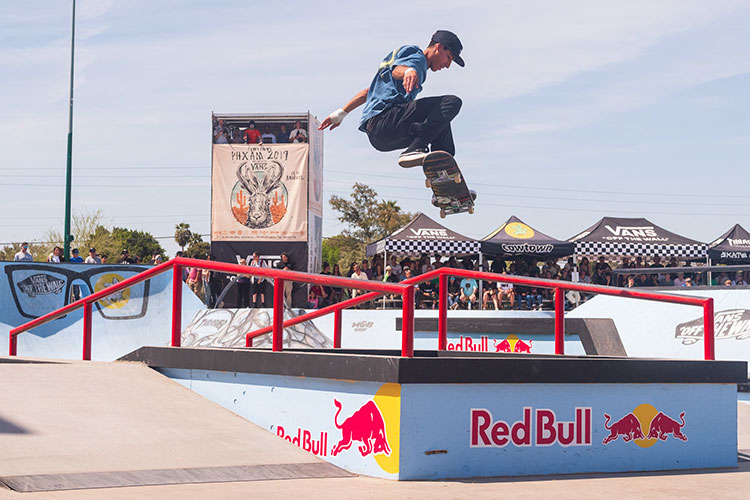 All the way from Bogota, Colombia, Jhancarlos Gonzalez with a front three into 5th place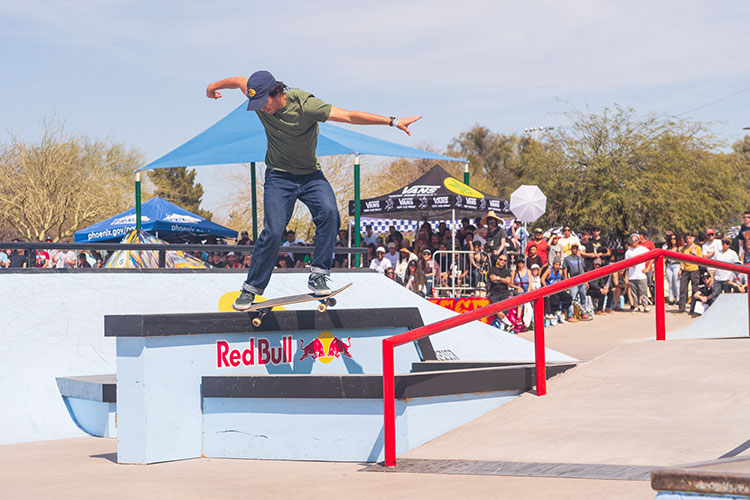 Austin Heilman from Huntington Beach, CA, with a 180 switch crooks and a 4th place finish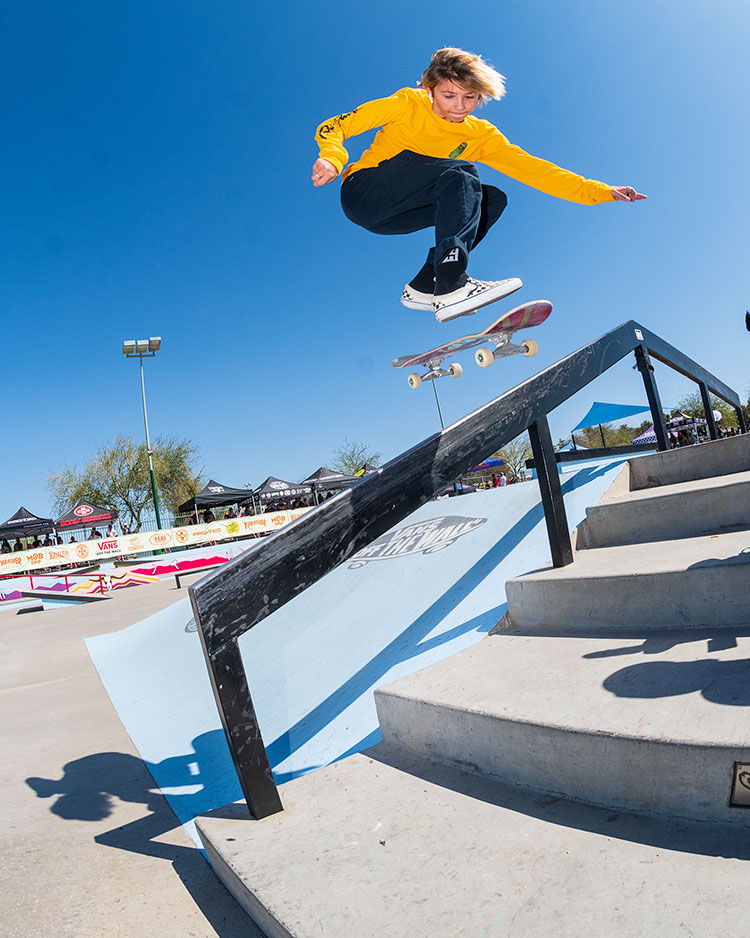 Thirteen-year-old Lazer Crawford, the youngest one in the finals with a hardflip back lip…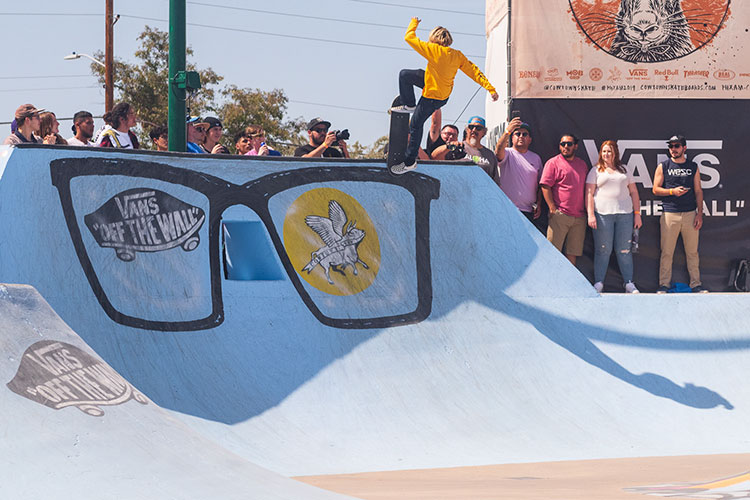 …and a front blunt on the back wall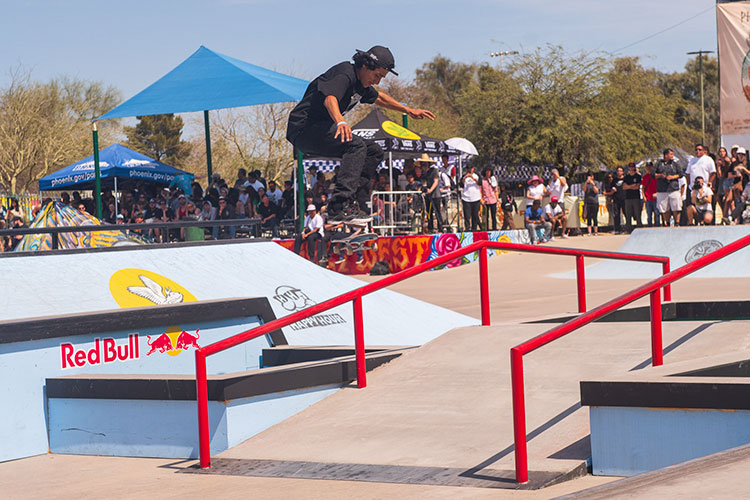 Maurice Jordan, kickflip front board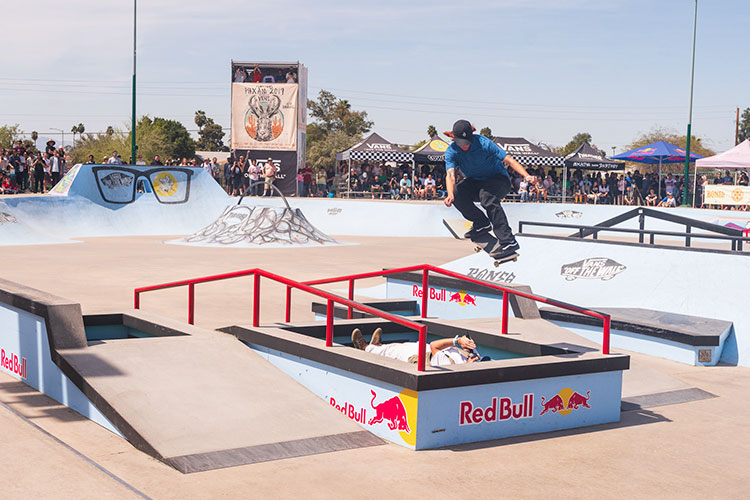 Then Muska called on Giovanni Vianna to ollie over him to hype up the final runs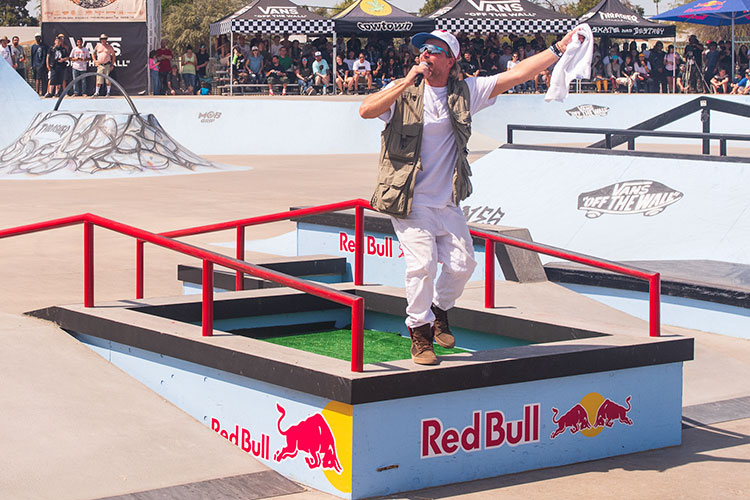 "That was chillin', chillin'"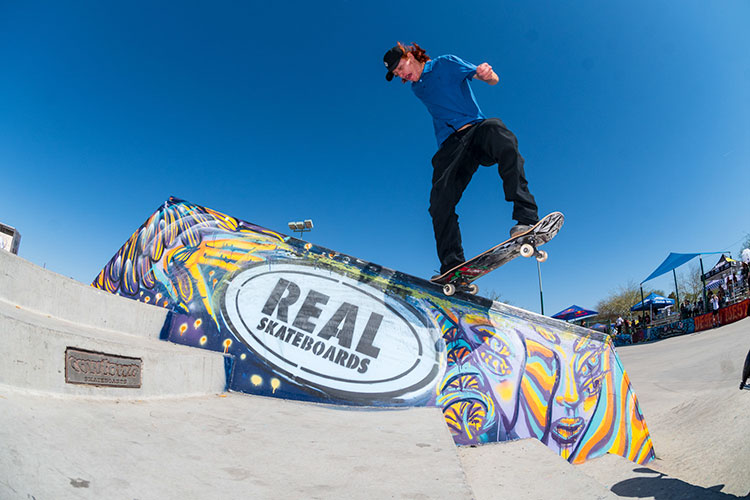 Giovanni, frontside half Cab to backside 5-0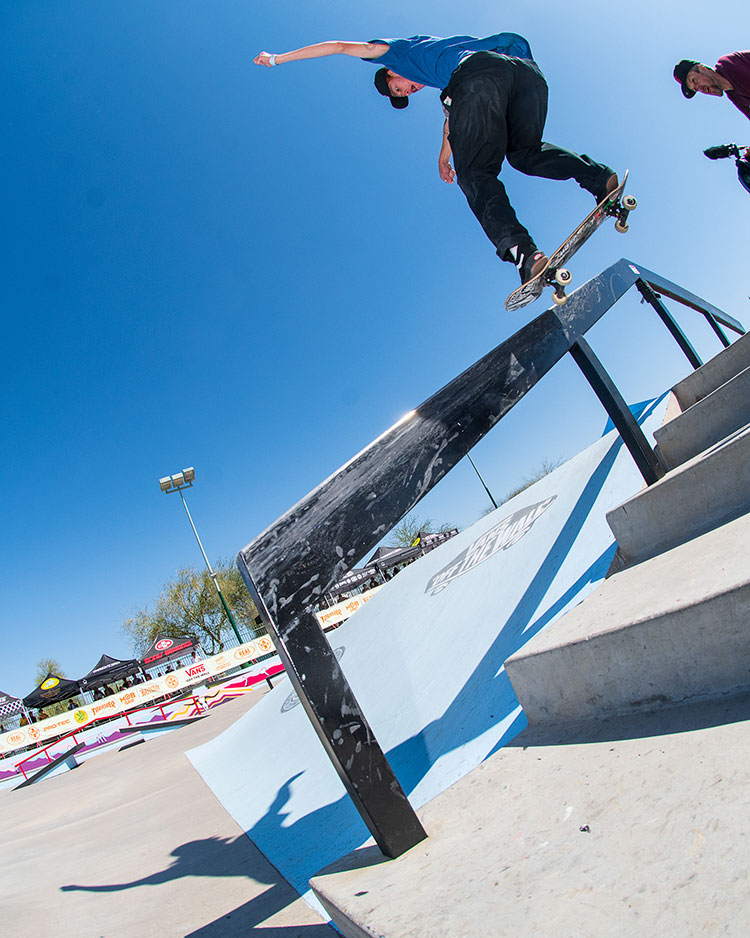 Followed by a full Cab to front nose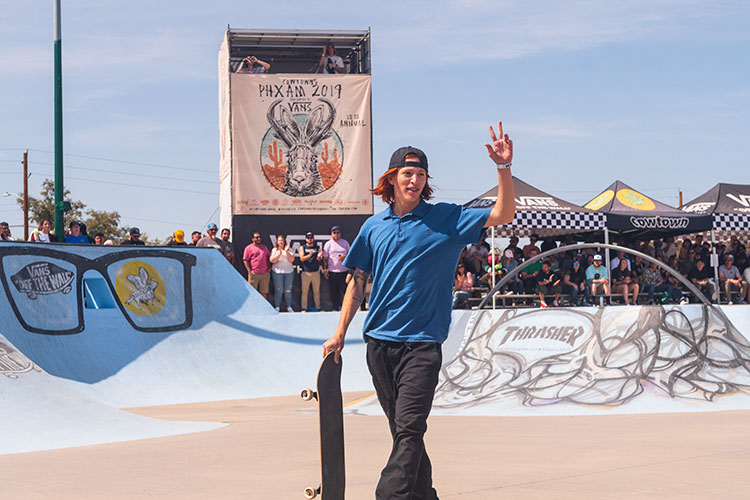 Peace out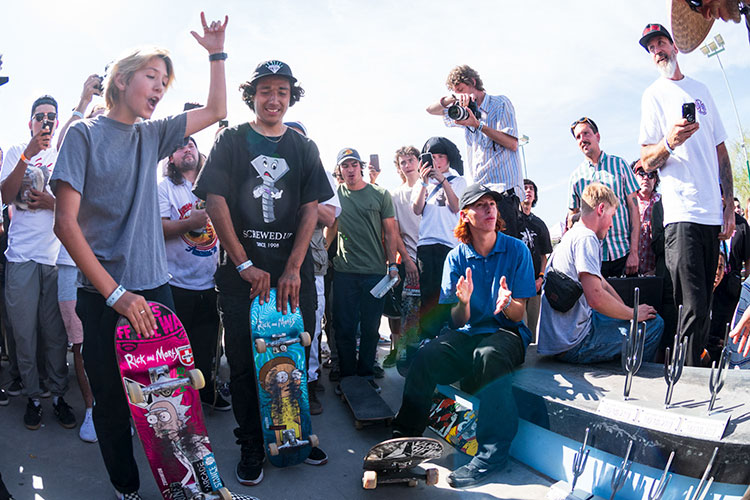 Time for the results. The top three are Lazer Crawford, Maurice Jordan and…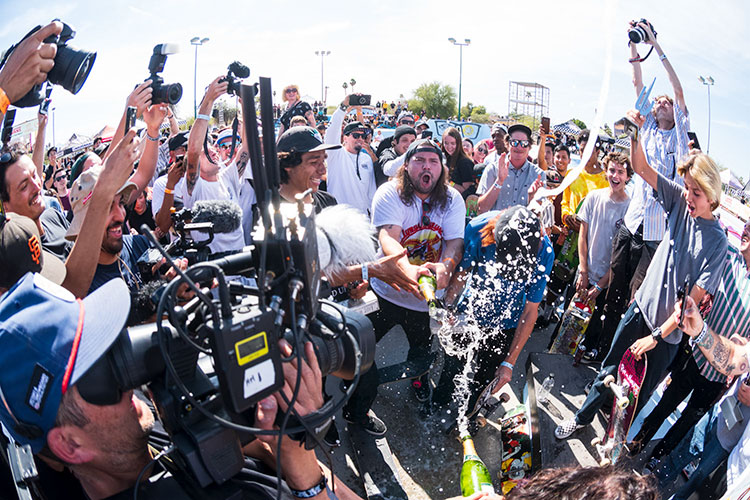 …then Matt Schlager sprayed all the camera men with champagne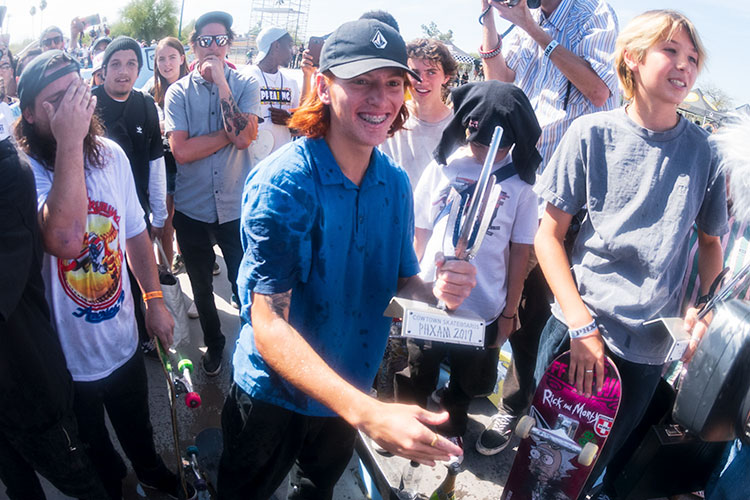 Congrats to Giovanni Vianna for winning Phx Am 2019!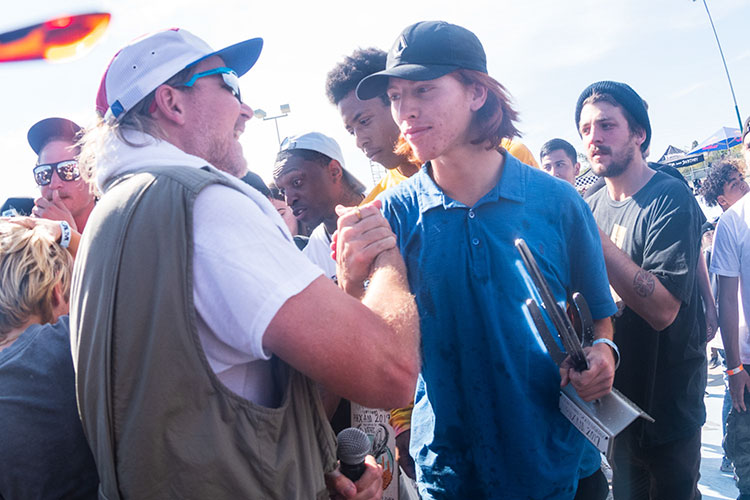 Props from Muska. Priceless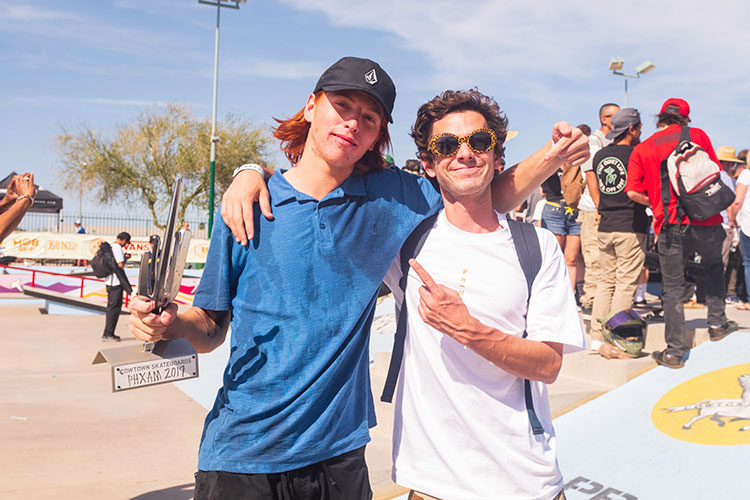 More props from the new Primitive team manager Taylor McClung. Thanks to all this year's sponsors and especially to the amazing staff at Cowtown for consistently pulling this off for 18 years and running. Here's to 18 more!
8/30/2022

Gary breaks down enjoi's High Wire Tour video, Harry Bergenfield's She's Cheating video, Volcom's Vitals video, Beatrice going pro for FA and more in today's episode of Skateline.