REAL x Huf Photo Show and High-Ollie Contest Photos
11/06/2018
Twenty-five years is a long time in skateboarding—many of you reading this are probably not even that old. Real skateboards has been around a little longer than that and Keith Hufnagel has been riding for them since almost the beginning. To celebrate Keith and Real's quarter-century relationship, they put together a collection of photos that Morf has shot of Huf over the years and released a capsule of Huf X Real collaboarative goods that's now available in finer skateshops. To celebrate the occasion, a party was in order, complete with a photo show, free beer and tacos, a high-ollie contest and a raffle for some limited-edition boards and photos on display. All proceeds went to the City of Hope, a cancer treatment and research hospital. Win, win, win! —
Joe Hammeke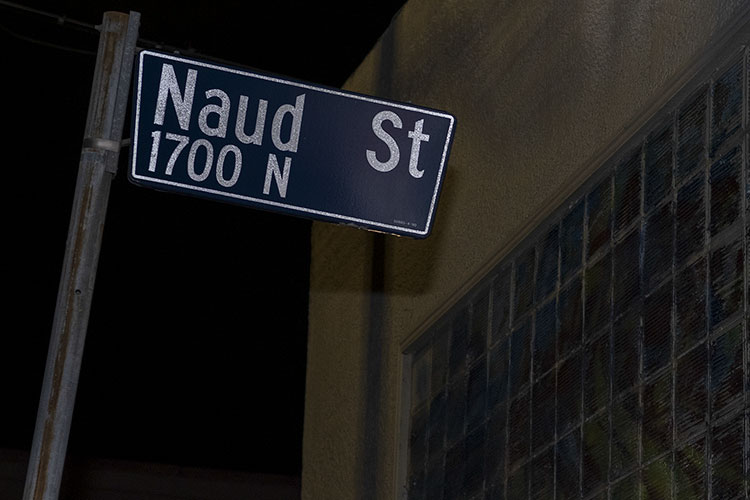 Naud St, deep in the LA arts district
The line was halfway down the block and it wasn't even 8 pm yet
Huf and Morf—these two have shot thousands of photos together
Manchild and Robin Wilson check out one from '96
Real TM Nate Alton with wife Sharon and a couple of young shredders on the way. Congrats!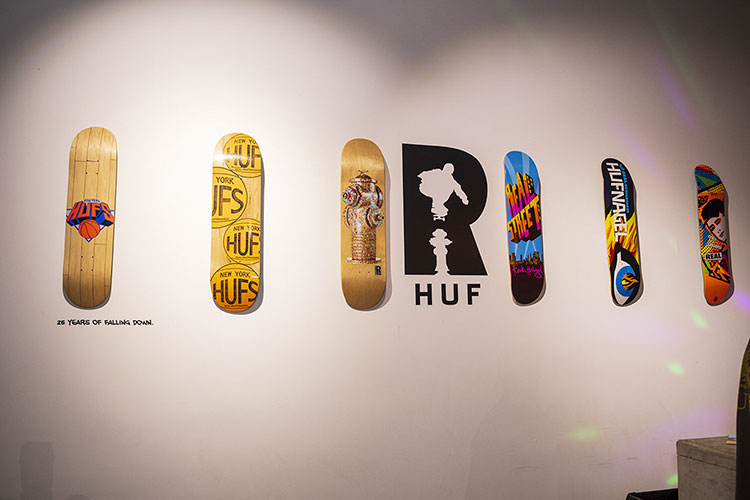 Some classic Real Huf decks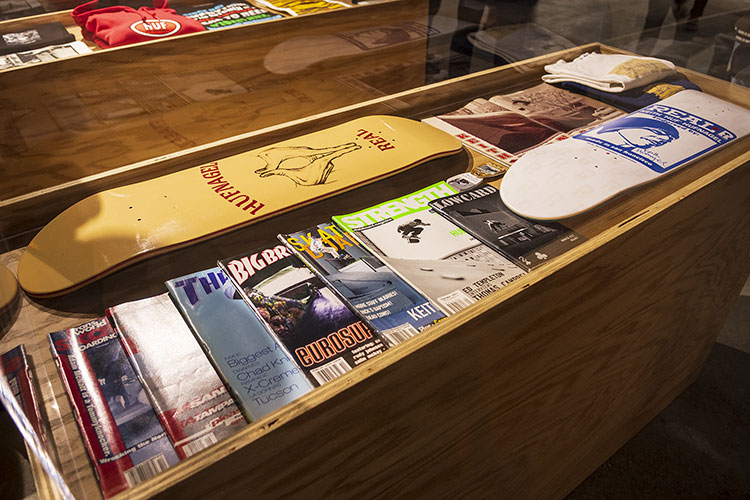 More classic boards and all of Huf's magazine covers. Big Brother was knocking off the Thrasher logo way before all you streetwear goons
Thrasher
masterlensman Dan Stolling was there to document the night in HD
Hey, Ishod, happy birthday!
Long time Real TM Darrin Howard along with Jack Olson and Real's newest am, Tanner Van Vark. Peep that new
Thrasher
hoody that Tanner picked up on the Am Scamble. Expect to see more of him in the mag real soon!
More Real team riders, Jaffin Garvey, Gage Boyle, Robbie Brockel and house sitter to the pros, T-Huff
Real's newest pro—who also landed on the December cover—Zion Wright and 2016 SOTY Kyle Walker. Heavy crowd!
The OGs: Thiebaud, Huf and Tommy G
DJ Mixmarkie kept the tunes flowing throughout the night
Grant Fiero and Luke MacMaster held down the raffle station. Renee Faulkner bought a whole string of tickets. Her husband works at Huf and she said she didn't need any free skate gear but still wanted to donate to the City of Hope charity
Look Back Library's Kevin Marks with Huf's
Thrasher
cover. Always blasting
One of our most controversial articles ever—when Daniel Harold Sturt snuck in and fully poached a transworld shoot
Lakai's Adrian Trejo imbibes in some free PBR, brown baggin' it just like 25 years ago on the streets of SF
Al Boglio, adidas's Paul Shire and switch guru, Pete Eldridge
Huf, Tommy and Jim reminiscing on 25 years of Real
Henri Yoro was the MC for the evening, "You ready for the high-ollie contest?!"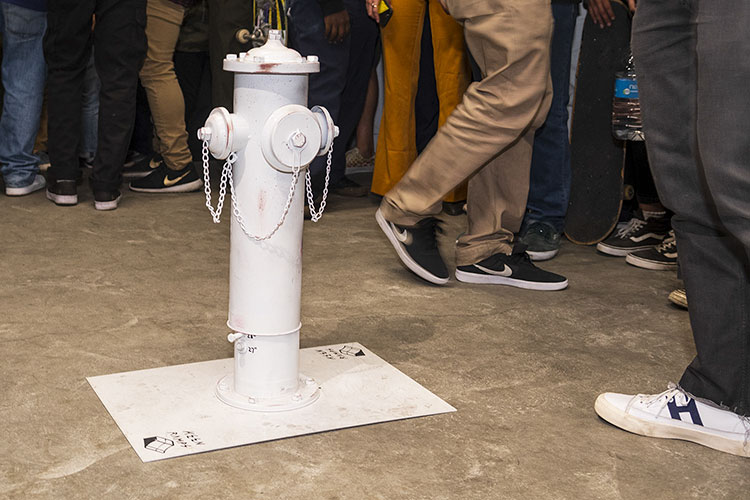 An adjustable fire hydrant was made by Keen Ramps
The crowd cleared a pathway…
…and it was on!
failed attempt at a nollie
Yardsale
The hydrant got buckled so it was reinstalled in an upside-down fashion
Manchild, straight to it
Not sure why, but this guy thought it would hold up to a pole jam
Ollie means no hands
Randy Nakajima and Ben Kelly were in charge of raising the "bar." At 37 inches, only a few skater were left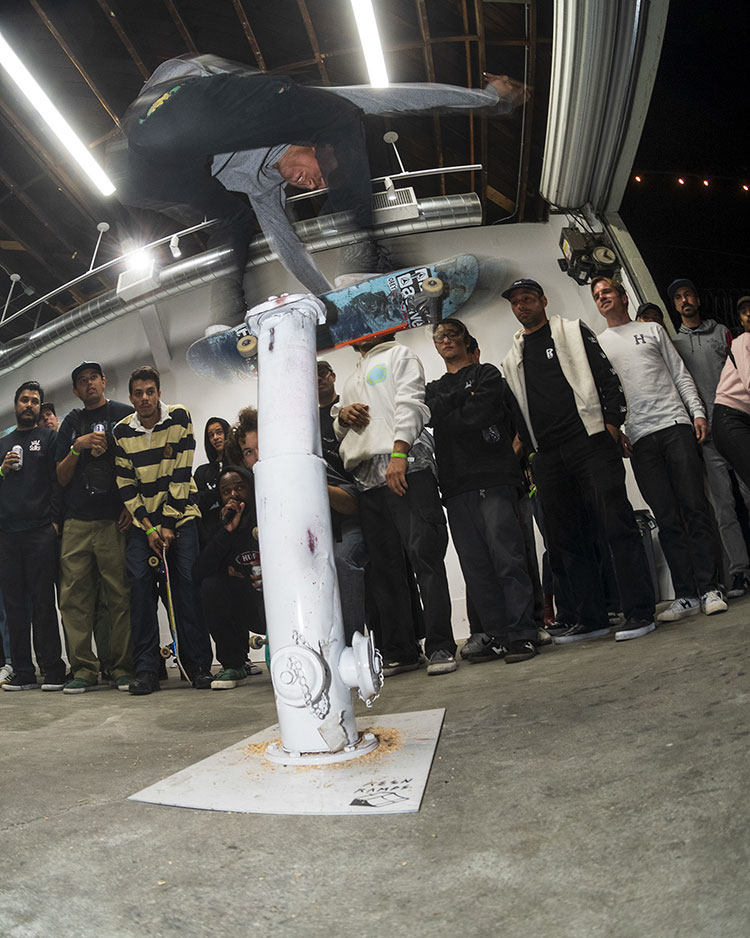 Ben Campbell squeaks one a bit to the side
Which called for a redo. Clipped it
This guy was top three as well but clipped the top on a 37 incher
With $500 on the line, WKND's Chris Maalouf cleared it with ease
"He did it!"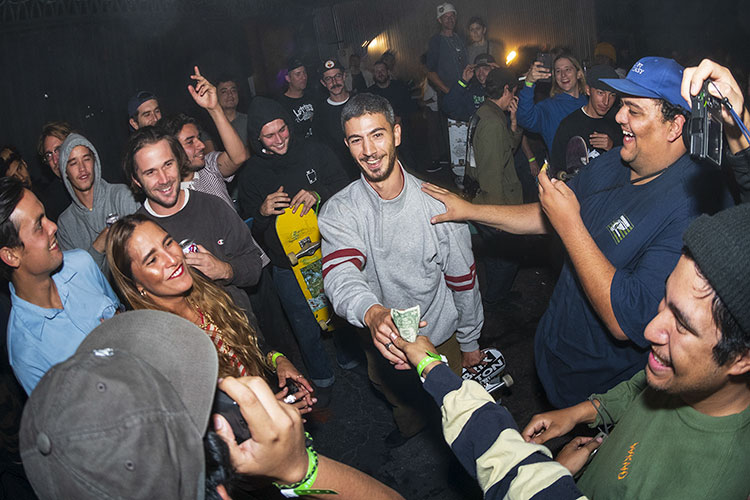 Make that $501!
"Dude you did it!" —
Salomon Cardenas
It's huge!
Kingswell Los Feliz's owner DJ Chavez and the champ, Chris Maalouf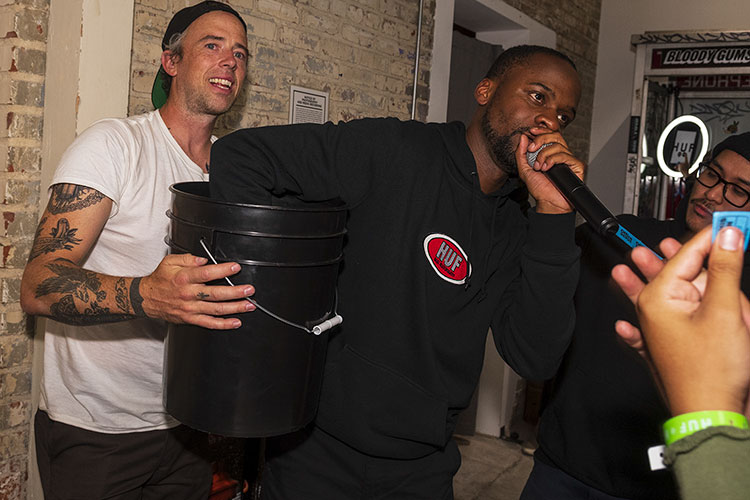 Then it was time to draw the raffle tickets for the prints on the wall and the stack of gear from Deluxe. Spitfire's Luke MacMaster and MC Henri Yoro did the honors
Scott Mackey only bought five tickets but he was on the come up!
Mackey walked away with this framed print and a limited-edition board. Thanks to all who came out and to all the sponsors, especially Real and Huf for making this thing happen. Here's to another quarter century, gents!
8/11/2022

A mix of skateboarding legends, current stars, family and friends all gathered to watch the new documentary Stay on Board and show their love and support for Leo Baker. Scroll through to see who made it out.