Skate Rock East Coast Tour 2010
4/15/2010
Bad Shit and The Goat embark on the East Coast Skate Rock tour next week. The vans are filling up and the venues are getting booked—check out the dates and how to win a sweet prize package from Nixon and Altamont.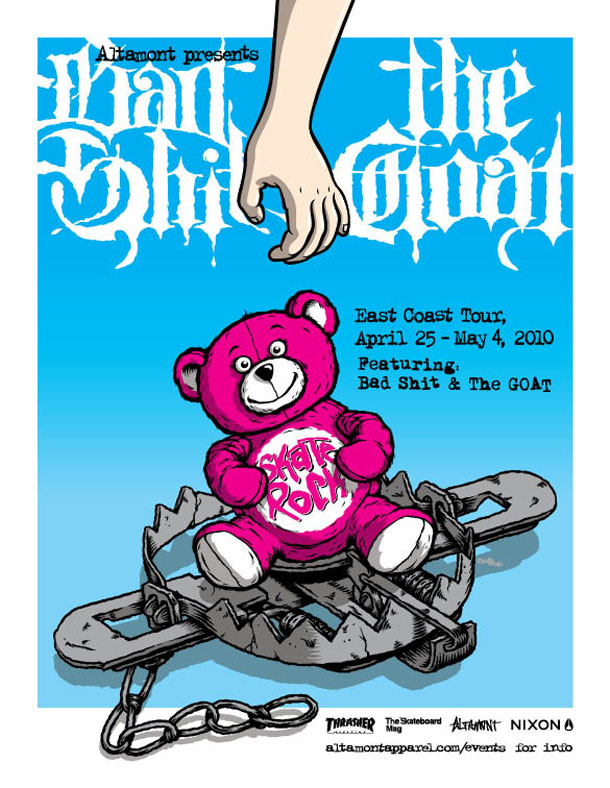 Athens, GA - Monday 4/26
Caledonia
256 West Clayton Street
Athens, GA 30601
Doors 9pm
Show 930pm
18+up
Tickets at door $2 over 21 $4 18-20
http://www.caledonialounge.com/
Wilmington, NC - Thursday, 4/29
The Soapbox
255 North Front Street
Wilmington, NC 28401
Doors 9pm
Show 10pm
All Ages
Tickets online or at door $5 over 21 / $8 under 21
http://www.thesoapboxlive.com/
Baltimore, MD - Saturday, 5/1
Sonar
407 East Saratoga Street
Baltimore, MD 21202
Doors 8pm
Show 9pm All Ages
Tickets $3 available online or at VU Skateshop
http://www.vuskateboardshop.com
http://www.sonarbaltimore.com
Sunday, 5/2
Exit Skateshop
825 North 2nd Street
Philadelphia, PA 19123
215.425.2450
Show 5pm
All Ages & Free
http://www.exitphiladelphia.com
Brooklyn, NY - Tuesday, 5/4
Autumn Bowl
67 West St
Brooklyn, NY 11222
Show 8pm
All Ages
$5 at door
http://autumnnyc.com
We're giving away
10 limited-edition Skate Rock East Coast Tour packages. Each winner scores headphones from Nixon, an exclusive Skate Rock tour shirt from Altamont, plus limited-edition screenprinted tour posters and a
Thrasher
Skate Rock tour CD.
Get Some!
Check out their myspace pages to listen to some of their songs:
Bad Shit
The Goat
3/06/2020

Everyone's favorite annual award ceremony is back to celebrate the year's best breakthroughs and bunts. If you can't make SOTY, might as well hope for a T-Eddy. See the list and guess who'll get pissed.