The Making Of Blood Shed
12/17/2009
Blood Lust: The Making Of Blood Shed
by Rick Charnoski

If you ever get a chance to check out the November 1981 issue of Thrasher, you should read the article "Operation Infiltration." Mofo, one of the founding fathers of the magazine, wrote the story under the name Johnny Tough. "Back in those days there wasn't always a lot to report on, so we'd sit around the office all day rolling joints, trying to come up with things to fill the mag." That's more or less what Mofo had to say about why he came up with the article, which he admits to barely remembering. It's basically a fictional story about a group of skaters on a mission to skate a pool in the backyard of a place where a Satanic cult lives. According to the crew's surveillance, the cult should be gone today, taking care of an off-site sacrifice. On the way there, they grab some mysterious substances to give them special energies—but when they get to the pool and hop the fence, shit starts to get weird. Then begins the worst day of their lives.



Battle cries! Duane Peters. Photo: Brendan Klein



Evil has no boundries. There is no escape! Eman. Photo: Brendan Klein

I read the story a long time ago and always had the idea of making it into a short film. Then last spring, in a perfect storm of freaky people and things coming together, Mofo's stoney "mag-filler" tale from 28 years ago was brought back to life as Blood Shed—starring the Creature team, a few psychotic bloodsluts, and some other special-guest weirdos. In the end, adapting the story to the new crew changed the whole thing completely, but the spirit and general insanity of the original story remain.



Countless Bathory.



My shadow, the tempter! Navs, Andrecht over the ladder. Photo: Brendan Klein

We shot it in B&W 16mm to give it an old horror film vibe. It took about 10 days to shoot in and around LA, and we had no permits or permission anywhere but at the pool—which forced us to work spontaneously in the streets which were crowded with traffic and people and cops. The down-and-dirty shooting style translates to the frantic action in the story. We worked with whatever we could get, including killing off Gravette after he collided with a parked van during a chase scene. After getting out of the hospital with an arm full of stitches, we threw him under a van and dumped blood all over him.



Quite on the set! And... DIE!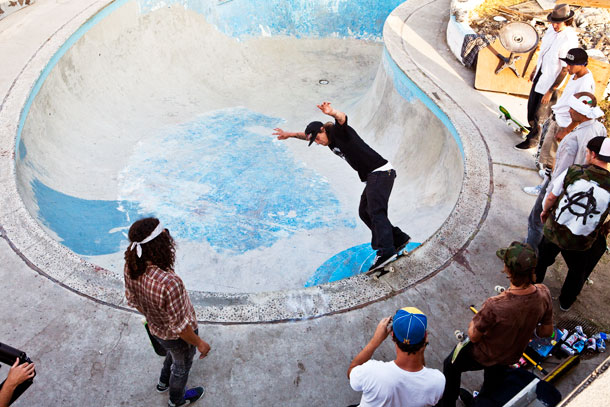 Lay under my fucking wheels! Hitz, feeble over the stairs. Photo: Brendan Klein

The crew was a mix of people Buddy and I know from the skate world and people that our cinematographer friend Chris Blauvelt knows from the Hollyweird world. I want to say thanks to everyone who was down for the project, and to Mofo for writing such a great story and allowing us to make his early-'80s skate nightmare come true.
10/21/2019

The ninth Rumble brought a new slew of youth to blend in with their mentors. This is a backyard-style vert jam—no contest and no worries. Bands, babes (male and female) and boarding with 24 hours of BBQ, beers and Bloody Marys—what's not to like? See if you can spot the Reuler.