Thrasher Radio: Ep. 27 Bryce Kanights
6/25/2014
Originally Recorded: June 13th, 2014
Bryce Kanights came by to talk about old times at Thrasher and play some rad tunes.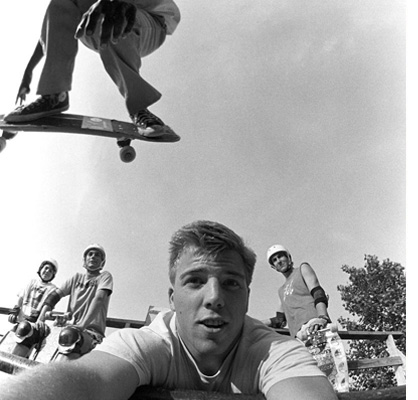 Thrasher Radio Ep.27 Track List:
Thin Lizzy - "Emerald"
Los Olvidados - "Listen To You"
Gary Clark Jr. - "Bright Lights"
Venom - "Black Metal"
Van Halen - "Unchained"

Subscribe to the Thrasher Radio Podcast by copying this link into your favorite podcasting app, or click here for more options!

Have a question or comment for Jake? Who do you want to see on the show? Let us know by leaving a comment below.

Camden Scott blasts over Bryce at the HP ramp in 1984.
6/08/2023

Gerwer and Schmitty get Carroll to set the record straight on Kelch kicking T-Dogs out of EMB, spider bites on the road, club tracks and Phelper stories. Nerd out with one of the greats.