Thrasher Radio: Ep. 1 Tommy Guerrero
12/04/2013
Originally Recorded: October 31st, 2013
Phelper kicks off the first show with O.G. City local Tommy G talking about the Bones Brigade girl's club and Black Flag—Thrasher Radio 66.6 the downward spiral. Putting the rad back in radio.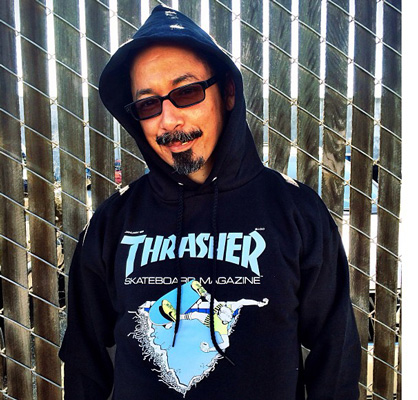 Thrasher Radio Ep. 1 Track List:
Alice Cooper - "Under My Wheels"
Slayer - "Black Magic"
Free Beer - "Pigs in Space"
Minus One - "The Kids Don't Skate Here"
The Cramps - "Garbage Man"
Black Flag - "Slip it in"
FEAR - "Let's Have a War"
Jimi Hendrix - "Little Wing"
Bad Brains - "Sailin' On"
Subscribe to the Thrasher Radio Podcast by copying this link into your favorite podcasting app, or click here for more options!
Have a question or comment for Jake? Who do you want to see on the show? Let us know by leaving a comment below.
6/08/2023

Gerwer and Schmitty get Carroll to set the record straight on Kelch kicking T-Dogs out of EMB, spider bites on the road, club tracks and Phelper stories. Nerd out with one of the greats.