Day of Familia
5/20/2013
Hammeke went to Minneapolis and met up with some guys from Real and DC for Day of Familia celebrating 8 years of Steve Nesser's skate shop.




Nesser greeted us in the parking lot.



Davis Torgerson with his DC Familia Tonik Colorway. So light he can't keep his feet on the floor.



The Familia park was host to a free afternoon of skating with the pros



Minnesota native Jack Olson starts it off with a switch back 5-0


Robbie Brockel cab front board



Davis Torgerson nollie flip


Cyril Jackson back 360



Jake Donnelly switch flip


Josh Kalis finished it off with the impossible



The crew outside ready for an afternoon out on the streets.



Then to the Familia shop uptown for an art show


Featuring artwork from the one and only Todd Bratrud



Green Day Action's Realized decks, of course Nesser's got 'em



Then the art show crowd spilled out into the streets to head to the next party



Jake was really feeling it at this point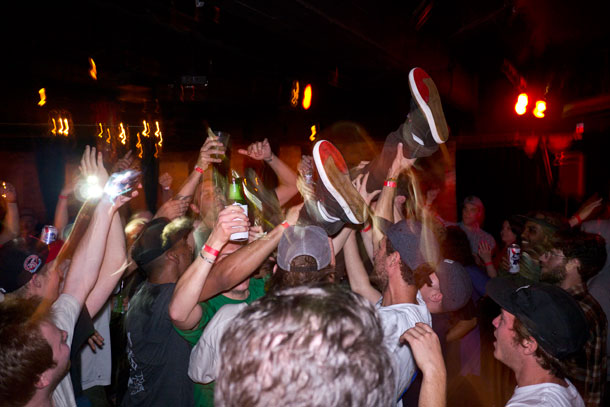 The dance floor at Hell's Kitchen was going off



Cyril knows how to stay classy on a budget by filling his Martini glass with Pabst



Looks like Robbie won't be skating tomorrow
10/27/2021

The hair, hammers and hijinks hit an all-time high in the notorious 10C41 skate cult's new full-length, including never-before-seen clips of Vincent Nava.