Trevor Colden Interview
4/25/2014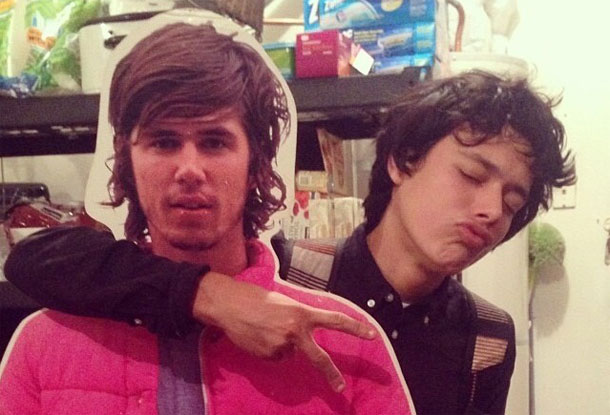 First of all, congratulations on going pro. Were you surprised?
Thanks, I'm stoked. Yeah. I got caught by surprise. I knew something was up, 'cause Brad told me something was gonna come out a few weeks after Tampa Pro but then he just surprised me on the 14th, 'cause it was my birthday. He just sent me the screen grab of him posting it. I was super happy.

Did you have any input on your graphics?
The Dorito graphic, my friend Alex did. I had no idea he was even doing the graphic, 'cause he's really good at designing stuff like that on the computer and he had sent me that exact mock up and I was like, "Oh my God, this is fuckin' amazing." I showed Staba and immediately he was like, "Yeah, let's do it. How much does he want for it?"

Were you hesitant at all to do a chip graphic?
No, not at all. I think it's hilarious. Fuck it.

Are you still holding it down with the chips?
Yeah, I don't go as crazy as I used to, but yeah.

What's your chip lately?
Same as it ever was: spicy nacho.

The graphic that people are probably talking about the most was the one with the check. What was that all about?
That check is the check I had to pay to buy my way out of my contract with Mystery.




So you had a contract and wanted to get out early to switch to Skate Mental?
Yeah, I tried to call Jamie a couple of times and he didn't answer. I talked to Bobier and he knew the situation and they were going to find a way to solve it. Long story short, there was no way he was going to let me out of the contract, no matter what. He was asking people for a lot of money and they weren't going to give it to him so I went ahead and said, "Fuck, he's not going to let me out of my contract, I've got $15,000 in the bank." He was asking for double that. So I called him and told him, "Hey, I know you're really mad at me right now. I just really want to make some changes. I can offer you $15,000. That's all I have. I'll come down there tomorrow and give you a check." He said, "Yes, I graciously accept your offer. I'll have Bobier meet up with you." Then I started thinking, "Fuck, that's a lot of money! Taxes are right around the corner! Shit!" So I called him back and offered him $10,000. That was still more money than he owed me in my contract. I was hoping he'd go for it. But nope, he wasn't down. So I went down there the next day and gave Bobier the check.

Was that the most expensive thing you've ever bought?
Fuck yeah!

More than the Mazda?
That's the most expensive thing I've ever bought. The most expensive thing I ever bought was my freedom.

So you've had a few big sponsor change ups in the last year or so. How's it going with the Swoosh?
Nike's going good. I can't complain. I love riding for them.

What's your shoe of choice?
My shoe of choice is the Janoski. I want to try the BA, though, sometime soon.

How's Brad as a boss?
Brad's fuckin' awesome. He's so sick. He doesn't mess with contracts. He's like, "You don't want to ride for the company, fuck it. I'm not gonna keep someone on the team who doesn't want to ride for it." Brad's the best. Small team. Everyone's cool.



Overcrook Photo: Frankie Martinez

Does he make you take bong hits and eat fatty foods with him and shit like that?
Nah, he doesn't make me take bong hits. He's cool.

You also moved up to LA from San Diego. How's LA treating you?
LA's good, dude. I live right downtown. Me and Jason go out every day. I've gotten more stuff in the short time I've lived in LA than in the whole time I lived in California.

What's next?
Just working on Chronicles 3. Skating with Jason and the Nike dudes.

Have you ridden in Theotis' Porsche yet?
No, I haven't ridden in Theotis' Porsche.

Looks tight, though. Right?
Definitely.

With the benefit of hindsight, is there anything you'd do differently with your skate career?
Nah. I wish the way this thing with Mystery went down hadn't happened, but I just gotta move on. No use worrying about it now.

Well, congratulations going pro. Can't wait to see the video. Anything else?
Yeah, thanks to everyone who helped me along with way. You know who you are. Thanks for helping me get to the place I am now!

Watch Trevor's Skate Mental part here.
4/15/2010

"Viral" means good, right? Well, the Birdhouse Round-Up got linked, posted, and embedded all over the damn place. Hawk, Jaws and the team are rippers and had enough for another full part.