Skate Rock 2017: Mexico Dates
1/05/2017
Back from the dead, Skate Rock is back in black. Before Turnip builds his wall, we're headed for Mexico. Check the dates; come one come all.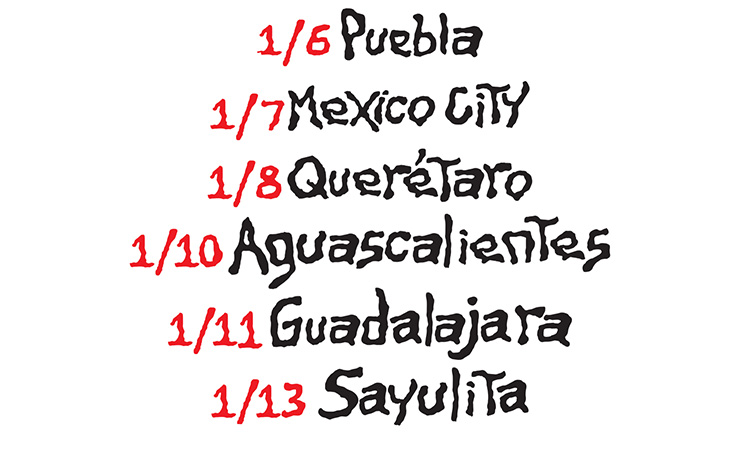 Friday 1/6
City: Puebla
Venue: Studio 803
Address: 24 Norte #803 Colonia Humboldt Puebla de Zaragoza
Doors: 9:00 pm

Saturday 1/7
City: Mexico City
Venue: Caradura
Address: Nuevo León 75 Col. Roma
Doors: 9:00 pm

Sunday 1/8
City: Querétaro
Venue: Red Monkey
Address: Prolongación Corregidora 1222 Querétaro
Doors: 4:00 pm

Tuesday 1/10
City: Aguascalientes
Venue:Skate Park Canal Interceptor
Address: Calle Canal Interceptor cruce con Av. Independencia
Doors: 3:00 pm

Wednesday 1/11
City: Guadalajara
Venue: La Kalaka Bar
Address: Morelos #931 entre Escorza y Camarena Col. Centro
Doors: 9:00 pm

Friday 1/13
City: Sayulita
Venue: Tigre's Bar
Address: Plaza Sayulita Centro entre Av. Revolución Y José Mariscal
Doors: 9:00 pm
6/04/2021

Injuries, parenthood and a damn pandemic, the cards weren't exactly in the Constant crew's favor. Despite the struggle, they put out one of the best vids in a minute and still made it home for dinner. Atiba checks in with the cast to see how they powered through. As seen in our July '21 mag.