Skate Rock 2017: Mexico Dates
1/05/2017
Back from the dead, Skate Rock is back in black. Before Turnip builds his wall, we're headed for Mexico. Check the dates; come one come all.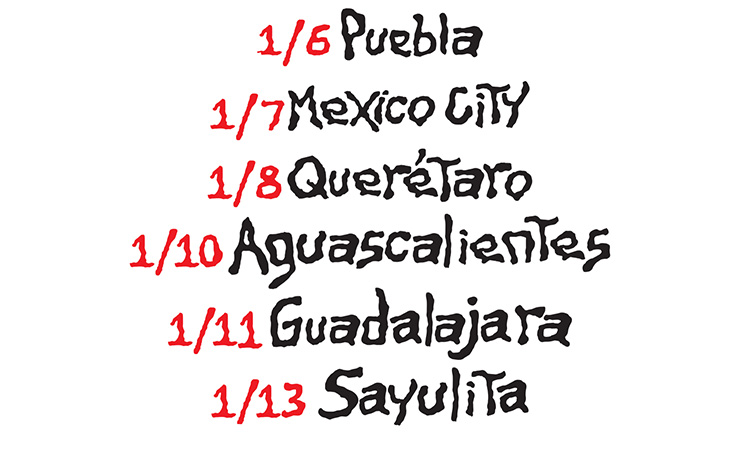 Friday 1/6
City: Puebla
Venue: Studio 803
Address: 24 Norte #803 Colonia Humboldt Puebla de Zaragoza
Doors: 9:00 pm

Saturday 1/7
City: Mexico City
Venue: Caradura
Address: Nuevo León 75 Col. Roma
Doors: 9:00 pm

Sunday 1/8
City: Querétaro
Venue: Red Monkey
Address: Prolongación Corregidora 1222 Querétaro
Doors: 4:00 pm

Tuesday 1/10
City: Aguascalientes
Venue:Skate Park Canal Interceptor
Address: Calle Canal Interceptor cruce con Av. Independencia
Doors: 3:00 pm

Wednesday 1/11
City: Guadalajara
Venue: La Kalaka Bar
Address: Morelos #931 entre Escorza y Camarena Col. Centro
Doors: 9:00 pm

Friday 1/13
City: Sayulita
Venue: Tigre's Bar
Address: Plaza Sayulita Centro entre Av. Revolución Y José Mariscal
Doors: 9:00 pm
12/06/2019

Big Fig put it DOWN in Baker 4. Nuge hit him up to talk about final missions, getting on Baker, pumping the brakes on partying and learning to surf. From the Jan '20 issue of the mag.