Tom Grom
2/12/2014
Words and photos by Hammeke

Hammeke has a look back blog of ol' Tom Grom leading up to the weekend he turned pro—video coming this Friday.




I first met Tom on a Cons trip to the Canary Islands. He was pretty hyper but also ripping. This front rock was a photo in the mag.



Tom will skate anything you put in front of him. So when we came across this empty fish pond it was on.

By anything I mean anything, even stuff the others know better not to skate.

This is what typically happens. It's no secret Tom is injury prone.

Tom loves a skatepark and stuff like this is bound to go down.

He also loves beer and staring at his phone. International data rates apply so this is probably a $5 instagram update.

Back to the ol' USA and several years later. Tom, Hewitt, and I took a trip to Fresno on the way to the second Back to the 'Berg contest. Tom had us remove the diving board for this frontside air but we probably should have put it back and made him go over it.

Tampa am is always a rough one.
Burnside in black and white is always nice. So are backside airs when kicked out properly

This noseblunt was done for fun. We all knew that his Cons teammate had done the same move backside a couple days earlier with a different photographer. What ever happened to that magazine you sent that photo to Coulthard?

Tourist Tom. "Hey can you shoot this photo so I can send it to my mom?"
Another move that lead to a minor injury.

Front 180 bump to bump in the jungle heat of Thailand on Skate Rock.

And finally, this summer we went to Texas on a Expedition's First Rodeo. Tom pulled off this back Smith in The Hook.

The week leading up to his Pro Party, there were some heavy sessions. One of them was at Rob and Stephanie Weedman's backyard.

Hewitt charges straight out the gates and over the hip.

Feeble fakie

Switch double truck over the stairs

The homeowner's know their own pool the best and Rob pushed this backside layback over the light and death box.
Stephanie stepped in and got a good piece of the coping

Jimmy Acosta putting those new Skeleton key copers to test on the sidewall.

Tom went for the classic front board over the stairs

Josh Stafford closed out the session with a tailgrab nosegrind over the hip

Big pro party day at Washington Street

The session was going heavy early afternoon. Willis Kimbel stale over the channel

The signed cast/signed board pro model

Tom pulled out the cradle frontside air for theatrics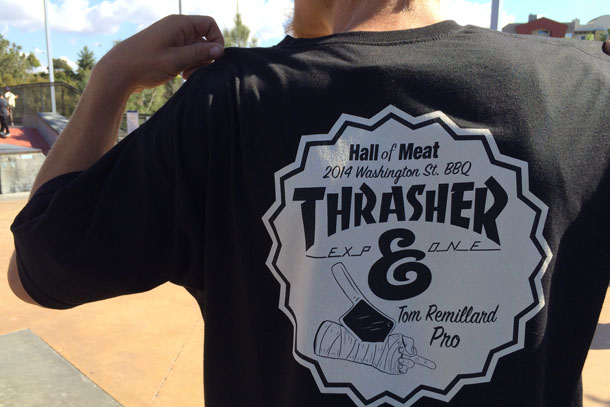 Thrasher and Expedition One collaborated on a Hall of Meat themed T Shirt.

Tom tossing the t-shirts to the hungry fans

Do you guys want some bearings? They are from my home country.

Back to the skating, Dylan Witkin frontside invert in the corner

P-Stone always happy always grilling

Connor McVay, Remillard's roomate and actual chef

Dig in!

Last minute arrival, Greyson Fletcher

Straight to a noseblunt

Then it was time for cleanup

Rob Welsh, we out!
2/14/2014

San Diego has a rich skate history with lots of sun and big terrain. Here's newly-pro Tom and a crew of rippers hitting a bunch of crazy spots. Featuring Hitz, Kimbel, Hewitt, Stu, Fletcher, and many others.