DLX's "Escape from SF" Art Show/Skate Jam Photos
7/16/2019
After a couple of decades in existence, DLXSF has accumulated quite a lot of cool shit—rough sketches for board graphics, the boards themselves and random radness that riders have brought home from the road. And since not all of us can have a private tour of their warehouse, they were kind enough to take a selection of goodies down to Black Long Beach for a lil' art show. Cardiel was spinnin' wax, Tommy G and Barbee jammed the guitars and countless sketches, planks and paintings adorned the walls. Hell, they even hauled out the goddamn Cardiel rail and bolted it to the sidewalk out front for you to gawk at while waiting to get into the bar. —
Joe Hammeke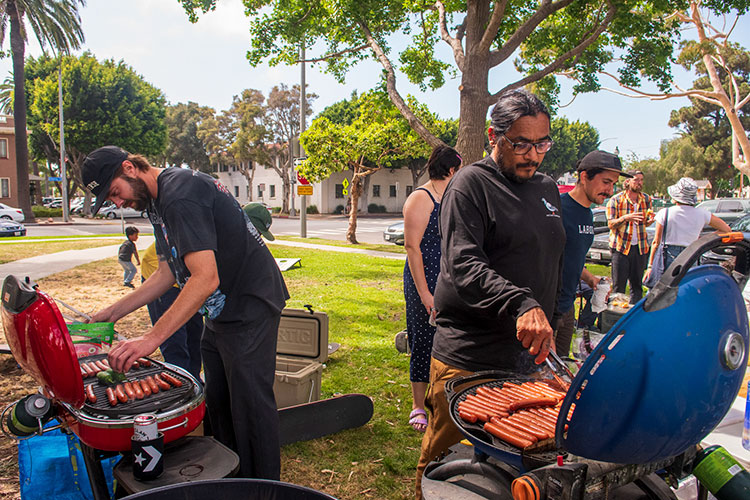 Cruised down to Long Beach and met up with the DLXSF crew who were hosting a BBQ and skate jam at Cherry Park—Christian Alexander and Oliver Flores running the double grills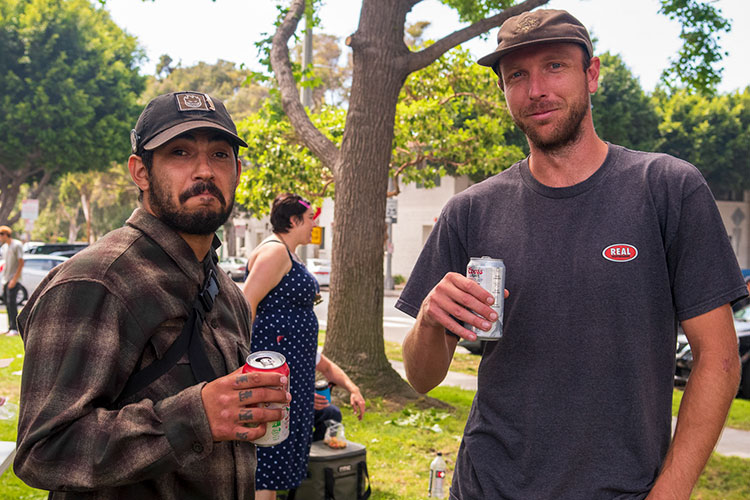 Russo and Brockel—a couple of Robs chillin'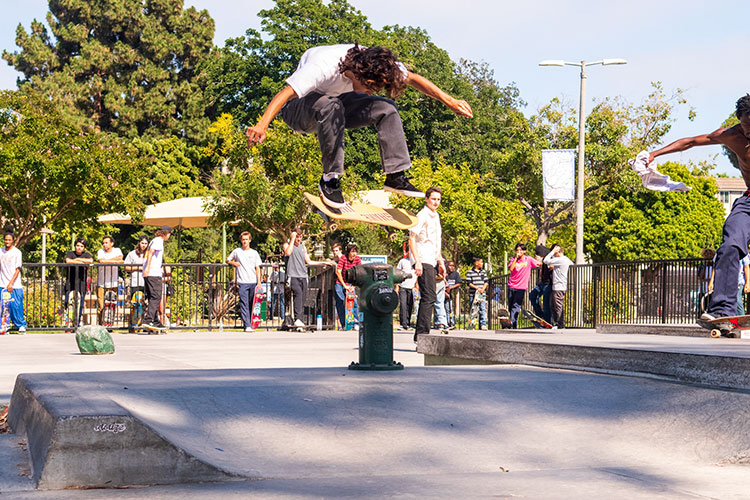 Gage Boyle, back heel over the hydrant. You see his welcome to
Spitfire part?!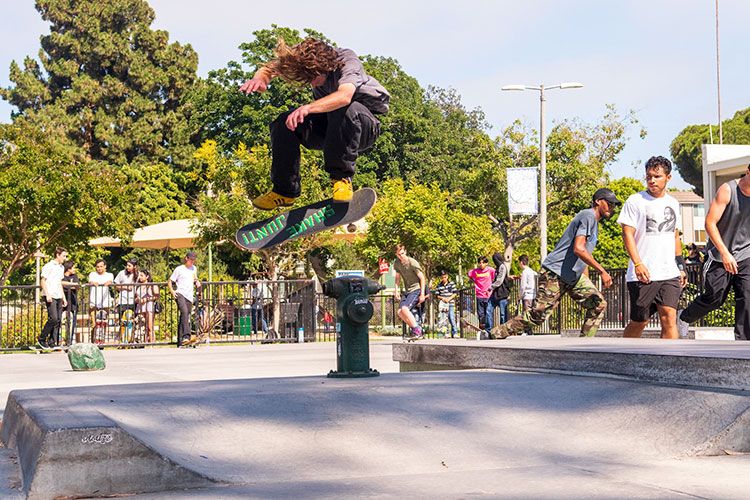 John Dilorenzo's got his back with a switch backside flip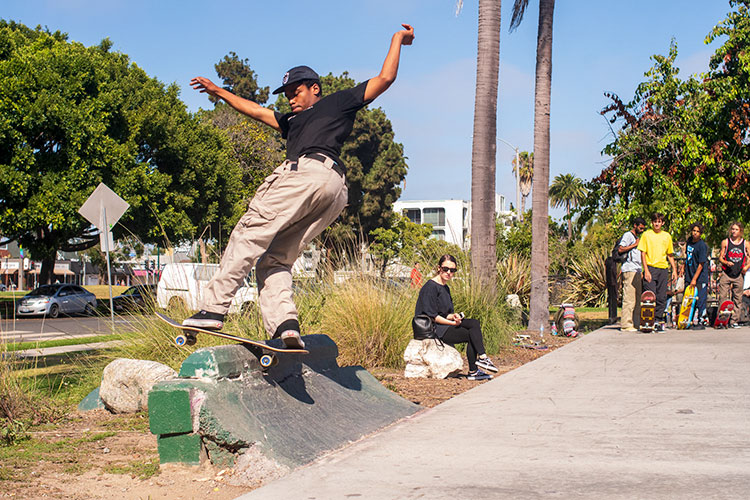 Christian Henry slides a front board on DIY quarterpipe version 3.0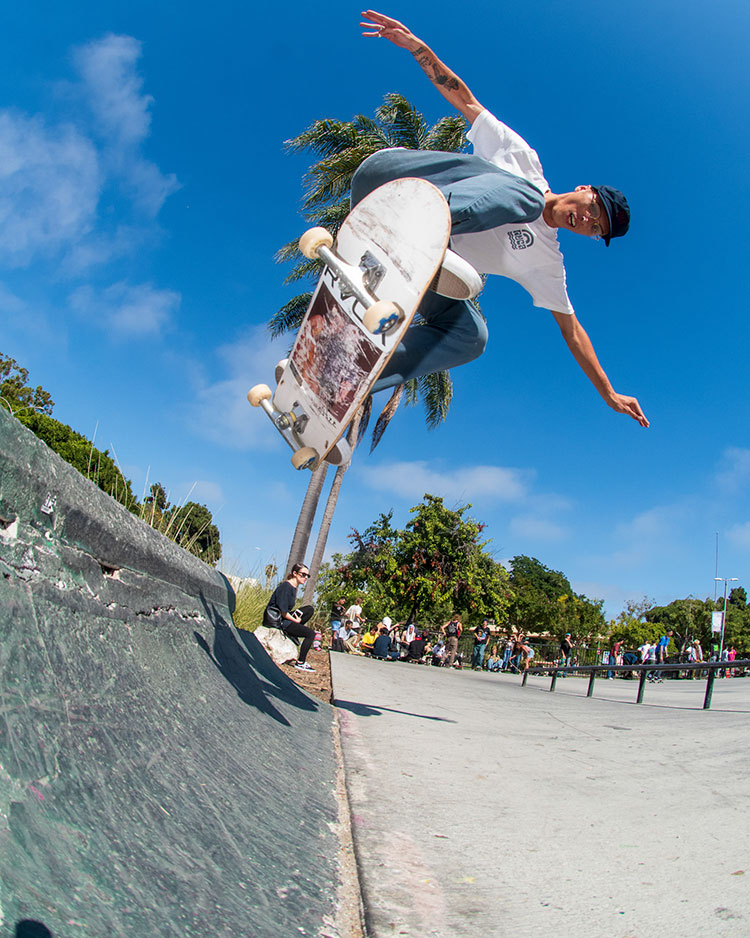 Malakai Montes boosts a backside O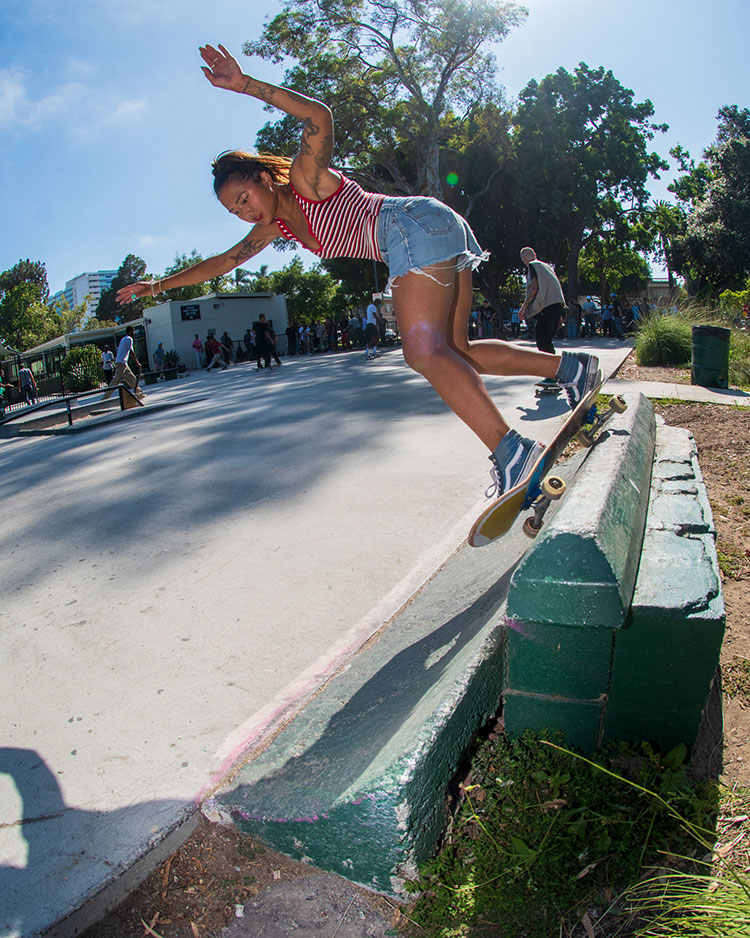 and Janthavy Norton slashes backside for all the ladies in the house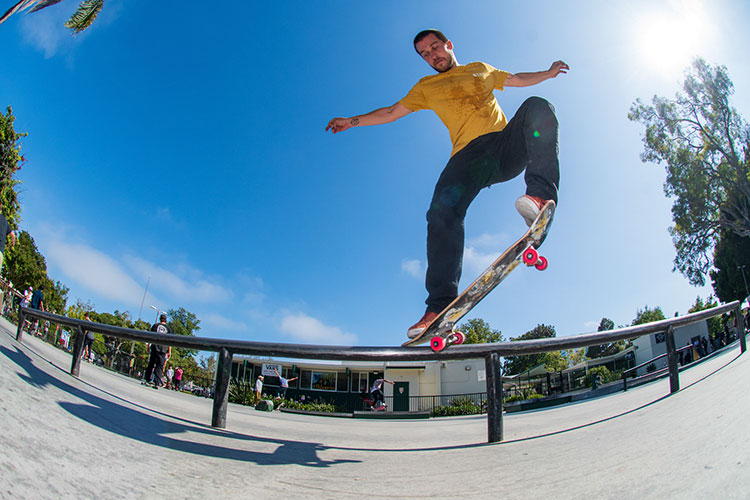 Cherry park loc David Reyes, switch crooks pop over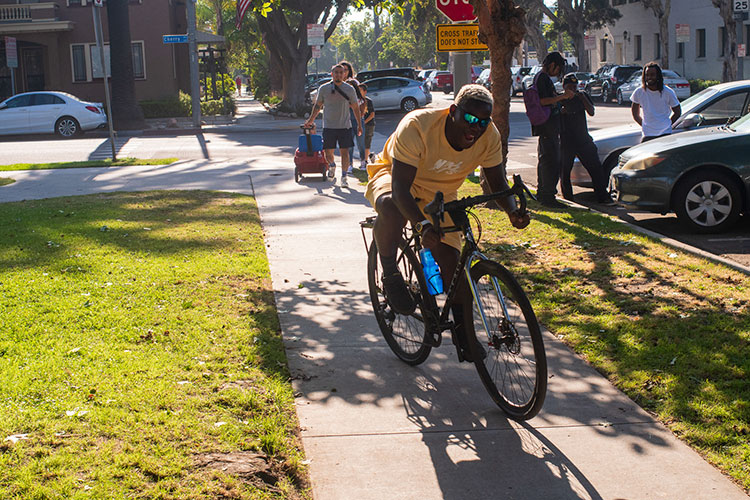 Then Zion came cruisin' up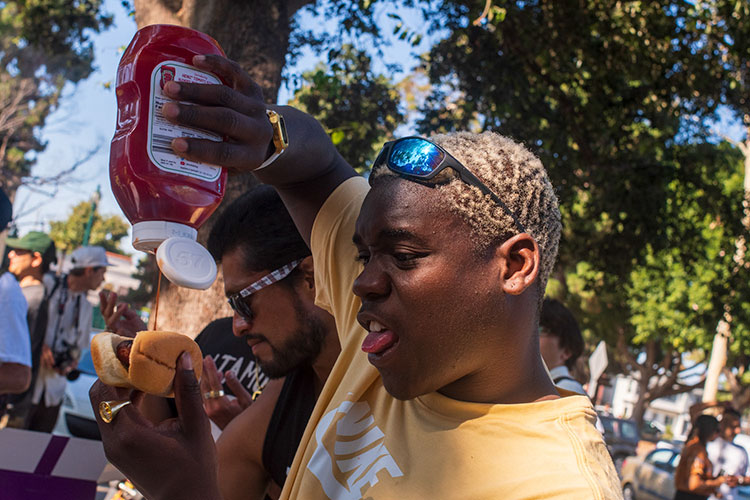 Gettin down with a Deluxe dog. I woulda guessed mustard based on the outfit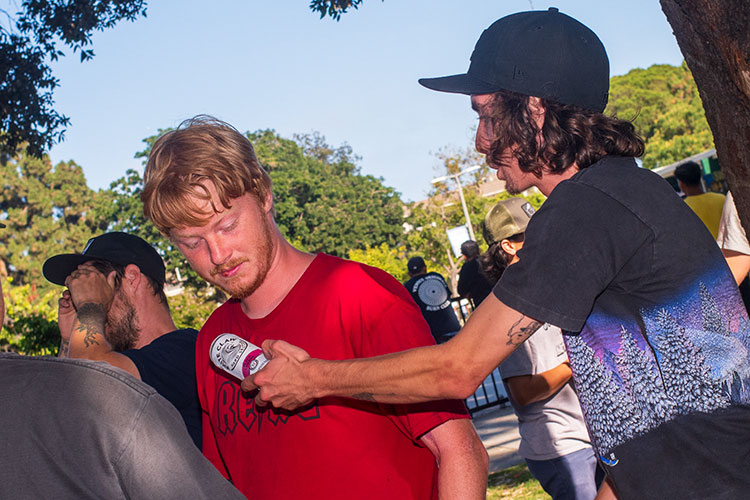 Two-thousand-sixteen SOTY Kyle Walker threatens to blast Real's newest pro Jack Olson with this summer's coolest beverage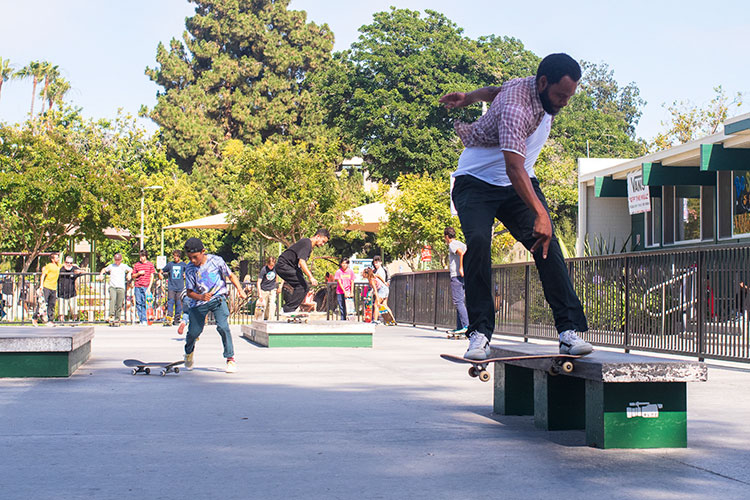 Legends in attendance? Yup! Ray Barbee with a smooth (as always) tailslide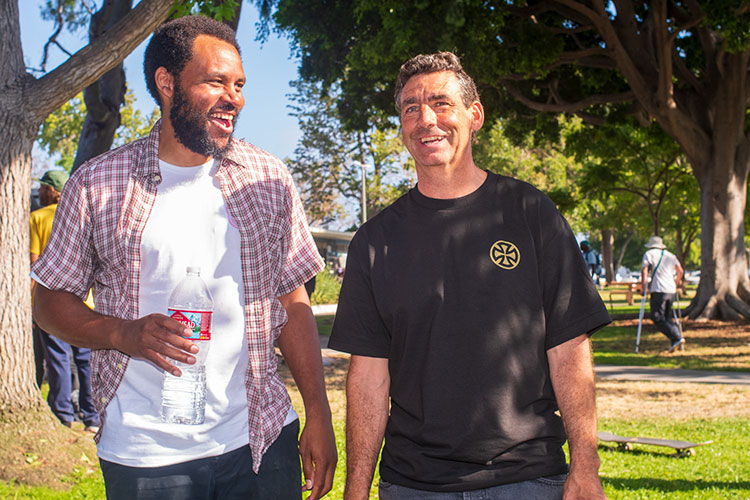 Ray and Lance—you can't stop The Firm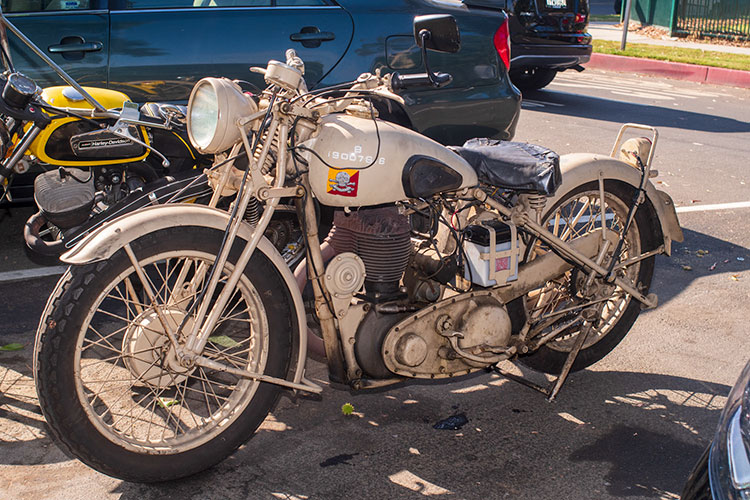 Whose 1942 BSA is this?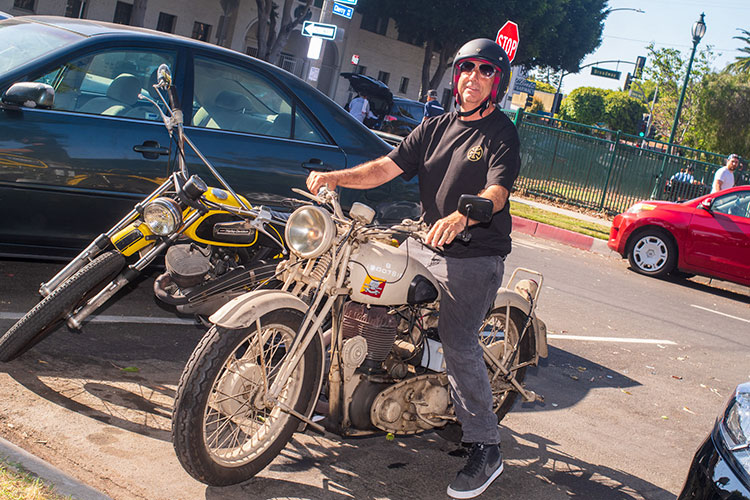 It's Mountain's. He's always riding in style but had to leave early to get home before dark. Something about the unreliability of a '77 year old headlight…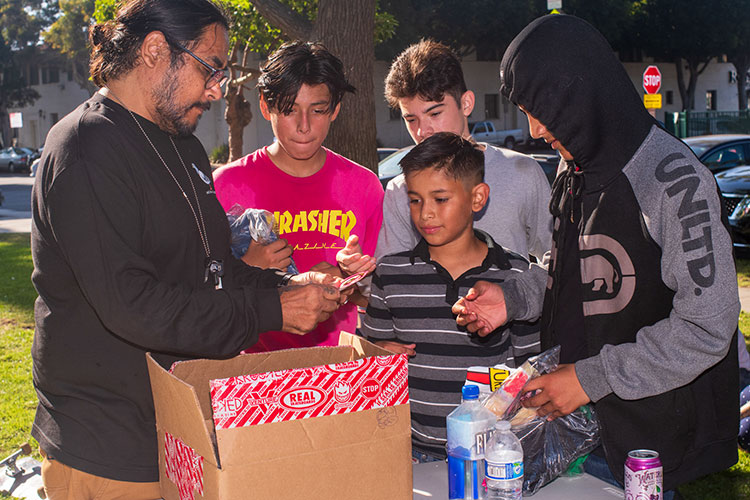 "All of this can be yours if you pick up all the trash"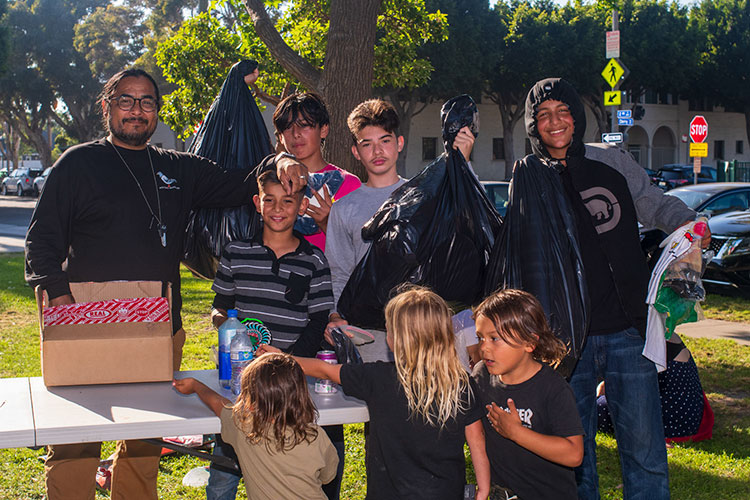 Oliver Flores and the kids keep it clean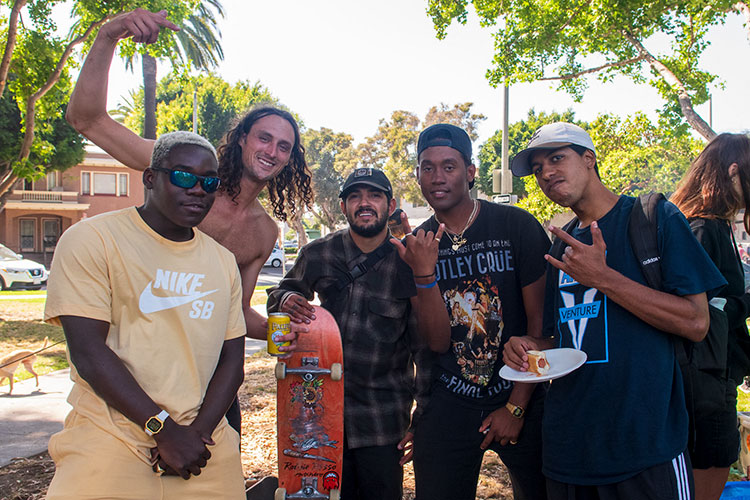 Then it was time to posse up and head over to Black Long Beach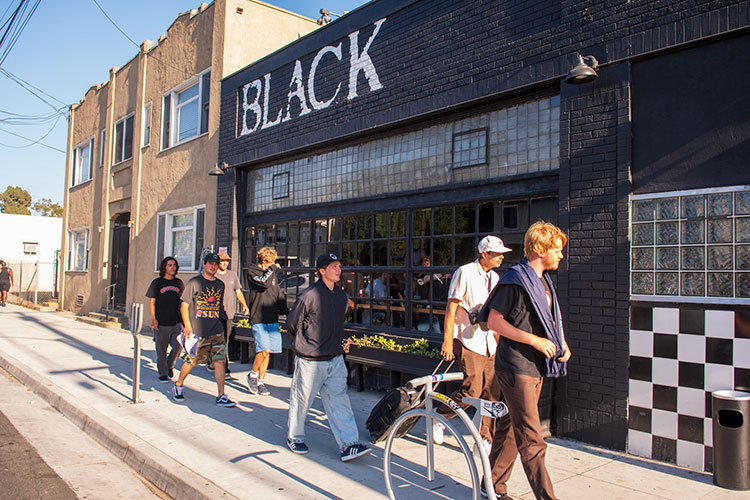 Rollin' up
David Reyes finishing some signage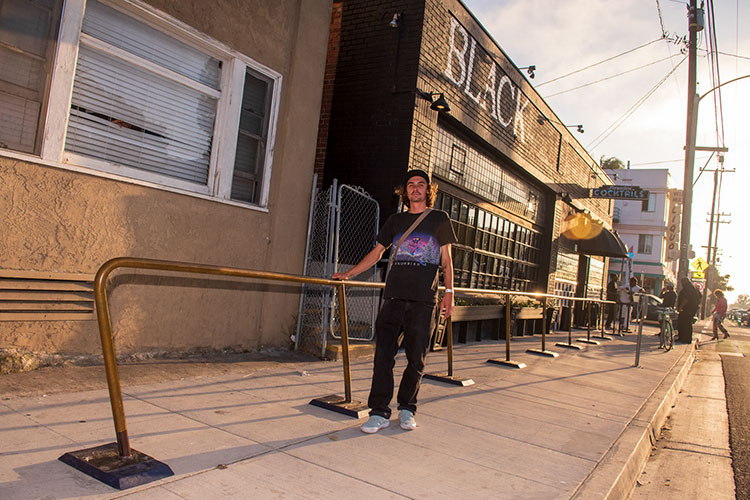 K-Walks and the Cardiel rail out in front of Black Long Beach. Jesus, look at that thing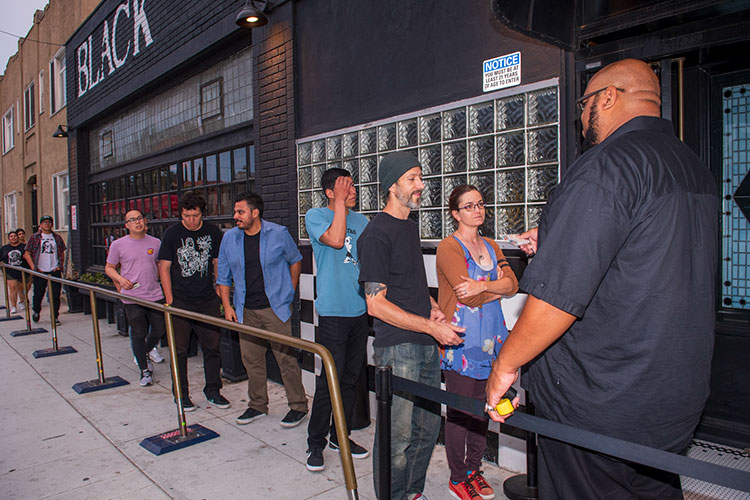 It's long enough to handle a Friday night line outside of Black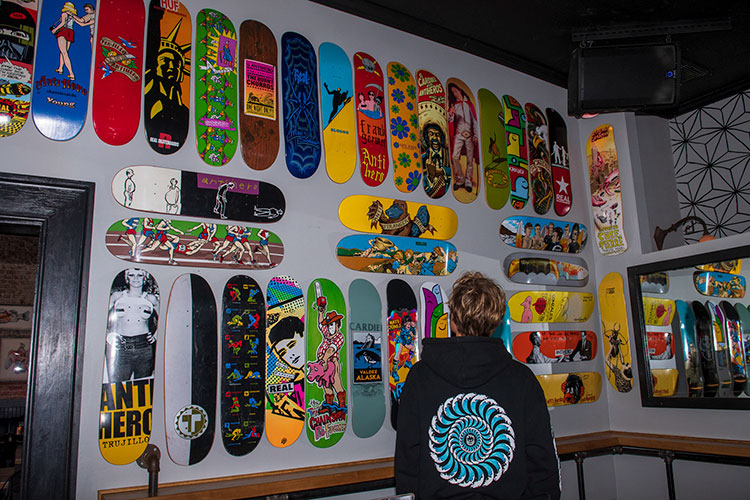 Inside, Sebo Walker checking out decades of classic board graphics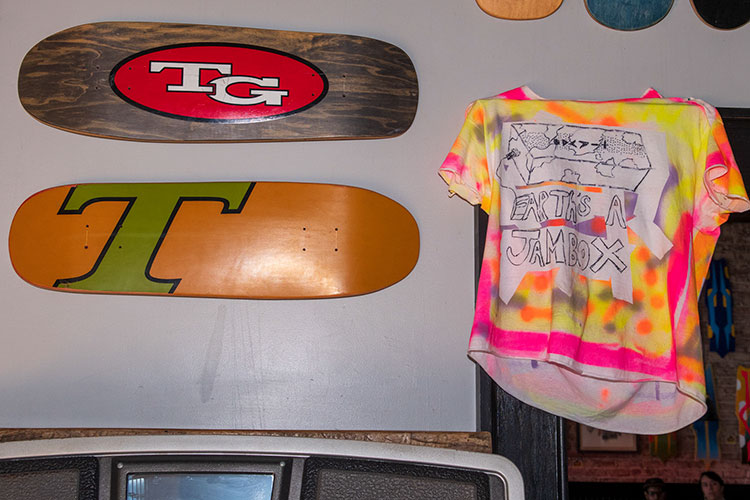 Up-to-the-minute additions to the show—Evan Smith was wearing this shirt just hours before the opening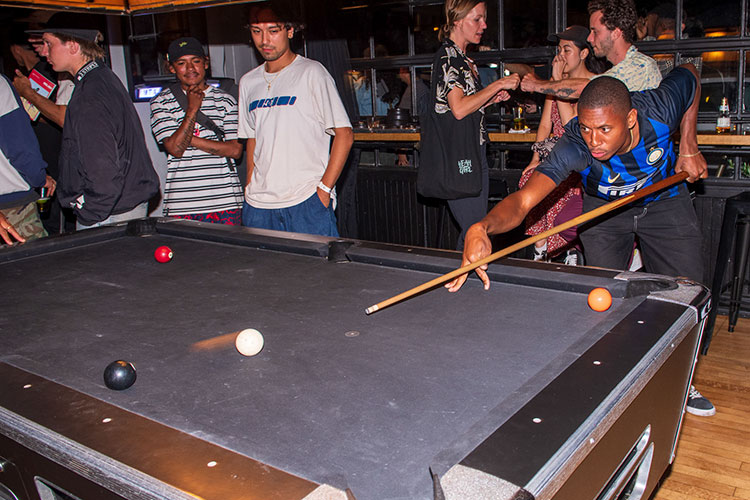 Two-thousand-thirteen SOTY Ishod Wair knows you gotta bank it on the eight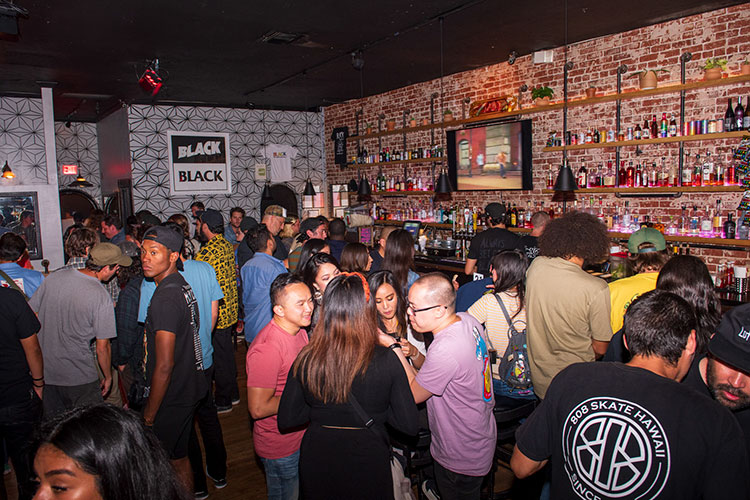 The bar was soon packed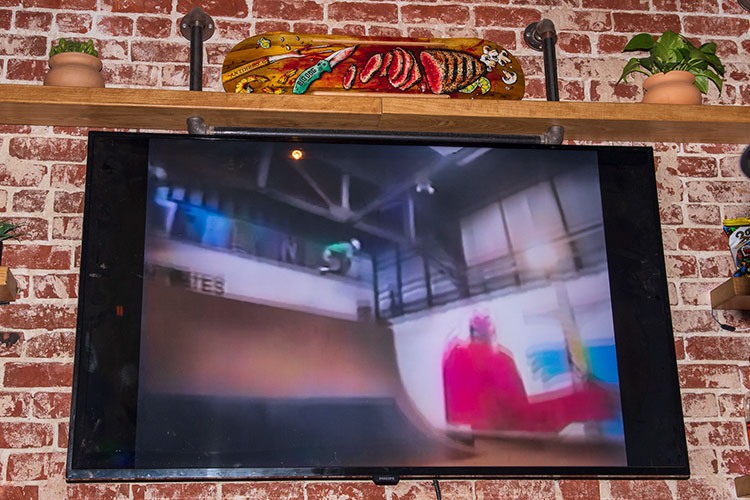 P-Stone's board appropriately hung above the TV running all your favorite DLX-affiliated skate videos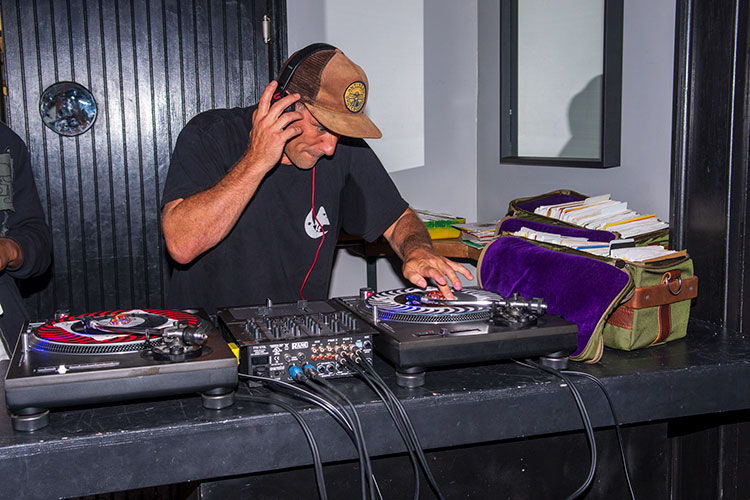 Nineteen-ninety-two SOTY John Cardiel handling the turntables for the night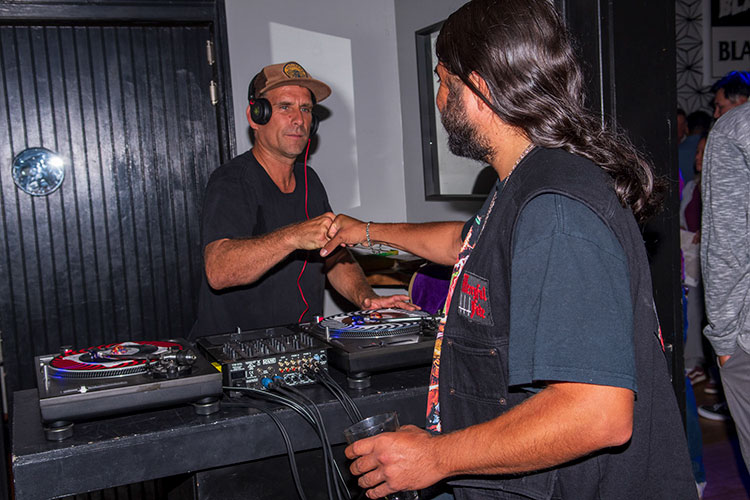 "What up, Neckface?"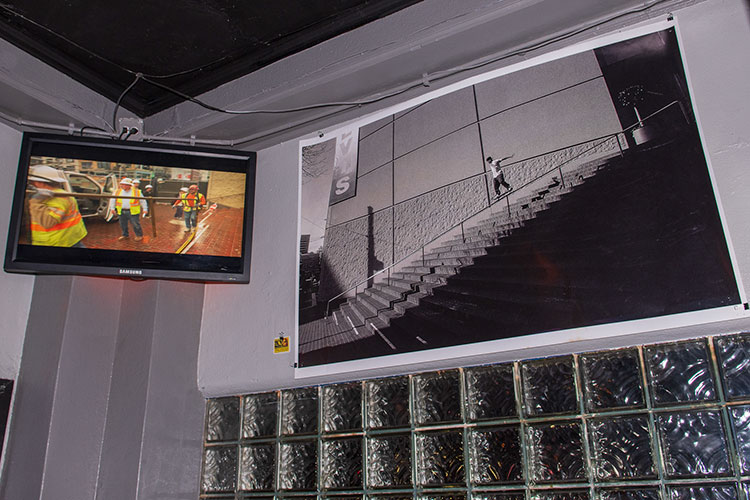 Next to the photo of Cardiel grinding the rail was a
video
explaining how they got it back to the DLXSF warehouse "He didn't buy it, but he owns it" —
Frank Gerwer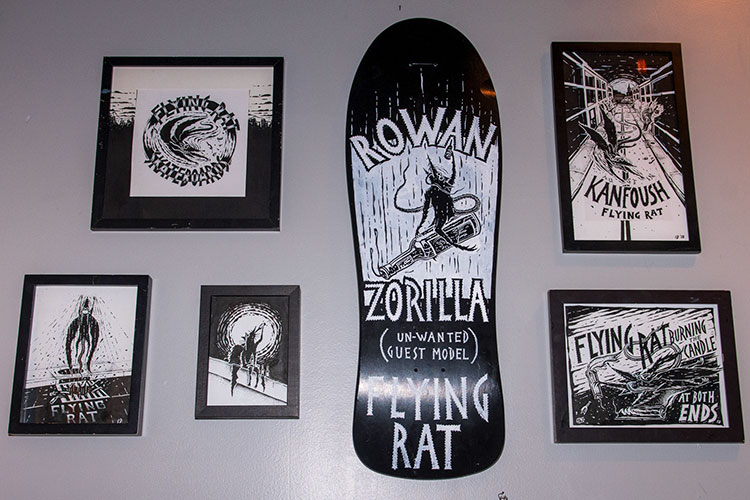 Flying Rat skateboards sketches and the Rowan Zorrilla Un-Wanted guest board, all drawn by Sam Davidson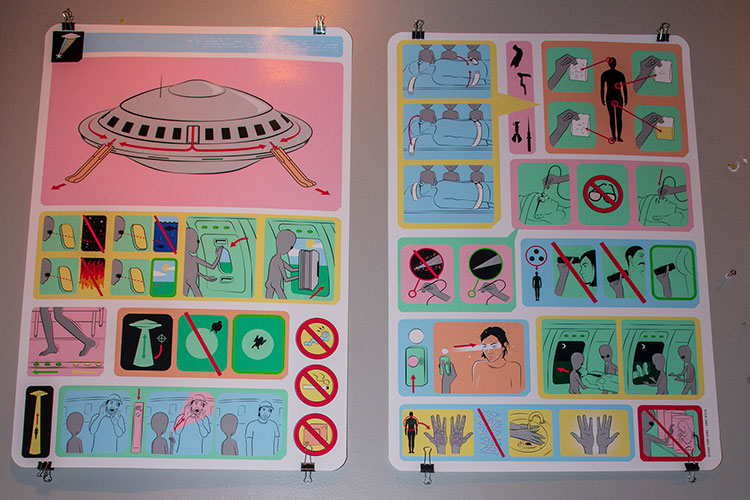 Alien abduction cards by Andy Pitts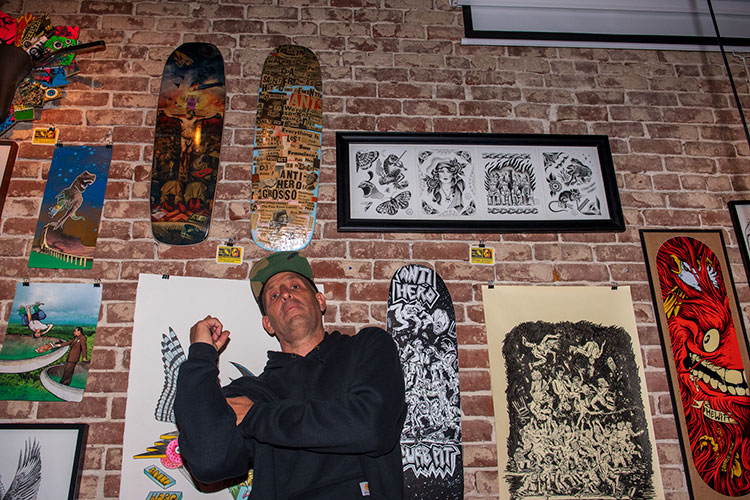 Christian Cooper and a couple of Jeff Grosso graphics he drew for Antihero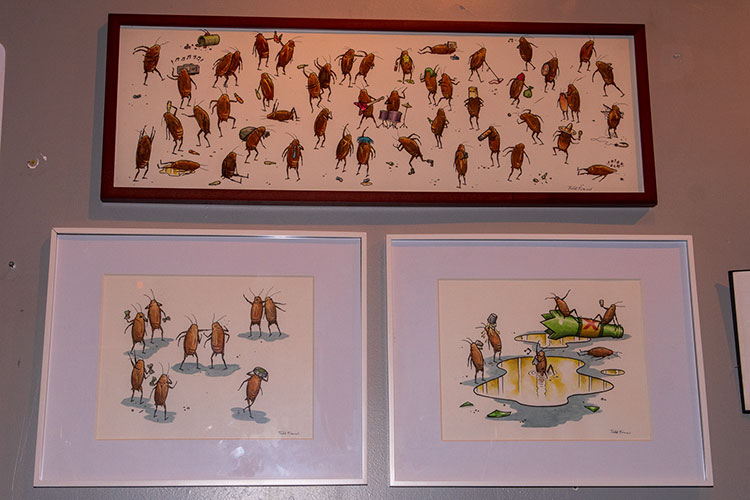 No mistaking Todd Francis' legendary Antihero graphics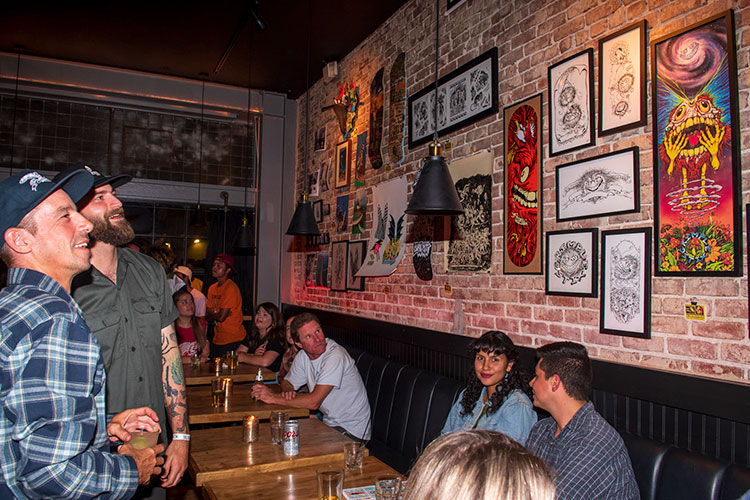 Grimple Stix artist Lou Barberio and Peter Hewitt trying to figure out where they went wrong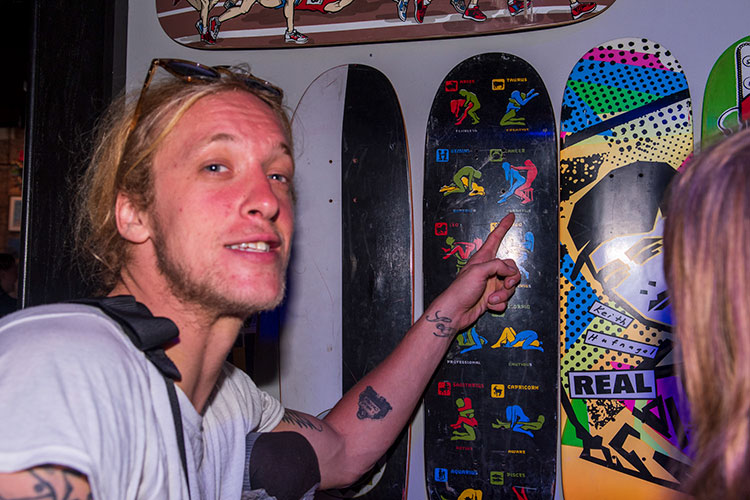 "Yup, that's me—versatile" —
Cody Jacobson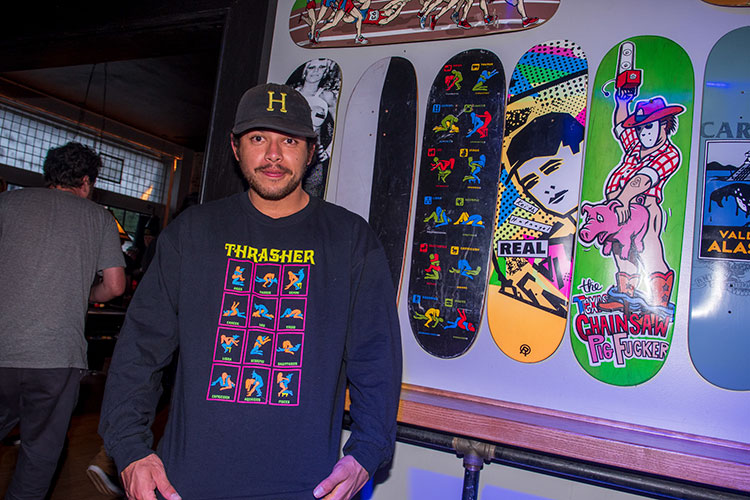 And in case you missed that board graphic in the '90s you can now get it as a
Thrasher
T, available at finer skateshops worldwide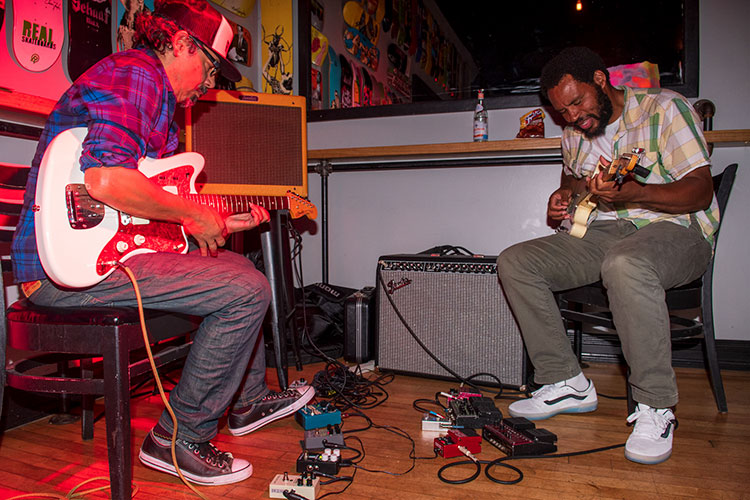 Then it was time for Tommy Guerrero and Ray Barbee to do a lil' guitar session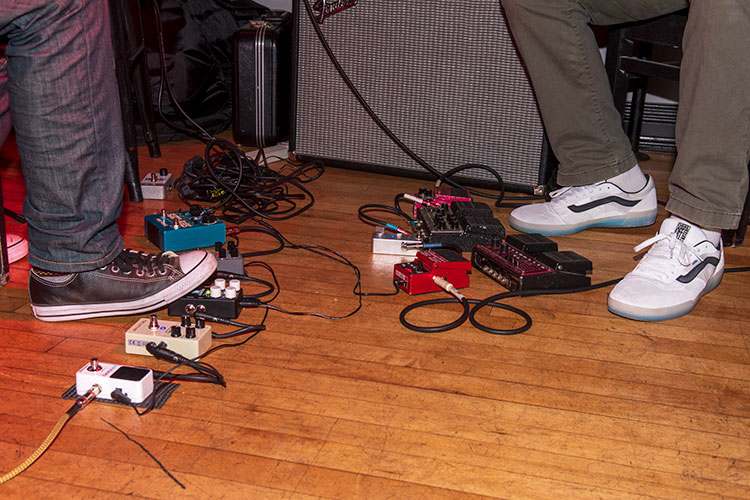 Pedaling through…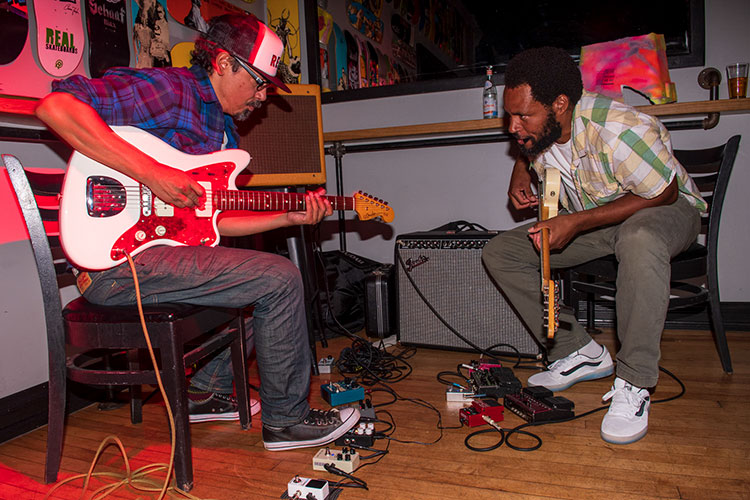 …feeding off each other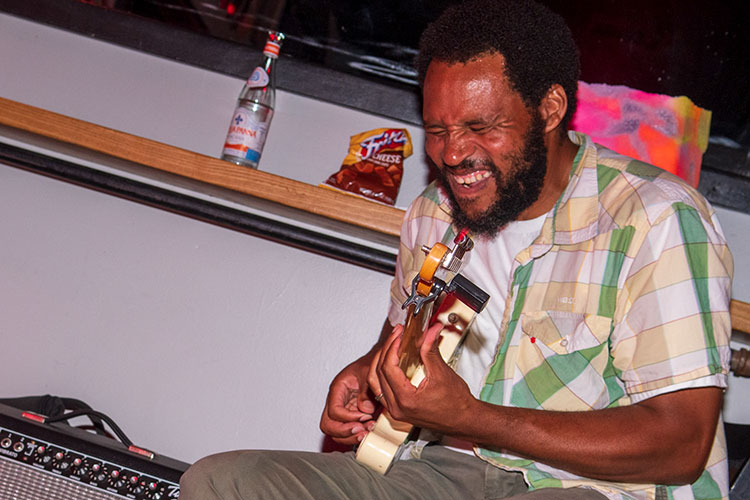 Feelin' it!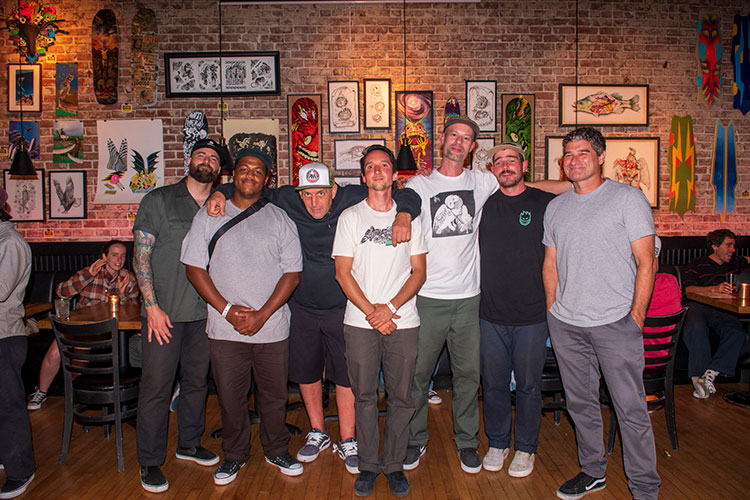 The DLXSF art department: Lou Barberio, Jerome McCaskill II, Christian Cooper, Sam Davidson, Andy Pitts, Zach Morrissey and Todd Francis. Thanks again, DLXSF, for always doing cool shit with skateboarding
10/07/2013

NHS opened their museum to a select group of family, friends, and rippers. From Steve Olson to Eric Koston, we all gathered to revisit history and share skateboarding stories in all its glory. Great job Novak and congrats on 40 plus years!