Lord of the Pies: Five Days in OZ with Nike
6/25/2014

A seven-day window is a relatively short yet comfortable window for a skate trip, provided you don't encounter any unfavorable weather. I didn't expect to go to OZ in late summer (February) and have to look out of the hotel window at torrential monsoon-like conditions for two days straight. With that said, what doesn't flood you makes you stronger. Skate trips ALWAYS seem to work out and most are usually as productive as the next despite the amount of days you have to work with. On this particular trip we were fortunate enough to pair up our Swedish contingent consisting of Oski and Fernando—both bred on the concrete monolith know as Stapelbadparken in Malmö—with the more familiar names of Grant Taylor, Ben Raybourn and Greyson Fletcher. We tore up the spots around Sydney and Canberra for five days, and after the weather finally decided to agree with us we hit the road and skated till dusk every night, ate pies and rolled a shit ton of Coopers green down our necks; you gotta love the bottle-o's. We used the Classics Cup at Manly Beach as the vehicle for pulling our crew together at this particular point on the Southern Hemisphere. After four days of event-on-wood pool riding, we were able to hit more familiar glassy and grippy concrete alike, from the gem that is Manly Vale in Sydney to the biggest park on this side of the equator: Belconnen, Canberra. Everyone gave it 100 percent till the blood sugar levels from fast food waned. It was one for the scrapbook, and before we knew it we were sitting on eight minutes of footy.

Much respect to all the Aussies out there who made us more than welcome and made our passage safe and comfortable through this most beautiful of lands. –Colin Kennedy

Photos: Marcel Veldman


Downsouthinhell getting Bru Rayish, beer can steady shot not licensed out... Greyson blasts a Jessee inspired gelfand



Raybourn tries to escape the sea of helmets and pads by climbing out using the ladders, fakie invert



And you know they could never be wack...



This is the epitome of this epic session at Five Docks, Grant going stratospheric over the channel whilst Dustin and the locs heckle a session right through to dusk



Tap, tap it in... Crail at Belconnen by Greyson



Frontside ollie higher than the depth of the pool, first time..... Everytime....



Greyson escaping the web with some mid air exercise STRAIGHT leg over the Channel at Belco like it's fuck all



Greyson of Greystoke "ahhhhfackkk''



Oski gets jarheaded in the deep end of a derelict mansion pool, "Aim for the hole mate''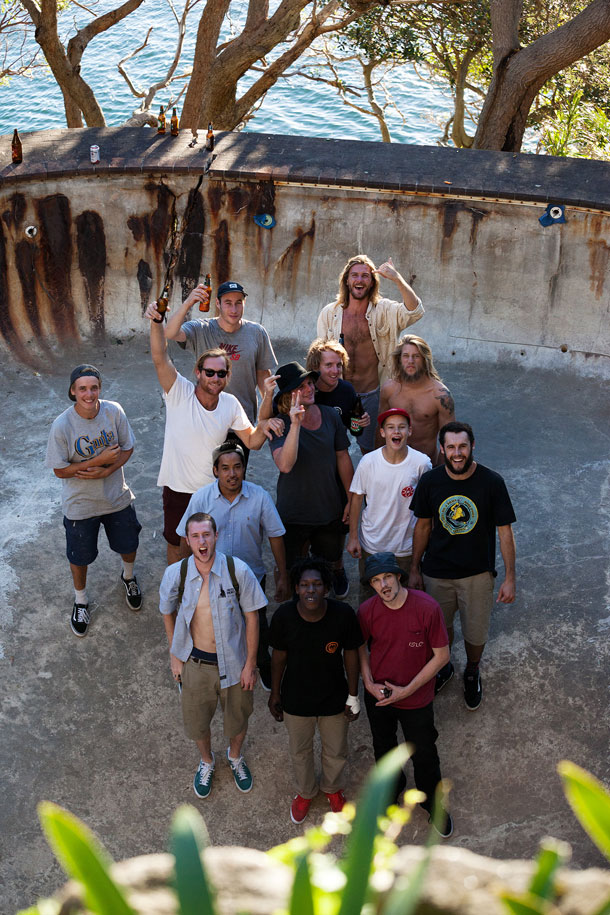 The crew and some very hospitable raging Aussies at their cracked private pool in Sydney


Fibreglass and wood, no worries, just go faster... Grant floating one for a Coopers



One mans pleasure is another mans pain... Grant mocks and tucks a stunk one for fun



Not a bad 'go to' if you can bring it like this, 'Nando flattens out a head high plus one over bumps at Belco



Fluff demo life, hard job...



Ben contemplates an earlier flight home amidst demo heat at Waterloo



Dad sends kid to get his board signed by his childhood hero



What is your ID code sir? - SH / IT



Grant enforcing ATL park rules on the scooter populous of southern western Australia



Oska wocka flame



Born of fire



Little man Oski applying all he learnt at Stapelbadparken to Belco's cinder wall on a frontside disaster
10/07/2013

NHS opened their museum to a select group of family, friends, and rippers. From Steve Olson to Eric Koston, we all gathered to revisit history and share skateboarding stories in all its glory. Great job Novak and congrats on 40 plus years!