Maloof Money Cup Announces NYC Roster
5/04/2010
Thrasher magazine has partnered with the Maloofs to present the NYC Maloof Money Cup. Here's our official rider list. Official park design, Ask The Phelper with Joe Maloof, and more coming soon.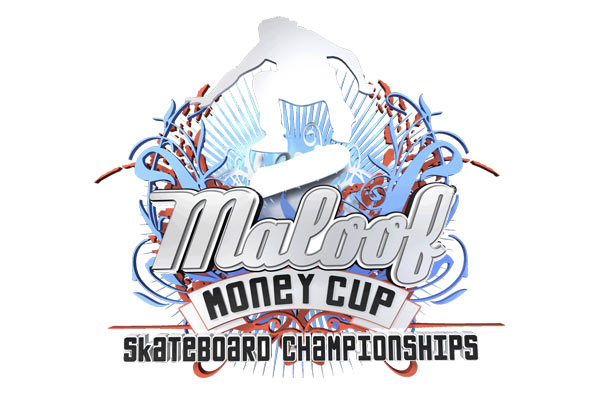 Cole, P-Rod, Sheckler, Rowley, Dollin among 48 Top Pro Skaters Descending on NYC June 5-6: $250,000 Prize Purse and Title of MMC NY Champ up for Grabs
(Irvine, Calif. -- May 4, 2010) The Maloof Money Cup presented by Vans and airing live on FUEL TV this summer -- announces the 48 pro street skaters who will compete in the first-ever MMC New York contest June 5-6 in Flushing Meadows Corona Park, Queens.
"Our skater selection committee is made up some of the most respected people in the skateboarding industry. They really had a tough job," said MMC creator Joe Maloof. "They set out to put together the best collection of skateboarders to ever enter a contest and I think they did just that. One thing the committee agreed on was that there are too many amazing pros out there, creating a list of 48 skaters was really the key to putting together an unparalleled roster. Besides the big names like P-Rod and Chris Cole, we've got some highly respected skaters like Mike Carroll, Dustin Dollin and Marc Johnson who don't usually skate contests, and some amazing guys who are competing at MMC for the first time like Justin Brock and Anthony Van Engelen. With a group of skaters this talented and diverse, the field is wide open and fans are in store for a spectacular competition June 5-6."
"The best skaters, handpicked with Thrasher, ready to take a bite out of the Big Apple. Got it." said Jake Phelps, Thrasher Editor in Chief and head of 2010 selection committee.
Adam Dyet
Alex Olsen
Anthony Van Engelen
Billy Marks
Brandon Biebel
Brandon Westgate
Brian Anderson
Brian Hansen
Bryan Herman
Chris Cole
Chris Haslam
Chris Pfanner
Corey Duffel
Darrell Stanton
David Gonzalez
David Gravette
Dennis Busenitz
Dustin Dollin
Emmanuel Guzman
Eric Koston
Geoff Rowley
Grant Taylor
Greg Lutzka
Jake Duncombe
Jamie Tancowny
Justin Brock
Keegan Sauder
Leo Romero
Lizard King
Luan Oliveira
Marc Johnson
Mark Appleyard
Mike Carroll
Mike Mo Capaldi
Nick Dompierre
Nyjah Huston
Omar Salazar
Paul Rodriguez
Pete Eldridge
Peter Ramondetta
Ryan Sheckler
Sean Malto
Stefan Janoski
Tommy Sandoval
Torey Pudwill
Zered Bassett

NY Wildcard Skaters
Danny Falla
Eli Reed
Selection Committee
The 2010 skater selection committee included some of the industry's most widely respected experts:  Jake Phelps, Bill Weiss, Ewan Bowman, Mike Sinclair, Jamie Thomas, Seamus Deegan, Kelly Bird, Steve Rodriguez, Mark Waters, Mike Burnett, Mark Nardelli, Jamie Hart, Remy Stratton and Tim Gavin.
Watch MMC New York LIVE
FUEL TV will broadcast two hours of live coverage each day during the New York contest, June 5-6 and the Orange County event, August 4-8.  Skateboarding fans will also have access to more than 30 hours of additional live coverage via FUEL TV's exclusive HD webcasts of both contests at www.fuel.tv/maloofmoneycup.
About The Maloof Money Cup
Now entering its third year, the Maloof Money Cup presented by Vans, will take place June 5-6 in Queens, New York and August 4-8 in Orange County, Calif.  Tickets for the 2010 Maloof Money Cup Orange County will be available soon at all Ticketmaster locations or at the OC Fair & Event Center Box Office at the Pacific Amphitheatre.  The New York event will offer free tickets (Tickets are limited and will be distributed at select partner outlets in NYC (Distribution points and schedule are posted on the MMC website).  Join our network to share the competition experience with a global audience and be the first to know about exciting upcoming MMC news and contests.  Go to www.maloofmoneycup.com and follow us on Facebook and twitter: @maloofmoneycup.
6/11/2010

Kyle Camarillo came back from Maloof with five sequences featuring Torey Pudwill, Dustin Dollin, Theotis Beasley, Bastien Salabanzi, and Felipe Gustavo. Plus a bonus sequence with Gonz.