Rumble In Ramona Photos
10/20/2008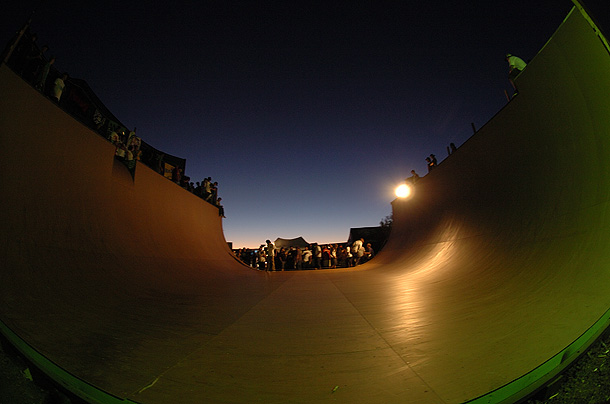 Words and Photos: Schmitty



Pkid, Tom, and Robbie holding it down on the deck playin' threes



DJ Horse Pussy



Killgore



Yes, Wade Speyer was there



Alex Horn keepin' the Creature alive



Al Partanen and Christian Hosoi


Grindline (not the band), played an acoustic set



I ran into Steve Claar



Duane Peters. Photo: Rhino



The Space Commander



Holmes and D.Way



Pat Duffy and Wade Speyer



Duane Peters band rocked



J.F.A. followed



Robbie Russo didn't put pads on once. Photo: Moffett



Longest stalled invert belonged to Omar Hassan. Photo: Moffett



Big Madonnas from Jeff Grosso. Photo: Moffett



Al Partanen with a front blunt. Photo: Moffett



Sam Hitz, invert. Photo: Rhino



Navs took highest air to fakie, but this is a backside air.



Classic Christian





Jersey reunites


The Body kept it heated all night



All in all, Haslam gave it the thumbs up.
5/19/2014

It's a bit easier to strong-arm interviews with today's younger pros, but here's Jimmy Arrighi at the Vans Pool Party tangling with some legends who can hold their own including Cab, Hosoi, Grosso, Lucero, Agah, and many others.