Samarria Brevard's Pro Surprise
11/29/2017
I rolled out to skate with some enjoi dudes on a fine autumn day in San Jose. 'Twas a mellow sesh with Lou, Wallin and Joe Red but it ended with a big surprise honoring enjoi's one and only, Samarria Brevard. –Dan Zaslavsky
I was chilling on the sidewalk in SJ with these dudes; no one was really skating
Then all the sudden this chick came smashing down the sidewalk
Snaps, Samarria's got 'em
Stretching like she's throwing down dance moves
Had to stop by San Jose's EMB
Louie manned up and did some skating, although very nontraditional
Samarria didn't wanna make him feel lonely
Count it
Later, Louie said we had some other business to take care of
Where the magic happens
Oh so this is how they do that
Hey, Samarria, come down here and start your acting career
Louie (the director): "I need you to take this rifle and shoot"
Loosen up; you got this
She's a natural, just really embracing it
Phase II
Zack, your cue. WTF you doing though?
Shhhhhh…..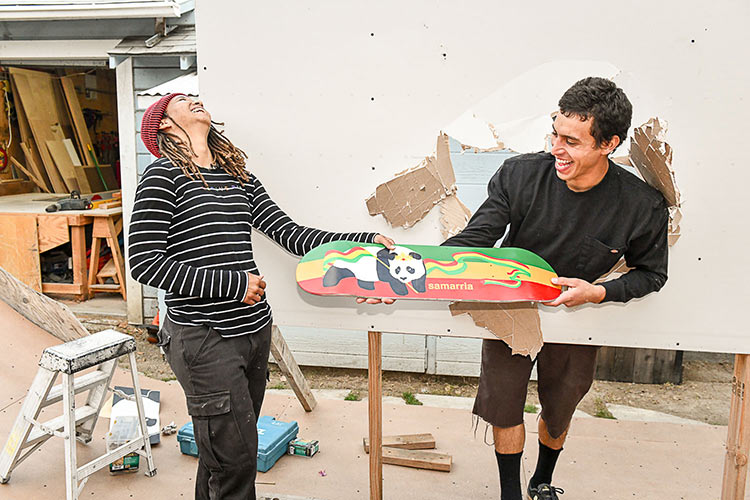 Got her!
The "no way"
Pure elation
The local cat then busted a move, probably showing off, hoping to make it someday
Nice job, Zack
Phase III, real quick
New gypsum board, stat
"I want you to do it like this"
And—action!
Perfect, first try
All in a day's work. Congrats, Samarria!
10/21/2021

Samarria whips around in the Prius, links up with Tre Williams and takes a few rips at her local for Bronson.