Girls Combi Pool Classic Photos
3/12/2018
The Girls Combi Pool Classic is back for it's seventh year and the contest keeps getting better: bigger airs, longer grinds, more girls and, thanks to Vans, the biggest prize purse in women's skateboarding ever! With a combined purse close to $70,000 and a whopping 28Gs for first in the pro division, some of these girls were gonna come up on some loot! Even the amateur divisions got to split up a couple thousand dollars for the winners. Go get 'em girls! —
Joe Hammeke
Arrived early on a rainy Saturday to a larger-than-life Lizzie Armanto on the wall
Enter through the gift shop
The seats were already starting to fill up at 9am and the 14-and-under practice had only just begun
The 14-and-under girls on deck
Karen Muto, all the way from Japan, high-speed crail in the square
Back again! Jordan Santana crushing a Smith grind in the round. She made it to the podium and scored a second-place finish
Ruby Trew is only nine years old and she made it all the way from Manly, Australia, to float some ollies in the round
Then she took a heavy slam. but Dad was there to help carry her out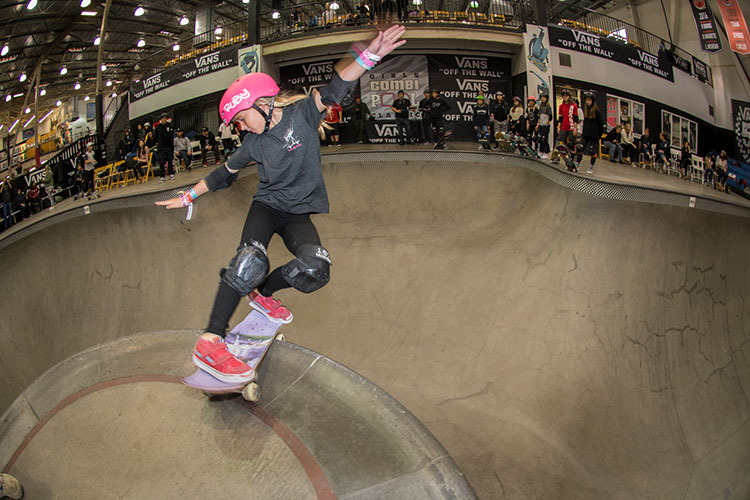 These little girls are tough and Ruby got right back up to finish her run with this front rock on the hip which put her in a solid third place
Some encouraging words from Dad (aka the Boss) can always help calm the contest jitters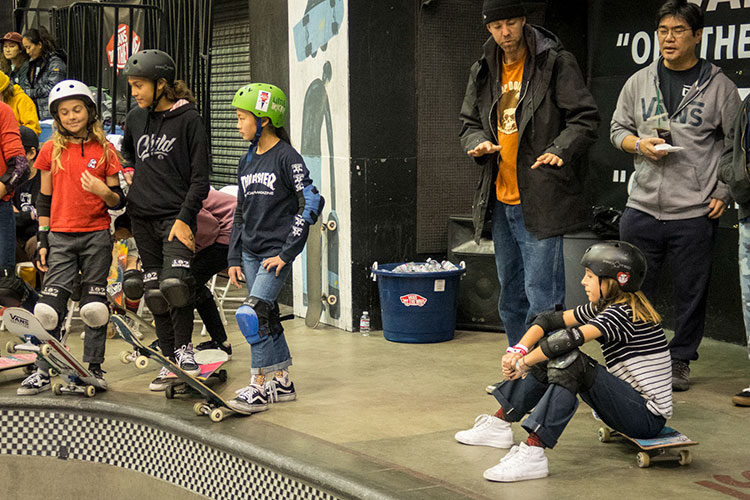 "Okay, you got this"
Stella Reynolds had two completely different runs and she nailed them both, ending the second one with this stylish lipslide through the shallow. Carcass crew!
Bella Kenworthy, little freight-train 50-50 in the round…
…and a front feeble in the shallow corner secured a first place finish for Bella
Top three in 14 and under: 3rd Ruby Trew, 2nd Jordan Santana, and in 1st, Bella Kenworthy
Time for a little lunch break and, as always, the grillmaster Steve Van Doren is cookin' up the burgs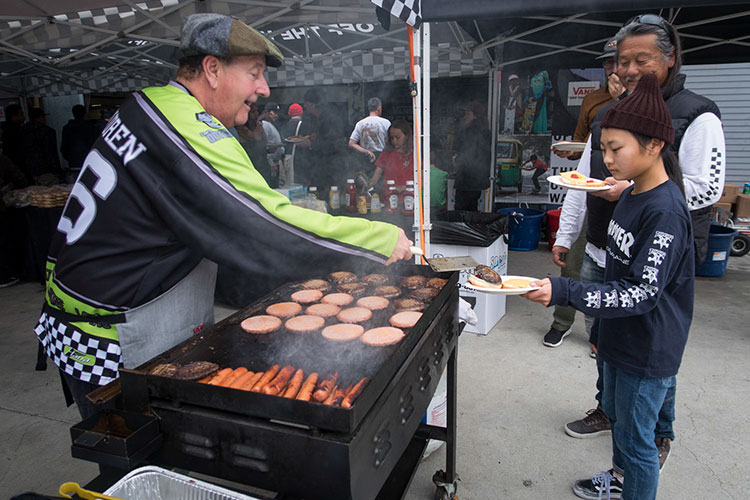 Karen Muto refuels after skating in the 14-and-under division
15 and over means higher airs and longer grinds. Kihana Ogawa takes to the skies in the square, flying for team Hosoi
Is
Thrasher
lensman Dan Stolling more nervous about Brighton Zeuner dropping his camera or coming for his job?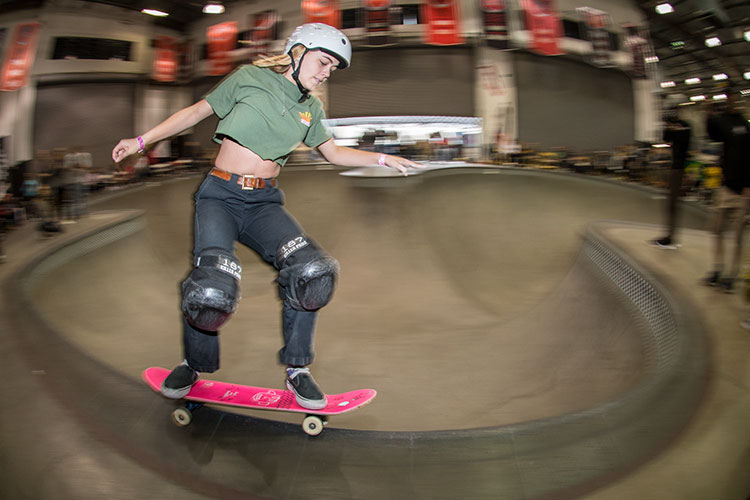 South Carolina's Audrey Indigo, frontside 50-50 in the shallow
What's up with that griptape? "Fuck the dumbshit"
Only enjoi could have foreseen that a My Little Pony graphic would be a hot seller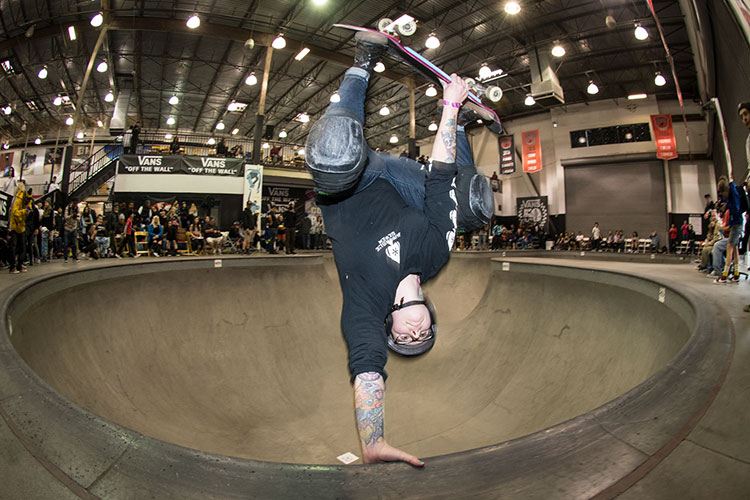 Gabrielle Brownfield from Novelty, Ohio, (representing Butthole Ditch) inverts her way to 3rd place in the 15-and-over division
Michelle Yoon, classic high-speed 5-0 into 2nd place in the 15 and over
Last year's champ Dora Varella returns for another top-spot finish with solid runs and a variety of tricks, including this feeble to forward in the round
Here's your 15-and-over top three: Gabrielle Brownfield 3rd, Michelle Yoon 2nd and returning champ Dora Varella in 1st.
By two o'clock the place was packed!
Christian Hosoi is always down to high five a fan
The pros have arrived
The legendary
Jesse Martinez
says, "Let's do this"
2011 Girls Combi Pool champion Allysha Le, classic lien air in the square
Sarah Thompson always brings the cheer
Julz Lynn surprised everyone with this layback roll-out, roll-in
Allysha, tailgrab nosegrind in the square
14-year-old Bryce Wettstein, feeble in the round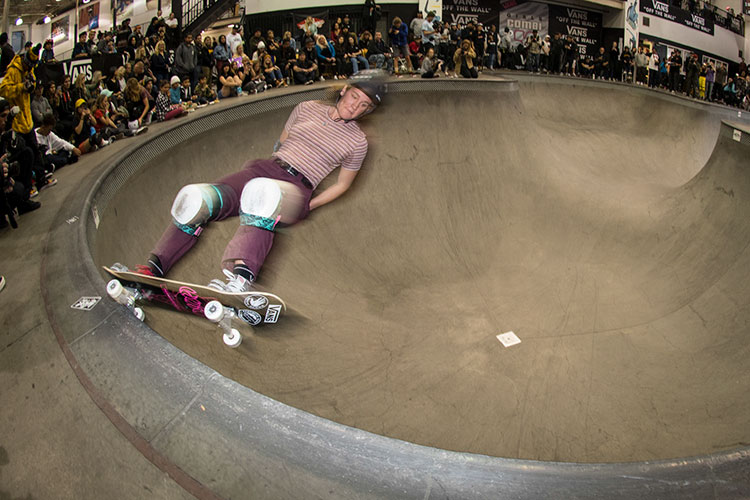 Lea Taylor finished her run in the semis and said "Whew, at least I'm done for the day." Not so fast—you made it to the finals! Hands-behind-the-back 5-0, straight into 10th place
Minna Stess competed in 14 and under last year and got 2nd. This year she said, "Fuck Em!" and entered the pro division. She put down the only flip trick of the contest with this kickflip to rock fakie and landed in 9th place, $1700 richer
Fourteen-year-old Grace Marhoefer, proper egg in the square into 8th place
Arianna Carmona was charging feebles to forward in the round
Obviously a Sarah Thompson favorite
These stylish lipslides sealed the deal for Arianna and a 7th place finish
Last year she entered 14 and under and did the switch blunt on the hip. This year she entered the pro division and brought it to the deeper round bowl. Sakura Yosozumi, 6th place
2016 Girls Combi Pool champion Poppy Starr Olsen was back again and boosting some of the biggest airs of the weekend—mute air in the square
Invert for good measure
Finishing her run with a fastplant in the square and landing in 5th place overall
Two-thousand-ten Girls Combi Champion Lizzie Armanto and her cute pad bag
Lizzie is always a top finisher with a huge bag of tricks and the ability to do them most anywhere in the Combi. Her runs were always varied and full of surprises like this frontside air over the hip into the square
Extended invert in the round and a solid 5th place
Brighton Zeuner always brings some color coordination to these events—starting off looking like a bumblebee
The top-three spots were neck and neck this year. Brighton, back d on the hip—black and yellow
When it was time for the final runs it was all Kill Bill for young Zeuner
The place was packed with skateboarding legends from all eras. Here's Steve Caballero, his son Caleb, Jordyn Barratt and one of the greatest to ever skate the Combi—Bucky Lasek
Jordyn was back to defend her title and utilized the entire pool with a strong bag of tricks like this boneless in the round
Who's that up in the balcony with the big ol' sign?
It's Nora Vasconcellos, cheering for her new Hause-mate Nicole!
Nicole is well known for big air and this transfer into the round was no exception
Lien air in the square
Everybody want's some! Air to fakie, which was followed up by a half Cab then a Les twist
Finishing it off with an Indy oop
The trophies for the pros were a little bigger than the am ones—and so were the checks!
Top-five women's pros: Lizzie Armanto 5th, Brighton Zeuner 3rd, Jordyn Barratt 2nd and in 1st place, Nicole Hause, along with the 5th-place finisher Poppy Starr Olsen
Nora came prepared with a bottle of bubbly
Drink up; you earned it!
Cheers, girls! Thanks to all of you who skated your hardest and an extra special thanks to Vans for always supporting women's skateboarding and all of skateboarding to the fullest. See you next year!
3/24/2014

Vans helped get a proper skatepark in HB and they had a huge opening day party with Rowley, Hosoi, Layton, Jay Adams, and many others.