Burnout: Clipped!
5/26/2015
When the Mag caught wind that SF's infamous Clipper ledge was soon to be made unskateable due to school remodeling we jumped at the chance to host one last epic session. With the help of our buddy Noah who runs an afterschool skate program and some very cool school administrators we got clearance to invite some of our favorite skaters for Bust or Bail 2 – The Ripper at Clipper – a best-trick contest, but with a tip of the hat to some of the pioneers who made this lump of concrete and plaster the hollowed ground it has become. Hot moves, hellacious slams and ... well, who knew sharks could fly so high!

The quiet before the storm. Thanks for the lift, Sally.

Solid team so far.

Is this gang territory?

TV on banner detail.

Dun-dun-dun!

What else you got?

Bondo perfection! That's why he's Z Best!

Media, at the ready. Bublitz and Stolling – holding it down for the Bible, if you hadn't heard.

Schmitty on Death.

Gilbert in his Scorcese moment. Great is the director's burden.

Talent arrives - Paul Hart and some sort of free-thinking freak flag flyer.
Runway check. Check.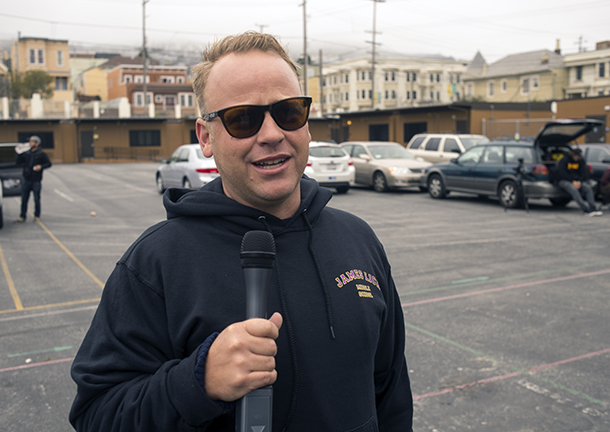 Pre-game with the industry. Griff calls it.

T Funk weighs in.

And here comes Mr. Clipper himself!

'Anybody nose grinds it, I'm breakin' their face ...'

Sadly, Neck's promise to front board it failed to come to fruition.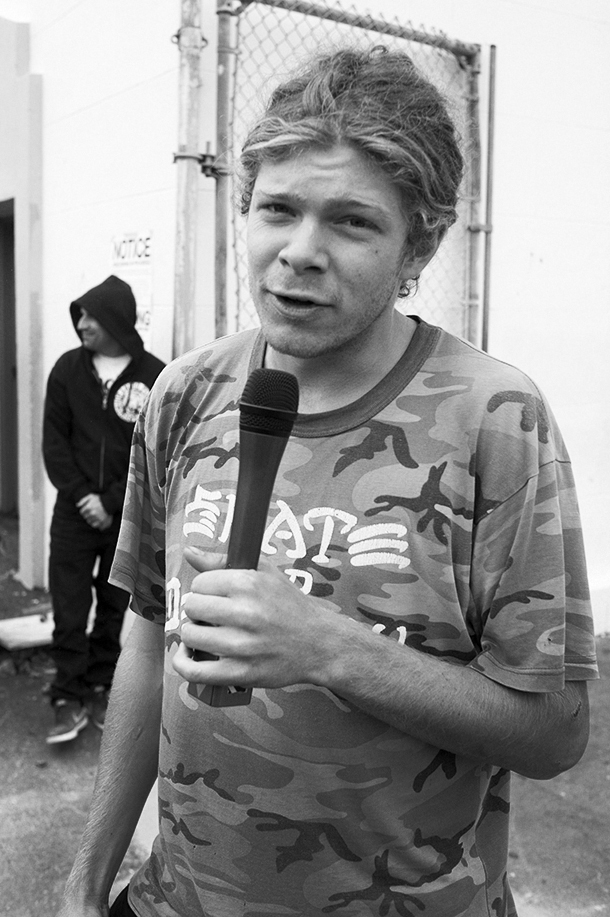 Kirby – 'I'm just here to bust!'

Brockman, tightlipped as usual.

No DJ Skrew visions on this one, but Beagle knows his shit.

Little Nicky, an East Coaster's perspective.

Steamer wants to see that switch shit!

And then the darkhorse – more from him later.

Skateboarding's long had a love affair with this obstacle, not that she's the easiest to skate.

Not always easy to tell when these things actually start. Helluva starting move from DL tho!

A switch 5-0 seems as good a trick as any to start it off.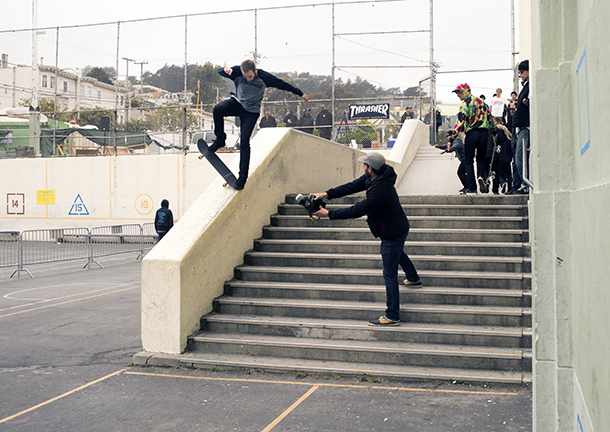 Burman wants that Card's Charge!
All excellent fisheye photos are by Dan Z.

Ok, we've definitely started now.

Funk!
Brockman's Not Saari. $200!
Rowan's runnin!

Waylon on a solo mish? About time!

Then Jaws went ahead and grabbed that Milton's Madness.

Fuckin' hell!

Dan Lu wanted that double trouble!
Long way to go ...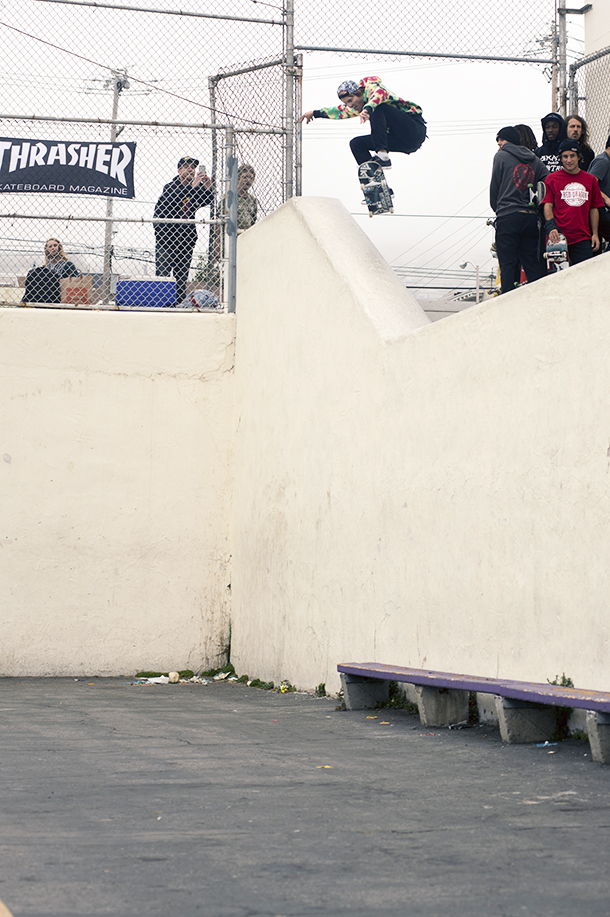 Splat #2

Kirby tips the hat to Forrest with the 360 flip 50.

And then Nugget starts slapping down those back tails.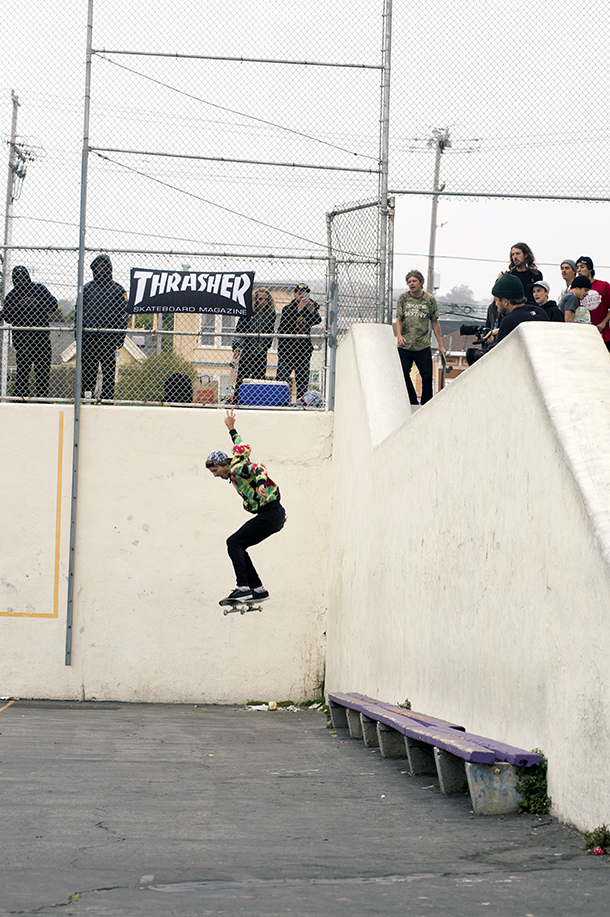 He rolled away from this one.

A little seed money for the future.

Aultz in pole position.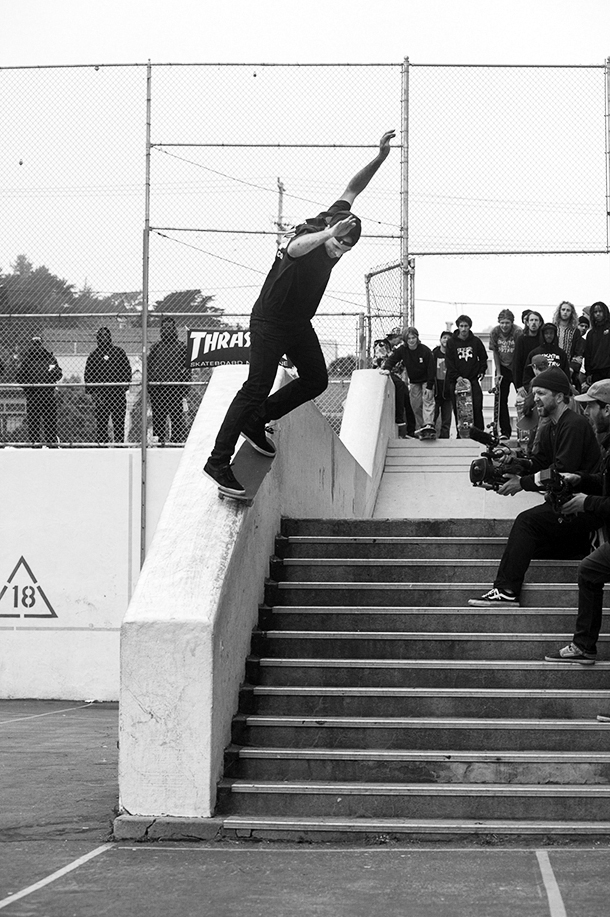 Knew he would!

Phelper keeps 'em moving.

Burman coaches Yung Glick.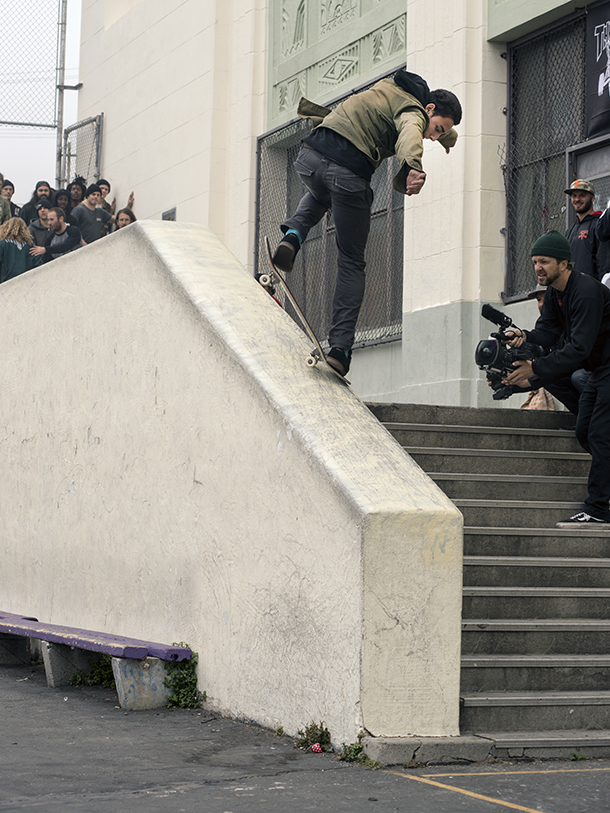 Not that he needed it much.
Darrell's Damage – done and done.

Yeah, I got a phone, too. So what?



Forrest kept trying to do his own tribute trick. Can't question the dedication.

Then Shane dropped the bomb.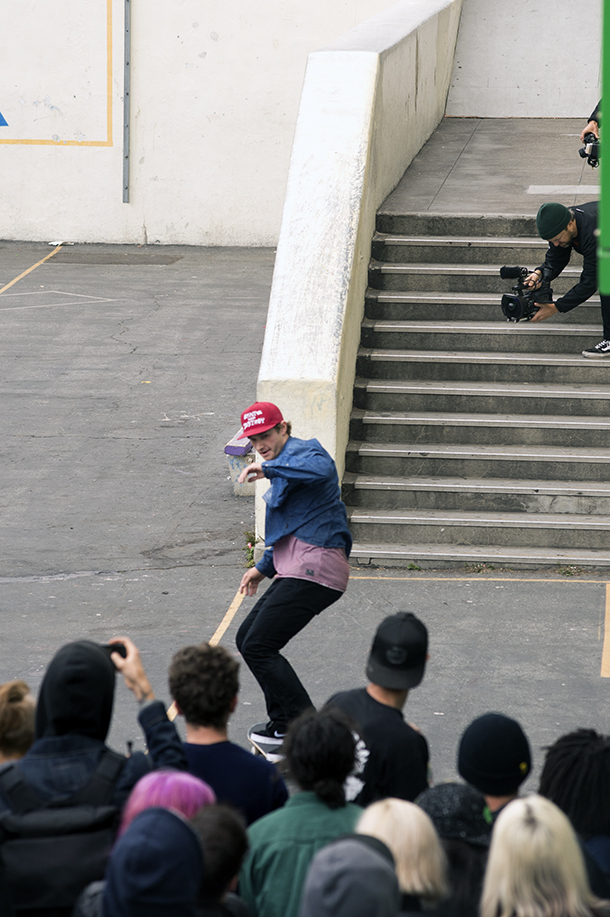 Haha! Yes!

Hit it and quit it! Nice one, Nugget!

Question: Is it even possible?

Fuckin' shit!

It is if you're Daniel Lutheran!

Get those nucks Apples!

The comp hit the doldrums.

Hard to get those NBDs, nah sayin?

TV and The Bank.

Decenzo drilled those tre flip nbs attempts for an hour. No dice!

Meanwhile, Merlino took a SS BS LS pummeling.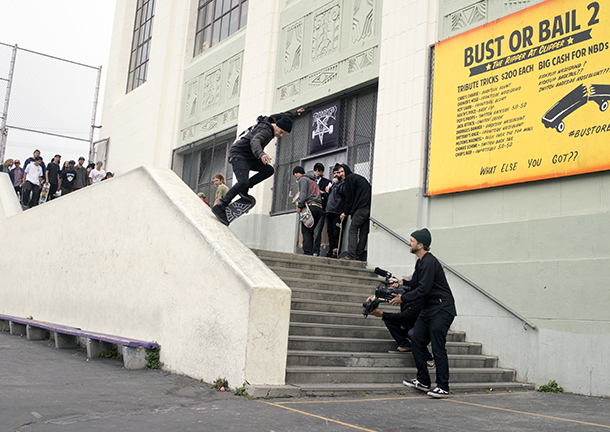 And then Brockman got the switch crooks.
So sick!

Remember Adrian Mallory – deathly close to sugarcanes.

Antiheros ... everywhere.

Lil' buddies, bustin' out.

'Here's your money, kid. Now go sit down.'

Trick landed (photo missed)

Blake was tossing out front heels like nothin'.

Kirby, with the overturned tailgrind. Nice!

Could not get it to stick!

The bend in doobie as reflection of mood. Next time, Blake.

Then Nicky rode away from the switch back lip.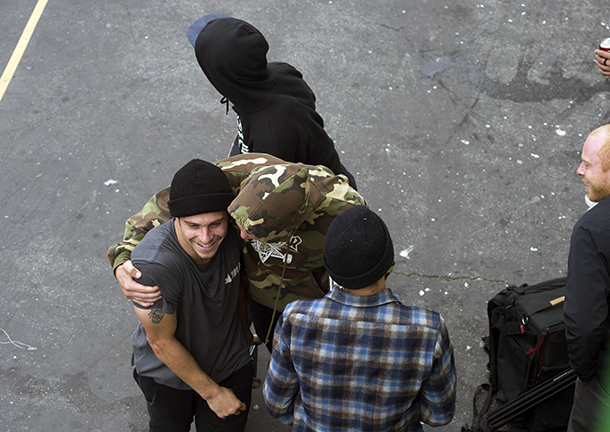 Worth it!
Appleyard was going for the nollie flip backside 5-0, coming deathly close.

Elbow bent the wrong way. Damn!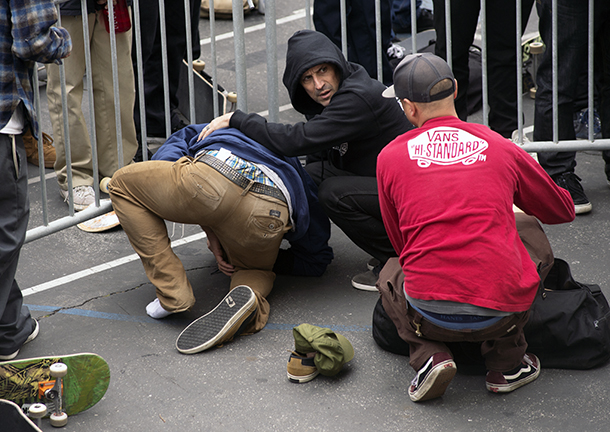 Medics and TMs on the scene instantly.

After a heavy fight, Figgy rides away from the switch biggie front board.

T Funk saw it!
Tafari clears it backside!

Duffman!

And then the switch heeflip 5-0 from Paul Hart. Jeezus!

Worth it just for the Dustin and Gary sandwich alone!

'Ok kid. I think it's time ...'

Jaws, off the top rope part 2.

Didn't hurt at all.

DL gives her one more ALBQ try.

Then the classic nah-nah. Good try, Daniel.

But back to this maniac.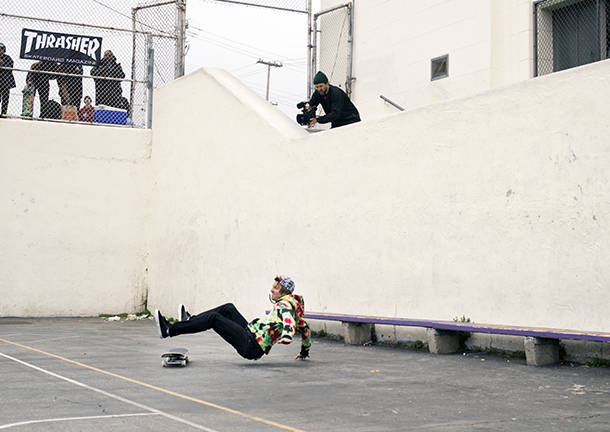 The Bounce!

Completely insane! There will only be one Jaws!




He doesn't do it for money, but here's the money.

Lock it down!

Thank you, San Francisco!

Shane got an extra wad for trick of the day!
Bills flying everywhere!


Pay me!

Who's making rent this month ... this guy!

Thanks Paul. Seriously.

And that's that.

Half-assed attempt at a team photo. You know if you were there.

And the good news ... it's not broken!

Nice work, you two! Thanks to everyone who came out! Skate spots come and go, but Clipper is one of those places you hoped would always be there. RIP and hats off to everyone who ever got a piece.
12/31/2009

Here's a wrap up of 2009 from Burnout.