Burnout: Death Match NYC
10/12/2018
The two-day tornado of rock, rap and radical known as the Thrasher Death Match whipped into the Big Apple recently with brain-scrambling maneuvers sharing space with hellacious pits – plus all the ferocity that names like Omar Hassan, The Gza, Kader Sylla, Gorilla Biscuits, Roman Pabich, Roc Marciano and Pedro Delfino conjure up. A Bill Thomas photo show offered a glimpse into NY skateboarding's golden age and the whole thing was free! Where were you???


Starting off calm. Daytime stroll through the Bill Thomas gallery


If there's one thing we know it's that kids love reading


Plenty to trip on


Local luminaries showing up. Steve Brandi for instance


Pick your fave. You know Pete loves Sheff


Frank with that NYC 'tude


Tony and Cranny dissect the details


A magazine nerd's treasure chest, really


Sheffey. Everyone's drawn to Sean Sheffey


Bring your shiniest doo rag, if you got one


Priests were nailing it


I like a band who knows the power of presentation


Fuckin' dreamy


Mark Waters, our secret weapon behind the scenes


Over to the ramp


The Muscle™, already in heavy rotation


Not that the locals were slacking off


Not hardly. Brayman's Tex plants rang out all weekend long


Cedric with the wheel pick


Bust? Or bail ….


'Cane fakes


Nosegrinding into Friday night like ..


Touché sir!


Heavy action on the extension


Good ol' chicken wing from Cooper Q


Indy to fakie


Up to sugarcane. Buster would be proud


But youth before beauty, as they say


Quick trip to the patio section. Impromptu street style in progress
Boy Kong and his Death Match piece Photo: Joseffer
Ben and Omar in the Golden Hour


More carb shenanigans from my fellow reducer. Stay strong, Frank!


Hunks: Landau and Vitello


Back to work. Obstacle #1 gets set


Rainbow … of DEATH!!!


Carve it, if you dare


Or Smith it. Whatever your deal is


Ceddy crosses via flash 'n' roll


Poached egg from The Muscle


Oh snap!


Alley-oop passage from Roman


Duck and cover kf indy


Finally, someone to bring some order to this endeavor …


A sweaty surface had dudes slipping out all weekend


Didn't stop Hale tho


Surfing excellence over the hole


Feeble fakie


You better believe Ashley carved the crevasse


Oop 5-0 fakie, wow!


Max Bristol, yanking out of the unthinkable nosepick revert


Irie 5-0 vibes, so sick


Stepping lively into the abyss


Shit was going off. This face says it all


Then Roman provides the show-stopping exclamation point with the nose-grab 540


And Muscle with the bone-up frontal


Goddamn right!


City Morgue is the kind of band parents hate


True disturb-o shit!


The kids were going bananas for 'em


Sorry mom!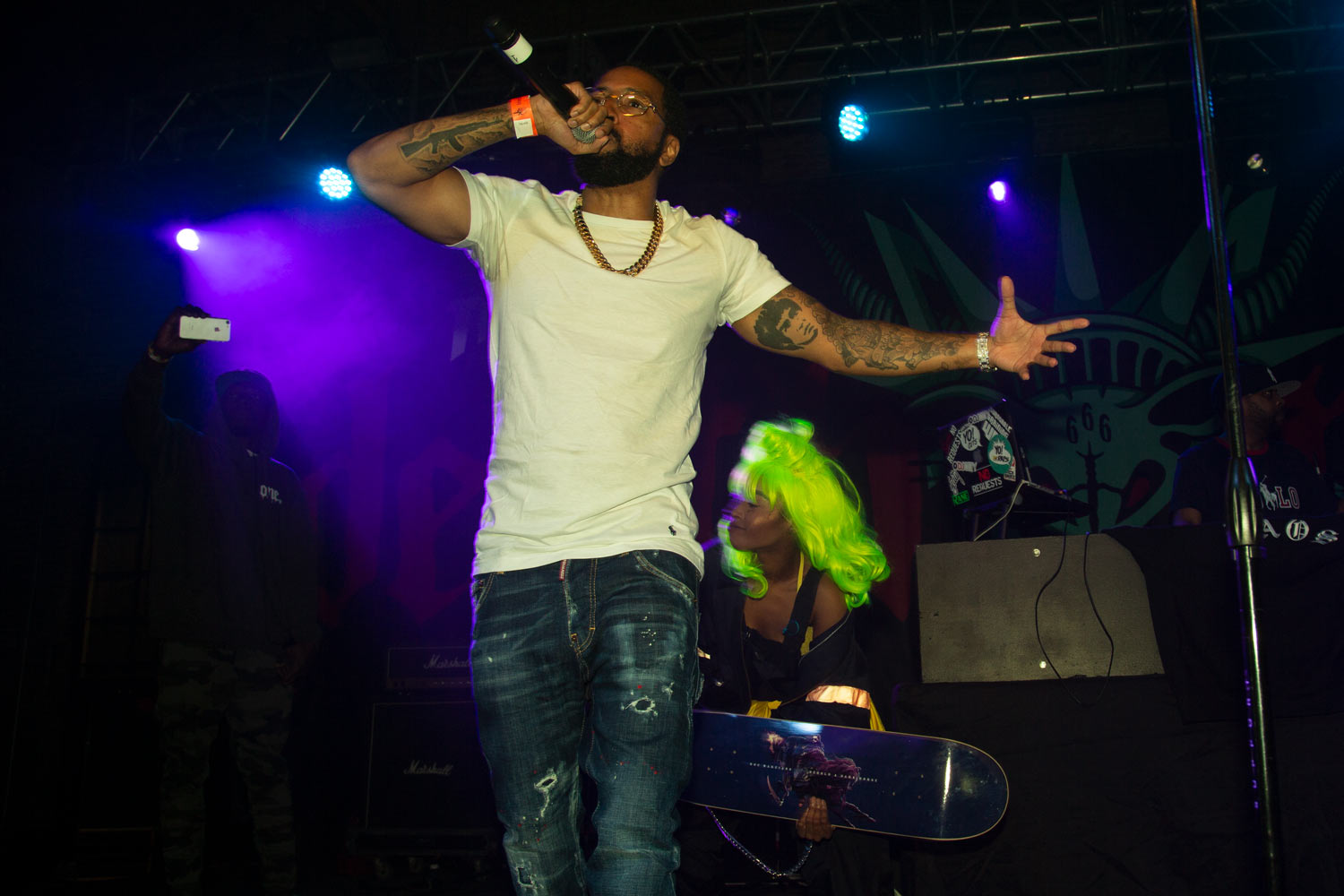 Roc Marciano Photo: Joseffer
Photo: Joseffer
Meanwhile, back in the gallery Bill Thomas arrives! Bill worked for Thrasher from '89 to around '93 and captured the early age of NYC street skating. He was also an early photography mentor to me, gracefully helping me figure out my flashes when I was a struggling shutterbug in the mid '90s. Thanks Bill


NYC heavyweights converge


For Pang and many more, shooting with Bill was their first time in the mags. Forever bound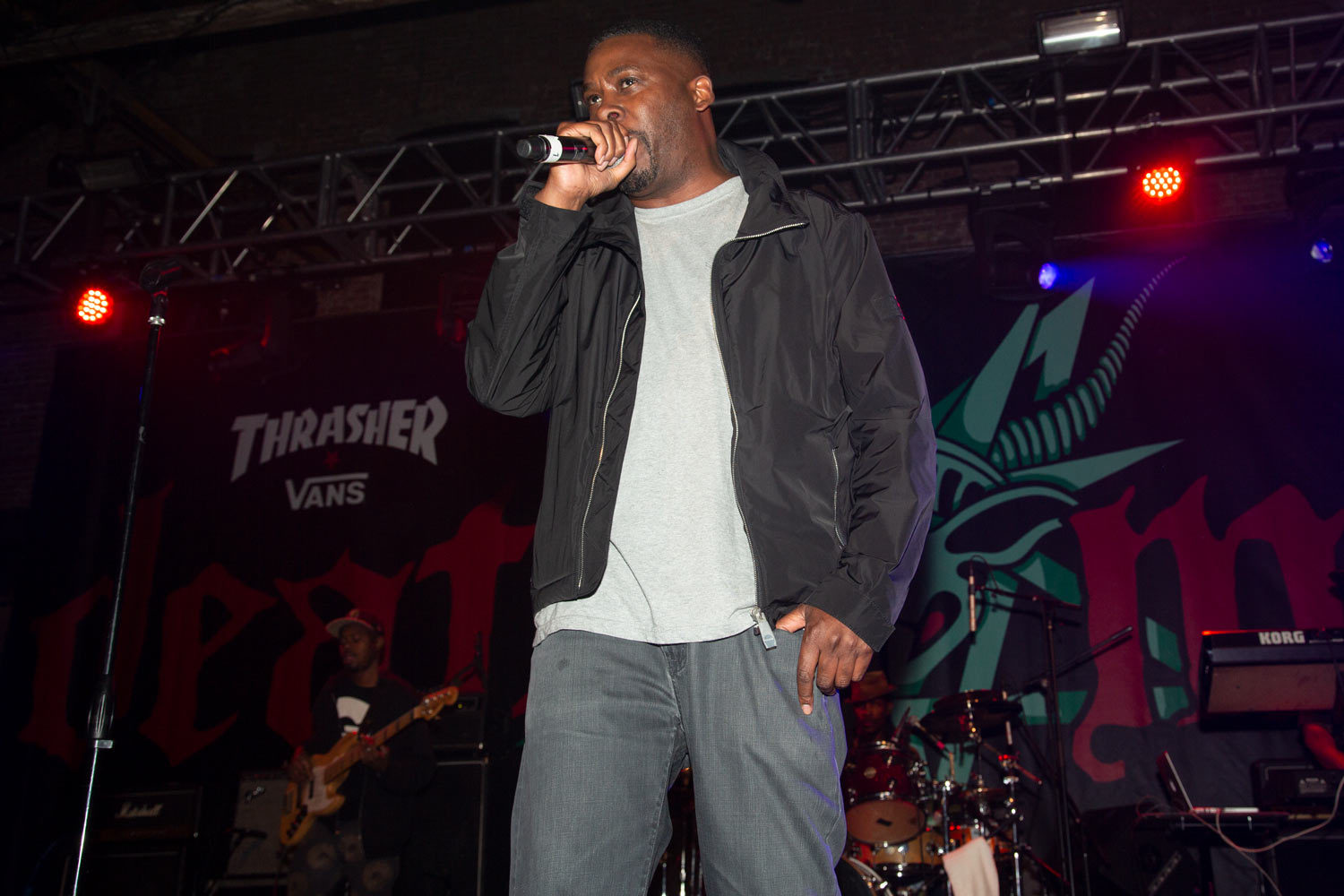 GZA closed out night one with all the hits Photo: Joseffer
Wrapping up Day 1 in the green room. Frecks!!!


And children gambling!


Roman wagers his best-trick cash. Plenty more where that came from for him


Gio wins big, Canadian style! Good way to end it


Day 2 – the Rock n Roll day!


Early birds


Thanks for coming!


Fuck ICE. For life!


Punky babes, everywhere …


Good looking Schaaf right there


The fun is about to begin


Frank! What did you order?!


Vans crew


Just … one … slice. Oh Frank


Tight crew. Nice to meet y'all


Some guys just got it, right?


Gaming zone


My new friends Beatrice and Dustin


Dustin learns the rules of this strange American game


Don't worry, Bea will teach you


Oh, you're going up against J Lay and Leon?! Good luck!


Tyson breaks it down


Is that a bracelet?


Don't worry, they'll be on soon


Cool parental types


Yep


We should probably get back in there, right guys?


Side pit, feeling cautious


Brisk sales in the merch tent


Halfpipe warming up again


Is that Jake up there?


Taking runs even


Texas is part of America


Rapt audience


Bublitz, nailing


Oh, hey …


'I know you, right?'


The recognition


The embrace


Insider info


Gentle admonishment


And ultimately … the directive


When's this thing starting?


Attention!


The rules of the Death Match are explained. Basically, everyone drops in, last man standing wins


Never quite sure how to shoot these things


Not that they aren't exciting


Avoid each other, and the Phelper


Ha


Look at him. He loves it!


Some pump to the sides while others go whole hog


Defending champ Roman got a little too tricky and lost his footing


But this dude … he tossed tricks out the whole time


And was the last rider on four wheels!


How sweet it is


Back to normal shredding. Delfino dips egg


TGNG


Kader's fastplants are rad


If I could do this, I would only do this


And up


Sock hop, down for life


And then …


Our Chrysler Building tombstone!


Taking that egg to the top


Five feet of furious bonelessness


Coop pulls the chute in heavy traffic


No dice


Spicy Lu – his wallet, his motorcycle


Skybox view. Packed house


Sweet decker from Roman


Crowd view of the no-grab picker


Huevo fantastico!


Stephen Brayman, back with the dreaded pivot to fakie


Phelper approved!


Spend it wisely, kid


As the clock wound down, it became clear that a showstopper was needed. Omar dug deep


Cedric up and across


Flip, grab and hope


Meanwhile, Roman battled the blunt pick


Skeleton men, skittering


Kader steps to the Chrysler


Tuff stuff for a little guy


Perfect catches ending in terrible slams


Four wheels out!


Everything but the victory ride


It was a battle for the ages


Wood only


And then ….


Great success!


The crowd goes ape shit


Fives, all 'round


Collapsing off the side of the ramp. He was completely spent


Don't worry. He does this once a week. Omar Hassan will be just fine


And then …. Roman's revenge!


Complete pandemonium


Yes!


He was just glad it was over


And then, the sacking of Rome


One more trip to the calm of the photo gallery


Twin towers: Bruno and Big Jim


Wish Coco coulda been there. Or anywhere


NYC street skating forefathers


Stories for days


Breaking it down for the boy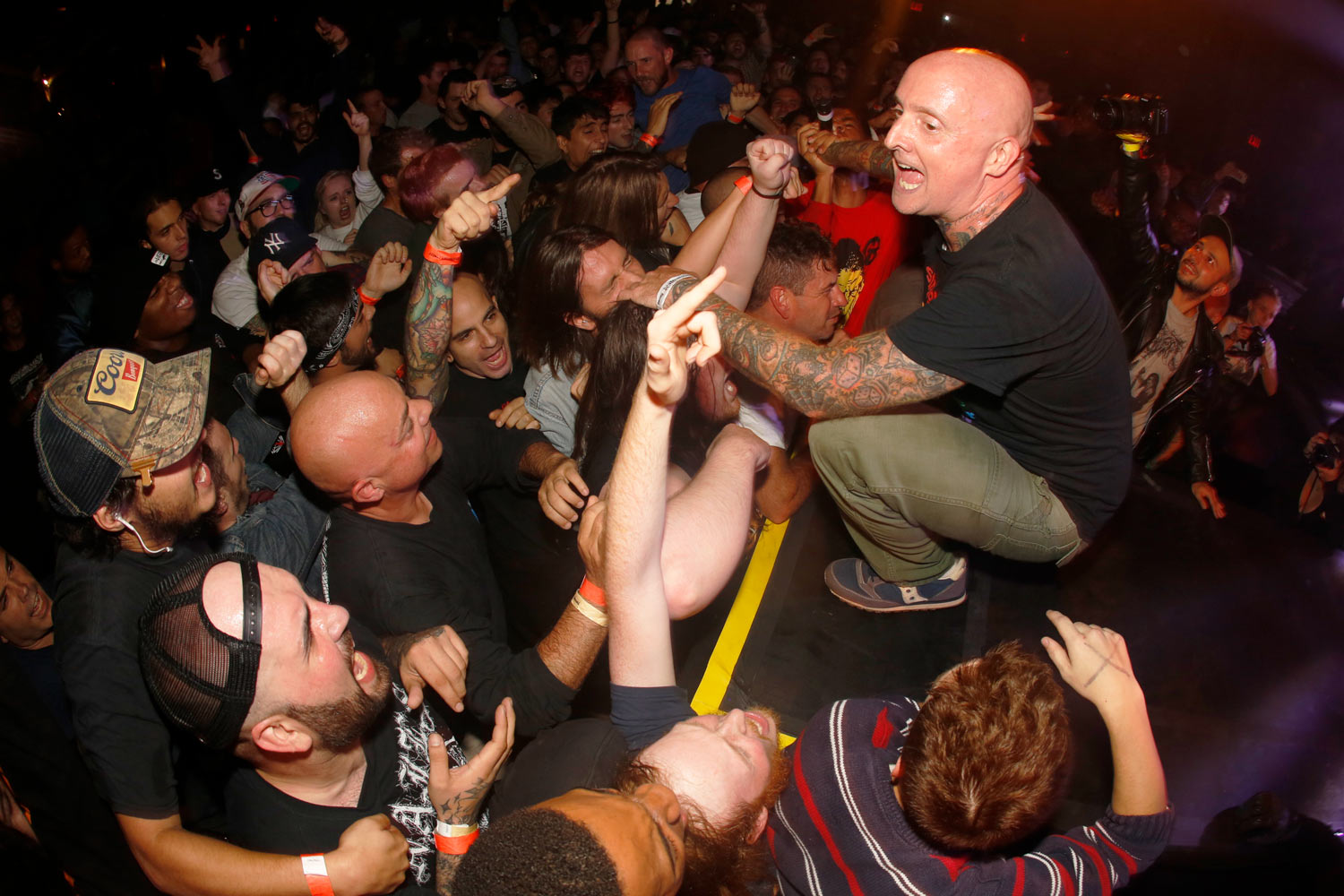 NYHC legends, Gorilla Biscuits Photo: Joseffer


Cranny, feeling the love


Backstage. Ugly Lui and Handsome Hassan


The Jay Jensens. Thanks y'all


Fuck yo' everslick


Block party atmosphere out back


Gingers, Keith and Frecks


Family style


Yes!


Bald is beautiful


Oh, you thought Pang didn't get a front?


Sweatpant foreshadowing


You can tell what time of the evening it is because nothing in this photo is in focus


Then here's where I really dropped the ball. A gnarly punch-up barreled past us! Fists swinging, chairs scattering! Here was my first photo


Then this one. But then, right after that, one of the assailants walked right up to me as blood started pouring out of his forehead … and I froze. Coulda had the shot, but chickened out! So much for skate journalism … again


Anyway, better to focus on the positive stuff. Like Vans and this killer crew right here and everyone who skated, hung out, helped and heckled to make this a super-fun event. We were kinda sweating it, but this thing turned out awesome


And thanks to all the skaters of New York and the Northeast. You guys are tough. It was an honor


11/29/2023

The music of Beirut has been featured in many skate vids over the years, most notably in Mark Suciu's "Verso" masterpiece. Mark caught up with Zach Condon, the man behind the band, in this exclusive interview.