Burnout: Maloof Is On Fire
8/10/2010

Maloof Money Cup at the OC Fair.




Vertical supporters, Dunk and The Bost.



It was a McTwist-off. Everyone was doing them.



I'm just saying, if anyone but Andy had come out with this trick, people woulda been shitting their pants.



Sandro with a massive lien. That must be one of the greatest feelings, right?



Reluctant astronaut, Alex Perelson.



Pedro of Brazil with an indy 540.



There was musical entertainment all weekend long. Nelly, for instance.



There was a child's division of the Mega-Ramp. Totally bizarre.



I mean, where do these kids practice?



The adults did it, too.



Back on the simulated streets, Pfanner flips it backside over the stones.



Hoffart with that lipslide to switch crooks.



Johnny had the highest wallrides of the weekend, for sure.



The rock was the best obstacle there. Merlino handplanted it after some prompting.



Dyet did a g.d. 540 on it, somehow.



Loy with a little sky time.



Accidental doubles with AO and Tony.



Loy to tail.



Crooked cop.



Vert finals. PLG was looking solid.



Lorifice eyes the lip.



There's a lot more showmanship in vert.

I guess it's more of a crowd pleaser. PLG won.

Next morning, the she-boarders eye up the snowboard rail.

Elissa picked the rock. This event also marked the return of her 'Kokomo' hairstyle.



Alexis is back and fucking it up! Kickflip.

Kickflip 50 the hubba.

As is common in girl's comps, there were also some heinous slams.

In the end, Bufoni blew them out of the water with a back smith down the rail, among other tight moves. I've never seen such gnarly she-boarding in my life.



The press had a field day!



Bumped into CK 1 in the bag hideout.

Ex -Flipsters, Salabanzi and Cerezini.



The ams were next. Ishod dodges a Ghostbuster on a bs nbs.

Austyn was a crowd fave. Ollie over the whole deal.

Ollie up, kickflip in.

Ishod won, followed by Tom Asta and Theotis. There was a lot of ripping, but this thing is already getting too long.

'I thought there's be milk in it ....'

City Stars, Kechaud and Kareem.

Pros warm it up - kf nosegrind.

360 ollie.



Ryan Decenzo was getting gnarly. Kickflip backside noseblunt.

Tommy on the jumbo.

Malto.



Garrett Hill - pop shove 5-0.

Rowley lips it up and over.

The hype was definitely around a Cole vs Nyjah vs Pudwill vs Malto deal. They were all definitely shredding.

Kickflip nosegrind, even thought it doesn't really look like it.

More music. This time, Ludacris.

The crowd was going off.

The VIP section was a sweet mix of skate people, sluttily-dressed spokesmodels and the press.



Next up: Lil' Jon.

Friends with Andy Howell, so I hear.

These boys may have had their puberty kickstarted by Jon's set.

'No way, is that a white VX?'

'Think I should try a nollie 360 in my run?'

Finally, the fuckin' finals.

Judges ready.



Pudwill, ready.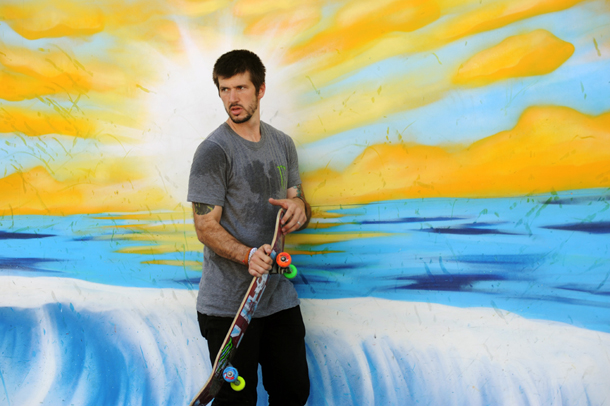 Cole? He was fuckin' born ready.

and Go!

Malto was going berzerk.

It was like watching his Greatest Hits.

Brock could barely accomodate all the fives.

Fuck it, let's hug!

Nyjah's runs on the big set were flawless. He didn't miss a single trick.

Cole was rock-solid as usual, too. Hate to be a judge.

The crowd waited, cluthing their boards and purses with anticipation.

The results came in: Cole first, Nyjah second.

Now that's more like it! It's just for fun, right?

What could be more fun than this?



These guys have never had a bad day in their lives. Thanks, everybody.
12/31/2009

Here's a wrap up of 2009 from Burnout.