Morrissey: The Thrasher Interview
7/13/2015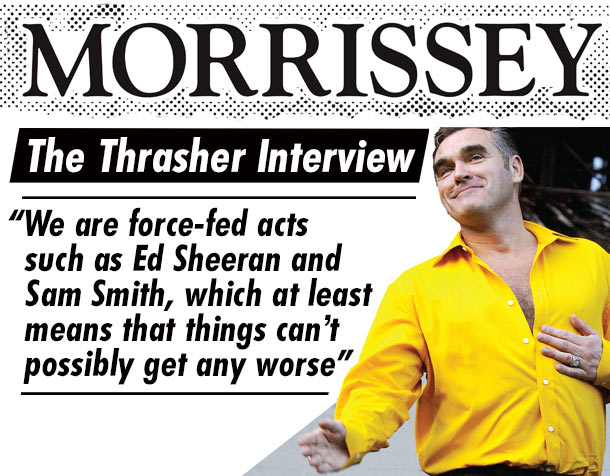 Before Morrissey was singing about his girlfriend in a coma or sweet and tender hooligans, he was a young boy growing up in Manchester, England, where he learned about the often harsh realities of humanity, especially in school. Undeterred, he enveloped himself in books and music as a way to cope with the world around him. A serendipitous meeting with Johnny Marr in 1982 would change the course of his life forever when they formed The Smiths, easily one of the most influential bands of all time. The Smiths rose to prominence throughout the '80s, but broke up in 1987 after releasing four studio albums, including 1984's Hatful of Hollow, 1986's The Queen Is Dead and 1987's Strangeways, Here We Come. Consequently, Morrissey embarked on a solo career and has never looked back. In a rare interview, Morrissey talks veganism, pop music and why he believes humans destroy everything. —Kyle Eustice

Growing up in Manchester, how did you get your hands on progressive punk music in the '70s and '80s?
I'm not sure what you mean by progressive punk music, but Manchester was always a great place for record shops and it was second to London as the main city for all emerging bands to play, so I started going to gigs or concerts from the age of 12, and I caught everyone at the right time: T.Rex, David Bowie, Roxy Music, Lou Reed, and then the Ramones first UK visit, Patti Smith, the Sex Pistols before they signed a deal and so on. It was very easy for me to see just about everyone, and the only two bands I regret never seeing were Generation X and X Ray Spex. I went to the New York Dolls in 1972, but they didn't play, and the following year they came to Leeds, but I was still only 13 and Leeds was as close as Mars.

I first heard of The Smiths when I was 14. It was Louder Than Bombs and that album became the soundtrack to my adolescence. What do you think it is about that album that resonates with so many people?
I think it's a very loving record from start to finish, and although it's loving, it spares no punches, so as you listen to it you feel you're in a caring world that just happens to be quite brutal and also completely realistic. It wasn't rock fantasy and it wasn't fake, and it spoke directly and it was unmarketable! But it sold very well.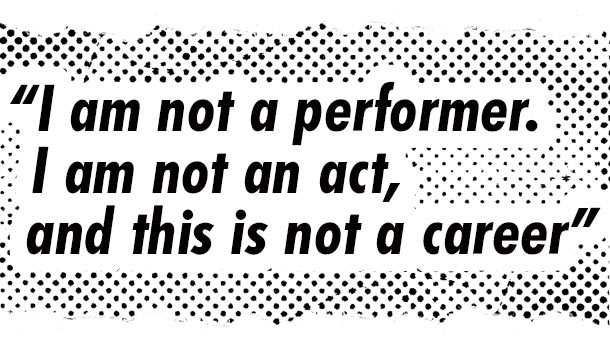 I saw you at the Orpheum Theatre in Omaha, Nebraska, after a chance encounter with your bassist at Whole Foods, who put me on the guest list. You seemed to have just as much energy as you did in the '80s. How do you keep it up after all this time?
I see! So if you hadn't been put on the guest list you wouldn't have bothered to go! It's my life, at the expense of everything and anything else. I am not a performer. I am not an act, and this is not a career.

I read you used to write letters to NME as a youth and now NME describes you as "one of most influential artists ever." Does that put any pressure on you to perform a certain way? Why or why not?
I've never felt any pressure to do anything that might be expected of me, and I'd have no idea how to please the NME or anyone else for that matter. When I was an NME addict it was called the New Musical Express, and from 1970 to 1980 I didn't miss one single issue, and I really do miss that devotion to a music magazine. I loved it unreservedly.

In your lyrics and musings on human behavior, I get a sense of someone with real insight that started early on in life. As a young boy, what opened your mind to the realities of the human condition?
I had no education and went to two horrific schools, and that really knocks you on the head for the rest of your life because your introduction to the world is mainly an understanding of how violent and unpleasant people are. I didn't experience one school day where I felt safe, and this scars you forever.

You say in pop music, it's very rare to find genuine people. I agree. What do you think of mainstream music these days?
There are no bands or singers who become successful without overwhelming marketing. There are no surprise success stories. Everything is stringently controlled, obvious and predictable and has exactly the same content. We are now in the era of marketed pop stars, which means that the labels control the charts, and consequently the public have lost interest. It's rare that a record label does something for the good of music. We are force-fed acts such as Ed Sheeran and Sam Smith, which at least means that things can't possibly get any worse. It is sad, though. There's no spontaneity and it all seems to be unsalvageable.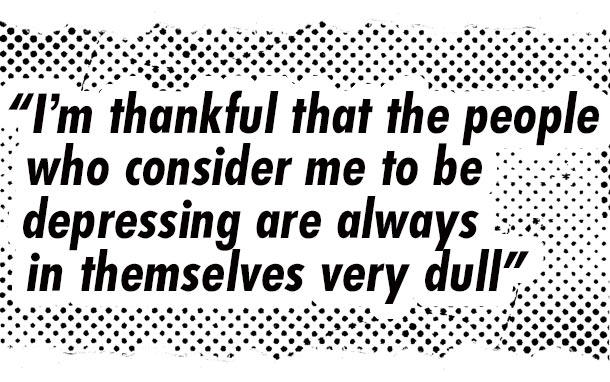 I loved that you said, "You cannot ignore animal suffering simply because animals are not us." What initially caused you to stop eating meat at 11 and what are you doing now to continue supporting the cause?
I accidentally saw some slaughterhouse footage and it struck me as the most evil, disgusting and immoral practice. A few weeks ago, I saw footage of a bull clasped in a circular trap, and as it realized that a saw was very slowly burning through its neck his eyes began to stream with tears. It took three minutes for the head to fall off. I have never seen anything so sad and it constantly confirms how repulsive the human race as a whole are. The earth would be so much better off without humans and I'm not joking. Humans destroy everything.

I've seen you in multiple interviews and you are quite funny. I hear that in your lyrics sometimes, for example, in "Heaven Knows I'm Miserable Now." Are people surprised at all that the man behind songs like "Asleep" is so funny?
It depends how you term funny. Humor is a very personal thing, but I'm thankful that the people who consider me to be depressing are always in themselves very dull, whereas those who understand my humor are always very bright people.

What are the differences between writing lyrics to an album and writing chapters in a book, such as your autobiography?
No difference at all. I'm still as obsessive about vocal melody as I was when I was 14. The singing voice is still, I think, the most sexual and sensual and potent power on earth.

There used to be this idea of "sex, drugs and rock 'n' roll," but now that cliché seems rather dead. Do you think artists have some kind of social responsibility not to entice the younger generations to drink and use drugs? Addiction is rampant now more so than ever and our culture is vulgar.
It seems to me that the situation has reversed, whereby the bands now strive to stay healthy whereas the music public, especially the very young, dress and look very clichéd rock 'n' roll, and with that comes a careless attitude towards drugs. The positives are the rejection of fur and leather and McDonalds and even plastics, all very important no-go zones for the intelligent young people. Then you see someone wearing animal fur and they immediately register as being moronic. So, in amongst the grime, I see lots of good changes, and as soon as animals are off the menu, the world will be a great place.
1/23/2022

The term "musical prodigy" doesn't quite capture the bass-playing abilities of Mononeon. It's more accurate to say he's one of the best to ever pick up the instrument. See for yourself.