Action Bronson Interview

Photo: Fetch

Forget Action Bronson's size. It's his sense of humor and magnetic personality that commands attention. The half-Albanian, half-Jewish Flushing, Queens native and host of the Vice online cooking show, Fuck, That's Delicious, isn't afraid to don a fake nose in his videos, poke fun at himself in public or admit he can't (or shouldn't) skate. Allegedly fi red from his job as a New York Mets chef, he took that as a sign to fi nally pursue an independent music and cooking career. It's paid off. Since dropping his first full-length, 2011's Dr. Lecter, he's been gaining momentum at a startling rate. He went on an international tour with Eminem last year, signed with Shady Records co-founder Paul Rosenberg and released his first major label album via Atlantic Records/Vice Records, Mr. Wonderful, in March 2015. All things considered, it's looking good for Bronson. From the inside of a Mercedes-Benz Sprinter, the 31-year-old rapper talks about breaking his leg, microwaving meatballs and working with Alchemist. —Kyle Eustice

How did Fuck, That's Delicious come to fruition?
Honestly, it's a great job. I had this idea that I wanted to do this for a long time, I just didn't have the type of person I could trust to do it. My man Tom Gould was in New Zealand and just gotten his green card to come back. He had done a lot of visuals for me before. It all worked out at the proper time. I went on tour with Eminem last year to South Africa, New Zealand, and Australia, and I took him with me. We filmed while out there. We called the series Adventure Time at first. Adventure Time ended up being the blueprint for Fuck, That's Delicious without even knowing it. Now that's how we do it.

I'm fascinated that you were once a gourmet chef in New York City. Do you consider the day you broke your leg in the kitchen a pivotal moment in your life?
It was a pivotal moment in my life, for sure. The tides turned when that happened. The bad energy came out of my body through the break and every good piece of energy was absorbed during the healing.

What was on your mind as you were healing?
The only thing on my mind was to get better, get stronger than I was and be able to walk, so I forced myself after three weeks to stand up. I was supposed to wait six, but after three I was already standing up by myself, taking little steps. I willed myself back to health. I willed my way back to having a strong leg, stronger than before. I was just focused on nothing other than killing rap music. That's it.

I got to interview Step Brothers a little while ago. Talking to Alchemist was fun. I can only imagine how it is to work with him all the time. How did you guys connect?
Alchemist is incredible. He's on the floor of the tour bus right now doing god knows what. He was literally just on the floor of the tour bus crawling in front of me for some reason. Oh excuse me, it's a Sprinter. We don't have a tour bus. It's the Sprinter. I did a song called "Strictly For My Jeeps" and that is from an EPMD/LL Cool J song called "Rampage."

Mr. Wonderful is your major-label debut. A lot of people have horror stories, some don't. How was your first experience with a major label?
You have to understand this, I'm the type of person that's a go-getter. I do my own shit. I don't like having to discuss my career. It was weird at first, but I'm making the best of it. There's benefits to it so I'm going to focus on those.

What are some of those benefits?
Having access to certain things. Just having people constantly around working for you and wanting to get your shit off the ground. Having more of a team you can go to.

In one of the episodes of Fuck, That's Delicious, you're at Ink in LA and the chef uses a microwave. I always thought using a microwave was a no-no in fancy restaurants.
Microwaves are very useful things. You have to know their limits and what they can do. A microwave is a very effective way to heat things up very quickly. If you want to heat a sauce up very quickly, put it in the microwave. If you want to melt chocolate very quickly, put in the microwave. If you want to melt butter very quickly, put it in the microwave. There's a lot of benefits to using one. You just have to know how to use it.

Well, you shouldn't be microwaving a meatball or something like that, right?
I'm not going to say no because sometimes microwaved meatballs are banging. Me, myself, I like to eat a meatball straight out of the fridge, cold.

Nice. Are you a fan of vegans?
Of course. I love vegans. I'm serious.

I just had to give up dairy because I have gallbladder issues, as in I don't have one.
What, are you kidding me? I got my gallbladder removed when I was 19.

Did you? Yeah, I was 20 something.
I had a major event. I was hunched over and couldn't move so I was driving to the hospital, running lights and shit. They did all kinds of tests. They didn't know what it was at first. They thought I was just, you know, constipated. They did the sonogram and found a huge gallstone. They did the surgery right then and there. Got that shit removed.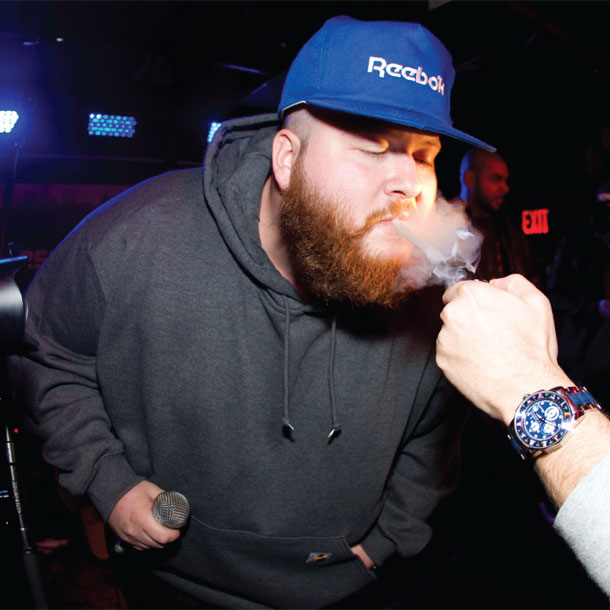 Photo: Joseffer

I had twenty-nine gallstones.
Twenty-nine?! That's crazy.

Worst pain in the world. Last summer, I was biking and got that same stomach pain. Sure enough, I had somehow developed more gallstones. Be careful.
How did you grow gallstones without having a gallbladder?

It's a mystery. Only three percent of people without a gallbladder get more.
That's crazy. It's just something you have to go through. I can relate. I know what you mean. It's a terrible thing.

What is your favorite snack? I know it's hard to eat well on the road.
I feel like this road trip had chicken tenders every single day. It's been some
sort of breaded chicken tender every single day.

But you're very well educated in the culinary arts and chicken tenders is your snack choice?
We were backstage at a venue in Cleveland and it was catered. I have had catering from some of the best places in the world. Last night, we had catering from a place called The Greenhouse Tavern by Chef Jonathan Sawyer. I'll tell you this, every person in my crew loved it. We were going nuts for every fucking thing they gave us and that's rare. With so many personalities, some people only like certain things. We all went fucking nuts over every dish.

That's a good day then. Are you going to take a break?
Absolutely. I'm going to take a little break in the summertime.

Do you have any funny stories about skateboarding?
I actually do have some experience with skateboarding. Back in the day, my mother bought me a skateboard. I was riding, fell off the skateboard, went into the middle of the street and got ran over by a car. That was the last time I got on the motherfucker. Until recently, I was at Alchemist's house in Los Angeles and I was on a board. It was a mini-shredder, one of those small ones. I was getting kind of nice. I took it to the coffee spot. I hit a bump, it slipped from under me, I literally flipped into the air and landed directly on my back like I had been crucified. I lost my voice for three days after I fell off.

Oh, that's a bad one!
I must have bruised my lung or something crazy because I couldn't talk for three fucking days after that.

What did Alchemist say?
He laughed at me and said don't use it again. He said my fat ass shouldn't be on that motherfucking little board.

I'm glad you're okay. That's all that matters.
It was a learning experience. I'm not meant to skateboard. I was always a fat fuck so skateboarding was a mystery for me. All my boys skateboarded because it was the early '90s and they were always doing something that had to do with some extreme sporting event. I kind of got left behind.
9/28/2023

The music of Beirut has been featured in many skate vids over the years, most notably in Mark Suciu's "Verso" masterpiece. Mark caught up with Zach Condon, the man behind the band, in this exclusive interview.