AFI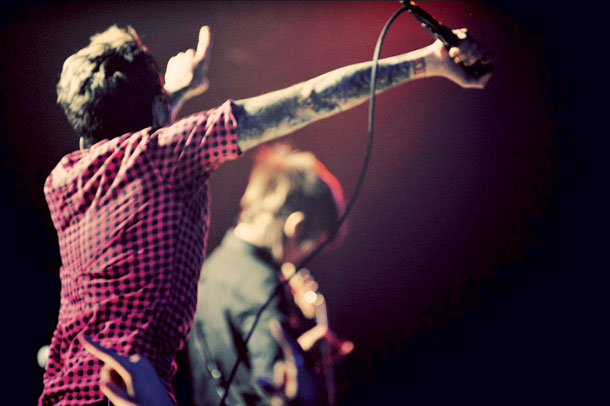 "It's heartbreaking to see how little music means to people in modern times."
Words & photo by Lindsey Byrnes
Band names rarely mean anything
more than just a few words that sound cool together, and often those names can be misleading. After years of touring the world and making their passion their lives, the members of A Fire Inside don't need to explain why they chose their name. Their flame burns brighter and hotter than ever. I caught up with them in Victoria, BC while they were on tour to support their 8th LP, Crash Love.
It's been 11 years since Thiebaud last interviewed you for Thrasher.
Dave: And we've been studying ever since. We've been cramming for 11 years for this interview. We've been skateboarding the whole time. Actually we stopped right after the last interview, but then we immediately started back because I knew I was going to have to be interviewed again 11 years later.
What new tricks have you learned?
Dave: Hardplants. I did a Madonna on a mini-ramp the other day. Stalefish inverts, ho-hos on flat, judo airs off launch ramps. 
They invented these boards with noses that go up now. That helps.
Adam: They also invented these boards made out of plastic that are about 4-inches long and come with plastic halfpipes. I personally am much better at fingerboarding than I ever was at skateboarding.
Dave: When we made fingerboards growing up, we'd cut the graphics out of Thrasher and cut a deck shape around it and glue it onto cardboard. In the mid-'80s a few companies released these little promotional key chains—like G&S and Sims had one—with little skateboards on them. We'd griptape those and smash them off their chains.

You've put out four records since your last Thrasher interview. Did you think you'd still be doing this a decade later?
Dave: I did think that. We were really enjoying ourselves and I didn't perceive any reason that would make me want to stop. So I did think that, and I'm glad I was right.
Do either of you still skate besides 
your fingerboarding?
Dave: I started skating when I was eight but I was never very good. Everyone who excels at skateboarding has no fear of physically destroying themselves, and I really respect that. But I never was—I believe the term is"balls-out"? I never could go entirely balls-out. Which is ironic because I'm often naked—sometimes on stage. But not on purpose.
Wardrobe malfunction?
Dave: It's actually happened a few times. 
The most noted occurrence was in Eugene, OR, and it wasn't actually the balls, it was the third unit of the trifecta. I was wearing vinyl on stage for many years. It was great, and I looked fantastic—except that vinyl isn't very strong and doesn't stand the test of much motion. I was standing on stage, singing, and all of a sudden I thought, "Huh—why do I feel a chill down there?" My crotch had split open and it was poking out. It didn't actually break, just the zipper had given out. I turned around and zipped back up, but I looked at the front row and there were two kids who had seen it and they were laughing. That was that.
You never heard about it again?
Dave: No. There was no Face-Space or Twitter at the time, so they would have had to put it in a 'zine. Now it's just folklore. Except it's not folklore because I've just confirmed it.
The music industry has really changed 
a lot in the last decade. Bands aren't selling as many records, people are downloading for free, alternative 
radio barely exists. How do you stay inspired? How do you feel about the industry shifts?
Dave: We never got into this to sell hundreds of millions of records, so the same inspiration that caused us to start the band is the same reason we're in the band now, which is that we enjoy playing and writing music. That's what makes us happy.
Adam: The band was conceived before we owned instruments.
Dave: The success we've had, and the respect, and being able to reach this many people far, far exceeded our expectations, so that's something that we're really grateful for. But if we'd never had that success, we still would have done what we did. It just so happened that people started to take notice. It'd be great if the record industry wasn't completely falling apart and people's interest in music wasn't totally disappearing. It's sad on a cultural level. Not even from the perspective of being in a band, just as a fan. It's heartbreaking to see how little music means to people in modern times. And people say, "No, no, no—music means more than ever before! People are consuming music at a greater rate!" Well, that doesn't mean anything, that's just a statistic. 
All that's saying is that people are downloading music more than before. That doesn't mean that they're listening to it, that they know anything about it, or that they're going to see it. That doesn't mean they know the history of that band or the bands that led to that band, 
or the scene that band comes from or the community surrounding it. And actually, more often than not, there's no community surrounding the music that's put out today, because it's coming from a place of looking for immediate fame and success through a moment, rather than a culture. So that's sad. But there is great music out there and a lot of musical inspiration. There are great bands coming out of Sweden, Brooklyn, and 
San Francisco, great artists coming from LA and New York, great designers from Europe and all over the world, and great films being made. It's just harder for those forms of art to break through the white noise.
5/16/2022

Angels & Airwaves was born out of Tom DeLonge leaving Blink-182. Here he talks about charting that band's own path along with his thoughts on skating and UFOs.