Beardo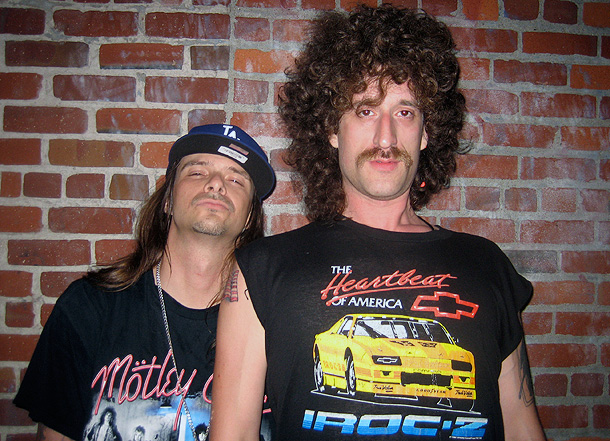 Posted: August 14th, 2009
"I got an AK-47 on my chest."
Interview by Schmitty | Photos by Hustle Jamie
It started with Dirt Nasty's 1980
; that opened my eyes to Andre Legacy and Mickey Avalon, which eventually made me notice this white dude with a mullet rapping and playing guitar to a sample of "Swagga Like Us." It's basically party music, and if you take it too seriously, then you better relax. I went to a Blazed and Confused after-party and caught up with Beardo after he'd opened it up for Mickey…
Where are you from?
I'm from Van Nuys, CA, and I fuckin' love Thrasher magazine.
Born and raised in SoCal?
No. I was born in Harlem, NY. I was raised in Newark, NJ.
How did you end up meeting Mickey, Dirt, and the Dyslexic Speedreader crew?
I met Dirt and the Dyslexic Speedreaders, Mickey Avalon and everyone when I was in a band with Sisco Adler called Whitestar, and I was making beats on the side—mostly for Mickey early on before anyone knew who he was. I knew he was a talent. Then I met everyone else through him, and that's kind of how it all started for me.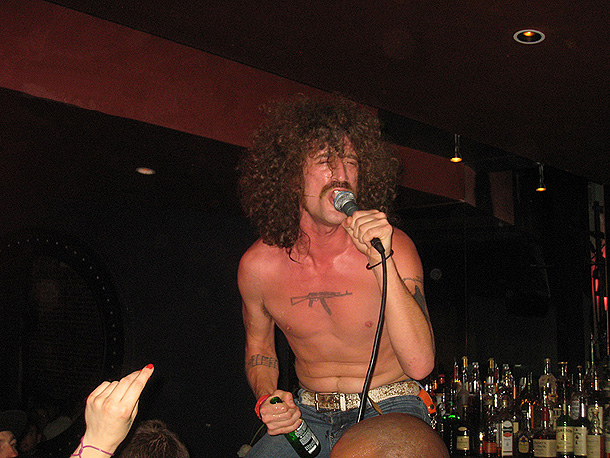 Photo: Schmitty
Do you have an LP?
Yeah, I just put an LP out about six months ago and it's self-titled. You can get it online or on my MySpace page. It's independent, you know. I put it out myself, and I did really well with it.
How did you get involved with this Blazed and Confused tour with Snoop Dog?
Dude, getting on the Blazed and Confused tour was what I wanted to do initially, but it's not as easy as it sounds. There's a million bands in LA that want to be on tour with Slightly Stoopid and Snoop Dog, so you can imagine how many people are in line to get on that tour. Somehow Snoop and all them liked my sound; they thought I was a crazy-ass dude with a mullet, and they were all, "Who's this dude rapping and playing guitars?" 'Cause I play lead guitar and rap at the same time, so I do Hendrix solos and rap over it. They thought it was the funniest thing in the world, so they brought me on tour with them.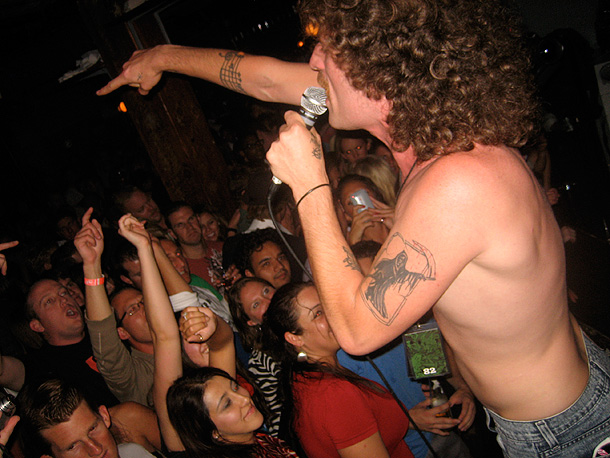 What's up with the set-up on your chest?
I got an AK-47 on my chest. A lot of people want to know what that means. It don't mean nothing; it just means that I'm powerful and that I stand up for myself, and that I fuckin' believe in who I am. I came from nothing and now I'm something—I'm on tour with Snoop Dog. I'm not making a lot of money right now, but how many people get to be where I'm at right now, on tour with Snoop Dog? Hopefully it'll expand into something better. But that's why the best things are made from nothing, 'cause when you got nothing you only make the best thing, 'cause you want to come up. If you got everything, then you ain't gonna come up, 'cause you got everything already—so what do you have to hustle for, ya know?

What US city'st surprised you by their love of Beardo?
Portland, OR. I have a lot of fans in Portland because it's a punk rock kind of a town, and I do rap and punk so they love it up there. I just played the Pacific Coliseum there, but I've played every little club in that town for years. You gotta tour and do what you can. The only thing you can do right now is tour. It's all you can do as an artist, because records don't sell so you have to tour to get your music out there. You can't get your shit on MTV any more 'cause they don't exist. I'm touring with Swayze September 8th through October 8th, so I'm going right off this tour into another tour. Then I should be putting my next record out in October or November. I'm keeping it going. My advice is to just keep putting your records out and make music, and the kids are going to like it—and if they don't, then you probably aren't going to get a record deal anyways.

What's your recording philosophy?
A lot of people ask me about recording; I've recorded Mickey Avalon, Dirt Nasty, and everyone. That's what I am, I'm a recording guy. The real recording process is taking that and evolving it into a song. I always tell everyone write your chorus first, which is your theme, and then write about your theme in your verses—that's how you write a song. I'll end it like this: Prince always said "Finish everything you start," and Paul McCartney always said "Write your chorus first." I've always lived by that, and that's how I write my stuff. I have good ears and I know how to engineer things, but any kid can do it with an Mbox and a laptop in these days you know, so you don't have to have the dopest stuff. You just have to have the right mind, you know. That's what Thrasher's all about. It's about taking what you got and making it something. It's about the youth. That's what I'm hopefully trying to do: Trying to push the boundaries...like Thrasher.
8/10/2022

The music of Beirut has been featured in many skate vids over the years, most notably in Mark Suciu's "Verso" masterpiece. Mark caught up with Zach Condon, the man behind the band, in this exclusive interview.