Billy Gibbons Interview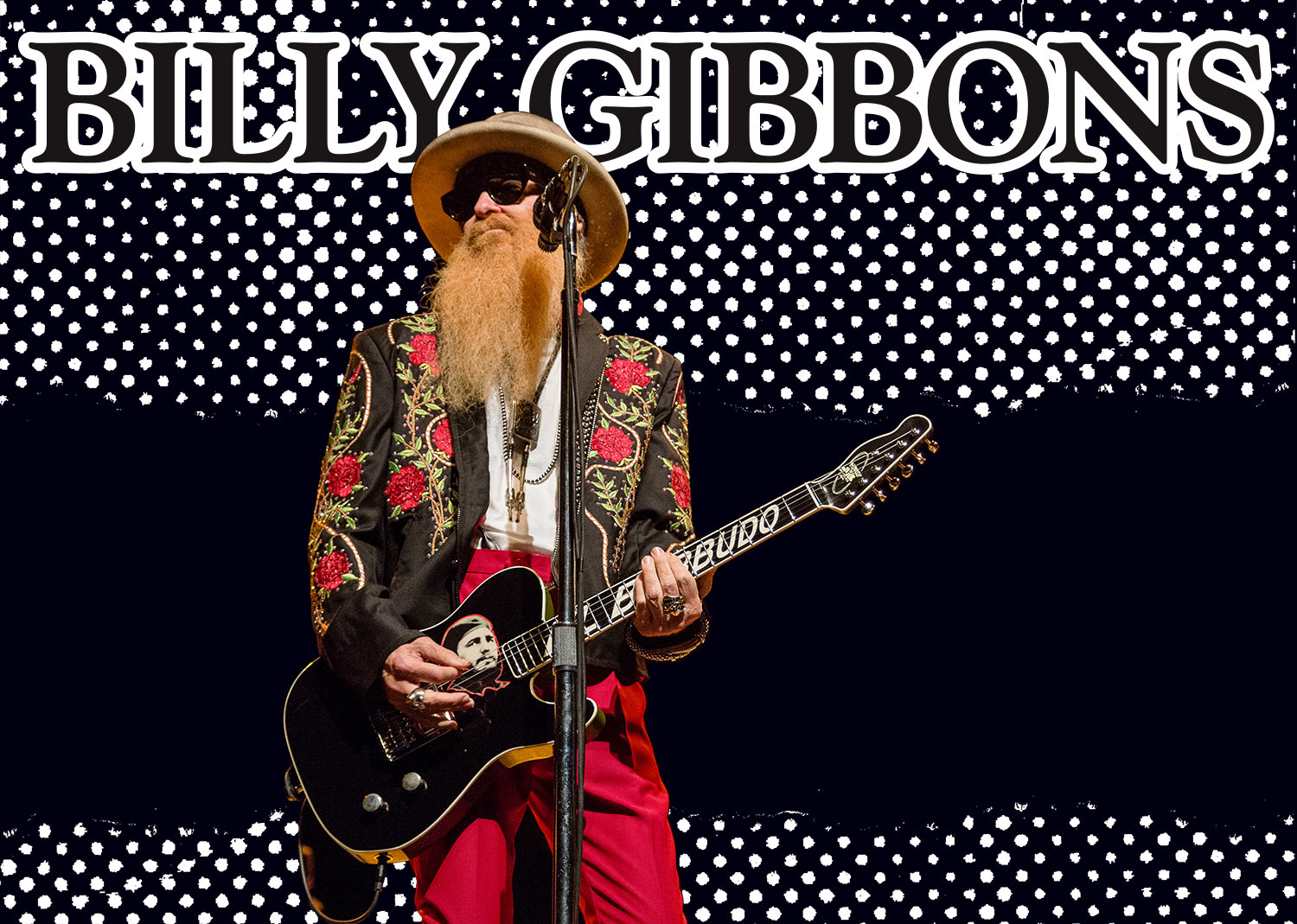 In the 1980s, ZZ Top was sitting on top of an impenetrable empire brimming with more success than the group ever dreamed of having. Formed in 1969 by guitarist Billy Gibbons, organist Lanier Greig and drummer Dan Mitchell, ZZ Top experienced a few lineup changes before they landed on a solid one, which consisted of drummer Frank Beard (yes, Beard), bassist Dusty Hill and Gibbons as lead vocalist/guitarist. The infamously bearded band of brothers released its debut album, ZZ Top's First Album, in 1971 and followed up with 1972's Rio Grande Mud. International notoriety, however, would not come until 1983's Eliminator, which featured the hit singles "Legs" and "Sharped Dressed Man." Seven more studio albums followed, culminating with an induction into the Rock and Roll Hall of Fame in 2003 and the Rick Rubin-produced La Futura in 2012. ZZ Top toured heavily in 2015, but Gibbons' attraction to Latin and Afro-Cuban rhythms couldn't be contained. The Texas-blues guitar aficionado finally branched out on his own with Billy Gibbons and the BFG's Perfectamundo, an 11-track album that bursts with infectious grooves and Gibbons' signature raspy vocal style. Gibbons' hectic schedule luckily allowed him a little time to discuss the new album, the secret to ZZ Top's longevity and, of course, the infamous beard. Interview by Kyle Eustice | Photo by Jordan Joseffer

When and how did your love affair with the guitar begin?
When I was five, I saw Elvis and I knew I wanted to spank the plank. It just looked like the coolest thing you could possibly do. A few days after my 13th birthday, I got a solid-body electric Gibson. That was the beginning of the beginning.

And now you have your own signature model. How did it feel to have Gibson unveil the BGSG for the first time?
It was totally cool. I mean, who wouldn't want an amazing guitar like that? Would like to say it's one-of-a-kind but, in truth, there's ten of them.

Why did you finally decide to release a solo album and what led to this decision?
An invitation to perform at the Havana Jazz Festival got us thinking about the kind of sound we'd like to hammer and that catalyzed our consideration of taking an Afro-Cuban approach. That kind of rhythm blended with a rock and bluesy background made sense so we got busy and Perfectamundo began to take shape.

Perfectamundo is getting extremely positive reviews. Are you surprised at all by how well it's being received?
Well, the good times that unfold in the control room seem to find their way to the grooves. The positive response that's come to pass goes far beyond any notion we had. Sometimes when you do something left field or a bit off-the-wall it can grab people's imagination and that's, maybe, what happened here.
What do you love about Afro-Cuban music?
It's the percussion. The rhythmic approach, literally and figuratively, is just a moving kind of thing. It's quite accommodating. We can lay in some blues guitar and it actually fits together. After all, this stuff does come from the same place.
What do you think has been the secret to ZZ Top's 45-year career?
We've developed a sixth sense between us. Sometimes one of us takes an unexpected turn yet we all still fall right in so, in that, we've become very attuned to each other. It's all about having a good time and we like keepin' on keepin' on.
Finally, about the beard, have you ever shaved it off over the past four decades? If someone offered you a million dollars to go beardless, would you do it?
No, I haven't parted with this chin whiskers in all that time and wouldn't do so for a vast sum of money because the idea of looking in the mirror at something we hadn't seen in so long is truly daunting. Maybe for a big B, however, we'd keep the lights out for a couple of weeks. But on second thought, not even, rock it.
Check out ZZ Top's video for "Gimme all your Lovin'" here:
8/05/2020

Not many musical acts bridge the gap between hip-hop's "Golden Era" and those who seek fresh new sounds. Run The Jewels stands tall over this divide. Killer Mike and El-P already each had a rich legacy and their combined forces have produced something unique.